02 Apr

Eye to Eye: Jerod Haase

South Lake Tahoe native Jerod Haase has a lot of reasons to be optimistic.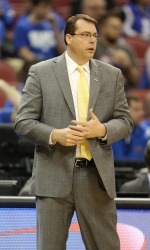 Jerod Haase. Photo from UABSports.com
The 41-year old basketball coach and author just celebrated a birthday, signed a $1 million/year, six-season contract extension and led his University of Alabama-Birmingham (UAB) Blazers to their first NCAA tournament under his watch—his first tournament appearance as a head coach after 18 as a player and assistant coach.
He rose to local renown for his skills on the basketball court—skills that took the South Tahoe High Vikings to a Nevada state high school title over Las Vegas's Western High School during his senior season in 1992. Western had four times the enrollment of South Lake. From there he went on to a college career at Cal, and more notably, Kansas, before becoming an assistant coach to Roy Williams with Kansas and later, the University of North Carolina. In 2012, he took over at UAB as the fifth men's basketball coach in school history.
Haase took a few minutes this week to talk to TQ about growing up in Tahoe, his career as a coach and the last few weeks of his life after winning the Conference USA Tournament Championship and knocking off the No. 3 seeded Iowa State Cyclones in the first round of the 2015 tournament.
Tahoe Quarterly: What was it like going to the NCAA tournament as a head coach for the first time?
Jerod Haase: It was obviously a special deal, we really made a lot of progress with these guys and to have success at the end was really rewarding.
TQ: A lot of South Lake's prominent athletes are winter sports/action sports athletes. Were you ever on the slopes growing up?
JH: I was always on the basketball court. I was the youngest of five kids, so we didn't the funds to just take everybody skiing all the time. I fell in love with basketball in second grade and I'd find a court somewhere even if it was outside. Ninety-nine percent of the time (I'd be playing) in my backyard. There are still hack marks from where I would chip the ice away.
TQ: Do any memories stick out from your state title season in 1992?
JH: Well, the group of guys were really close knit, a group with high character. When you get a group of guys together who believe in a common goal, great things can happen.
TQ: Do you still get back to Tahoe?
JH: Yeah my mom and sister are up there still, I get back when I can. Usually I get back about once a year.
TQ: Getting to the present day, you put your team through a brutal schedule this year with games against Wisconsin, Florida, UCLA, LSU and North Carolina–all losses. Why do you schedule that way and how does it help you in March?
JH: It was important to show our kids what the best teams were like and it was a great opportunity to see some top-notch teams. As we move forward we'll continue to make that sort of big-time schedule. I think it was important for developing the team–obviously we would have liked to have won some of those games–but the schedule when it was all said and done really helped us because when we got to late in the year, we weren't seeing anything that we hadn't already been through.
TQ: What was better, winning the C-USA or beating Iowa State?
JH: Both were pretty special. The three-day run in the conference tournament was pretty special because it was in Birmingham and being in front of the home crowd was a special, special deal. But being able to knock off a three-seed and winning a game in the NCAA tournament was a whole different ball game as well. Hard to say which one was better, but we really enoyed it.
TQ: Who do you like in the Final Four?
JH: Well, I don't know. All have great talent and great coaches. I wouldn't be surprised to see some upsets–or what you would call upsets. I know Wisconsin is a big-time team from playing them this season. I think at this point in the year they're all great teams.