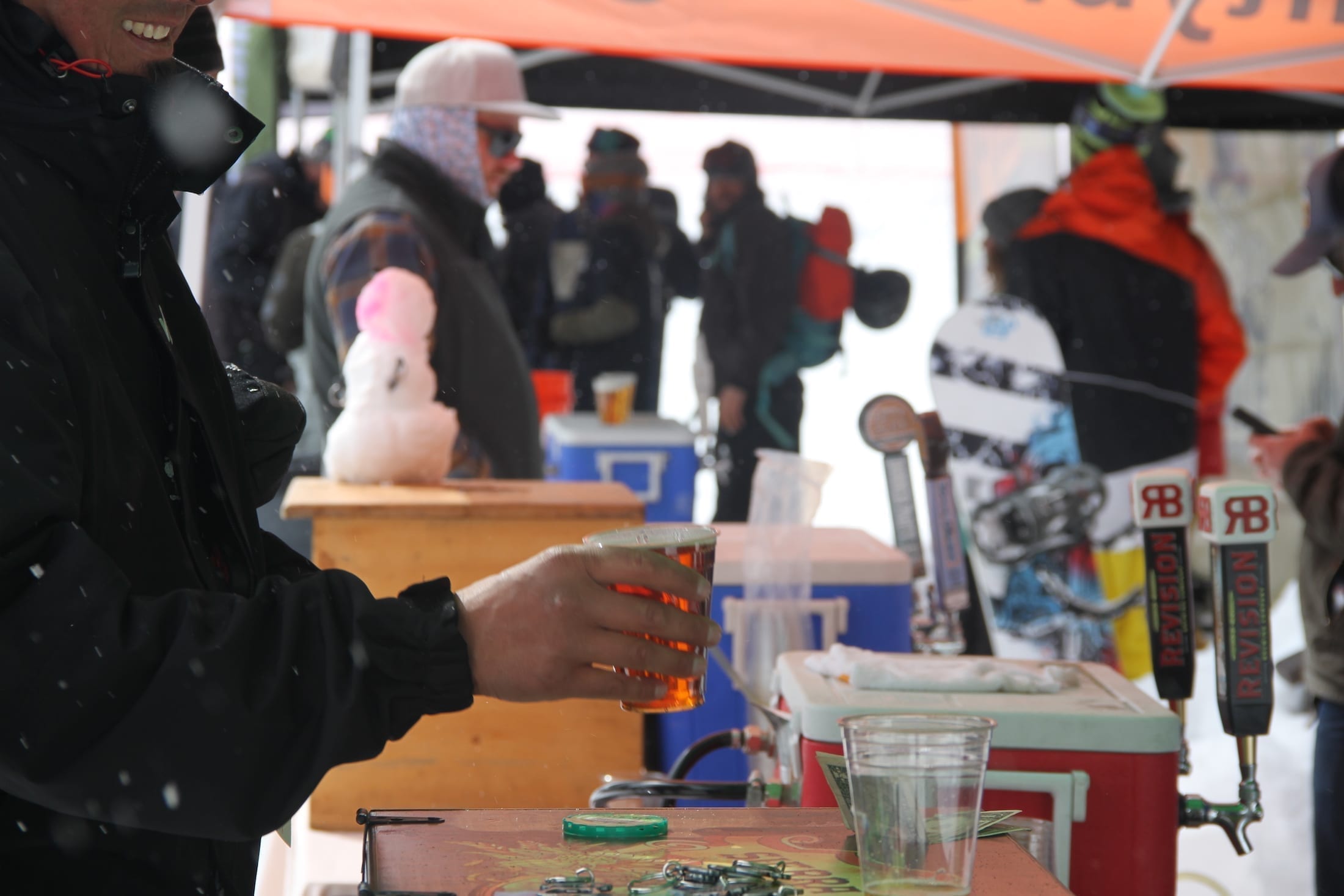 Homewood Mountain Resort's third annual Beer & Gear event returns March 16 and 17, courtesy photo
24 Feb

Homewood Mountain Resort to Host Festive Beer & Gear Demo Day
Third annual event returning to Tahoe's West Shore for two days of skiing, riding, beer tasting and live music
Local brands and local brews will join forces for a demo-day-meets-Beerfest event at Homewood Mountain Resort on March 16 and 17. Back for the third year, Beer & Gear has expanded to a two-day event featuring live music and nearly 20 gear and beer vendors.
New this year, breweries are joining forces with brands to create "Sip & Ski" pairings, matching various suds with next season's best skis, boards and more.
Topping off the event is a King Of The Mountain race on The Face. Contestants must make it down an un-groomed course with a full mug of beer with the fastest time and most remaining liquid at the bottom to be crowned the champion.
In addition to the action on the mountain, The Sextones will join the party on Saturday with a live performance in the North Lodge Base Area.
The Brands
Guests can look forward to trying skis and boards from Reno-Tahoe–based brands including Coalition Snow, Moment Skis, Growing Young Snowboards and Smokin' Snowboards, as well as a handful of out-of-town brands such as Armada, DC, Salomon, Capita and Burton.
However, it's not all about the skis and snowboards: For those who've ever wished for one last run after their legs have turned to Jell-O, Roam Robotics has the answer. Roam creates robotic exoskeletons that aid skiers through enhancing strength and endurance for longer days on the hill.
The Beers
Northern Nevada and California have become hotbeds for award-winning craft breweries, and Beer & Gear will highlight a handful of select choices including Alibi Ale Works, Sudwerks, South of North and Belching Beaver. Visitors can look forward to sampling a few seasonal specials, as well as longtime favorites from each brewery.
The Tunes
Hailing from Reno, and hot off a fall European tour, The Sextones are ready to rock Homewood Mountain Resort. This soulful funk band features energetic grooves that will have guests shimmying in their ski boots all afternoon. Headed by Mark Sexton, the foursome includes bassist Alexander Korostinsky, drummer Daniel Weiss and Ryan Taylor on the keyboard.
King of the Mountain
Wax those skis and boards and strap in for a wild ride during the second King Of The Mountain Race on The Face. Participants will go head-to-head on an ungroomed run competing for fastest time and most remaining liquid at the bottom of the run. Registration is free, and racers can compete anytime between 11 a.m. and 2 p.m.
The Final Verdict
Homewood is putting together a hand-selected group of gear reviewers, names recognized from local ski shops, brand ambassadors and other adventurous outdoor roles. This group will submit testimonials explaining why they found certain beer and gear pairings to be better than the rest. Tahoe Quarterly will then publish these reviews in a gear guide in the 2019 Ski & Ride issue.
If You Go
What: Beer & Gear
When: March 16–17
Where: Homewood Mountain Resort
More Info: https://www.facebook.com/events/1356463101163282/