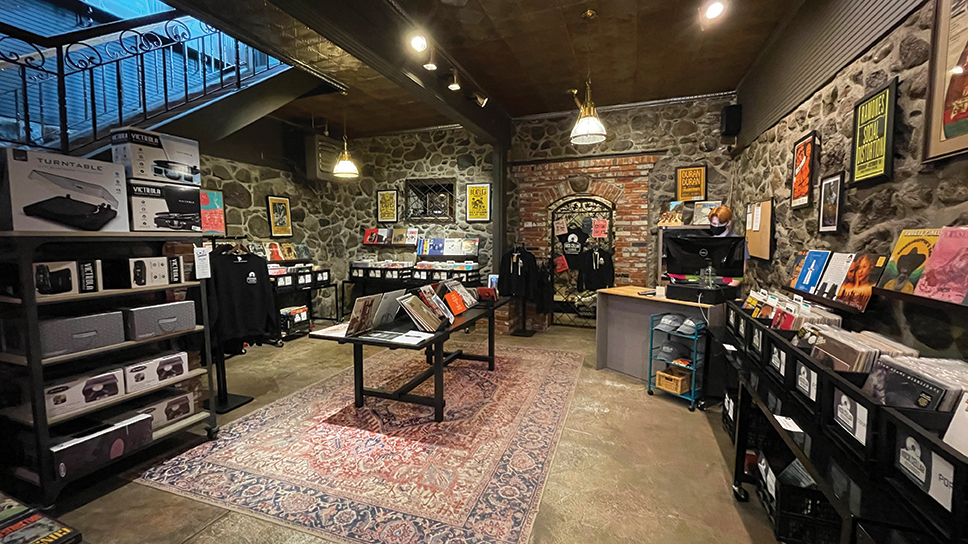 Truckee's new record shop sells turntables in addition to a vast selection of vinyl albums, photo courtesy Scott Keith
27 Sep

Positive Spin
The Keith family has created a literal underground haven for fans of a decidedly analog medium—vinyl albums
There are some music lovers who have looked at "the cloud" from both sides now and decided that for all the Internet's benefits—virtually unlimited storage, the convenience of accessing vast libraries from a range of devices—streaming services can't beat physical records. We are, after all, living in a material world.
Beyond the discussions and debates about the warmth and fidelity of analog albums, there's an intentionality, even a ritual, to playing vinyl: gently sliding the PVC disc out of its paper sleeve, settling it onto the metal rod, lightly dropping the stylus into the groove. The resulting hiss and pop is like listening to the various members of an orchestra tune their respective instruments before launching into an overture. It's a distinct sonic prelude that primes your ears and lets you know something real is about to happen.
There's a similar deliberateness to Rock Cellar Records, which opened on May 28, 2021, in downtown Truckee. The vinyl shop occupies the basement space beneath Word After Word Books, so anyone interested in browsing for classic jazz or the latest synth pop release has to veer right after entering the bookshop, then drop down a staircase and into the groove of a highly curated and stylish space devoted to music you can hold in your hands.
Concert posters, photos of artists and, of course, albums in every genre provide pops of color that stand out against the exposed rock walls and bare concrete floor. There's the pale teal of a Thelonius Monk Quartet recording; the bold red, white and denim blue of Bruce Springsteen's Born in the U.S.A.; and an explosion of cartoon hues adorning the soundtrack for the popular Japanese anime My Hero Academia—and that's just on the "RCR Favorites" wall.
"My quote is, 'All analog, all the time,'" says Andie Keith, founder and owner of Word After Word Books (the name of the bookstore itself, as well as the corporation that owns Rock Cellar Records). She's not opposed to screens and digital media, she admits, but counts herself among the lifelong readers who enjoy artifacts that make you slow down and appreciate them. Books and records share that quality, Andie explains, given that they both feature eye-catching cover art that "pulls you in visually, intellectually, physically."
A Reverence for Reading 
As in world history, books came before records for the Keith family, with their own analog-focused efforts starting right around the time Truckee's longtime independent bookstore, The Bookshelf, went out of business at the start of 2017.
"I didn't want to live in a town that didn't have a bookstore," says Andie, adding that the closest independent shop she knows of is Sundance Books and Music in Reno.
Crunching numbers revealed that purchasing The Bookshelf wouldn't make financial sense, but in working with her husband Scott, who runs Keith Design Group, Andie developed a business plan and was able to land a roughly 1,000-square-foot space underneath Truckee Tavern and Grill. She started selling out of the tiny shop in February 2017—with no receiving, break or back storage areas—and watched both interest and sales numbers grow.
She began looking for a new home for the bookshop in early 2019, but the only available real estate was in the Truckee Mercantile Building, a "much larger and much more expensive" space with a sizeable basement in historic downtown Truckee. Andie put together an offer and worked with representatives for the landlord, who agreed to her plan at the end of the year.
Grand Opening in a Pandemic
With renovations underway on her new bookstore, Andie planned to move in early 2020. Then the COVID pandemic derailed everything.
"I kind of freaked out for a minute," Andie says. "I had two leases and couldn't open the doors."
She sent her staff home for safety reasons on March 20, 2020, but her store manager called a few days later, going crazy at home, so Andie agreed that they could work together to fulfill phone, email and online orders coming in through a website that had previously never handled more than three orders a day.
"Everybody else helped from home," Andie says. "We didn't furlough or lay off a single employee. We kept paying them."
When what Andie calls the "true shutdown of April and May" went into effect, her family and any staff members willing to help hauled all the computers, 30 bookshelves and 5,000 books to the new location at 10052 Donner Pass Road.
Since renovations had started months before, the contractors were almost done. The team continued filling online orders in May and June, then opened to limited in-person occupancy—all masked and sanitized—when stay-at-home orders lifted.
Roughly a year later, they could boast more than 20,000 books—as well as the long-awaited receiving, overstock storage and staff break areas. That last feature was a definite necessity, since staff size tripled, with 10 full-time employees and about a dozen part-time high school and college students.
A Vinyl Vision
That large team, in addition to keeping Truckee readers stocked with the latest titles, eventually began weighing in on what should happen in the basement. Andie says that when she first leased the building, people asked if they could sub-let the space. She, however, envisioned it as an open reading area, where patrons could hang out with their books and each other, though ventilation issues and COVID-related occupancy restrictions made that functionally impossible.
Then came vaccines and a plan to move the air around with strategically placed purifiers. Suddenly, the space was viable again.
This coincided with the Keiths' middle child, Jack, coming home from his sophomore year at University of Oregon for the holidays. Jack—a business major and music technology minor—and his friends were buying each other albums on vinyl as gifts, which prompted a lightbulb moment for the elder Keiths. Andie remembers thinking: "There's an audience for this that's not us buying old vinyl?"
Indeed there is. Global music and entertainment analyst MRC Data, working with Billboard, published a 2021 U.S. Midyear Report that noted vinyl sales had grown more than 108 percent year over year as of July 1, with vinyl album sales outpacing CD album sales midyear for the first time since 1991. The increase marked the first time in years that physical albums have seen any growth in terms of sales.
In considering what may be driving this growth, 20-year-old Jack admits that everyone his age is streaming music from their phones or computers—"That's the easiest way to do it," he says—but there's a tangibility to vinyl that's become alluring to fans used to nothing but digital downloads. It's the large art on the cover, the physical lyrics sometimes printed inside. It's the ability to feel a record. Furthermore, it's buying music that's important to you when you're 18 or 20 and being able to play that same physical copy 30 years later.
It's also desiring more of a connection and support with the artists themselves. Jack reasons that streaming a song nets musicians virtually nothing, but buying a new vinyl album puts more money in their pockets.
Jack got his first record player in junior high and remembers stopping at vinyl shops while on trips to festivals around the state with the Truckee High jazz band, for which he played the trumpet. His friends built and bragged about their personal collections. High school is also where the seed of Rock Cellar Records first took root, when Jack and a friend developed a plan for what they dubbed Underground Vinyl as an assignment for an economics class. They got "a solid B-plus."
Filling a Niche
Andie nudged Scott and Jack to use that econ project as a jumping-off point for a working proposal to fill the bookstore basement. Jack says building the actual business "took a lot more work than the high school assignment," with Andie drawing on four years of book-curating experience while Scott worked on positioning, customer experience and branding.
They decided to go for quality over quantity ("We couldn't be a large 'crate-digging' record store," Scott says), bringing in new and select used records, the latter of which they meticulously clean and sleeve before putting on the floor. Scott dove into his personal collection for concert art, including a Beatles poster that caught the eye of a passing Lenny Kravitz and Lisa Bonet—sporting top hats and John Lennon glasses—the day Scott bought it at the Pasadena Swap Meet in the 1990s.
Since their opening, they've stocked carefully chosen classics and the latest presses from current labels and indie artists. Renee Findley—whom Andie says Scott and Jack stole from the bookstore upstairs—manages the shop and handles the buying.
"A lot of it is paying attention to what people are excited about," Findley says. "Music is very personal."
Whoever's working the counter gets to pick what's playing, so visitors may hear anything from Fleetwood Mac to Chet Baker to Peach Pit. Andie jokes, "If you put me on a shift downstairs, we're going to sell out of ABBA."
Jack says getting the word out has been the most challenging aspect of the new venture. Fortunately, they have been able to build synergy with Truckee's live concerts—when smoke or COVID concerns haven't interfered—and they partner with 101.5 KTKE for "Vinyl-ly Friday" segments each week, providing selections from the shop for locals' listening pleasure.
So far, the plan hatched in a high school econ class is working. Andie says Rock Cellar Records is exceeding her projections for the overall store's percentage of sales. Her goal is for the vinyl shop to pay for itself, and as of August, she says, they are almost there—and the holidays are just ahead.
As for the long-term viability of vinyl, the analog craze shows no signs of slowing. In addition to records, Andie also wanted to sell turntables, which she thought nobody would buy, but would be important to at least offer.
"We can't keep them in stock," she says.
---
Ryan Miller is a Sacramento-area freelance writer whose favorite vinyl is probably Simon and Garfunkel's Bookends. Follow him on Twitter or Instagram, @jesteram.