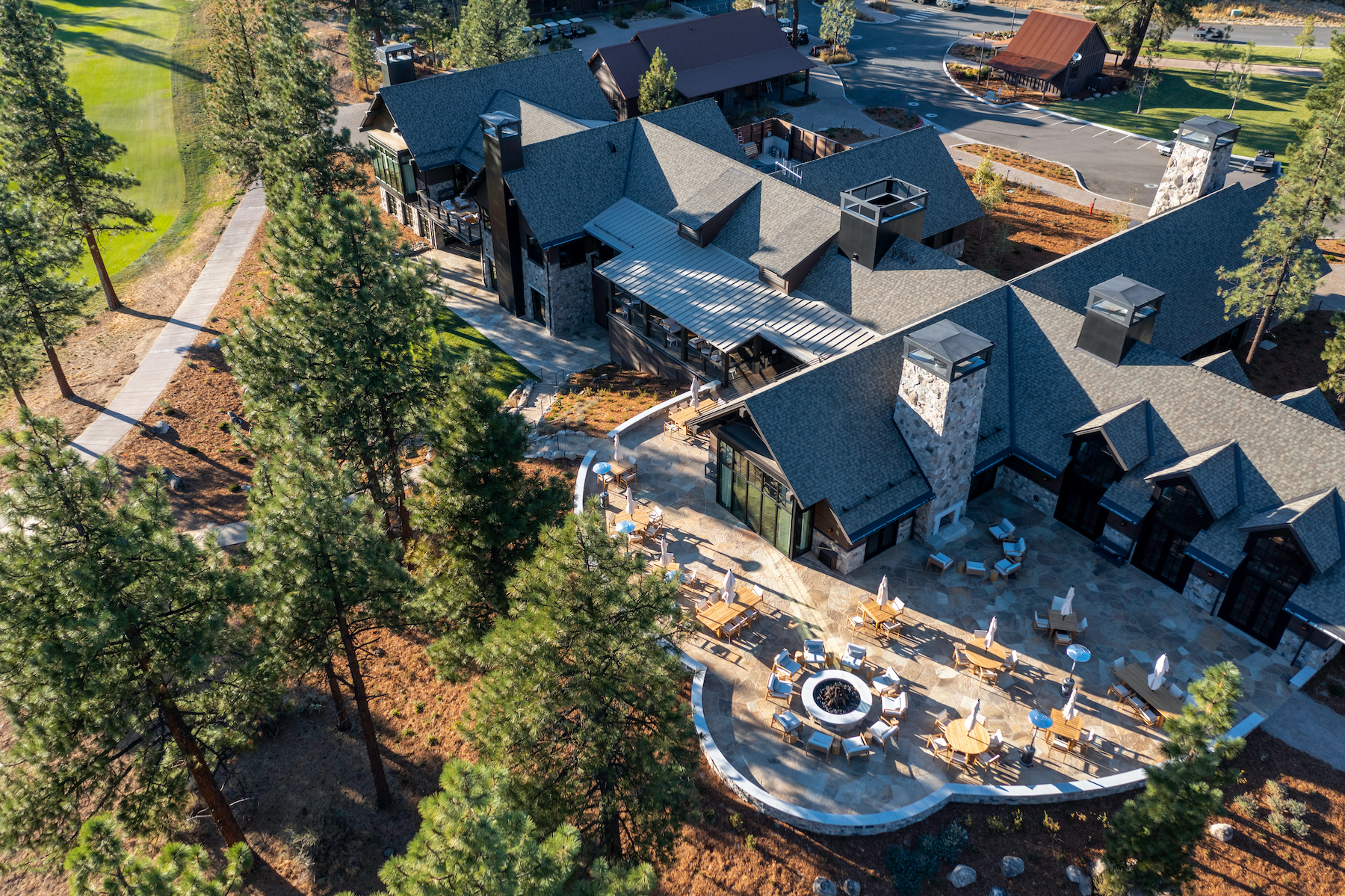 The new clubhouse at Clear Creek Tahoe from above
Flourishing Clear Creek Tahoe Community Unveils New Clubhouse
Some buildings stand out due to their outstanding design, their striking presence catching both the eye and the imagination. Others draw attention because of their stunning setting, a result of their adherence to the classic real estate mantra: "Location, location, location." Still others find favor thanks to their function, serving as gathering places where memories are built and stories are born.
Clear Creek Tahoe's new clubhouse—a 20,000-square-foot gathering space with views to the 18th fairway and surrounding expanse of mountains and valleys—can claim all three.
"It's kind of Shangri La," says Georgia Chase, Clear Creek Tahoe's director of sales.
She's talking about the mountain community as a whole, but the idyllic grandeur writ large across 2,136 acres on the eastern slope of the Carson Range is also woven into the building blocks (or rather, hardwood oak flooring and Douglas fir glulam timbers) of the clubhouse itself. Designed by renowned architecture firm Hart Howerton, the community hub is elegant, yes, but also leans a bit into the "house" side of "clubhouse."
General Manager Milward Bell-Bhatti says the building "feels more residential than it does a traditional clubhouse"—but that doesn't mean overly familiar or casual. Like the curated porcelain tiles and brass-and-bronze-toned light fixtures that add luxurious detail throughout the building, the home-like tone was carefully considered and very intentional. All the art, for example, is from Northern Nevada creatives. The idea was to make the clubhouse feel like an extension of community members' own homes, where they can relax, spend quality time with family and entertain guests.
The space is also meant to broadly reflect the nearby Twin Pines Lake & Ski House in South Lake Tahoe, a vintage structure where the original knotty pine still glows like it did when it first was built to meet renowned architect Julia Morgan's vision for an all-season haven on the shore—about 50 feet from the water. The house provides private access to the lake, as well as a place to come together. There's a timelessness to the human connection that happens in places like this, where tales are shared over handcrafted drinks, across tables laden with hot food, or around crackling fires that chase away the chill of the lake or slopes. (A shuttle is available to take members to and from Heavenly during ski season.)
Clear Creek Tahoe's clubhouse aims to provide all these same opportunities—at the bar with granite and rainbow onyx countertops, the dining room with vaulted windows like snow-capped mountains, the stone hearth and outdoor fire pit—so members can easily recount the highs and lows of their day on the Coore & Crenshaw–designed course or simply enjoy a serene moment between activities.
These classic elements also have sometimes surprisingly modern touches: The dining room includes a private seating area surrounded by an elegant all-glass wine cellar, and the menu is highly seasonal. Bell-Bhatti takes pride in having recruited Executive Chef Shawn Benson, who built a diverse and progressive menu that offers lamb osso buco, chicken tikka masala and pho instead of more typical "meat and fish" clubhouse fare.
A round of golf includes complimentary Clear Creek Pale Ale by Imbibe Brewery, and dogs are welcome throughout the community—even on the course. There's a Dog Days event that features canine-friendly hors d'oeuvres, and supersized watersports equipment is available so four-legged friends can join the kayaking or paddleboarding fun. The fitness room is stocked with high-end Italian equipment, and the adjacent massage rooms offer relaxation for individuals or couples, with articulated tables with built-in warmers. The locker rooms feature wood reclaimed from the adjoining Schneider Ranch, one of the oldest ranches in Nevada.
Keep in mind that the clubhouse is separate from the family-oriented Summit Camp, with its ping-pong tables, splash pad, hot tub and water slide that dumps thrill-seekers into the pool below.
"No other community on the Nevada side offers everything Clear Creek Tahoe does," says Chase, noting that the community features the lifestyle components of mountain living, with the feel of being at Lake Tahoe, but at a lower elevation and with easier access to nearby shopping and services.
This is obviously an appealing feature for more than a few people. Chase says they've seen incredibly high demand for the properties, both with built homes and vacant land.
"We're seeing kind of unprecedented appreciation rates in a short period of time," Chase says. "We can't release lots quick enough before we sell them."
They've been doing about three releases a year, about 25 to 30 lots at a time. There are still 60 or so homesites that will be released for sale over the next year and a half. Some lots are still in development, with roads and other infrastructure being installed.
Clear Creek Tahoe has closed on 285 sites since it first started selling lots in 2017, and as of early 2022, there were 163 homes in some phase of design or construction. Lots range from a half-acre to 3.5 acres, and view corridors are protected.
Chase explains that there are design guidelines for the homes—there must be architectural interest, for example, and the project must use natural materials—but each project is custom, so there's no "cookie-cutter" feel to the community.
As for the members themselves, the community is largely made up of emigres from California, with Chase noting that the majority of the Northern Nevada market is coming from the Bay Area. These are people who have vacationed in Tahoe for decades and are finally putting down roots by the lake. There are also Southern California transplants, as well as Texans and Arizonans. They like the more moderate summers, Chase says, as well as another perk of living in Nevada— the state's famous lack of income tax.
No matter the draw, the influx of residents has been better than steady—and these are people looking to settle down, not just spend a few weeks on their skis before heading out again. It's also why the clubhouse had to happen when it did. Chase notes that the team planned to start construction in 2020. Then came the pandemic. At the time, there were only about 35 homes built, but as the number of permanent residents grew, so did the need for all the services a clubhouse (and
its in-season staff of 180) provides.
"Member experience is off the charts," Chase says. "People rave about all the things they get to do."
Whether using the space as a launch point for hiking the two private trails and into the surrounding 6 million acres of national forest or settling in for a bowl of ramen before trivia night at the pub, residents are certainly finding the new clubhouse to be the heart of their mountain community.
"It's definitely a culture of hospitality we've created," Bell-Bhatti says. "We're trying to create unique experiences you can remember for a lifetime."