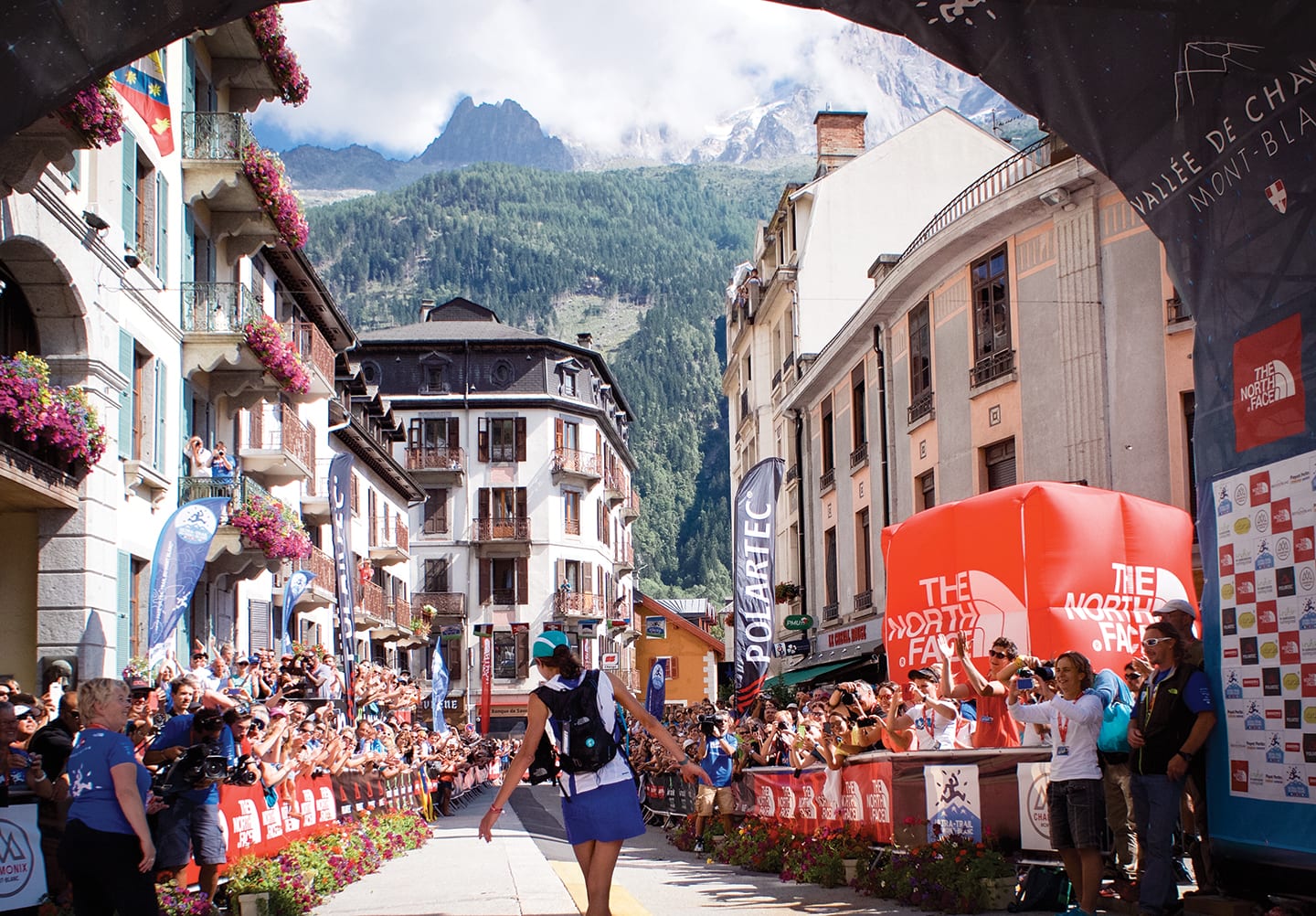 Rory Bosio acknowledges the crowd with a curtsy after setting a course record in the famous Ultra-Trail du Mont-Blanc in Chamonix, France, photo by Tim Kemple, courtesy The North Face
25 Jun

Smashing Trail With a Smile

Photo by Clayton Boyd, courtesy The North Face
World-class Tahoe ultrarunner Rory Bosio driven by her love for the outdoors
In 2013, Tahoe City native Rory Bosio crossed the finish of her first Ultra-Trail du Mont-Blanc in Chamonix, France, with a relieved smile spread across her sweaty face. Courteous even at the point of exhaustion, she turned to the large crowd of spectators lining the course and acknowledged their cheers with a gracious curtsy.
Regarded as one of the most difficult foot races on the planet, the ultramarathon takes place on a grueling hiking trail high in the Alps that requires a fit backpacker a week or more to complete. Bosio covered the 103-mile course, with its 13 mountain passes and 31,000 feet of vertical gain, in 22 hours and 37 minutes. Not only did she top the competitive women's field—and place seventh overall in a field of 2,200 world-class ultrarunners—she annihilated the previous women's record by more than two hours.
The following year Bosio returned and won it again, silencing any doubters that remained and cementing her place among the great endurance runners of her generation.
But for the humble trail runner from Tahoe, it was just another quality outdoor adventure checked off the list.

As a Tahoe native, Rory Bosio is no stranger to snowy workouts, photo by Greg Mionske, courtesy The North Face
Tahoe Bred
Bosio grew up on the North Shore of Lake Tahoe with an active family that spent their free time camping, hiking, running and cross-country skiing.
"It was forced upon me as a child, and it stuck," Bosio says of her family's athletic, outdoor lifestyle.
Her mother, Mary Prince, was a competitive mountain bike racer and Nordic skier, racing to podium finishes in the 30-kilometer Great Ski Race from Tahoe City to Truckee. She also enjoyed trail running, and a young Bosio would tag along with her mother and neighbor, Laura Vaughan (now DesLauriers), who was an elite ultrarunner and family friend.
Bosio downhill skied with Squaw Valley's Mighty Mite program as a youth and began Nordic skiing in middle school.
"I hated Nordic at first, especially after downhill, which was easy, but eventually I became a huge Nordic nerd," she says, explaining how she appreciated the unpretentious nature of the sport, as well as the solitude of the wooded trails.
She went on to race at North Tahoe High School for coach Doug Read, a longtime stalwart in Tahoe's Nordic community whose personality fit well with Bosio's lighthearted and goofy ways. Later, Bosio trained under former Olympic biathlete Glenn Jobe with the Far West Nordic program. With the expert training and her natural ability, she became a competitive cross-country skier who recorded several top-five finishes in the Great Ski Race.
Because Nordic skiing could only be done in the winter, Bosio joined the North Tahoe High cross-country running team led by the iconic Warren Mills, who has coached dozens of teams to state championships since his start in 1974 and had a profound impact on the lives of many young athletes. Bosio remembers Mills' main goal for his charges was to instill a love for running by the time they graduated as seniors. "And I did truly start to love running when I was in high school," she says.
After graduating from North Tahoe in 2002, Bosio attended University of California, Davis, followed by nursing school. She's now a pediatric intensive care nurse, which allows her to work in concentrated blocks of time while still pursuing the various outdoor activities she relishes.

Bosio runs the GR 20 trail through Corsica this past October. The technical 112-mile trail, considered the most challenging of all the GR routes, makes the Tahoe Rim Trail look like a freeway, says Bosio, photo by Matt Irving, courtesy The North Face
Destined for Distance
Bosio ran her first ultramarathon in 2007, taking on the Silver State 50K in Reno. While she anticipated suffering through the endurance event, she instead found that she quite enjoyed the long distance. She won the women's race, and was hooked.
Friend and longtime training partner Tav Streit remembers Bosio falling for the sport.
"We had done huge runs in Yosemite and I said, 'We should try an ultra race.' She followed through and I bailed out. Something clicked with her and she realized how far she could go," says Streit.
But while some elite ultrarunners race for the accolades or fame, Bosio's competitive spirit is rooted in good old-fashioned outdoor fun, which to her includes pushing her limits on scenic mountain trails. It's something her friends and running partners know well.
"Every time we run, it is always fun. The bigger the adventure, the better," says Streit, adding that Bosio's motivation wanes if her training becomes too traditional or structured.
"Running for Rory is about her pure joy in being outdoors," says Lauren Corda, Bosio's childhood friend. "She treats training as an everyday outdoor adventure. She gets bored easily if she is not doing something physical."


Photo by Greg Mionske, courtesy The North Face
After racing the Silver State 50K, Bosio tried her hand at a 50-miler, then advanced straight to the granddaddy of all ultramarathons—the 100-mile Western States Endurance Run from Squaw Valley to Auburn. Like any 100-miler, the race is known for dishing out punishment, including over 18,000 feet of elevation gain, nearly 23,000 feet of descent, snow patches, river crossings and blistering summer heat in the lower canyon country.
And yet, Bosio had a blast en route to a fourth-place finish among women in 19 hours and 32 minutes.
"It's really fun on the back side," she says of the historic Western States Trail. "There are these kickass single-track and lots of fun downhills. There are nice views and then at mile 60 you get spotters, which is encouraging and fun."
Bosio followed with a fifth-place finish the next year and second the year after, in 2012, when she posted the fourth-fastest women's time in event history—18 hours and 8 minutes. By that time her results had caught the attention of outdoor apparel company The North Face, which offered her a spot on its team of adventure athletes in 2011.
Although Bosio burst onto the ultrarunning scene with her impressive finishes in Western States, it was her dominant performance in the 2013 Ultra-Trail du Mont-Blanc that thrust her into the international spotlight. Her stature only grew as she continued to net top results in some of the toughest races in the world.
In 2014, in addition to defending her title in the Ultra-Trail du Mont-Blanc, she won the Lavaredo Ultra Trail 118K in the Dolomites of Italy and The North Face Challenge 50-Miler in Utah. The following year she claimed victory in the Atacama Extreme 100-Mile in the harsh high desert of Chile, and in 2017 she won the Tahoe Rim Trail 50-Mile, setting the female course record. According to her North Face bio, she also has a Beer Mile victory to her name.
How, one might ask, could any human endure the physically demanding nature of a 50-mile race, much less 100 miles or more?
"The human body can withstand a lot more than most people think," says Bosio. "It's not really the edge. You are just running a race, not a race for your life. It's all mental. You have invested that much time in it, you want to continue. You don't want to give up."

Bosio takes a moment to cool off while taking on the GR 20 trail in Corsica this past October, photo by Matt Irving, courtesy The North Face
Future 'Fun'
While Bosio says she will continue to race ultramarathons, being a sponsored athlete has afforded her the opportunity to branch out and try new adventures. She spent a good portion of 2015 filming for a reality documentary series called Boundless for Esquire Network.
"It was myself and three dude athletes," says Bosio, referring to world-class ultra-athletes Hunter McIntyre, Simon Donato and Paul "Turbo" Trebilcock. "We would go around the world doing random events: A 100-mile race in Chile, the world's hardest mountain biking race in France—which was super hard, but really fun—a three-day Nordic ski race in Greenland. Each day was 50 to 60 kilometers. It was super cold with this huge snowstorm… Super fun."
Bosio then took on the GR 20 trail last October—not as a race, but just to test her own ability. It's a 112-mile trail that traverses the high mountain ridges of Corsica in the Mediterranean with nearly 33,000 feet of climbing. What is a brutally taxing two-week backpacking trip for most was a nonstop run and hike for Bosio, who describes the accomplishment with perhaps the most commonly used word in her trail running vocabulary—fun.
"It's known as one of the hardest, most challenging trails in Europe. It was super, duper fun," she says. "But it was the most technical running I've ever done, with a lot of scrambling. It makes the Tahoe Rim Trail look like a freeway."
Bosio is also paying it forward. She is volunteering this year with Corda as a Girls on the Run coach in Kings Beach. The program integrates training for a 5-kilometer running event with lessons to help third- through fifth-graders develop important life skills like confidence, teamwork and decision-making.
"They are so curious and into life at that age," says Bosio. "We have a group of 15 girls who are very enthusiastic and super fun to coach."
For anyone who knows Bosio, it's easy to envision her fun-first approach to training rubbing off on the impressionable young runners.
---
North Lake Tahoe–based freelance writer Tim Hauserman has watched Rory Bosio fly by him on skis or running shoes a number of times and has always been inspired by how she truly loves the combination of hard exercise and beautiful mountains.
---

Photo by 
Greg Mionske, courtesy The North Face
Rory Bosio Career Highlights
• 2017 Tahoe Rim Trail 50 Mile: 1st female, course record
• 2016 The North Face Challenge Utah 50K: 3rd female
• 2015 Atacama Extreme 100 Mile: 1st place overall
• 2014 Ultra-Trail du Mont-Blanc 166K: 1st female
• 2014 The North Face Challenge Utah 50 Mile: 1st female
• 2014 Lavaredo Ultra Trail 118K: 1st female
• 2013 Ultra-Trail du Mont-Blanc 166K: 1st female, course record
• 2012 Western States 100: 2nd female, course record 18-29 age
• 2011 Western States 100: 5th female
• 2010 Western States 100: 4th female