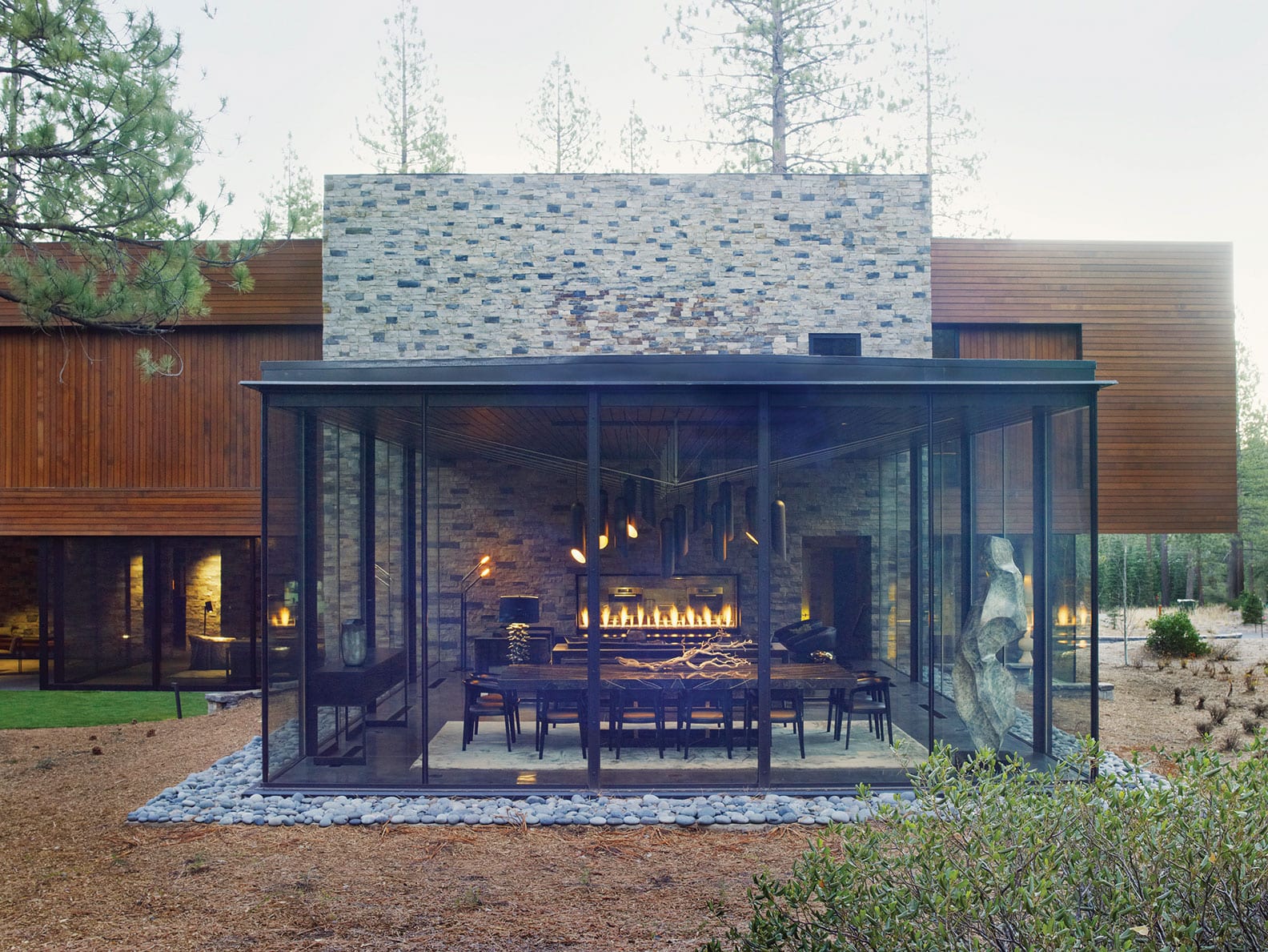 10 Mar

Flawless Execution

The measure of success in modern architecture resides in what is unseen.

Concrete footings the size of a travel trailer allowing the most impossible cantilever to create surreal outdoor living, for example. Or, the remarkable efforts of 22 guys, shuffling four inches at a time, carrying a several-thousand-pound slab of stone to turn a forest clearing into an opulent dining room oasis.

photo by Ngoc Minh Ngo
On a flat, tree-surrounded Martis Camp parcel, a trio of pure geometric forms composed of glass, wood and stone presents the epitome of flawless modern design.
Architect Cynthia Wang, partner at Studio Ren Architecture in Los Angeles, explains that the rectangular volumes represent their functions—stone equals mechanical/auxiliary, wood equals private, glass equals public—but the real magic is the seamless integration of spaces.
"The success is in the marriage of the structure, the architecture and the interiors," she says. "One does not trump any of the others."

photo by Ngoc Minh Ngo
Entering through a void in the ledgestone mass, a 5-by-9-foot steel pivot door ushers guests into a glass foyer separated from the kitchen and family area by a cantilevered, under-lit steel bench and integrated casework. Typical of the entire first floor, honed basalt tiles run continuously from exterior to interior—as does the clear cedar decking above—maintaining the purity of forms through exceptional detailing.
"This house is about trying to achieve perfect execution," says Tad Herrington, operations manager with Truckee's Crestwood Construction. "Every detail, every line, is extremely important. If you don't hit it right, it shows and you start over or suffer the consequences."
The formal living and dining space, rising above the entry via a brief run of polished onyx-like concrete steps, is a life-size snow globe. Three of the four walls are comprised of 5-by-10-foot panels of uninterrupted glass, while the roof structure floats above this immaculate space showing only a series of delicate, inverted stainless steel trusses.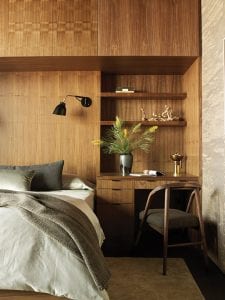 "How many glass rooms do you get to do?" asks Crestwood Construction owner and general contractor Marshall Williams. "When you are out on the street at night and the shades are up and lights are on, this room just glows."
"The glass room was a unique challenge," says interior designer Jamie Bush. "The scale of that room is deceiving. As an overall setting, it looks proportional and correct, but everything in there is actually oversized and custom." Also based in Los Angeles, Bush's talents brought a distinct materiality to the slick urban undercoat of the house. 
"The use of natural materials that can patina over time and have an inherent irregularity of color, texture and pattern gives modern architecture life and dimension and understanding," says Bush.
The centerpiece—and really only obvious piece—of the kitchen is the 5-by-13-foot granite island with waterfall edges. Storage, small and large appliances, and all other kitchen accessories are organized behind a plane of flush, fumed-oak Bulthaup casework.
The kitchen and informal dining area merge with the family room, which blends with an expansive covered outdoor living area created by the miracle of a cantilevered cedar mass. A forest courtyard results from the positioning of glass and wood masses, as the home tucks up against pines and firs to create seclusion and fully abolish the distinction between interior and exterior.
A secluded poker room is separated from a wine "cellar" of perfectly aligned bottles by a glass wall. As much a work of art for the card players as a libation opportunity, it is Wang's favorite room in the house. "It's like an aquarium of wine," she laughs.
photo by Ngoc Minh Ngo
White oak stairs bracketed by stone masses lead to the upper level, where a comfortable media room sits between the master suite and three additional guest suites. Much of the house is oriented to the forest at the rear of the home, but the master suite is graced with full sun and views of Northstar's Lookout Mountain to the south. The remaining guest suites are strung along a linear corridor, each doorway blending into continuous oak wall panels, becoming almost entirely seamless and completely secret.
Throughout the entire house, all mechanical and electrical equipment, venting, window shades and sensors are fully integrated into walls or hidden cases. Absent of the visual distraction of these typical systems, appreciation of intense detailing, spectacular material choices and the relationship with the surrounding natural beauty becomes noticeably enhanced.
Light fixtures function as dazzling architectural punctuation throughout the home, giving a visual pop amid the soft and smoky warmth of muted color.
The elementary composition of the home executed so sleekly and simply belies its true complexity.
"Everybody understood how important each detail was to get to the finish line," says Herrington. "We all had to be extremely diligent and persistent at such a high level to get the details right. Getting everyone all together to make that happen is huge."
---

Award: Unique Vision
Building Design: Studio Ren Architecture with Endres Studio
Builder: Crestwood Construction
Interior Design: Jamie Bush + Co.
Square Feet: 7,000
Year Complete: 2013
---