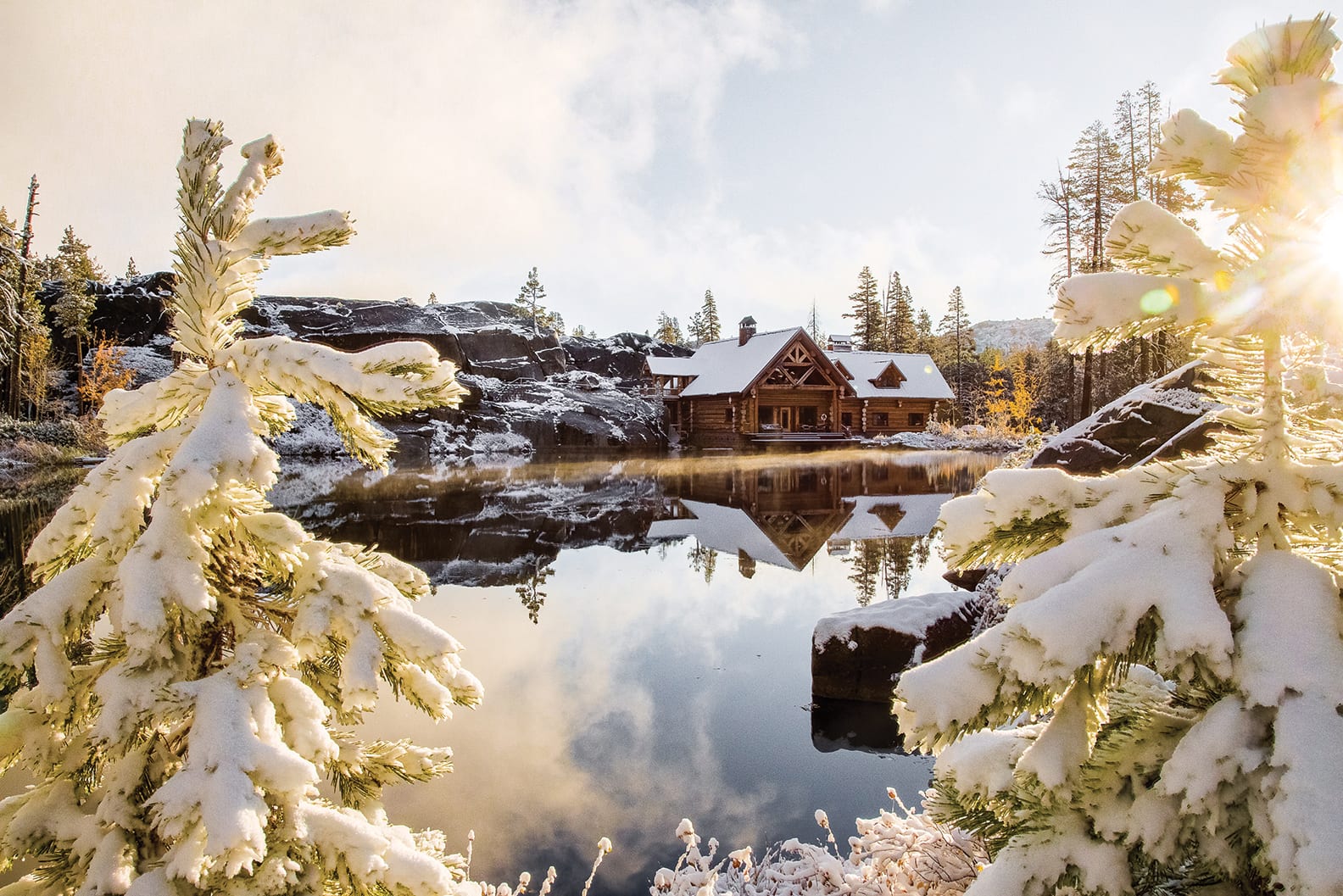 The Hideout Lodge near Kirkwood overlooks a natural alpine lake rimmed by granite, photo by Holly Mandarich
01 Oct

Lodge Pairs Luxury with Backcountry Seclusion

An old logging road cuts deep into the Sierra, past towering conifers and prickly Christmas trees, their needles softened by a layer of fresh snow. The wooded passage leads past a "Bigfoot Crossing" sign—fittingly placed in this rugged, high-elevation landscape—and ends at a frozen lake bordered by snow-covered granite slopes. Those who arrive at this remote mountain oasis are set for a rare experience of adventure and luxury.

Located off of State Route 88 about 12 miles southwest of Kirkwood, the 5,000-square-foot Hideout Lodge combines the backcountry seclusion of a ski hut with first-class resort accommodations, including gourmet meals prepared by a chef, local wines and microbrews on tap, a sauna and hot tub, fireside lounging and more. The lodge offers all-inclusive winter packages for groups of up to 10 people, who are free to explore the thousands of acres of surrounding terrain by day and indulge by night.

"It's a magical experience for anyone who wants to reconnect with nature and ski or snowboard in a retreat-style setting," says Bobby Lauterjung, Hideout Lodge's director of winter operations.

Perched on the granite shore of the lake at 7,100 feet in elevation, the Hideout gets pummeled by winter storms, receiving between 500 and 600 inches of snow annually. The resort is reached in the winter by snowmobile, snowcat or guests' own two legs.

"That's what's beautiful about the Hideout, you're really getting out there. It's a backcountry ski experience that is genuine and unforgettable," says Lauterjung.

At 7,100 feet in elevation, the Hideout Lodge receives ample snowfall, photo by Willie Martini
Labor of Love
Hideout Lodge was conceived by Tom Hoover and built with the help of his wife BJ and their two sons, Dusty and Josh. The alpine property was difficult to acquire given the limited amount of private land in the Sierra high country. But Hoover spent months pouring over maps, relentless in his search for a location to build a dream mountain retreat. Finally, in 1998, he discovered 40 acres owned by a retired logger who agreed to sell.
Building the Hideout was a massive undertaking and took the family over 10 years to complete. Their meticulous efforts are apparent at first sight of the handsome lodge.
"When you go over the hill and see the view of the Hideout, it's breathtaking," says Josh Hoover. "We built everything we possibly could, and that makes it more unique."

A large fireplace anchors the great room of the Hideout Lodge, which was built using hand-peeled logs from the property, photo by Rafal Bogowolski
The lodge employs traditional log-cabin architecture, with each log notched and fit together without the aid of a single nail. The massive polished logs—each cut from the property and hand-peeled on site—smell of ancient pine forest and have a honey sheen. Some, which Josh Hoover calls "character logs," are preserved in a natural state, displaying the effects of time and weather with intricate patterns and whorls in the burnished wood.
Each of the five bedrooms is thoughtfully designed with rustic furnishings, a private bathroom and a gas fireplace. The master suite features a copper tub and a balcony for sipping coffee and watching the snow fall in the morning, and the communal kitchen and living room are kept toasty by a large wood-burning fireplace.
"I like seeing guests' reactions when they see the lodge and enjoy the property because that's what we're after—their happiness," Hoover says. "Everything at the Hideout has been handcrafted to be their perfect winter getaway."

The lodge has five bedrooms, each with its own gas fireplace and bathroom, photo by Rafal Bogowolski
Winter Wonderland
The Hideout wasn't originally designed as a winter retreat. The Hoover family built the resort for summer activities such as weddings and corporate events, opening for business in 2008.
In September 2015, Lauterjung got married on the idyllic property and noticed the steep granite slopes surrounding the resort. He saw an opportunity for backcountry adventure.
"The Bay Area has a huge skiing community and in California, there's no private land. The Forest Service owns everything," Lauterjung says. "At the Hideout, there was this privately owned pristine land with access to endless forests."
Lauterjung pitched his idea of opening the Hideout as a winter backcountry retreat to Tom Hoover. After much planning, they outfitted a snowcat to shuttle passengers the 2.2 miles from State Route 88 to the property and found adventurous people to staff the resort. The Hideout opened its doors to winter guests for the 2017–18 season.


Playful backcountry ski runs abound near the rustic lodge, photo by William Fleming
"We had an overwhelming amount of interest and a lot of support from the community," says Lauterjung, who originally offered a helicopter-assisted skiing operation at the Sierra Buttes north of Truckee. Although the heli-skiing was discontinued due to logistics, guests can still book a helicopter charter to take them to the Hideout or request a terrain-scouting tour directly out of the lodge, Lauterjung says. 
Guests don't need a helicopter to access the terrain immediately surrounding the lodge. The undulating landscape is dotted with vast powder fields, snow-covered boulders and epic tree skiing. One of the nearby slopes features a 1,000-foot vertical drop, with access to first tracks all day.
"When people come to this remote place, they're looking to unplug and enjoy the sport. No one else is riding here and they have endless powder turns," Lauterjung says.
Professional guides conduct snow-safety training on the day of arrival and are also available for backcountry touring. Guests are provided with state-of-the-art backcountry equipment and taught how to read the snow conditions and use beacons and probes in the backcountry. If snowmobiles are needed for an excursion, they can be rented by the day or longer. People are also welcome to bring their own sleds. The snowmobiles provide access to more distant, advanced terrain and can be ridden to nearby Iron Mountain, an abandoned ski resort with open powder bowls and empty runs.
"The Hideout experience is tailored for each group. Guests get great powder turns and can do hot laps or build jumps," Lauterjung says. "It's really just about getting out there and having fun."

A bluebird powder day near the Hideout Lodge, photo by Stephen Figurski
Hideout in Style
After a backcountry snow day, the Hideout's onsite staff help folks unwind at the lodge. A private yoga instructor and a massage therapist mend sore muscles, and the handcrafted, cedar-barrel hot tub and cedar sauna offer a steamy respite from the winter elements. 
Chef Nick Gardella of Jackson, California, prepares meals that are tailored to guest preferences. Dinners are family-style, farm-to-table affairs featuring local produce and organic meat. All food and alcohol is included with the stay. Amador Brewing Company provides local craft beer, and Lauterjung says there is something magical about soaking in the cedar-barrel hot tub with an ice-cold brew in a snowdrift at arm's reach.
"We want to create lasting moments that are unforgettable," Lauterjung says. "We talk to guests, find out what they want, and then create that experience for them."
At cocktail hour, guests can mosey over to the Western-style saloon, a separate building that feels like a genuine gunslinger hangout, complete with a pool table and handmade wooden bar.
"The Hideout is about getting out there and being free," Lauterjung says. "Our focus is providing a backcountry experience with luxury accommodations in the middle of nowhere. There's no Wi-Fi and no cell phone reception, and I think that's what's cool about it."
---
For more information about the Hideout Lodge, go to www.stayhideoutlodge.com.