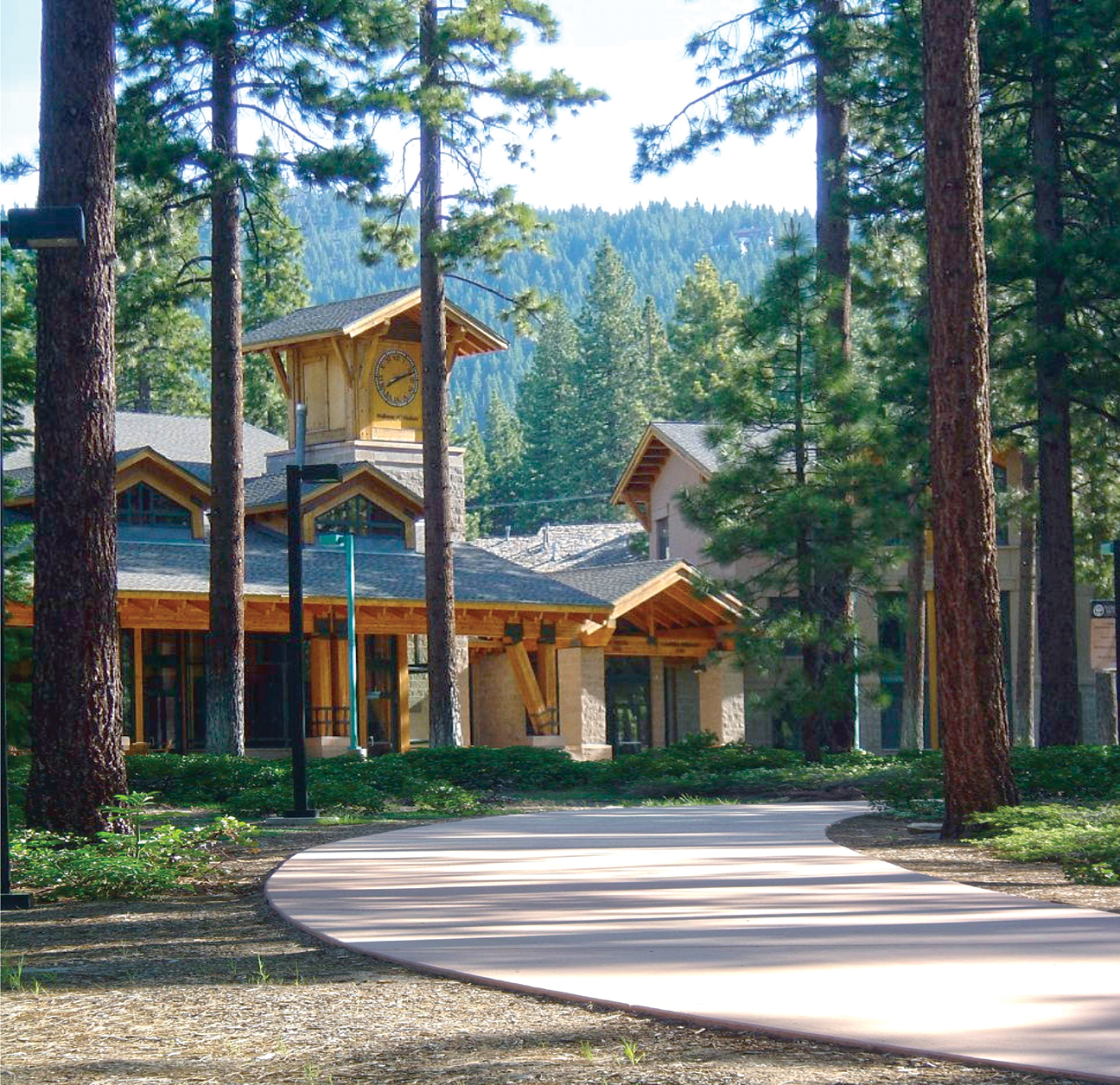 A clocktower stands above the Sierra Nevada University campus in Incline Village
27 Sep

A Merger That Was Meant to Be
After falling on hard times, Tahoe's Sierra Nevada University joins forces with the University of Nevada, Reno—a transition that provides more hope than consternation
As Nevada's first four-year private college grappled with the financial fallout of the COVID-19 pandemic, it was confronted with a harrowing choice: The college located near the famously blue water of Lake Tahoe could either slowly bleed its way toward bankruptcy or sacrifice its autonomy by merging with a more fiscally stable institution.
The University of Nevada, Reno (UNR) provided the solution, as the Silver State's flagship public university quickly stepped in and agreed to acquire the small liberal arts college in Incline Village, seeking to preserve elements of its intimacy and charm.
While the news is bittersweet for the most notable higher education establishment in the Lake Tahoe Basin, the leaders of both schools are characterizing the pending acquisition as universally beneficial.
"It looked like a clear win-win," says Brian Sandoval, Nevada's former governor and current UNR president, whose son attended what was then Sierra Nevada College (and is now Sierra Nevada University).
"They are two complementary campuses," Sandoval adds, "so it makes sense to bring them together." 
The Early Days
Sierra Nevada College was founded in 1969. At the time, it had an enrollment of 23 students and was located on a small parcel next to a trailer park off College Drive. Nevertheless, its founding was a part of Nevada history as it became the first four-year private college in the state.
A year later, after Ben and Margaret Solomon, a married couple who both worked as professors, took over the management of the school, they hired additional staff, but could only pay the instructors by giving them half of student tuition on the date it was paid.
It was a reflection of the financial straits the new higher education center had to navigate in its nascent stage.
"In 1970 they (the school's founders) said they were planning on closing the school," Solomon told the North Lake Tahoe Bonanza. "They said if I was willing to run it, it could stay open, and they gave me a third of an interest in the property. It cost me $5,000, my first ever donation to the college."
When a tenant would depart the neighboring trailer park, the professors would buy up the property, expanding the campus while building new facilities and aggressively marketing to prospective students.
By the time June Saraceno, a former English professor at the college, arrived in 1987, the campus community had grown but remained close-knit and freewheeling.
"It was sort of Wild West in terms of how things got done," Saraceno told the Incline newspaper. "If you wanted to do something, you just got to do it. If you wanted to start a school paper, somebody said, 'OK. You just got to go for it.'"
Moving Up
Slowly but surely, Sierra Nevada College (as it was still called) began to mature.
In 1991 the institution bought the Lake Campus, as it was known at the time, a picturesque 20-acre piece of land that straddles Country Club Drive, featuring gently rolling terrain spangled with towering ponderosa pines.
After building out the campus over time, walking paths now ribbon through the needle-covered forest floor and hem state-of-the-art buildings that evoke an
Old Tahoe feel while incorporating the newest energy-saving technology. The cozy campus is nestled near the vibrant town center and within walking distance to the beach.
Sierra Nevada College began building out its curriculum, adding graduate programs in Teacher Education in the 1980s, a Master of Arts in Teaching in 2005, Master of Education in advanced teaching and leadership in 2008 and Master of Arts in Administration in 2015.
The college has one of the most attractive ski resort management undergraduate programs in the country, with opportunities to intern at world-class Tahoe resorts to pave the way for a career in the ski industry.
The school really cemented its growth trajectory in 2007 with the hiring of Robert Maxson, who capably guided the institution through its halcyon days, when it enjoyed an enrollment of 500 undergraduate students and just about as many graduate students.
The school's athletic programs became robust under Maxson's stewardship, as the men's and women's ski and snowboard teams, in particular, hauled in a trove of championship trophies in their division (the United States Collegiate Ski and Snowboard Association, or USCSA).
Declining Enrollment
Recently, however, the school has fallen on hard times.
"We saw about a 25 percent decline in enrollment from 2010 to 2018," says Janet Lowe, a Sierra Nevada University trustee. "At our best, we had an enrollment of a little over 500 people. Last year, it was closer to 300."
Part of that was due to the pandemic, which made in-person classes difficult to impossible, and made students reconsider whether they wanted to pay for a college experience they couldn't fully experience.
Nevertheless, broader trends have been in place for years.
"Several U.S. colleges have experienced declining enrollments for the past five to seven years," Lowe says. "If you look at data across the country, most small colleges are in a state of significant decline."
According to the Student Clearinghouse Research Center, college enrollment declined by 1.9 percent from 2018 to 2019 (the last autumn enrollment period before COVID). In 2019, the picture was tough for higher education across the board as college enrollment dipped below 18 million for the first time in the decade, and was nearly 2 million students off from the peak of enrollment in the United States in 2011.
The cause is multifactorial, according to experts.
Some have drawn on the experience of the Great Recession of 2007, when hordes of graduating college students were saddled with enormous debts as they entered a labor market that was not eager for their services. Others note that college in the twenty-first century is too expensive for a wide swath of students and families.
Politics undoubtedly plays a role too, according to commentators, as conservatives, in particular, mistrust higher education institutions and view them as indoctrination factories. The Pew Research Center found that only 33 percent of self-identified conservatives viewed higher education positively, versus 59 percent that held negative views. Democrats, on the other hand, overwhelmingly harbored positive views of higher education, 67 percent versus only 18 percent who held negative views.
But Jill Heaton, the current executive vice president and provost of Sierra Nevada University, says the largest factor in the decline is simple demographics.
"Enrollment has declined at Sierra Nevada University through no fault of its own," Heaton says. "They are just suffering from changing demographic trends. Birth rates are declining, fewer people are entering high school, which means fewer people are graduating from high school."
Lowe agrees.
"The population growth in recent years has been in the segment that doesn't tend to go to college," she says.
All of this happens against a background of rising administration costs for colleges.
"The smaller colleges have been hit harder than the large ones," Lowe says. "Harvard, Princeton, Yale are all going to be fine, but we are a small, less selective private liberal arts college. You look at the landscape and as many as 500 or 600 similarly situated institutions could close in the next few years."
These trends were all in place before COVID-19 began spreading throughout the United States in March 2020.
"We're running in the black, no cash crunch, but also not a big cushion, and then COVID hit," Lowe says.
Enrollment in fall 2020 fell off a cliff.
"A new incoming class is typically 100 people or more," Lowe says. "Last year, it was about 50. And this rolls through all four years."
So Lowe and the other trustees begin inspecting the books more closely and concluded that closing the school was not immediately necessary, but the future looked bleak.
New Life
But then, opportunity came knocking when the University of Nevada, Reno stepped in.
As Sierra Nevada College began casting about for a potential merger partner, UNR emerged as a clear candidate due to geographical proximity and personal connections.
"A friend of both institutions thought a merger would be good for both of us," says Lowe.
It helps that Sandoval has a personal connection to the university in his son who attended, which means he knows the campus and curriculum—and understands the rare opportunity to ski and recreate in a world-class destination while attaining an education. 
Sandoval's experience highlights why an acquisition of Sierra Nevada University is such a net positive for UNR.
"If you look at our marketing materials, we use about two pages to tout our campus proximity to Lake Tahoe," Sandoval says. "Now, Nevada students can pay in-state tuition to go to school in such an idyllic setting."
The opportunities for UNR extend well beyond picturesque scenery, Sandoval says.
He envisions speaker series at the Sierra Nevada University campus capable of attracting thought leaders from around the country. He would like to continue interconnection with the Incline Village community, hosting art events and allowing community members to take classes side by side with students.
But the former governor of Nevada also sees ample possibilities to further UNR's mission as a research institution. 
"We have some of the greatest water researchers in the world, so having a campus at Lake Tahoe can be a force multiplier," Sandoval says.
UNR also administers the Whittell Forest and Wildlife Area just up the hill from Incline Village. It was dedicated to the university in 1959 by George Whittell, the eccentric scion of the wealthy founders of Pacific Gas & Electric.
The university uses the 2,650-acre plot of forested land in the Carson Range to conduct research, teach and perform community outreach. The acquisition of Sierra Nevada University will only add to that mission, Sandoval says.
"Whether it's forest health, water quality, climate change, wildfire or the opportunity for further research and collaboration with other institutions like U.C. Davis, it's all very exciting," Sandoval says.
Leading the Transition
Heaton, who is leading the transition of the university as it gets folded under the umbrella of UNR, says there are still hurdles to clear before the champagne bottles are uncorked.
First, says Heaton, the acquisition must earn the approval of the U.S. Department of Education, the Northwest Commission on Colleges and Universities, and the Nevada Postsecondary Commission. That approval is unlikely to come in 2021 and is more feasibly slated for the summer of 2022, adds Heaton, who does not anticipate significant impediments. But, no deal is done until the ink is dry.
In the meantime, Heaton says she is working to make sure the transition is seamless for students and faculty.
"Without question, the number one priority for the SNU campus community now is to have a successful academic year in 2021," Heaton says, adding that the university must honor the commitment it made to students who put faith in the institution by enrolling in 2018 or 2019, before the pandemic and the ensuing merger.
Heaton is uniquely positioned, having also served as vice provost for UNR, building competence in both organizations.
As the transition progresses, Heaton and others will be charged with deciding what programs Sierra Nevada University will retain as it transitions under the auspice of UNR.
"We're going to look at graduate enrollment trends and as we get even further down into the numbers, regarding which majors are declared more often, we will make those types of decisions," Heaton says.
Lowe says UNR has already expressed enthusiasm about many of SNU's unique curriculum offerings.
"They really like our outdoor leadership program, which is folded under our interdisciplinary programs," she says. "It's not something they currently offer at UNR. They have also taken note of our strong entrepreneurship programs."
Once the acquisition is complete, continuing students who enrolled at Sierra Nevada University before the integration will have the option to graduate with a degree from either school, while new students who come after the merger will graduate with UNR degrees.
Sandoval says that although UNR remains a major state school with nearly 20,500 students enrolled in undergraduates, it will strive to retain the intimate feel that Sierra Nevada University provides.
"That small-college feeling is something we definitely want to preserve," he says. "Many students want to go there because they are looking for the intimate feel of a small liberal arts college. That was something my son was looking for and there is no better place to experience that than Lake Tahoe."
---
Matthew Renda is a Santa Cruz–based writer and former Incline Village resident.