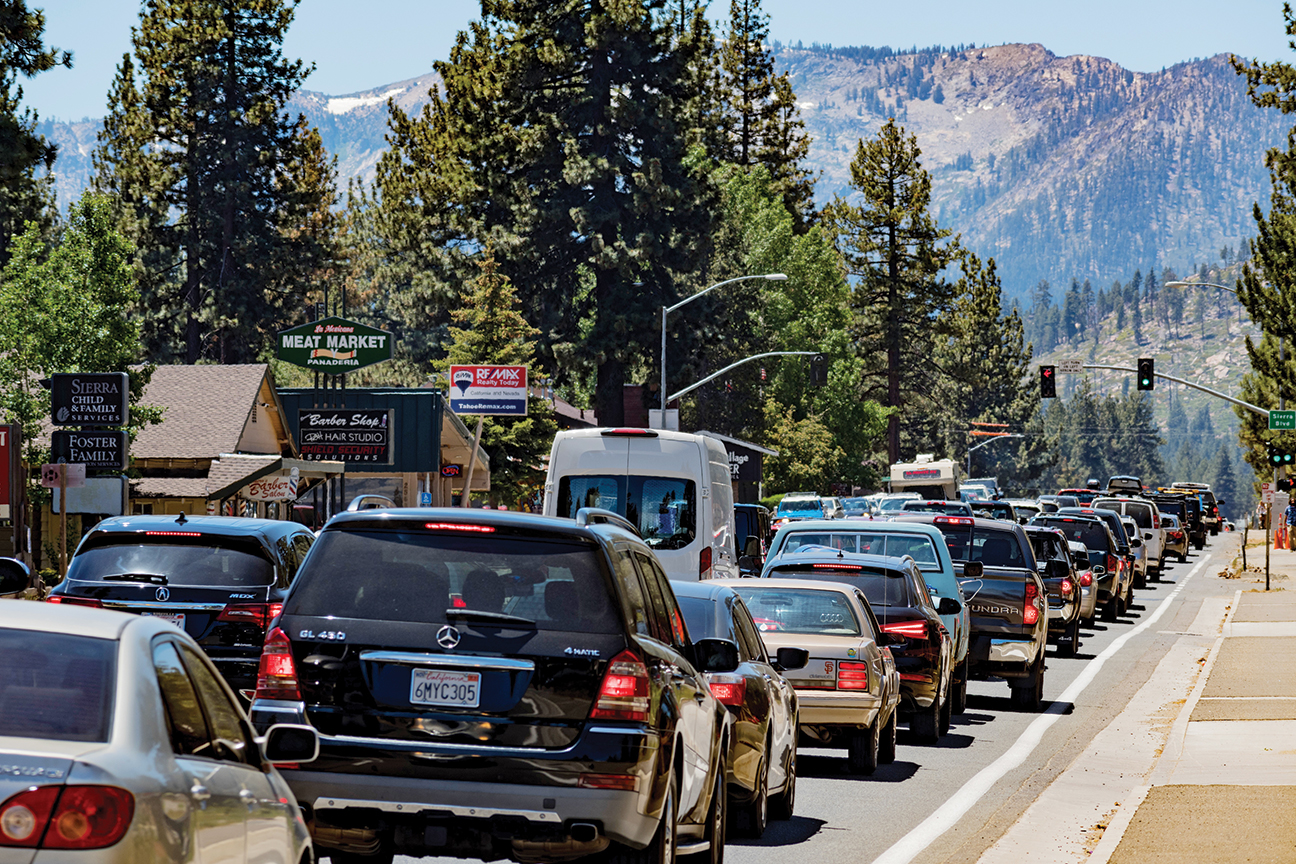 Efforts to address transportation concerns in Tahoe have mostly been piecemeal thus far, photo courtesy League to Save Lake Tahoe
25 Jun

Addressing Tahoe's Traffic Burden
An entry fee tops of the stack of ideas to fix congestion in the Tahoe Basin, but the road ahead is long
Picture the majestic view of Lake Tahoe from Highway 50 on Echo Summit. Now, picture the same view with a massive gate across the highway.
Or, better yet, think Disneyland. But instead of long lines of mouse ear–clad people waiting to pay their day away, there are cars, the back bumpers stickered with "Keep Tahoe Blue."
All are waiting to pay an entry fee into the Lake Tahoe Basin.
The idea is closer to reality than the imagined scenarios. Commuting by car around Tahoe has long been a burden for visitors, residents and the environment, complicated by limited lanes and alternative transit options, a lack of parking and decentralized government that struggles to guide the region to unified solutions.
"As populations outside the region grow, we are marking significant new impacts coming into the Basin from day-users that are affecting sustainable recreation and quality of life for everybody," says Jeff Cowen of the Tahoe Regional Planning Agency (TRPA). "The congestion is debilitating for our visitor experience, but also for locals."
Tangible solutions for bumper-to-bumper vehicles circling the lake have been sought for many years and mostly attended to in the form of multimodal options. Consider increased shuttle services along the North Shore, mobility hubs in Incline Village and at Spooner Summit, and corridor plans for Emerald Bay and the South Shore.
But what to do with the cars themselves, so ingrained in Americans' culture of travel?
After two years of public outreach, a Basin-wide transportation user fee has floated to the top of One Tahoe, an initiative that falls under the Tahoe Transportation District (TTD) and plays a role in the research of funding options to finance Tahoe's future multimodal transportation system.
The user entry fee concept has not yet been approved by any local authority, and state legislatures would need to amend levying powers for such an action. But the sentiment is there, and it's backed up by data: The majority of Nevada and California residents agree that traffic is hurting Tahoe, and that a daily fee for vehicles entering the Basin is appropriate.
Searching for Solutions
A January 2021 draft final project report from One Tahoe (which includes survey results of voters' thoughts on Tahoe traffic) even listed illustrative dollar amounts for different user groups: Non-residential vehicles entering the Basin might pay $4.10 each day, with resident households paying $7 a month.
Carl Hasty, district manager for the TTD, compares implementing such a user fee to visiting state parks, where drivers pay a fee to enter.
"That's a distinction versus a tax," he says. "A tax has a set of legal responsibilities and rules that go with that … A fee is more adjustable. It's just like your utility fee. Utility fees are based on the cost of the services. The utility fee may have a process to go through, but it can go up or it can go down based on what those costs are and how they change over time."
Implementation of such a user fee isn't a silver-bullet solution, says Scott Kelley, a geography professor at University of Nevada, Reno. While Kelley isn't directly involved with One Tahoe, he's provided research to the TRPA about vehicle miles traveled around the Basin.
"Transportation's a really, really hard [problem] to address," Kelley says. … "Getting people to drive less has just been a real uphill battle."
A user fee to enter the Basin could serve as a disincentive for those driving in, he adds, alongside higher parking fees. Incentives, on the other hand, could come in the form of providing bikes or scooters, or some sort of financial perk from businesses or hotels.
The desire for improvement is real, Kelley says, but getting on the same page across five counties, two states, one municipality and the numerous census-designated areas won't be easy.
"The Basin entry fee is a big ask," Cowen says. "That's seven roadways, all the counties, the states. We're not a national park, and there's a lot of considerations to be had there. What if you get support from some of the roadway operators and not others? What's everyone going to do? They're going to drive around to the other side. That won't solve any transportation problems; it's going to create more."
Cowen mentions a 1 percent sales tax or gas tax or somehow using the Tahoe license plate program—which currently provides funding to environmental protection around the Basin—as alternative funding ideas.
Cowen's two points illustrate the fact that a lot of work remains to make progress with Tahoe's congestion.
"First, you've got to land on that's the direction you want to go," Hasty agrees, "and that's where the debate will be—who's supportive and who's not, what's fair, what's not fair … [The One Tahoe January 2021 report] provides a good way, an informed way, of starting the discussion and having discussion with the understanding that more work will need to be done before you finish landing on something."
After such a decision, legislative action would be needed. Tahoe's multi-jurisdictional makeup requires a unique approach to levy potential Basin-wide transportation user fees. Currently, TTD has the authority to pursue transportation taxes, but not user fees.
The authority could be amended to give the district levying powers and would need to be pursued through both California and Nevada state legislatures, but such political steps are far down on the to-do list.
Looking to the Future
The recent passing of the TRPA's regional transportation plan has agencies and organizations working on a more technical level, the nuts and bolts of what it takes to get the plan and funding options going: navigating calendars and agendas and the lingering pandemic while still pushing solutions forward.
"That's going to take some time and that's probably going to take us at least the balance of this year to really go through that," says Hasty.
Legislative timelines must be considered, too, because Nevada's state legislature meets during odd-numbered years (including 2021, though the session has already ended), and additional work like procuring a fee collection system needs to be done in parallel to legislative activity. Missing this year's cycle pushes any possibility of fee collection out to 2025.
Still, Hasty is optimistic about momentum.
"There's awareness and interest of moving on this to get there sooner rather than later," he says. "And for it not to take years. It's time to get there."