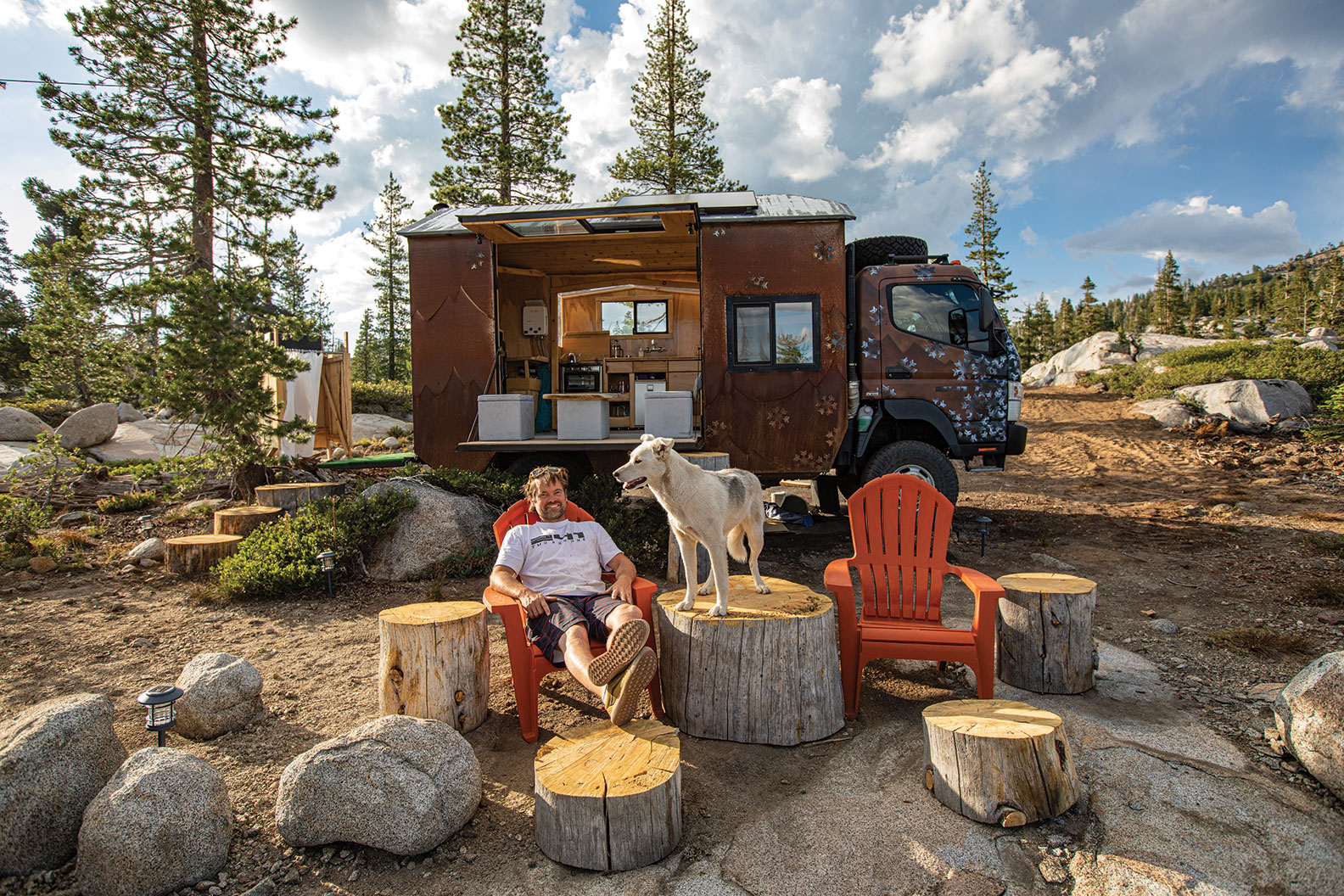 Mike Basich relaxes with his dog, Mystic, outside of his custom home on wheels at his Donner Summit property, photo by Ryan Salm
24 Sep

Chasing Dreams
Former snowboarding star Mike Basich uses his creative talents to build a rugged yet luxurious home on wheels
This was not the first time I'd driven deep into the granite expanse of Donner Summit in search of something exquisite built by Mike Basich.
In January 2019, David Bunker and I blasted double on a snowmobile through a heavy Sierra storm to document Basich's off-the-grid home—a 300-square-foot, pentagon-shaped masterpiece of rock, wood, glass and steel that the former professional snowboarder designed and crafted by hand.
The difference on this visit: Instead of pounding snow, the temperature was 80 degrees as I followed a trail of dust toward Basich's remote plot of land. Judging from the location of his 40-plus-acre property, Basich clearly lives for both the journey and the destination.
Upon arriving, we weaved along a footpath through a garden of granite boulders, eventually spilling into an open flat among hardy lodgepole pines. There, basking in the last rays of sunshine, sat a truly unique vehicle—a fully customized, four-wheel-drive home on wheels straight from the creative mind of Basich.
From Dream Rig to Reality
Basich designed his adventure mobile, known as "Mike's Dream Chaser," with the idea of traveling in functional style from Tahoe to Alaska.
As such, several elements were paramount to the build: The Dream Chaser needed to fit easily into a parking space and onto a ferry (the latter makes the journey more affordable), it needed to be capable of holding its own on the open road and in snowy terrain, and it needed to provide comfortable and convenient living quarters.
With five vehicle builds under his belt, Basich pulled out all the stops to create a rugged, highway-worthy truck that converts like a Transformer into a comfortable home away from home.
He researched his options before selecting just the right vehicle. 
"I wanted something small that gets big when you want it to get big," says Basich, who found a 2012 flatbed Mitsubishi Fuso on Craigslist and snatched it off the market for $33K. Basich notes that four-wheel-drive diesel Fusos are often used as snowplows in cities, where they are coveted for their tight turning radius owed to their cab-over-engine design.
With the ideal rig secured, Basich went to work at a shop in Colfax, stripping the flatbed and welding together a steel box frame with a gabled roof. Employing 2-inch-thick walls, he insulated the interior like a refrigerator, adding hard foam and putting the water heater inside so it doesn't freeze in winter temperatures.
He used cold-rolled steel paneling on the exterior to achieve a rusted patina look. Unlike pricier COR-TEN steel, the cold-rolled steel rusts naturally, Basich says, giving the Dream Chaser its old-fashion aesthetic. That also means it will eventually rust away, which is why he ensured that each panel is easily removable.
Complementing the rustic style, Basich shaped the panels to appear as jagged mountain peaks. He added snowflake decals to appear as if the truck has just motored through a snowstorm. 
Artistic Amenities
Basich's artistic eye and resourceful ingenuity are most apparent in the spacious wood-clad interior.
Milling the wood from a single beetle-kill tree on his property, he hand-crafted all the cabinetry and shelving himself, meticulously sculpting the trim to create a continuous mountain scene. The ceiling and walls are clad in the same knotty lodgepole pine, providing a homey warmth, while a skylight located above a full-size bed lets in light during the day and allows for star (or Aurora) gazing at night.
Basich built the passenger side of the rig to open to the outdoors through a "clamshell" hatch, comprised of a rising hydraulic window and a gate that folds down to create a deck. Opposite the clamshell, the driver's side features a 16-inch, remote-controlled slide-out that allows for an expanded kitchen area. A discrete soaking tub near the clamshell is concealed under a removable slab of flooring.
The roomy interior, which measures 19 by 7 feet and offers about 100 feet of living space, is fully outfitted for comfort and convenience. Powered by two Goal Zero solar panels on the roof, the cabin includes a refrigerator, television and even a ceiling fan.
On cold winter outings Basich usually fires up his wood-burning fireplace first, both to heat up the space and dry things out. A thermostat propane heater kicks on when the fireplace cuts out.
As an avid snowmobiler, Basich made sure the cabin was fit to house a sled for the long haul to Alaska. He even strategically placed the wood stove on a backdoor that swings open, as to not block the snowmobile's path in and out. Upon arriving in the Last Frontier, the sled can easily be moved outside and transported on a rear "Tommy" gate.
"It's not for long highway travel, but it will get you where you need to go," Basich says of using the gate for his sled.
Good Living
Back on Basich's homestead, or anywhere it rolls, the Dream Chaser quickly transforms into prime real estate.
"Bring it down to San Francisco's Ocean Beach, open up the clamshell and you have immediate beachfront property," says Basich. "Drive it on my ideal road trip down the Oregon coast, and you can actually drive on the beach. You can pull up to the wave, take a swim, then fill up the bathtub and clean up."
Beyond all the clever features, Basich says he appreciates how well the Dream Chaser drives and the enjoyment it provides on road trips.
This rolling work of art turns smoothly and quickly, gets 12 to 14 miles per gallon, and opens itself to any vista. Even in a city, Basich can park it, open the clamshell, have a 30-minute picnic and move on. It's a vehicle and a home and operates in any condition.
Naturally, the Dream Chase is a hit wherever it goes.
"Having a unique rig, people often welcome you to stay places. If you have a typical RV, they usually tell you you can't park here," says Basich. "The cooler your rig looks, the more open people are to having you stay."
With a 1-year-old kid and a busy schedule, Basich has the Dream Chaser currently set up as an Airbnb on his Donner Summit property.
"Depending on how the world goes, I'd like to set it up as an Airbnb in Alaska," says Basich, who has made the Alaska drive only once thus far (COVID-19 scrapped his 2020 trip). "I'd offer the rig and a sled. People could show up and have the ultimate AK experience on Thompson Pass or somewhere."
---
Ryan Salm is a Tahoe City-based photographer and writer. Find more of his work at ryansalmphotography.com or follow him on Instagram, @ryansalmphotography.