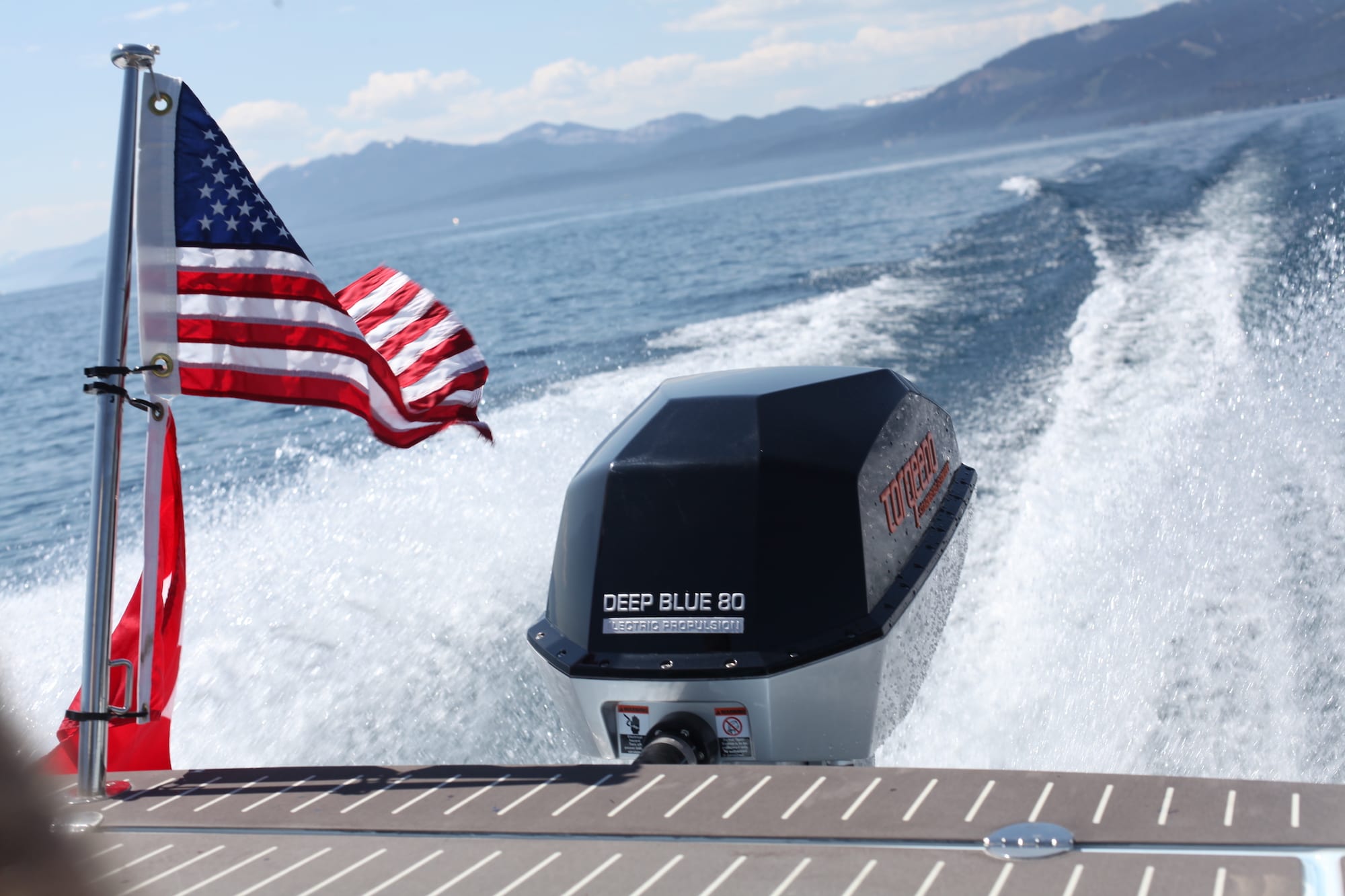 22 Jun

Electric Sportboats Could Keep Tahoe Blue
SPONSORED CONTENT
Last month, Tahoe Quarterly Associate Publisher Clayton Humphries was invited to spend a morning on a new electric sportboat on Lake Tahoe. He returned to shore with a new appreciation for these practical high-performance vessels.
Boating with "e-motion"
The "e-motion" is an all-electric version of the Tender 06 production sportboat built by Designboats of Switzerland. The 20-foot boat is powered by an 80-horsepower-equivalent electric outboard from Torqeedo in Germany, which is a leading producer of marine electric propulsion.
The Designboats Tender was imported by Truckee-based Ruckmarine Electric Sportboats. Ruckmarine commissioned the boat at the KKMI Richmond boatyard in the Bay Area and delivered it to owner Herbert Schläpfer of Sausalito in April 2017. Schläpfer was interested in having "e-motion" on Lake Tahoe, so Ruckmarine arranged to have the boat displayed at the Lake Tahoe Concours d'Elegance boat show, then moved to Homewood High & Dry Marina for demonstrations through September.
Peter Minder, the owner of Designboats, visited Tahoe from Switzerland and joined Scott Ruck of Ruckmarine for a week of test drives after the show.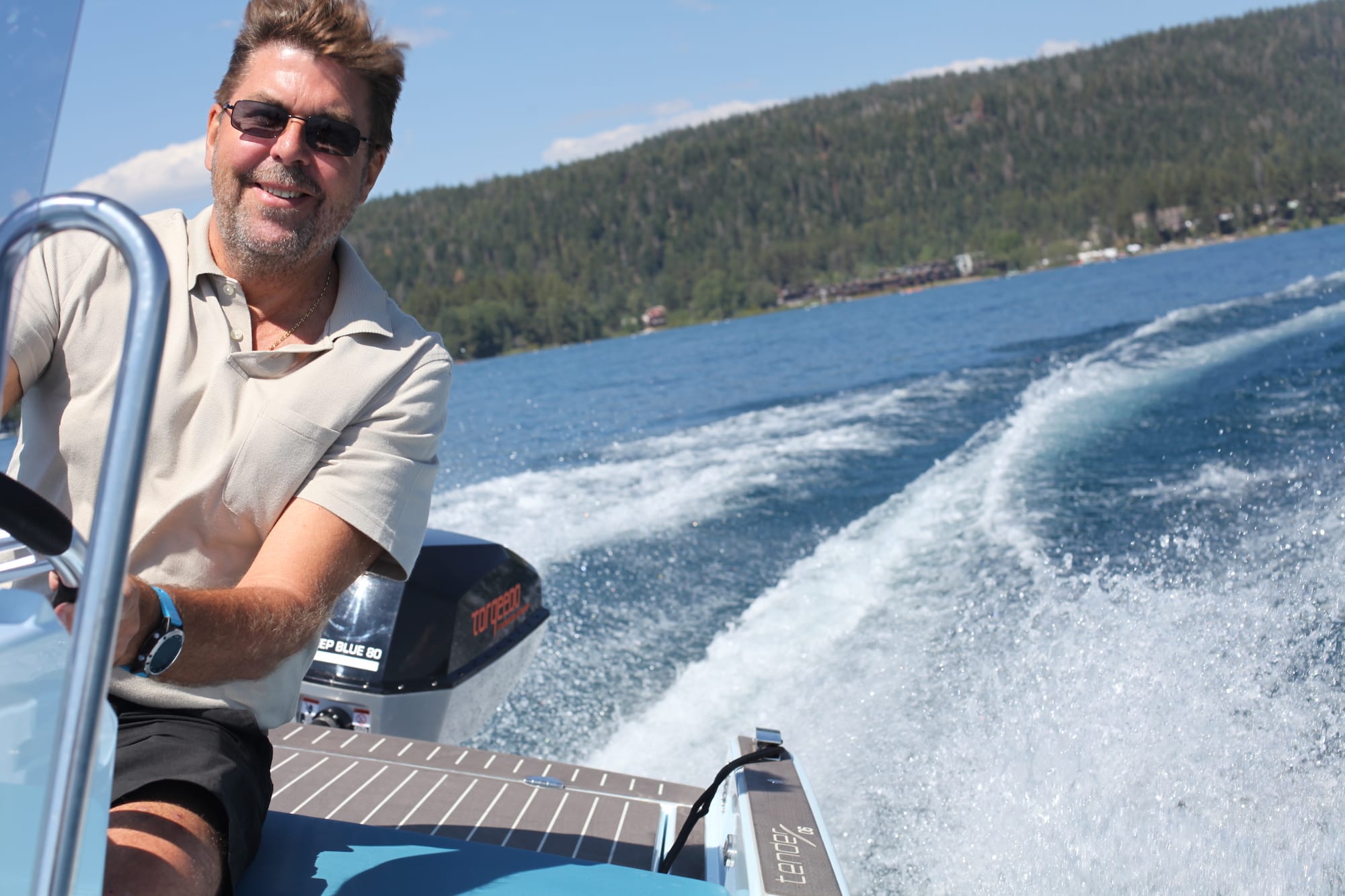 Clean and Quiet
Minder took Humphries out on "e-motion" for a trip from Homewood High & Dry Marina to Tahoe City for lunch, allowing him to demonstrate the boat's mix of leisure cruising and high-speed performance. With nothing but the sound of wind and water, the Designboats Tender can reach speeds of 30 miles per hour while emitting nothing into The Lake or air.
During the cruise, Minder explained how electric sportboats are in widespread use throughout Austria, southern Germany, Switzerland and elsewhere in Europe due to regulations limiting the use of gas-powered recreational boats. When lakefront venues on these European waters, particularly restaurants, started offering charging infrastructure for electric boats, they gained an advantage over their competitors. Now, charging ports are becoming readily available around these lakes. It's not hard to imagine the same thing happening at Tahoe's lakefront dining venues.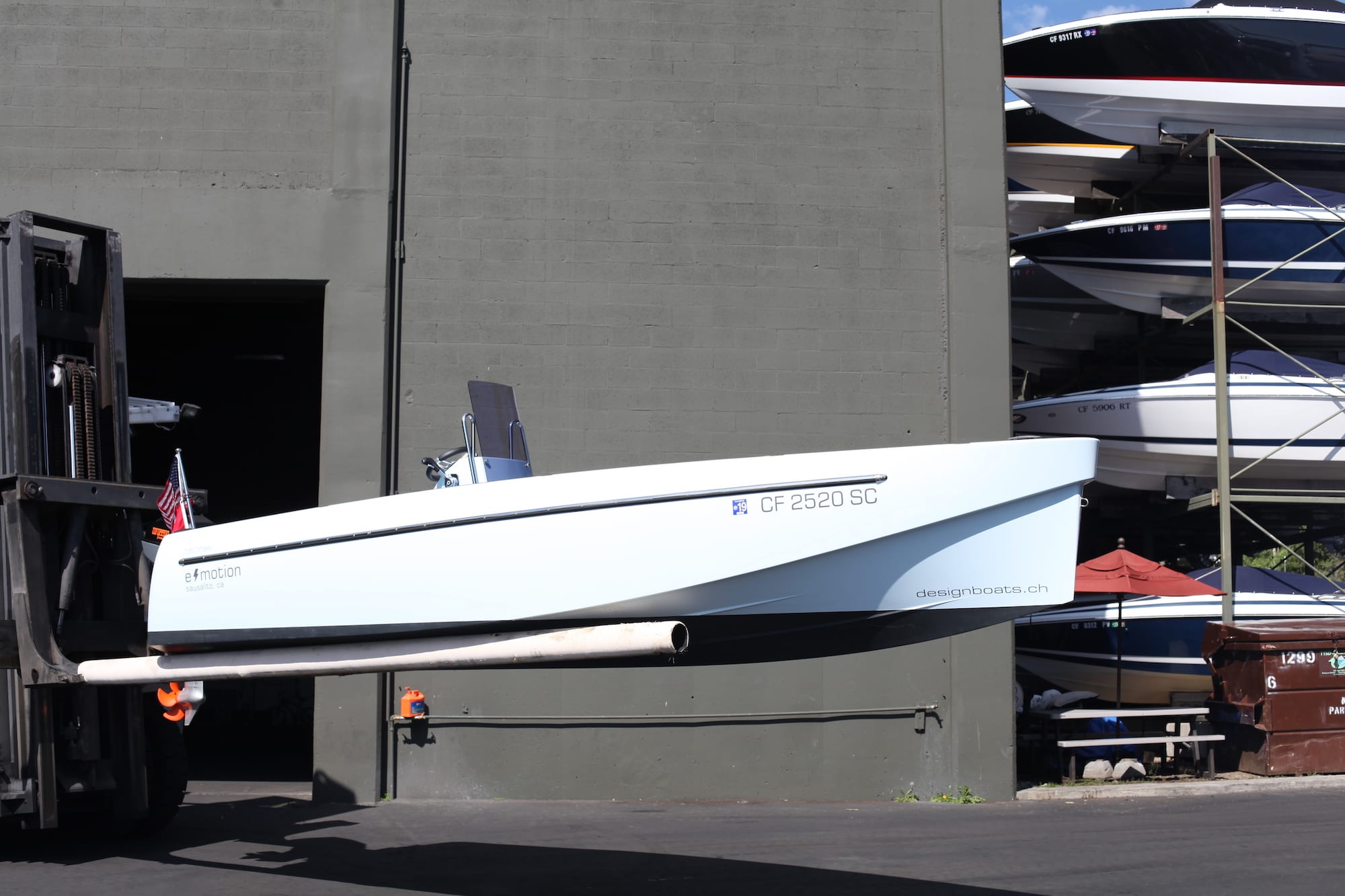 Carefree
The "e-motion" has a nice home on Tahoe at Homewood High & Dry Marina, where the boat is kept indoors on a storage rack.
Everything required for charging is on the boat, so once it's in place, it just gets plugged in to the marina's 220-volt electrical service. When Minder and Ruck want to take the boat out, the marina staff simply unplug and launch.
After the boat returned from the trip to Tahoe City, "e-motion" only had to be plugged in for two and a half hours to reach a full charge. Not bad for having already spent a few hours out on The Lake.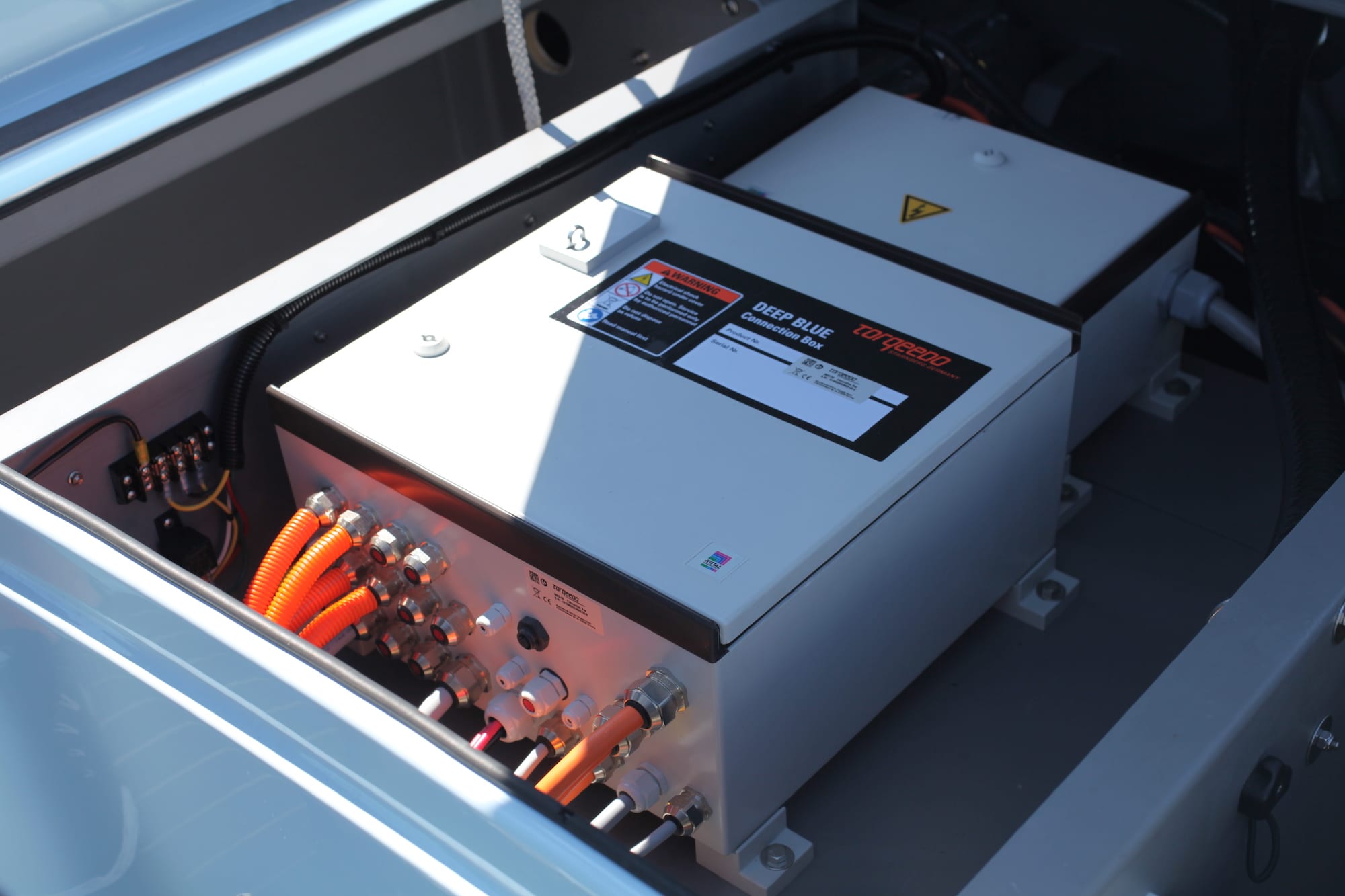 Sustainable
Just like electric cars, the Designboats Tender proves that electric sportboats are now a practical alternative to gas-powered boats for spending a few hours out on Lake Tahoe. They also require virtually no maintenance.
It's not hard to imagine Tahoe becoming filled with a variety of clean, quiet electric sportboats, helping to keep the famously clear lake as blue as ever.