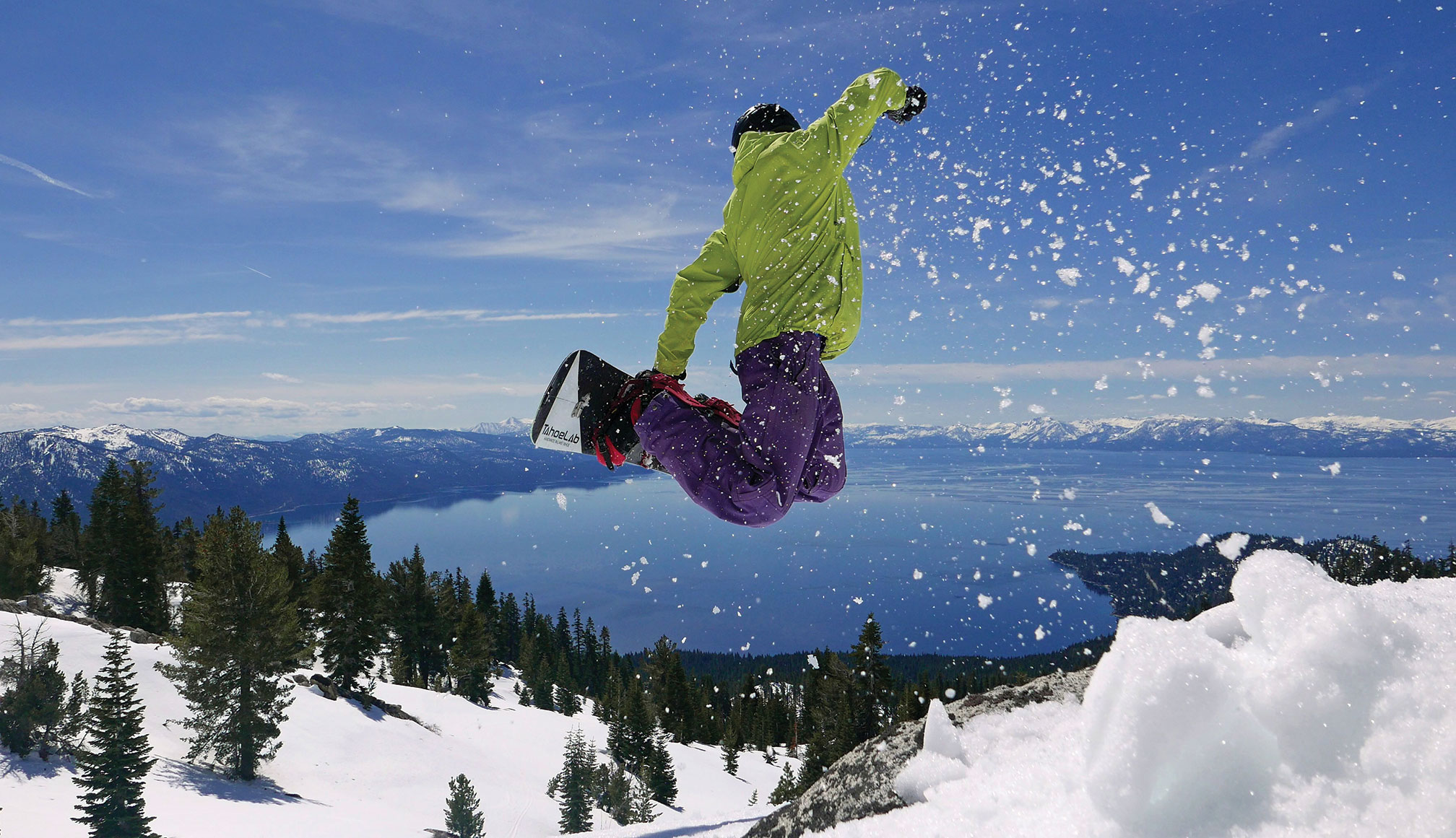 Local Adventure Film Company Evolves from Modest Start
In the winter of 2001–02, Anthony Cupaiuolo spent days in Tahoe's snowy backcountry with a video camera locked in his frozen fingers. He was gathering grainy footage for his first snowboarding film, Sick Day, which featured highlights of his friends' riding talents.
The movie, released on VHS tape, was amateur at best, Cupaiuolo admits. Yet, it was that shaky-handed footage that inspired Cupaiuolo to create First Tracks Productions, a film company based in South Lake Tahoe.   
Over the last 15 years, First Tracks Productions has grown from a small snowboard video company into a world-class adventure film corporation that is putting Lake Tahoe athletes and outdoor sports in the spotlight. 
"First Tracks Productions showcases the Tahoe lifestyle," Cupaiuolo says. "With our films, you don't have to do the sport to follow along and listen to the athletes' stories."
The company's seed sprouted in 1997–98, when Cupaiuolo moved from upstate New York to South Lake Tahoe for the winter. It was an El Niño year, and every day Cupaiuolo snowboarded the deep powder blanketing the Sierra. That one winter turned into a lifelong love affair with Lake Tahoe.
"I even knew back then I wanted to live in Tahoe for a long time," Cupaiuolo says. "I never wanted to leave the mountains."
But at the end of the season, Cupaiuolo said goodbye to the town he'd fallen for and left to attend graduate school in Washington, D.C. He moved to San Francisco after graduating and became a weekend warrior, working in the city and driving to The Lake on his days off. However, after a year of city life and thousands of miles spent in his car trying to escape it, Cupaiuolo decided to ditch his career. He took a job as an instructor at Heavenly Mountain Resort.
"I knew I couldn't be a snowboard instructor year-round, but I wanted to live in Tahoe full time and so filming was a shot in the dark," Cupaiuolo says.
Although Cupaiuolo didn't have a lot of funds, he was passionate about filming snow sports. He immersed himself in the South Lake Tahoe community and gave up-and-coming local snowboarders starring roles in his films. For many of these young athletes, riding for First Tracks Productions was the start of their snowboarding careers.
"For a small town, the amount of people who are good at what they do is really impressive. I think it's a testament to what Tahoe is all about," Cupaiuolo says. "I wanted to feature local riders because these kids were talented and deserved to be well-known, but hadn't broken into the business."
Mike Abeliuk, an experienced big-mountain rider, is featured in Sick Day and appears in every snowboard video the company has produced since. Abeliuk credits Cupaiuolo with launching his snowboarding career.
"Any backing I got from sponsors can be directly credited to First Tracks Productions," Abeliuk says. "Anthony exposed me as a rider and an artist. He always saw the potential in the underdogs and gave a lot of people their first shot. There are many athletes who made it to the spotlight because of him."
The company gave child snowboarding prodigy Alexis Roland a segment in the video Knock on Wood (2008) and then reached out to Warren Miller Entertainment, which incorporated the footage of Roland in its film Dynasty. South Lake Tahoe snowboarders such as Cody Lewis, Chase Harriman, Jordan Nield and Ben Wynn also star in First Tracks Productions films, as well as world-renowned riders such as Antti Autti and Scotty Lago, who won a bronze medal in the 2010 Winter Olympics.
After Sick Day, First Tracks Productions released a full-length snowboard movie each year as the company continued to evolve. Cupaiuolo began incorporating motion shots using cable cameras, jib cranes and sliders. He also hired local videographers and photographers and began to focus more on storytelling than action shots.
"Our films used to be just snow porn—snowboarding to music," Cupaiuolo says. "It wasn't until Knock on Wood that we sat all the riders down and did interviews to get their stories."
After releasing Droppin' in 2009, First Tracks Productions moved away from producing an annual snowboarding film and instead got into freelance work.
"It made sense for us at the time as more and more content was becoming available for free online and the DVD market for action-sports videos was becoming tougher for the small- and mid-size companies," Cupaiuolo says.
During the winter of 2013–14, Gary Bell, owner of South Shore's Sierra Ski & Cycle Works, lent Cupaiuolo a fat bike. The newfangled bicycle with huge tires and thick tread was designed to ride on snow. Cupaiuolo took the ungainly mountain bike out on a trail near his home.
"There was only a couple inches of snow. But I felt like a kid on a sled for the first time. I had a permanent grin on my face," Cupaiuolo says.
That fat bike inspired his next movie, Off the Beaten Path, an adventure-cycling film released in 2016.
"The film is all about people using fat bikes to ride terrain where people haven't really biked before," Cupaiuolo says. "I wanted it to be reminiscent of our snowboard videos, where we showcase different athletes and their perspective of the sport."
South Lake Tahoe photographer David N. Braun has worked with First Tracks Productions for several years. Braun captures stunning still photos of the athletes and assisted with filming Off the Beaten Path.
"Anthony had a vision to reach out to sponsors and create a film devoted to fat bikes before anyone else," Braun says. "He's always up for an adventure, and that usually involves hauling gear into the backcountry on bikes or skis."
To film Off the Beaten Path, Cupaiuolo and the First Tracks Productions team traveled to the mountains of Iceland, the dunes of Winnemucca, Nevada, and the famously rocky terrain of Moab, Utah. They pushed their fat bikes up impossibly steep terrain and jumped off cliffs, capturing their feats on video.
The result was the first full-length fat-biking film ever produced—and a landmark for First Tracks Productions. Off the Beaten Path also created the opportunity for the company to shoot a myriad of other sports.
"We use to be a snowboarding video company. But over time, and from living in Tahoe with all we have to do here, our work evolved alongside our discovering new passions. Now I'd say we're an adventure and outdoor lifestyle digital media outfit," Cupaiuolo says.
First Tracks Productions is presently involved in many projects around Tahoe, from creating a new branding video for the Lake Tahoe Visitors Authority to producing content for other destination marketing organizations such as Travel Nevada and Visit California.
"I want to focus on people and their passions. In Tahoe, everyone's interests overlap because they all have a passion for The Lake and the mountains," Cupaiuolo says. "Getting to focus on that element through film has made me realize just how special this place is."
Cupaiuolo also produces videos for several South Lake Tahoe nonprofit organizations, working for free. Lake Tahoe Wildlife Care, SkiDUCK (an organization that brings disadvantaged youth to Lake Tahoe for skiing and snowboarding) and the Tahoe Area Mountain Biking Association have all benefitted from his pro bono work. Cupaiuolo hopes that when people in other places see these films, they will be inspired to create change within their own communities.
"I've become proud over the years of our involvement in the community," Cupaiuolo says. "It goes beyond making videos."
Like many Tahoe residents, Cupaiuolo says his passion for snow has evolved into something much larger than he ever imagined. First Tracks Productions is now a year-round company that produces videos about almost every adventure sport Lake Tahoe offers, from rock climbing and mountain biking to paddleboarding and waterskiing.
"People may move here because they love snowboarding, but they end up falling in love with many different outdoor activities," Cupaiuolo says. "That was the natural evolution of the company, too. Now, I love filming in the summer just as much as I do in the winter."