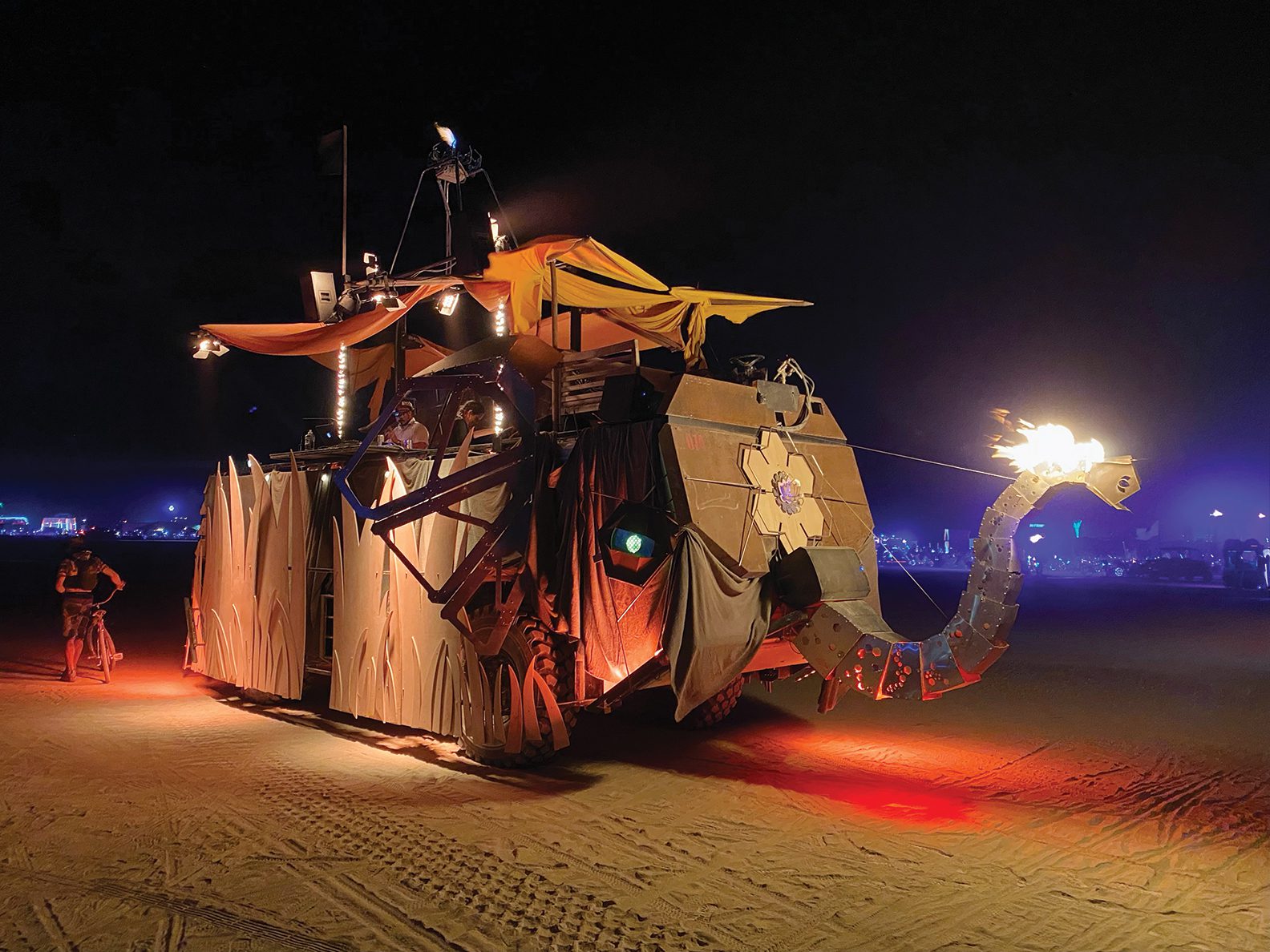 Edna the Elephant fully rigged and rolling on the playa at Burning Man, courtesy photo
27 Jun

More Than an 'Art Car'
Optimus Prime has nothing on Edna the Elephant
It's not a car, nor does it scream "art." At first blush, James Cole's gargantuan 1993 C4000L Amertek is more a military surplus aficionado's fantasy than a groovy art car aiding and abetting a Burner's dream state.
The rig, one of 118 built, started out life as an aircraft crash truck deployed at U.S. Navy airfields. Cole bought the vehicle in 2016 for $16,000 with 6,000 miles on the odometer.
"I was looking for a military truck at auctions and found one I really liked," says Cole, a Tahoe Vista resident. "That was the start of it."
In Cole's case, "it" takes on various meanings. "It" was a crash course on the realities of owning a 30-year-old surplus military vehicle that weighs in dry at nearly 20,000 pounds (that's about eight smart cars).
"It" was also a vision of transforming a purpose-built piece of militaria hardware into a mutant vehicle worthy of the playa. If looks can be deceiving, well then, Cole's monster rig is real-time Optimus Prime.
Four-wheel drive, 400-horsepower Detroit diesel muscle, meet Edna the Elephant, a flame-spitting, laser-shooting, bass-thumping art vehicle.
Street Legal
The first time Cole took his rig on the road, the radiator blew up. Estimated cost to repair: $5,500. He got it fixed for $1,400.
"It's been a process of keeping it running within my budget—which is zero," says Cole.
It took two years to get the Amertek street legal and registered. New tires—very, very big tires—rims, brakes, electrical harness—the list is long and ongoing. Getting relaxed behind the wheel of a vehicle 26 feet long also took time.
"It took a while to be comfortable driving it on the road," says Cole.
The Amertek does 0 to 60 in 18 seconds, pretty good for an art car, considering early Toyota Prius models clocked 12.9 seconds. The rig can maintain a highway speed of 55 miles per hour—or faster if rolling downhill (a pamphlet from the company lists the top speed at 76).
"It's supercharged for fast-fire response," says Cole. "It gets up and goes."
And the Amertek has a range of 250 miles on a tank of fuel—perfect for getting to the playa from Truckee-Tahoe.
Edna The Elephant
Cole and his rig have made the trek to the playa about 10 times, including two Burning Mans, Renegade and other gatherings.
That's where the Amertek started its second life. Cole outfitted the rig with a massive sound system and began its transformation into a mutant art vehicle with a "Japanese mechanical" look.
"It was basically going to be a jackalope at first. Then someone started building a jackalope," says Cole, who thought, "there can't be two jackalopes on the playa."
That's when Edna the Elephant was born. Cole added a massive trunk and ears, fabricated in the Truckee Roundhouse metal shop, to the body of the truck. Along with the elephant appendages, Cole added other accouterments to camouflage the sides of the vehicle. 
When he pumps up the ultra-powerful 12-speaker system, shoots the high-powered lasers and fires the flame thrower … behold Edna! Trap, rap, bass, funk, fire, fun: Edna gets attention, and is now getting requests.
"I started building the sound system by hand. Then people requested it for a sound system and lights at house parties," says Cole. "Most people are excited to have a vehicle available for multiple music types."
Do You Do Weddings?
Considering Edna's mobility, Cole is expanding availability for events—be it a wedding, Tahoe SnowFest parade or his gig at the Commons Beach Fourth of July celebration.
"The gig on the Fourth will be our biggest event so far," says Cole. "We're going to knock the socks off Tahoe City."
While Edna came to life on the freewheeling playa, keeping an elephant mutant art car in tip-top shape means Cole is open to being rented out as a rolling venue—and spreading the love.
"I love the community aspect of Edna. Gathering people who have a desire to dance and listen to music," says Cole. "I'm trying to build something that doesn't exist in this area."
Bottom line, Optimus Prime's transforming ways got nothing on Edna the Playa Pachyderm.
"It's fun," says Cole. "We have a good time with it being used as a venue. When people see Edna, they know it will be good."
---
Jamie Bate is a Reno-based writer and editor.