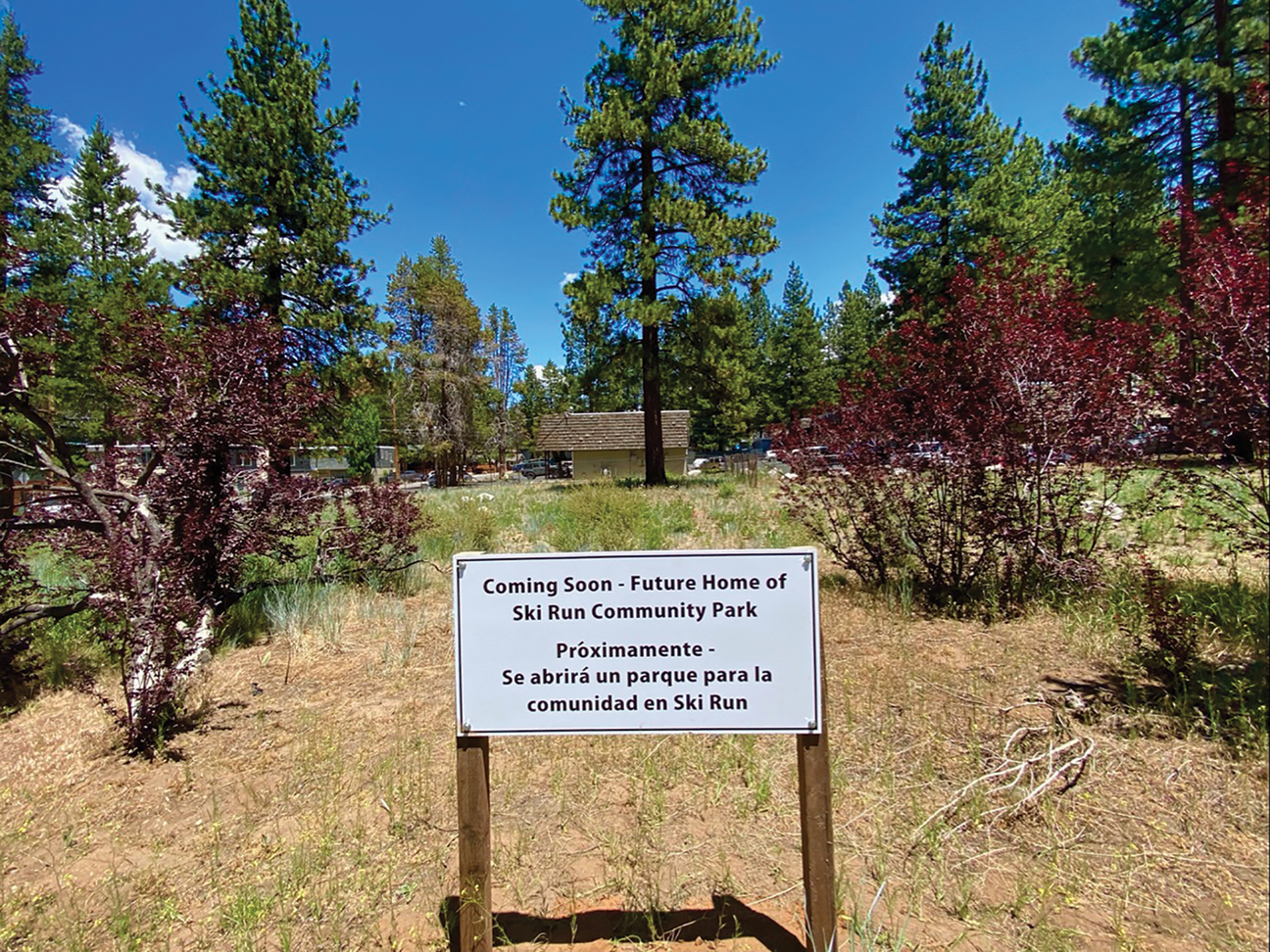 A new community park is set to break ground in the spring of 2022 along Ski Run Boulevard between Willow and Spruce avenues, courtesy photo
27 Sep

South Lake Tahoe Residents Unite to Create a New Community Park

In the middle of South Lake Tahoe sits Ski Run Boulevard, perhaps the only city street in the United States that is a straight shot from the base of a ski area to the shore of a spectacular alpine lake. It's a commercial hub of the city, and also home to a neighborhood where families of moderate means live in apartments and small homes, with no park nearby for the kids to play. But that is set to change.

After 10 years of volunteer effort by South Shore residents and forward-thinking public officials, construction on a new community park is scheduled to break ground in the spring of 2022 at the corner of Willow Avenue and Ski Run Boulevard.

"There's a real misconception that everyone in Tahoe has an equal opportunity to get outdoors, but there is a lack of facilities for the low-income population," says Devin Middlebrook, South Lake Tahoe's mayor pro tem, who is among the dozens of local residents behind the effort. "Within a half mile of this park, there is zero park access. To gather and play outside is tough when you have small yards and apartments."
The Roots of a Future Park
The opportunity to create Ski Run Community Park arose 17 years ago when Safeway purchased the old Slalom Motel, removed the structure from the lot and transferred the development rights to a different site. The .6-acre lot was left vacant.
Neighborhood kids soon discovered that the lot offered a great place to play—an unofficial playground of sorts. But the fun eventually came to an end about seven years ago when the property was fenced off.
That's when neighborhood group The Friends of Ski Run got involved, intent on transforming the wasted space into a public park that the entire community could enjoy. 
"We started out making persistent calls to Safeway," says Chris McNamara, owner of Outdoor Gear Lab on Ski Run Boulevard and an active member of The Friends of Ski Run for five years. "We didn't get anywhere."
Not deterred, McNamara and wife Viktoria teamed up with photographer friend Corey Rich and wife Marina, as well as Galena and Lincoln Else and Lauren and Wynn Ruju, to buy the property, with plans to give it to the city for the park.
"We decided, what if we offer them double the fair market assessment and break the log jam? Somehow, they said that is cool," says McNamara, whose team bought the lot in June 2021 for $45,000. "Then we started a giant team including Devin Middlebrook, who really wanted to see it happen. Now tons of people are volunteering to make it happen."
Local Support
Ben Fish is a local landscape designer and president of the Tahoe Area Mountain Biking Association (TAMBA). He has lived in the Ski Run area for 18 years and loves the neighborhood because it is close to both the mountains for biking and the lake for paddleboarding.
"But my son goes to elementary school here and knows that a lot of kids don't have an opportunity to get outdoors and take advantage of what Tahoe is. There are not a lot of places to go in the hood for kids," says Fish, adding, "It's the right people at the right time to take this property to turn it into something that is real positive for us."
The true power of this story is the sheer number of local residents—each of them skilled professionals offering valuable services—who have stepped up to the plate at the right time to help turn this project into a reality. For free.
"Everyone is donating to make this project happen," says Fish, who is providing his design services for the park.
Others working pro bono include real estate agent Rene Brejc, who wrote the offer to Safeway for the land, as well as Michelle Larson, who is providing accounting services, attorney Marissa Fox and project manager Sarah Steele. Sierra Sustainable Builders has offered to help with the construction, which is scheduled to begin in May 2022 and hopefully conclude by mid-summer, says Middlebrook.
A Grand Vision
The prospect of a new community park has intrigued world-renowned adventure photographer and climber Corey Rich for years. But the idea took on new meaning last year.
"I had this realization during the pandemic about what really matters to me," says Rich, who lauds the many people who have bought into the vision for the park—which, despite its relatively small size, will be grand in its offerings, with "an iconic play structure," swings, slides, picnic tables, a grass area and more. But that's not all.
"From the very beginning we've had a vision of a climbing boulder," says Rich. "It's for everyone. Adults can climb the boulders as well. We are in the process of talking to manufacturers to create something fresh, new and innovative. I would love to see a kid from an apartment in South Lake become a world-class climber someday. We have the potential to do that."
In addition to the kid-friendly features, Rich envisions the park becoming a summer venue for the informal event series Ski Run Presents that he has organized for years. The program involves presentations by world-class athletes who are visiting South Lake Tahoe.
Middlebrook envisions the Ski Run Community Park serving as a good model to expand to other parts of the city.
"We should have a park or community garden in every neighborhood," he says. "This is an example of how you take an empty lot and turn it into a community amenity."
While plans are underway, donations are still needed to bring the park to fruition. Click here to donate.
"It truly is locals supporting locals, and locals understanding what the need is for the community—stepping up and making it happen," says Middlebrook.