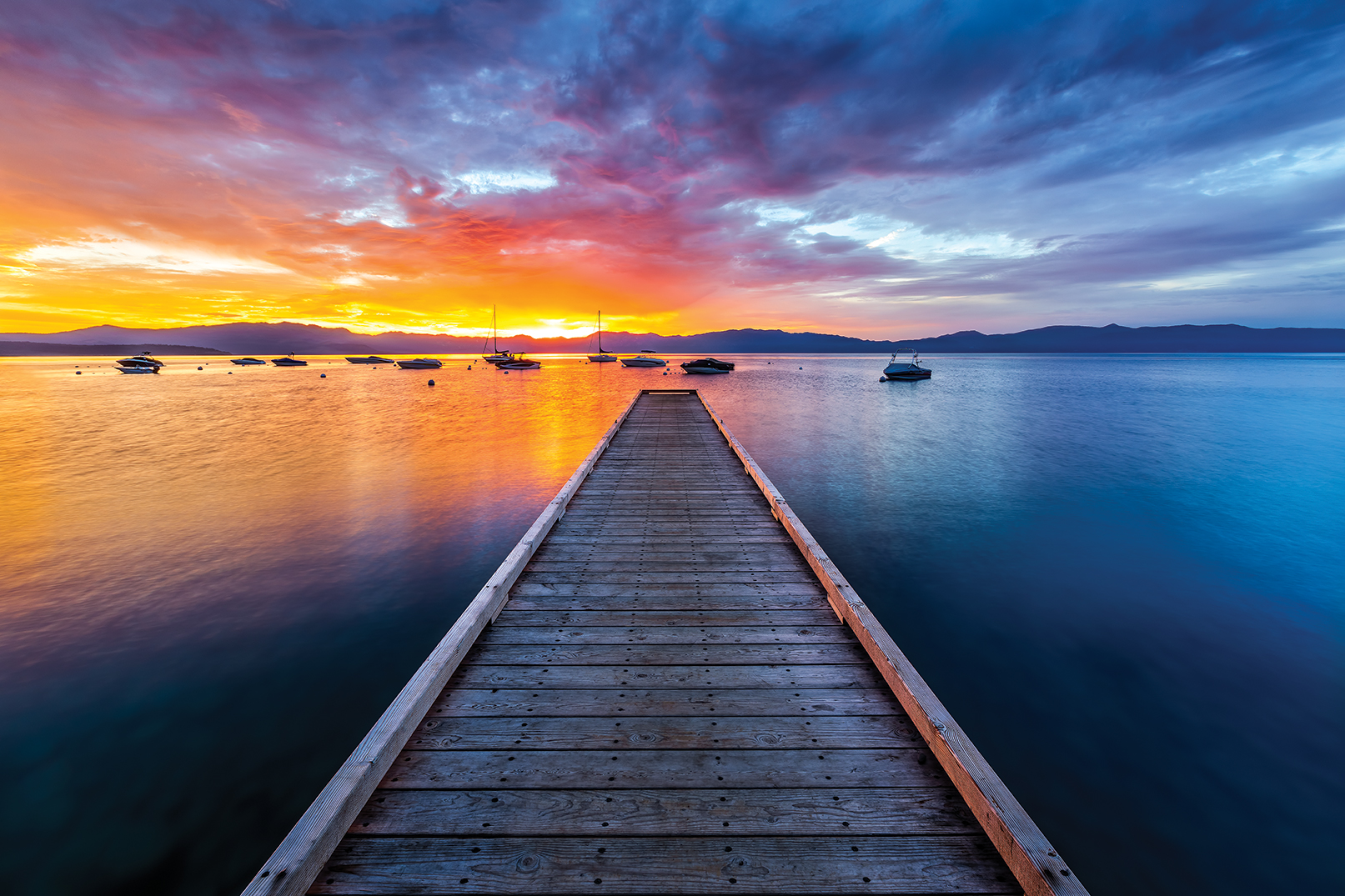 A Tahoe pier at sunset, photo by Wendy Hudnall
25 Jun

The Pent-Up Demand for Piers
Lakefront homeowners covet the access to Tahoe that only a pier can bring, but following a longstanding moratorium on new construction, attaining the rights to build is next to impossible
Bob has a beautiful home on Lake Tahoe with a white sand beach, big blue views and a Cobalt out his back door.
What he doesn't have is a dock.
So getting to his boat, which is anchored to a buoy 400 feet off shore, involves a dinghy and a fairly awkward process of uncovering and unmooring, followed by the question: Where can I pick up guests without asking them to swim a little bit?
Several piers dot the shoreline along this stretch of Nevada, but none belong to Bob (whose real name is being withheld to respect his privacy). In the hopes of getting his own pier, or a "dock," in the vernacular he grew up with, he hired a consultant and paid $700 to apply for one.
He was one of 83 people in line for a single-parcel pier, five of whom were selected at random from a lottery. Bob was not one of them.
"Where I'm from, if you have a lake home, you have a dock," he says. "A lake home without a dock is like having your garage down the street from your home."
He's throwing his hat in the ring again this year and has been advised to pay any one of his pier-less neighbors to "retire" their future rights to a dock of their own, allowing him to step forward with an application for a "multiple-parcel" pier. Better odds.
But the problem is, no one can say for sure what the rights to a pier are worth.
"It's never been done before," Jan Brisco says of a homeowner purchasing a neighbor's rights. As the executive director of the Tahoe Lakefront Owners Association, Brisco functions like a lobbyist/information repository for lakefront owners.
Part of the picture, from her point of view, is that the general public, along with regulators, environmentalists and the rest of the have-nots, hold little empathy for the problems of those who are fortunate enough to own a piece of Lake Tahoe's shoreline.
"I'm a property rights gal, and lakefront owners have been maligned for years," Brisco says. "It's an elitist issue. There is no sympathy for this group."
Stacking the Odds
Tahoe is a big lake; it's 72 miles around, spanning two states, five counties and more than a dozen jurisdictions. But with only so much shoreline to go around, there are fewer than 1,400 lakefront homes and condos, and roughly half of those parcels have piers, says Brisco.
When it comes to docks and Tahoe, life is just not fair. Having the means to afford a lakefront home does not grant the rights to a pier. There aren't enough for everyone, and in the coming years it will be increasingly difficult—if not impossible—to get one.
This year, for example, only four lakefront owners will be awarded the rights to build a private pier. Those who apply will have to meet all the requirements for eligibility, which include standards for design and mitigation of scenic corridors and fish habitat, among other things. And those who pass that hurdle will once again be tossed into a lottery where the lucky winners are selected by chance.
Size doesn't matter, either. Those few who received a permit for a private pier in the last round ranged from an 8,900-square-foot estate on Tahoe's North Shore to a tiny 1930s cabin on the West Shore.
And, to a degree, money does not matter, either; homeowners can't just buy the rights to a new pier.
But they can buy their neighbor's rights. And because multiple-parcel piers (including shared piers) are favored over private ones, the odds of selection are better.
That did not escape the attention of would-be pier owners during the last round, 2019. Eighty-three owners applied for private piers and 34 applied for multiple-parcel piers. Some applied for both.
This year, and in the decades moving forward, there will be significantly more multi-parcel piers awarded than private piers. It's not exactly fair, but it's the complex formula that was agreed to after years of regulatory wrangling and lawsuits.
Regulatory Restrictions
In the old days, before pile driver machines arrived on the scene, building a pier was as simple as moving a bunch of boulders into the lake to form a "rock crib" pier. Crude as they are, rock crib piers today are prized features that can add $1 million or more to the value of lakefront homes.
Then came the flat-top boathouses, which began to dot Tahoe's shoreline in the 1950s and '60s. By the end of that era, it became apparent that Tahoe was being loved to death, and a bi-state agreement between California and Nevada led to the creation of the Tahoe Regional Planning Agency (TRPA), which is charged with regulating development around the lake to preserve its famed blue waters.
In 2008, TRPA approved a plan that would allow up to 128 private piers, 10 public piers, 1,862 new buoys, six new boat ramps and 235 boat slips around the lake, lifting a moratorium on new pier construction that had been in effect for almost two decades.
Two environmental groups sued to overturn the plan, claiming that TRPA's approach would lead to more boats, which (along with more piers) would not only decrease the scenic value of the lake, but would also lead to more noise and pollution. The lawsuit also took issue with TRPA's conclusion that a lakefront parcel without a pier held no higher scenic value than one with a pier.
A federal judge agreed with the environmental groups, resulting in the policies in place today, which will allow only eight more private piers through 2025, and another five in the years leading up to 2033. The plan is built on the premise that piers are inherently bad for the lake—both aesthetically and environmentally. So fewer is better.
"You expect to see piers in the shore zone. You expect to see buoys. That's part of the Lake Tahoe experience," Brisco says, noting that piers also provide safe harbor to boaters and swimmers. "It's not automatically assumed to be bad, just because a pier is present."
Regardless of the logic behind the current policies, lakefront homeowners who long for their own Tahoe pier will have to bank on the luck of the draw.