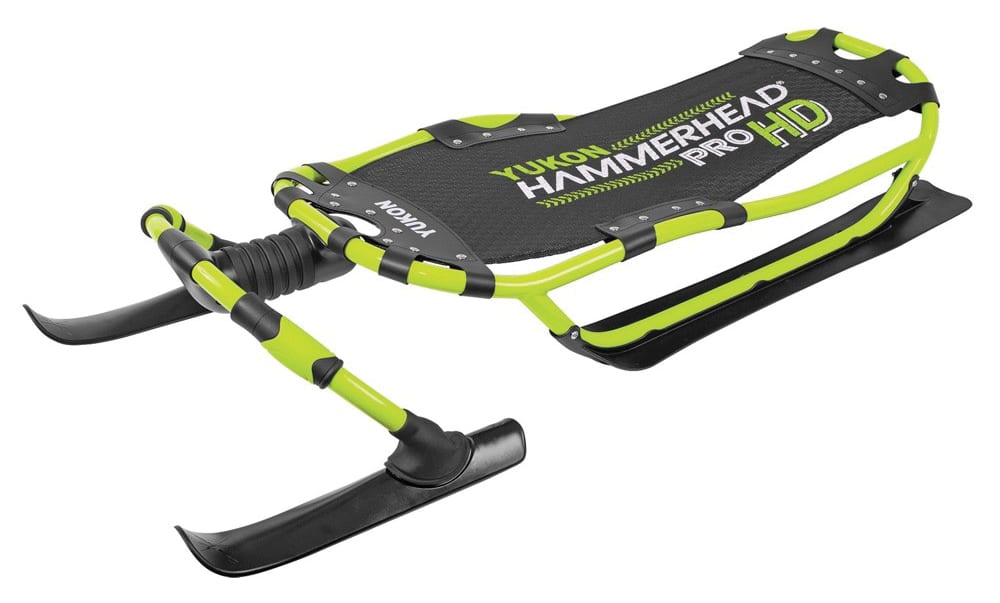 02 Dec

TQ Market: Sledders' Delight

In a world-class ski and snowboard destination like Tahoe, sleds can get overlooked. But these snow-sliding devices deserve their due recognition. From classic to cutting-edge, we highlight some of our favorites.

FLEXIBLE FLYER 60-INCH STEEL RUNNER SLED
$99.99
The classic steel runner sled never was designed for versatility. But this sleek, ageless snow slider can flat-out rip in the right conditions. Given an extra-firm surface—think opposite of fluffy powder—the Flexible Flyer is a high-performance, gravity-fueled machine capable of reaching rocket speeds. For maximum control and adrenaline, experienced sledders will say to lie in the prone position with hands firmly gripping the steering bar, face inches from the icy surface hurtling by. For the less courageous, there is no shame in sitting upright. The 60-inch steel runner sled is the largest and beefiest of the Flexible Flyer fleet, capable of carrying up to two riders. Its sturdy construction is comprised of birch wood and powder-coated steel runners, with three sets of knees for extra support. The sled also comes with pre-drilled holes in the steering bar should its user want to attach a rope.      
Find at: Mountain Hardware & Sports
11320 Donner Pass Road, Truckee
---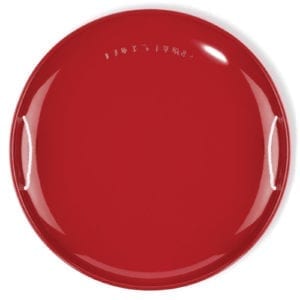 LUCKY BUMS METAL SAUCER
$29.99
Simple and functional in design, the age-old saucer continues to hold its own in the modern sledding world, with no bells and whistles needed. Just plop down, cross the legs, grab the built-in rope handles and send it. Warning: The saucer will likely want to spin. Don't fight it. Zipping backwards down a hill is part of the thrill. Unlike the flimsy plastic models that have a tendency to break with heavy use, the relatively hefty 6-pound Lucky Bums metal saucer will endure generations of abuse. The sled, which measures 26 inches in diameter, comes in multiple colors, including standard blue, pink, red and "ice blue." Add a little secret wax, and this metal saucer is ready to perform like Chevy Chase in National Lampoon's Christmas Vacation. Not really. But that's what imaginations are for.     
Find At: www.sierratradingpost.com
---


L.L. BEAN SONIC SNOW TUBE
$119
When it comes to sliding on snow, few items are more fun than tubes. Until they pop. L.L. Bean had this all-too-common structural issue in mind when it created its Sonic Snow Tube. Originally designed for commercial tubing parks, this tube's semi-rigid polyethylene base not only slides like a champ down packed or powdery hillsides, it's also built to withstand years of heavy-duty use. The tube comes in two sizes—regular for smaller children ages 5 and up (at 34 inches in diameter and 10 pounds), and extra large for big kids and adults (at 40 inches and 17 pounds). True to L.L. Bean fashion, the Cordura nylon top is available in a handsome "red buffalo plaid," as well as less traditional but more colorful "berry fireworks," "blue wavy horizon," "mountain snowfall" and "polar camo."    
Find at: www.llbean.com
---
THE YUKON HAMMERHEAD
$219.99
Toss tradition to the wind with the newfangled Yukon Hammerhead. Touted on Yukon Charlie's website as a "serious sledding machine," this snazzy snow slider boasts a stainless steel leaf spring steering system and rubber ski boots that provide better traction on snow, making for unmatched maneuverability on the hill. It's also fast and sturdy, with a lightweight (19.35-pound) powder-coated aluminum frame. Simply put, it's likely to be the coolest sled on any given hillside.    
Find at: www.yukoncharlies.com