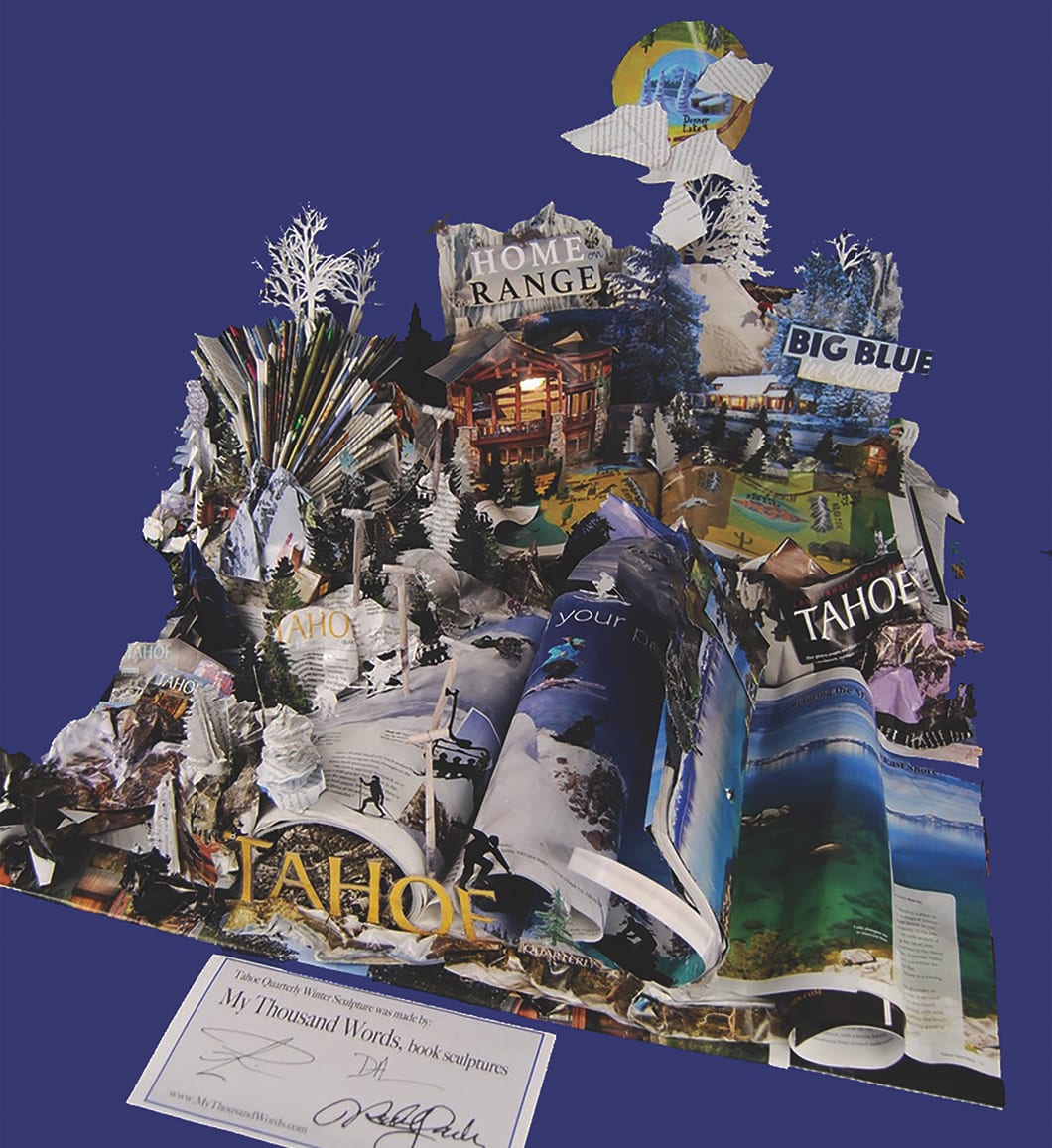 The Lambins created a Ski & Ride–themed sculpture from the pages of Tahoe Quarterly magazines, photo by David Lambin
27 Sep

A Novel Approach to Art
The Lambins find artistic inspiration, and new methods of expressing stories, in the pages of old books
There are a lot of books inside the Lambin house in Carson City. Hard-covered volumes with thick paper that smells like must are stacked row-to-row on shelves. Books pile out of boxes. Maps and encyclopedia collections sit in the corner.
You could say the Lambins are book collectors of sorts. They certainly love to read and they share nostalgia about their favorite books. Yet, their book collection is not entirely motivated by their love of literature. Some of these books are classics—fairy tales, old mystery novels. Many have fallen out of use. The Lambins intercepted them before they were thrown away. They are romance novels, university tomes, outdated manuals and atlases.
To the Lambins, the value of these books is very much on the printed page. But like their camera setup in the kitchen, or their drawing pencils and pens, or the clay they use to create sculptures, these books are another medium for their art.
One set of shelves in the Lambin household displays books that are flipped open. Their pages are curled, twisted, folded. Characters stand up, as if they've come alive to tell the story in theater. They are sculptures inspired by and created with the pages of the book. Each piece tells a story. The Lambins call it "book art."
The Lambins are a family of artists, and these books are a family art project. All of these pieces are a collaboration between Debbie and her daughter, Rachael, and son, John-Henry. Together, they've created a collection of book art called "My Thousand Words" that has gained some notable recognition and attention. This summer, one of their sculptures was photographed for the poster to Reno's Artown. The Lambins also received a grant from the Nevada Art Council called the Basin Range Exchange to take their collection on tour across Nevada and Northern California and host art classes in libraries.
"Before you know it, people are talking, they're socializing, they're creating and learning a new skill, and they're also reading," says Rachael.
Words as Art
Debbie says she's always been an artist. She is a printmaker and she draws. She says she raised her kids to be creative, with plenty of crafts, art projects and encouragement to try something new.
One day, a few years ago, she was reading an unpleasant book. She started folding the pages like origami, and soon the book had transformed into something else, something Debbie felt was more beautiful and positive than its content. When Debbie folded the pages into a series of triangles, with alternating angles, the book became a pattern. She showed her new work of art to Rachael, a sculptor.
When she was a young girl, Rachael started making clay sculptures of people. Then she moved to cakes, transforming baked goods into elaborate works of art. (Once, Rachael auditioned for the Great British Baking Show. Debbie says her daughter didn't make the show because her bread was too creative.)
Seeing her mother's origami pages, Rachael took inspiration and tore pages out of a broken book. She rolled them, folded them, glued them and sculpted them into a person to stand atop the pattern. "The pages were just coming out," says Debbie. "And she just started molding them and making them into something."
Where one person starts and leads the art direction on a piece, another adds a critical creative twist or new idea. Debbie says each piece is a group effort.
"One of us will work on something and another person will say, 'Well, it needs this,'" she says. "It's just a different mind, adding a new character to it."
They thought their first piece of book art was just something fun. But they took it to an art show. It was behind the other paintings and sculptures on display, and still, people were drawn to it. One patron asked them to name their price, and they sold it on the spot.
"People were liking it," says Debbie. "So we just started doing it full time."
Like Rachael's cakes, which incorporate edible art that stays true to the cake's intention, the Lambins' book art stays true to the words on the page and the pages themselves. They use all sorts of material to help them: glue, tape, even a Dremel tool.
In one sculpture, Rachael glued a set of books together and painted on the spines a portrait of Nancy Drew holding a flashlight and walking up a set of stairs. The book on top of the sculpture has its pages flipped open, and sculpted in the pages is a shadowy man climbing a ladder to the attic.
In another piece, Rachael brought to life a scene from Cinderella. The princess is wearing a ball gown and lifts her eyes to a tree, which is the fairy godmother in the Brothers Grimm fairy tale. The difference between the tree in the Brothers Grimm version and the fairy godmother in the Disney version are the sort of details Rachael hopes her art will reveal.
John-Henry joined them. His pieces are exquisite and thought-provoking with an incredible amount of attention to detail. In one of his pieces, stars hang from the sky by threads of glue. For the Life of Pi, he incorporated shadow art. A boy stands on the prow of a boat, with a tree in the background. When a light shines on the piece, a tiger appears in the shadows.
"It's a lot of work," says Rachael, "but we really enjoy it."
For the next two months, the Lambins will be sharing stories with audiences across Nevada and Northern California as part of the Basin Range Exchange grant program. Artworks featuring favorite storytime characters will be on display: Peter Pan and Tinker Bell, Jack and Jill, the Little Mermaid, Mary Poppins, Hansel and Gretel, and more. For more information, visit MyThousandWords.com.
---
Julie Brown is a freelance writer based in Reno.
---
From TQ to a Magazine Sculpture
TQ Staff
Since founding My Thousand Words in 2015, the Lambins have mastered the art of transforming books into life-like sculptures. But glossy magazines, as they discovered, are a whole different animal.
"The material itself is somewhat unforgiving," says Debbie Lambin, who, with daughter Rachael, set out to create a pair of Ski & Ride–themed sculptures using Tahoe Quarterly magazines.
It was not easy: "The glossy and slick texture of the pages makes it difficult to adhere the pages to one another and manipulate the paper into a sculpture," adds Debbie.
Motivated by the challenge, the mother-daughter duo persevered, twisting and cutting and crinkling until they were satisfied with their creations.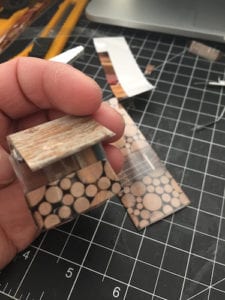 In all, more than six magazines were used to create a 2-by-3-foot sculpture, which showcases the many activities that highlight Tahoe's ski and snowboard season.
With separate sculptures created by Debbie and Rachael, it wasn't until Debbie's son, John-Henry, suggested combining them that the two pieces came together to form one.
"John-Henry came to the realization that putting the two together made an incredible sculpture. I thought it was funny because I loved my design and Rachael loved hers," says Debbie. "I think that combining them made all the difference in the world."
First, the artists flipped through their Tahoe Quarterly issues and selected all the photographs they felt best represented the vision of the sculpture.
They removed pages that replicated the colors of Tahoe's winter landscape, with predominantly white images used to create a snow-covered mountain with a skier gliding down. Brown and green were used to form the pine and fir trees, and white to create ice-crusted trees. Several crumbled pages helped build the mountains to scale.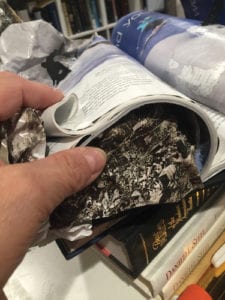 Various advertisements and photographs went into the ski lodge, while small pieces of a magazine page were rolled into logs. One of the magazines was rolled tightly to resemble a halfpipe. Tapping into their creativity, wooden doll rods were then used for stability to hold up the chairlift cables.   
In the end, the artists spent approximately 80 hours creating the Tahoe Quarterly sculpture.
"This sculpture represents the beauty of Lake Tahoe and all that it has to offer," says Debbie. "There is so much to do, and it had to be captured and put into this sculpture. We are particularly enthusiastic about creating an art piece that celebrates the beauty, life and culture of Lake Tahoe as much as Tahoe Quarterly magazine does with every issue they publish."