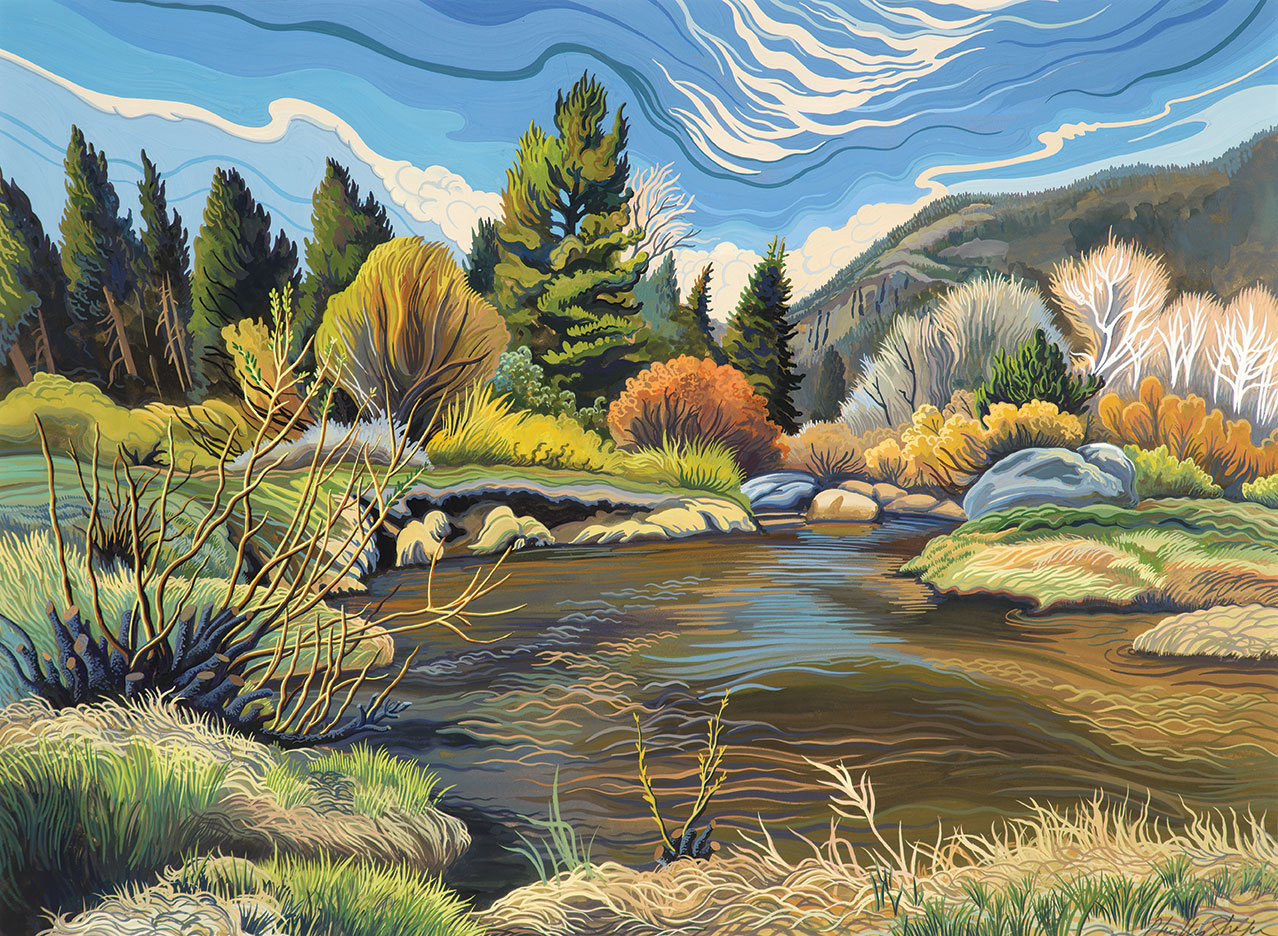 Springtime Along the Upper Truckee by Phyllis Shafer
18 Dec

A Talented Trio of Tahoe-Area Artists

With the breadth of talent in the Tahoe region, it's not easy to cull from a list of the area's best artists. Between the mountain air, stunning scenery and the appreciative audiences, the area draws outstanding talent. For the Best of Tahoe issue, we chose our featured artists—painter Phyllis Shafer, author Ellen Hopkins and dancer/director Rosine Bena—based on current acclaim and achievements, in these cases determined by successful art exhibitions, book releases and new programming. Each are standouts in their respective fields, so read on for some of the area's most impressive artists in the visual, literary and performing arts.
Visual Arts
Phyllis Shafer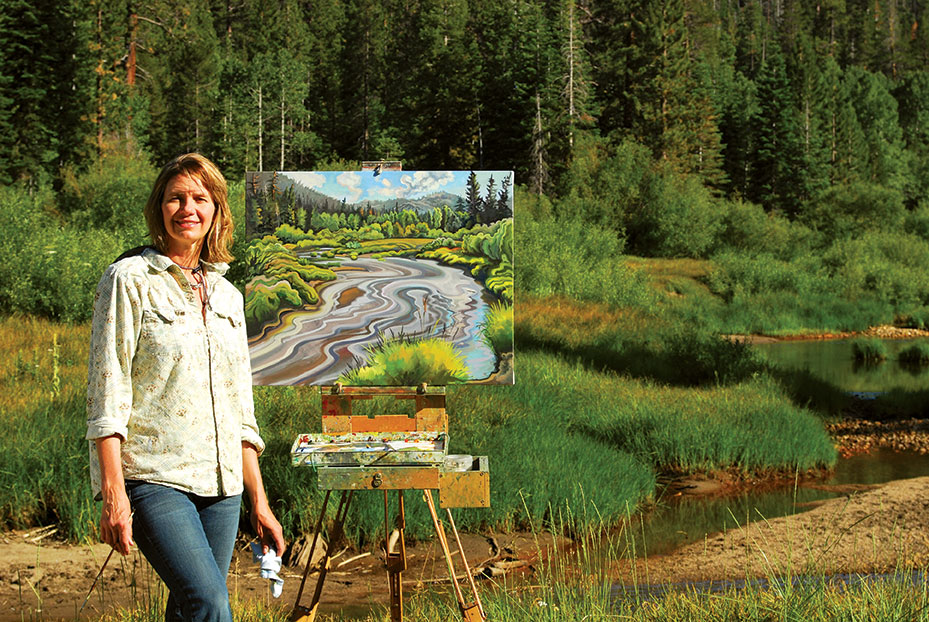 The recent exhibition at Reno's Nevada Museum of Art (NMA), I only went out for a walk…, spanned some 100 paintings created by artist Phyllis Shafer in her 30-year career.
"This is a really unique show for me," says Shafer. "It follows my work from way back when I was doing more surreal interior-scapes in the Bay Area, to Tahoe, where I work outdoors. There's a painting I did at 25, and I can turn around and see a painting I did this year at 55."
Shafer's love for drawing began in childhood. She grew up in upstate New York and started painting in high school. After receiving a bachelor's degree at the State University of New York in Potsdam in 1980, she immediately moved to New York City.
"That's what you do when you are in upstate New York," she explains. In New York, Shafer painted more surreal, fantastical landscapes. After a few years of living in the city, she and a girlfriend embarked on a cross-country trip. "When I got past Chicago and saw the landscape explode, I was like 'wow, this is amazing,' I packed up my stuff and moved to Oakland."
Shafer loved the Bay Area's thriving art scene. She earned her master's at UC Berkeley and worked a variety of jobs to get by—waitressing, house painting, working on the installation crew at the San Francisco Museum of Modern Art. She also discovered plein air painting.
"I come from an educational background that would look down its nose at plein air painting, so it was kind of my dirty little secret that I was sneaking outside to paint," she says.
She was teaching part-time in the Bay Area when she heard about an opening at Lake Tahoe Community College. After ten years living in California, she'd never made the journey up to the mountains until she arrived for the interview. Shafer was subsequently offered the job, and in 1994 moved to South Lake Tahoe, with an original plan to work a few years and then return to the Bay Area. "I've been here 20 years now," she says. "I'm the department chair, I run the gallery and I teach everything from painting, drawing, design, art history—the smaller the school, the more you teach."
In those two decades, Shafer's own work evolved. Her paintings continue to incorporate elements of surrealism and fantasy, but also focus on nature and recognizable landscapes. Though she works outdoors, her method extends beyond traditional plein air.
"I'll take my canvas outside and then return around the same time of day to get light," she says. She'll take additional photos, then finishes the painting in her studio. "It's kind of an interesting back and forth between direct observation and also my fantasizing elements that I like to put in the paintings. I go out, capture that moment, then I tweak and torque the perspective. I blow some things up and shrink others. I'm creating an allegory. I'm not just recording immediate impressions; I'm manipulating elements in order to tell my story."
One such painting is Greyhound, the signature painting Shafer created for the NMA exhibition. In 1989, Shafer was accepted to an artists' residency in Woodside, California, on a peninsula near Half Moon Bay, where she created fantasy landscapes with giant flowers in the foreground. She'd taken her childhood blanket, named Greyhound, and patched it during some free time. Another resident noticed and nicknamed Shafer "Greyhound" for the rest of their stay.
Fast forward two decades and Shafer discovered the same artists' residency opened to alumni in winter months. In December 2012, she returned, deciding to use the time to focus on her piece for the  NMA. She began working, taking her easel, a large, four-by-five-foot canvas and her palette outdoors. The view looked out at undulating hills leading to the ocean, and a fog bank rolling in from the horizon.
"I was working out the composition and I got to this meadow in the foreground and I wasn't sure how I was going to resolve it," says Shafer. "One morning, it was raining so I couldn't go outside to paint. I'm wandering in the meadow and I picked one of these yellow thistle-like flowers that are about the size of my thumb. I start blowing it up 20 times life size and suddenly the flower becomes an allegorical self-portrait. It's me in the portrait. By having this large flower in the foreground, it gives me a character, like an actor in a play. I get this relationship between the plant and the surrounding area. Before that, I felt like it was this generic landscape. Now I've got the hook that I'm looking for. At age 31, 32, I was there and I was making fantasy landscapes with giant flowers in the foreground. It was like a 25-year loop. I thought, because I was 'Greyhound' when I was there in 1989, it seemed like an homage to this loop that I had traveled to title it Greyhound."
Her NMA exhibition—which includes many recognizable Tahoe landmarks—has proved enormously popular. "It seems to have struck a chord with the people who live in this area, in part, I think, because to live in the Reno/Tahoe area is to enjoy a very intimate connection to nature on a daily basis," says Shafer. "I hope also it is that I have interpreted the land in a way that feels authentic to those who know this area."
Stremmel Gallery, based in Reno, displays a wide array of Shafer's work. More than just an outlet for her artwork, Shafer acknowledges the Stremmel Gallery, and especially gallery director Turkey Stremmel, as "a phenomenal supporter and promoter" of her work.
The NMA display ends mid-May, but Shafer plans to continue producing her distinctive paintings. She's taking a sabbatical from Lake Tahoe Community College to travel, first to Utah with her husband, where he will meet up with rock climbing buddies and she'll paint the area's famous red rocks. She's got an artist residency in Wyoming, which provides live-work space and a chef for dinners and a daily sack lunch delivered to her studio. Then she'll spend three weeks in Italy, where she plans to peruse the museums in Florence and paint the hill towns of Umbria.
"More fantastical, allegorical elements come out in places that I'm unfamiliar with," she says. "Travel is important in order to inspire new ideas."
Even with her busy summer schedule, Shafer will make time for Tahoe: She's leading a plein air landscape workshop through Sierra Nevada College July 14 to 18; a meet-the-artist session on July 15 is free and open to the public.

Shafer's Pennyroyal Retreat
For more information, click here.
Literary Arts
Ellen Hopkins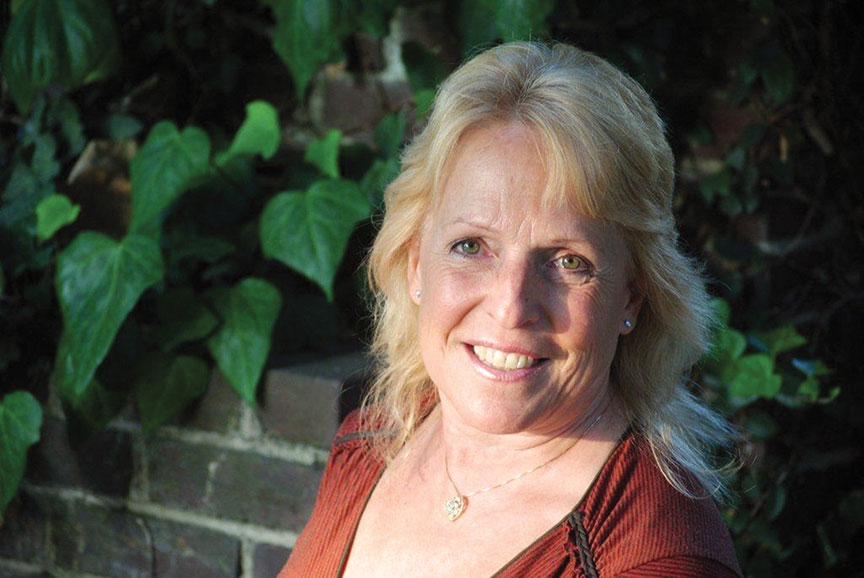 Acclaimed writer Ellen Hopkins' life reads like a best-seller.
Adopted at birth in 1955, Hopkins was raised in Palm Springs, California, where her neighbors included luminaries such as Elvis Presley and Arnold Palmer. She found her birth mother in 2000, and tried to contact her birth father, though he refused to acknowledge her. In her early 20s, Hopkins dropped out of college to get married, had two children, then divorced her husband. She remarried and had another child, but her second husband was abusive. After she left him, he kidnapped their daughter and hid her for almost three years, until his grandmother helped return Hopkins' daughter. Hopkins and her now-husband John moved to the Tahoe area in 1985, and then to Washoe Valley in 1990. It was around this time Hopkins began writing for a living. She freelanced for newspapers and magazines (including articles for Tahoe Quarterly) before trying her hand at books.
Hopkins hit the literary jackpot in 2007 when her third young adult novel, Impulse, was featured on the then-major social networking site MySpace.com. Readers wanted more, and Hopkins' earlier books, particularly her first novel, Crank, became New York Times bestsellers at well.
Crank is "a very personal story," she says, which details a teenage girl's addiction to crystal meth. "It was inspired by my daughter's story," says Hopkins. "She was this great, brilliant kid who went the wrong direction and lost her dreams." All the major plot points in Crank and its sequel, Glass, actually happened, according to Hopkins.
Because of the direct, honest tone and controversial topics including drug use and teen pregnancy ("I don't sugarcoat it," Hopkins says), Crank remains one of the most challenged books in modern literature. "The first time it was challenged, I was like 'why?'" Hopkins says. "To me, it was such a weapon against making those choices. And now I'm kind of used to it."
Hopkins has since heard from thousands of readers who have been positively affected by the book, whether it has turned them away from using drugs or helped them understand the actions of a parent, sibling, child or friend. "The books are a very honest look at this path," says Hopkins. "They get into the head of the user."
Many of Hopkins' books, including Crank, take place in Reno and the surrounding region. "Almost all my books are set in Northern Nevada," says Hopkins. "The landscape is a huge part of the setting. What I'm looking at outside my window is the Eastern Sierra. There's hiking, biking, skiing—all the recreational pursuits have found their way into my books."
She continues, "A lot of people think Nevada is Las Vegas. There's a whole lot more to Nevada. I love bringing people here through my words, showing that there's all this beauty in the raw landscape."
Hopkins' works are noted for their distinct voice, which she calls narrative verse. The poetic narrative helps readers confront difficult subjects by way of an almost lyrical tone. Though the majority of her books are for a young adult audience, she began writing books for adults in recent years. "Teen books are about discovery and self-discovery and new experiences," she says. "Adult books are more reflective. And, of course, you can write a little sexier when you're writing for adults."
She credits her publisher, Simon & Schuster, for always being supportive and encouraging. "I've never had them censor or have me self-censor a book," she says.
Beyond writing, Hopkins travels about 100 days a year for literary events, book signings and readings. She maintains a near-constant connection with her audience, answering messages (which number about 200 a day) and social networking. She is also helping plan the Great Carson City Lit Fest (held this year from June 6 to 8, www.carsoncitylitfest.org), which will feature about 50 authors plus two performances of Crank, which was adapted for the stage. Hopkins is also busy with her nonprofit, Ventana Sierra, which strives to provide safe housing and college for at-risk kids, and this past October took guardianship of three more of her grandchildren, ages 3, 5 and 9. She and her husband also raise their 17-year-old grandson, Orion, whom they adopted when he was 3.
Hopkins recently finished her latest young adult novel, Rumble, which will be out in August. She's currently working on another adult novel, Tangled, which is scheduled for spring 2015. "It's a psychological thriller about falling in love with a psychopath," she says, adding, "I did that once. I wouldn't recommend it."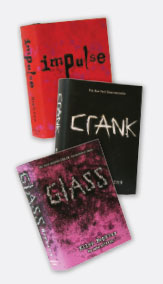 For more information, click here.
Performing Arts
Rosine Bena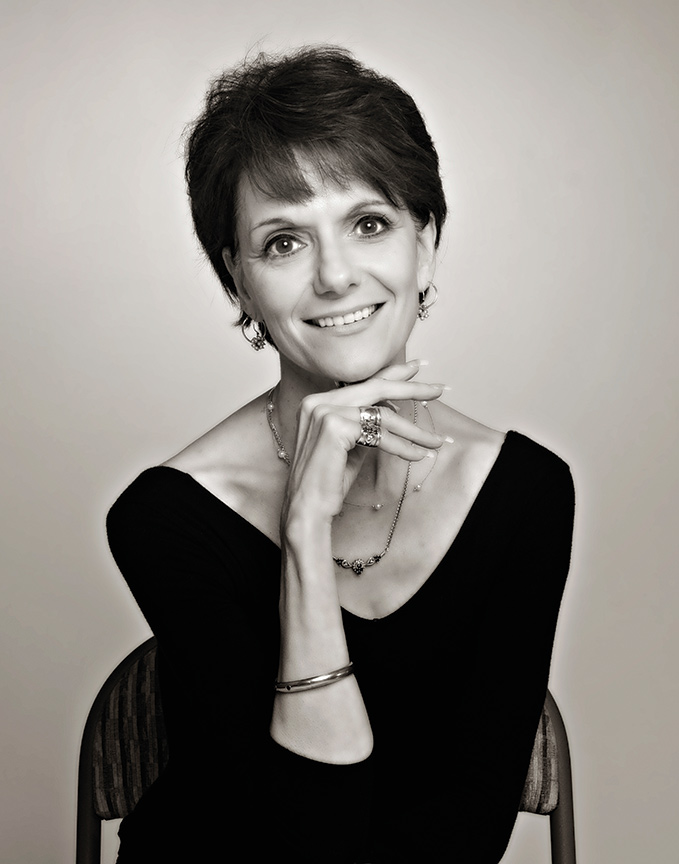 The child of two professional dancers, Sierra Nevada Ballet's Rosine Bena was "born into ballet," she says. Raised in New Jersey, Bena decided at age 12 she wanted to be a professional ballerina. She trained at the Washington School of Ballet in Washington, D.C., and at age 17 joined the Stuttgart Ballet in Germany. Bena was the youngest and first American female dancer accepted at the company—which, says Bena, under the direction of John Cranko was considered "the greatest company there was at the time." The next year, she was taken on tour, dancing throughout the United States, Europe and Israel.
"It was really a wonderful thing to have that experience at such a young age," she says.
With Stuttgart, Bena became a featured dancer and a soloist, but she missed the United States, eventually leaving the company and moving to the San Francisco Bay Area, where her parents were dancers. She continued dancing as the principal ballerina in classics such as Giselle, Swan Lake, The Nutcracker and Coppelia, as well as in contemporary productions.
When Bena retired from the stage after 28 years, she was invited to direct the Reno Ballet. The program was suspended in 1997 due to an injury to the executive director; in its place, Bena founded the Sierra Nevada Ballet (SNB) in 2001, with a focus on the entire Northern Nevada region.
"Starting any arts organization is really difficult in the beginning," says Bena. "We've established a really good reputation for fine work. To survive through this economy is amazing, and I'm very happy that we have so far."
The Sierra Nevada Ballet annually works with the Lake Tahoe Shakespeare Festival. "When we first started," says Bena, "we tried to appeal to the audience by doing Broadway shows, but I'd always stick in a few classics to see how the audience responded." She quickly discovered that the classic ballets were among the most popular performances.
"We did Giselle for the first time two years ago, Coppelia last year and now Swan Lake," says Bena. "It's very encouraging that the audience wants the classics."

Erica Chipp starred in Bena's 2014 portrayal of Swan Lake
In the decade SNB has performed at Sand Harbor, Bena has learned a lot about the venue. "I really like it, but it's a difficult stage because it's tilted, which is difficult for dancers," she says. "There's also the problem of sand blowing up on stage."
That first year, during intermission, Bena had the stage washed to try to get rid of the excess sand. However, because of how quickly the temperature drops once the sun goes down, the water froze.
"Dancers were falling," Bena recalls. "We learned a lot that first year, but we've pretty much got it down now. It's a challenge, but it's so beautiful. For ballet, it's the perfect venue. That lake, those trees—for classics, especially like Swan Lake, it just adds to the ambiance."
The success of SNB and its apprentice program has inspired Bena to share her love of ballet. The company opened its own academy this past September, allowing children as young as six to study the art. "To be a professional ballet dancer, you need to train every day," says Bena. "As far as I know, there's not another group that offers that kind of training. Our students are doing beautifully and I'm so excited by it. We have very talented, very serious students, and it's an exciting thing to happen in Reno."
Beyond the Sand Harbor performance, which will take place on July 28 as part of the Monday Night Series, Sierra Nevada Ballet will perform on July 15 with a free show at Wingfield Park as part of Reno's Artown festival, and will also offer a full performance of Swan Lake at Reno's Nightingale Concert Hall on July 26.

Sierra Nevada Ballet's 2013 performance of Giselle at Sand Harbor State Park
For more information, click here.
---
Reno resident Alison Bender is a mother of two toddler artists whose skills exceed her own.