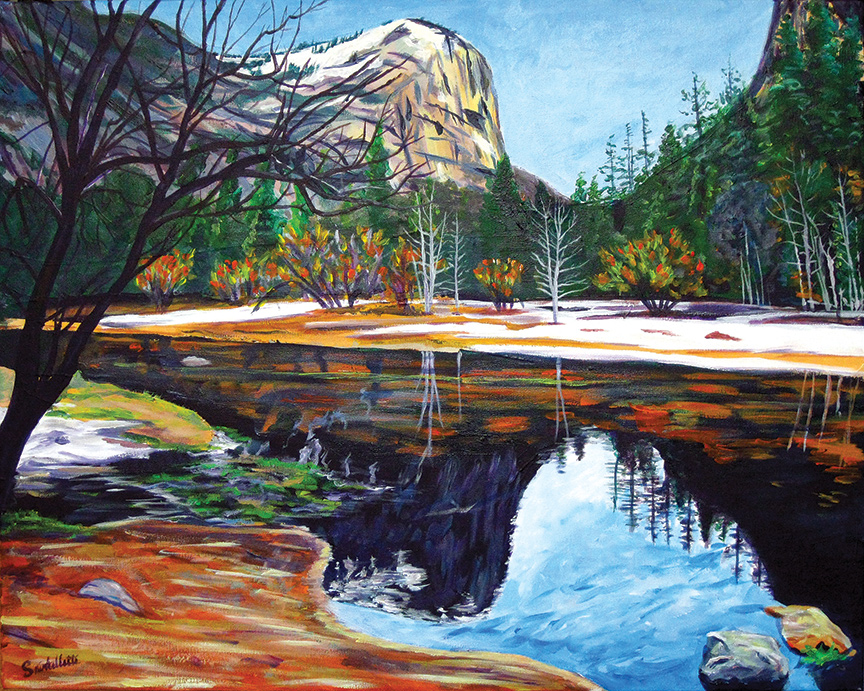 30 Jan

Captured by Color

Broad strokes of bright blues that define lake and sky, swaths of emerald green pine trees, purple-tinged boulders—these vivid and confident interplays of color define the works of impressionist painter Nick "Sninkelletti" Hinkell.

Sninkelletti, a resident of Minden, Nevada, grew up in the small Sierra foothills town of West Point. During his childhood, he spent considerable time with his grandmother, an impressionist who taught him to "see like an artist" and helped him understand that staying inside the lines is less important than creating a feeling of space and light. He originally aspired to become an animator, spending countless hours drawing cartoons. "It was only after visiting MGM Studios and seeing how impersonal the job would be that I started looking at other options," says Sninkelletti.

Sninkelleti's Muir Woods
Right Brain, Left Brain
To that end, Sninkelletti, now 32, attended UC Berkeley and pursued an engineering degree. However, at the end of those four years—following several episodes where he lost consciousness—doctors discovered a chicken-egg-sized growth on his brain that was putting significant pressure on his right temporal lobe. "It was benign tissue, nothing particularly dangerous, but the brain didn't like it there," he says.
The right side of the brain is generally associated with the visual, intuitive and creative functions, while the left brain processes information in a more analytical way. After Sninkelletti's surgery removed the growth, he began performing complex actions with his left hand more readily and without thought. He also re-immersed himself in the arts. "Art, or at least my version of art, is an incredibly right-brained activity," he says. "I can only assume that having full use of that lobe was a catalyst for my attraction to painting and all the wonderful, expressive colors that come along with it."
Meanwhile, Sninkelletti began distancing himself from the logical, analytical world of engineering.
"I remember a particularly long day working at the Contra Costa Water District as an engineering intern staring blankly at the computer screen and thinking 'I wish I was snowboarding,'" he says.
That same day in early 2005, possibly on a right-brain impulse, he quit his job and moved to Tahoe to become a snowboard instructor.

Sninkelletti's Nevada Falls
"Modern-Day Paris"
When the snow melted, he needed a summer job to remain at The Lake. A roommate suggested a local art gallery. Sninkelletti, an avid art enthusiast (he currently has 78 pieces of artwork hanging in his 950 square foot apartment), had begun painting again and thought it sounded like a good fit. He got the job at South Lake Tahoe's Oh My Godard Gallery, which Wyland Gallery co-owned, and bounced between the galleries for two years. In his off-time, however, he often found himself drawn to the nearby Marcus Ashley Gallery, where he admired artists like abstract expressionist Michael Flohr and wandered among the large collection of Dr. Seuss illustrations and Unorthodox Taxidermy pieces.
"Everything I know I learned from Dr. Seuss," says Sninkelletti. "I don't know if my art is necessarily a tribute to his, as my imagination pales in comparison, but he has heavily influenced how I live my life and view the world. All of my life, I have practiced his philosophy to 'Be who you are and say what you feel, because those who mind don't matter and those who matter don't mind.'"
In the summer of 2008, Sninkelletti began working at Marcus Ashley, an ideal setting for an aspiring artist. In addition to submersing himself in the works and creativity of others, Sninkelletti often receives feedback and constructive criticism of his own work.
"Marcus Ashley has an incredibly active 'show-schedule' where we fly out famous artists to meet collectors and paint or sculpt live," says Sninkelletti. "They all love to talk about their latest project and how they achieve their signature looks. They are also very supportive of me and provide constructive criticism that proves to be very useful. I almost feel like I live in a modern-day Paris and my friends are Monet, Renoir, Gauguin and Van Gogh."

Sninkelletti, holding his painting Desolation
A Colorful Palette
As for his own work, Sninkelletti jokes that he throws paint at the canvas until he likes what he sees. "It's not that far from the truth," he admits. "Sure, there is a technique involved and I've learned a great deal about what works and what doesn't, but I really prefer an experimental style of painting. If one doesn't come out how I want it to, it goes into deep storage until I am re-inspired by it. I also tend to work on at least five paintings at a time, and I only paint on the one that jumps out at me that day."
"His presentation is really bold and colorful," says David Borlongan, owner of the Truckee gallery Art Obsessions, which displays some of Sninkelletti's pieces. "His work is unique; it's not your typical landscape. It's easily recognizable as you get captured by the colors."
Many of Sninkelletti's landscapes feature the Tahoe area—the greens, blues and blacks of Emerald Bay under a full moon, the many hues of Sand Harbor on a bluebird day, the bright, tumbling waters of high-mountain streams—yet it was a painting he created from a picture taken on the Argentina-Bolivia border that changed his life.
"The Bolivians were importing by foot, carrying food goods in from across the border that weighed 50 kilograms (110 pounds). This was such a powerful scene to me that I created one of the most complex paintings I had ever done, Bolivian Border."
Sninkelletti took the painting to a local printer. "I fell in love with the woman who scanned and printed the piece and ended up marrying her. She [Selena Valenti] is an incredible artist herself and has a fine art oil painting degree from one of the top art schools in the country. She is my most useful colleague and my reason for continually improving and adapting my art. She suggests what colors to put on top of others, how to create shape and color and feel."
The couple, who married in fall 2012, travel extensively. They hiked the Inca Trail to Machu Picchu, voyaged to see the penguins at the southern tip of South America and often backpack around Yosemite—and take thousands of photographs on their journeys, recording images that may eventually become lively, color-infused paintings.
"I paint to spread the beauty I see and feel in the world," Sninkelletti says. "Whether that is Lake Tahoe or one of the many incredible places I have been lucky enough to travel to is just a matter of what or who I'm in the mood to paint."
As for his name, Sninkelletti barely knew his biological father but inherited the surname "Hinkell." His mother hyphenated it with her maiden name "Snead," and "Pelletti," from Sninkelletti's stepfather. "My mom finally made up the name Sninkelletti to simplify Snead-Hinkell-Pelletti, and I thought that was much more fun, not to mention memorable," he says.
A memorable moniker for a memorable artist.
---
Nick Sninkelletti's works can be found at South Lake Tahoe's Marcus Ashley as well as Truckee's Art Obsessions. Learn more here. 
---
Reno resident Alison Bender first met artist Nick Sninkelletti years ago at Marcus Ashley, when she was coveting a piece from Dr. Seuss's Unorthodox Taxidermy collection.  

Sninkelletti's Bolivian Border