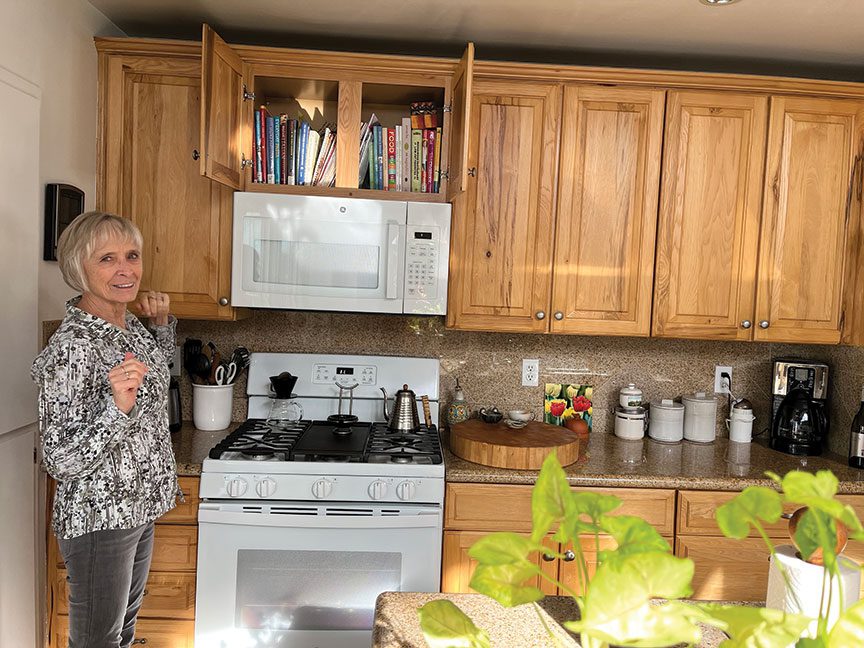 A retired librarian, Pam Rasmussen advertises her 900-square-foot Kings Beach residence as the Book Bungalow, courtesy photo
26 Apr

Carving Out a Special Space for Books
Tahoe's best in-home libraries and reading nooks come in all sizes and styles
"I'm not a book hoarder, I'm simply prepping for the possibility that one day I might have 173 years to do nothing but read. Better safe than sorry." —Jonathan Edward Durham, author
There is something about curling up in a warm and cozy study, office or nook with a delightful read on a stormy day—and there were many this past winter.
An impressive selection of books not only gives a glimpse into the personality of its owner, it also adds immeasurable value to a home—especially for avid readers. For those interested in creating their own library or reading space within the comfortable confines of their home, check out Instagram accounts such as @hotcocoareads for inspiration, or look no further than this quaint cabin on Tahoe's North Shore, where a longtime local librarian turned her home quarters into a book lover's paradise.
Dream Rental for a Bookworm
Kings Beach resident Pam Rasmussen is the owner of the Book Bungalow, a place where people can stay and take a book (along with a bookmark) with them when they leave.
The home is only 900 square feet, but within that space are three bedrooms, two bathrooms, a kitchen, living room, dining area, sweeping pine-filtered views of the lake and books in every room. The Book Bungalow is within walking distance of the Kings Beach Recreation Area and numerous shops and restaurants; however, with all the books at one's disposal, serious readers may have trouble leaving the property. 
Rasmussen worked in libraries for 25 years, retiring from the Incline Village Library in 2017 after a 14-year run as manager. In the summer of 2019, she planned a seven-week trip to Europe and decided to rent out her house while she was away. To do that, though, she had to get rid of some stuff.
"I gave six boxes of books to the Friends of Washoe County Library," she says.
Rasmussen couldn't part with all of her books, though. Instead, she kept some for herself and began passing on the rest, leaving them in "little libraries" or donating them back to the community. And yet, her collection is still extensive.
"Books are everywhere if you're looking for them, but at some point, I realized there's no way I could read every book," says Rasmussen. "I went through every one of them I had, and there are still about 300 in the house."
Knowing she could never read every book, Rasmussen is happy to share them with others while promoting her rental to a specific clientele as the Book Bungalow.   
"It helps me get rid of books and it's always fun for me to come back and see where the holes are, determine what people took," says Rasmussen. "Literally, you can take any book."
Being a longtime librarian, Rasmussen organizes her collection by genre, with different rooms holding various kinds of books.
For instance, the living room has a mix of everything—travel, nonfiction and fiction—while a guest room has an entire shelf above a closet of hearty beach reads, the kitchen has a host of cookbooks tucked in a cabinet, and the primary bathroom has quick and easily digestible spiritual and self-development finds. What used to be Rasmussen's office is more of a kids' room now, with a pullout bed and a closet with board games and bedtime stories; the shelf on the dresser has more "middle reader" type materials, such as a classic edition of Twenty Thousand Leagues Under the Sea.
The house is clean and uncluttered, and there certainly are books everywhere if you look hard enough.
Rasmussen admits she was a little nervous about renting her full-time residence to strangers—she only does for winter holidays and summer months, when she vacations or stays at her second home an hour north of Tahoe—and hoped that promoting it as a book bungalow would help draw in a certain kind of crowd.
"This isn't an investment property or a second home, this is my primary residence. So I was thinking that people who read books would take care of it, and for the most part, that's been the case," she says.
Book-Loving Clientele
Pretty much any homeowner can build their own library or reading nook, says Truckee-based interior designer
Terry Owens-Alvarez, principal at THID (formerly Terry Hurt Interior Design).
"Most people want somewhere to store their books, and it's just about finding space to carve out for it," says Owens-Alvarez.
Working in Truckee for over 20 years, Owens-Alvarez estimates about half of the homes her firm has designed over the years include dedicated space for reading materials, even if it's just a shelf of cookbooks in the pantry. Most of the home libraries and reading spaces she designs for clients are relatively basic, with no frills. But not always.
There is one home library in particular, which Owens-Alvarez designed in 2002, that stands out in her memory due to its sheer size: The wall lined with packed bookshelves spans two stories, accessible by a rolling ladder, and is complete with iconic-looking tomes.   
"It starts on the bottom floor and goes up into the second floor with a hidden door that contains a wine cellar," says Owens-Alvarez. "The owners were avid readers and wanted a home library space, so we thought up the most interesting way to make that happen."
While technology such as Kindles and audiobooks—as well as endless reading material online—have reduced the demand for in-home libraries, Owens-Alvarez believes there will always be a desire by that certain homeowner who enjoys books in their physical form. 
"People [in general] have less space for books and there are more online materials available, whereas in the past people had more printed materials," she says. However, "It's not gone completely. People have a fondness for books in their hardcover, and when people move, they don't give away their books. They take them, like their friends."
---
Kayla Anderson is a 15-year North Lake Tahoe resident who loves to read and write. Bookstores and libraries are two of her favorite places in the world, and she can't walk by one without stopping to look at what's on the shelves.