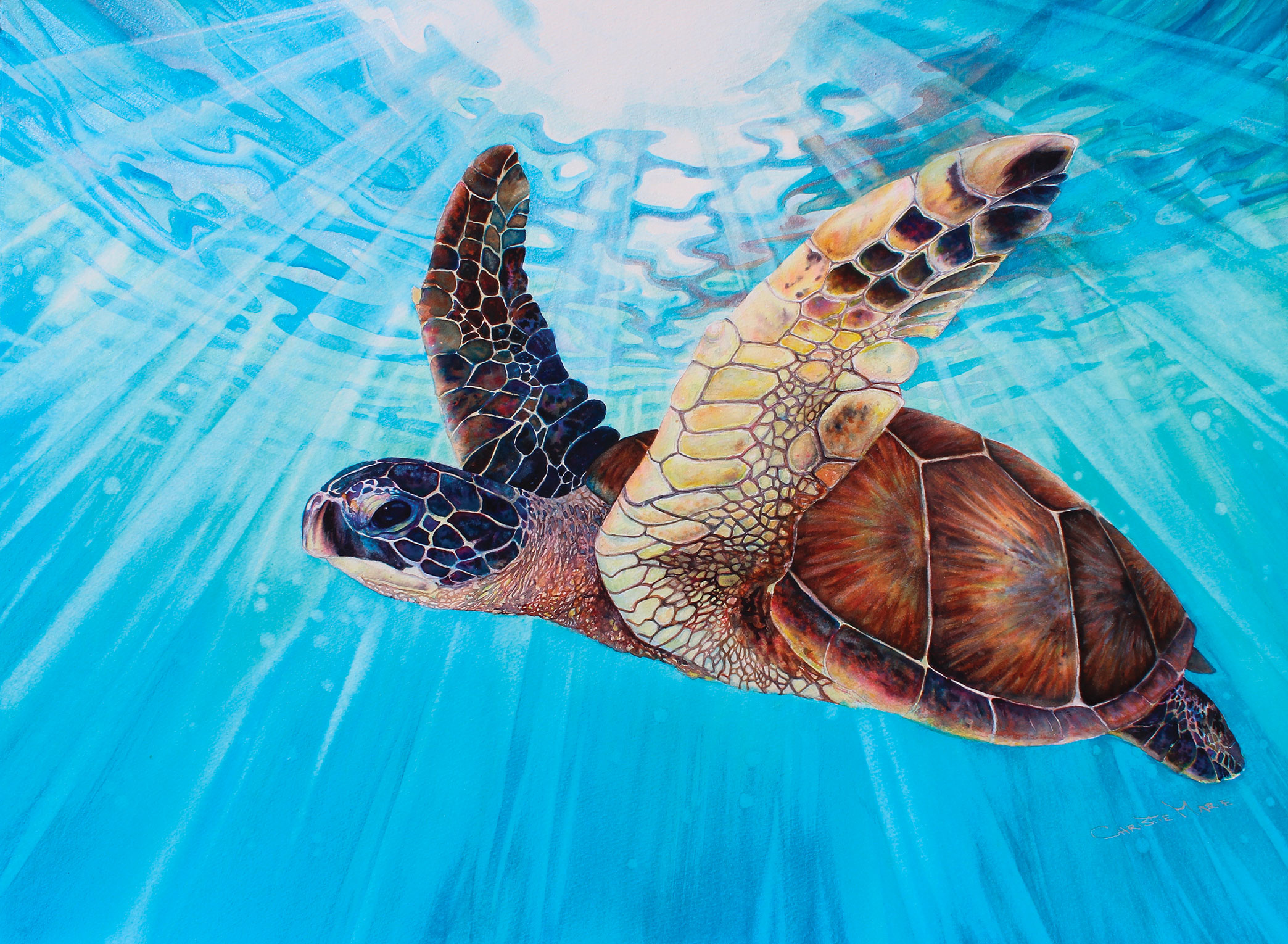 Noa / Freedom watercolor by Christie Marie Elder
08 Dec

Early Inspirations
Former pro snowboarder now heads up South Shore's Tahoe 

Art League
The early influences of painter Christie Marie Elder's life can be seen in her main subjects—the serenity of Lake Tahoe and the rich vibrancy of Hawaii—yet her styles and techniques reflect the skills she's honed over decades.
Elder's parents met at Heavenly Mountain Resort—her father was a ski patroller, her mother a member of the Blue Angels Ski Team—on what is now Canyon Chair. Elder was born at South Lake Tahoe's Barton Memorial Hospital, and grew up in Skyland on South Shore's Nevada side.
"I was blessed to grow up skiing all the beautiful resorts in Lake Tahoe," she says.
Besides letting her explore the region, her family nurtured her creativity.
"The art influence started very young for me," Elder says.
Her grandmother Mimi worked with oils and charcoal, while her mother taught her to think creatively, as well as to appreciate nature's colors and textures. And, her family took her on yearly Hawaiian vacations, where Elder immersed herself in the dynamic colors, smells, foods, style and culture of the islands. On one vacation, when she was 16 years old, Elder met a famous Hawaiian artist in his gallery on Maui. "I felt I had a calling to one day have a gallery in Hawaii, too," she says.
Slope Style
In 1989, around the same time as her influential Hawaiian trip, Elder switched from skiing to snowboarding. She instantly took to the sport and, with her sister and a group of friends, began competing in the California State Snowboard Tours, sponsored by Bob Daly of Stateline's Shoreline Ski & Sport.
"It was fun, but I had no idea it would turn into a career so quickly," Elder says.
That first year, she took first overall in halfpipe, first in giant slalom and first overall in combined in the amateurs' division.
"Naturally, the next step would be to go from regional to national, but I had one problem," she says. "I was a junior in high school."
With her parents' blessing, Elder took college classes, transferred the credits to high school, and graduated with honors a year early.
As elated as she was to join the national circuit, Elder was not without doubts. Her passion was art, and she'd planned to go to an art college after high school.
"When the opportunity to travel and become a pro athlete came along, I went to my high school art teacher, Mrs. Tilson, for advice," says Elder. "She told me I could always go back to college at any point in my life, but this opportunity to travel the world would only be available for a short time. She told me to be inspired with all the creative things that traveling the world has to offer."

Elder competing, photo by Autumn Rose
In her second year snowboarding, Elder competed on the national circuit in both freestyle and racing events.
"That year I ended up winning fourth overall in halfpipe and sixth overall in GS and took fifth overall combined in the United States in the pro division," she says.
Elder found her specialty in freestyle events—halfpipe, slopestyle, big air, triple big air and boardercross. In her third year snowboarding, she traveled to France for her first World Cup event. The race was not a success—Elder got sick and fell—but the experience pushed her to learn more and train harder. She spent summers at training camps in Mt. Hood, Oregon, and winters on the world circuit, and ranked as one of the top halfpipe snowboarders in the world.
"I loved traveling to new countries, experiencing new cultures and people and pushing the limits of what I was capable of," she says.
Along the way, Elder took the advice of her former art teacher and brought an art journal on her world tours, where she marveled in the foods, architecture and music of different cultures.
"I would be traveling for four months straight and was at a different contest and location every week," she says. "I had lots of downtime in planes, trains and autos. I would draw all the time."
Friends noticed her talents and began asking if she would draw up designs for tattoos. After a while, they asked if she would get her own tattoo equipment. "At first I thought, 'no way!'" she says. "But as time went on, I met many tattoo artists who would encourage me to try it out. I eventually did, and it became my profitable spring and fall job when I wasn't working at Mt. Hood in the summer and the World Tour in the winter."
For eight years, Elder trained, traveled and competed—and often podiumed—in World Championships, the X Games and Dew Tour events. She had two pro signature model snowboards, for which she designed the art graphics and technical aspects, was featured in four snowboarding videos, profiled in numerous magazines internationally and, in 2014, was inducted into the Soda Springs Legends of Tahoe Snowboarding Hall of Fame.
"It was a fun and adventurous life back then!" she says. "I am so thankful I got to experience it all."
The Art Scene
In 2000, at age 27, Elder retired from competition after deciding to start a family. She had two boys, now ages 14 and 12. Today, she usually works with paint canvases or murals, not skin, and her primary mediums are watercolors, oils and occasionally car paints on brushed metals.
'
Emerald Nights; 
watercolor  |  12 x 20 inches
Elder's works are bright and vibrant, realistic yet with a touch of whimsy. Many of her pieces are Hawaiian-inspired foliage—exotic plumerias or hibiscuses—and tropical sea creatures, such as swimming turtles and pulsating jellyfish.
"I'm inspired by getting outside and infusing myself with God's awe-inspiring nature," Elder says. "It can truly balance and heal our souls. All along, I've wanted to capture that and be able to let it live through me. Painting and art is the way I share my passion and inspiration for life."
Elder's Tahoe collection is more landscape inspired—the star-dotted skyscape over Emerald Bay, for example, or a snowboarder in silhouette shredding down a powdery slope. "My favorite element to paint is water," she says. "I love it in all of its forms—from snowflakes to bodies of water to clouds."
The love of water is certainly apparent in her works.
"To me, Tahoe and Hawaii are very similar in spirit and beauty. They are yin and yang. Opposites in climate and nature but I feel they balance each other in whole with the same spiritual feeling."

La'a kea O Kekaha; 
watercolor  |  18 x 24 inches
Elder's paintings start with an inspiration, a vision in her mind. If possible, as for most of her Tahoe works, she visits the location she wants to paint; otherwise she researches online, printing out pictures that capture the feelings she wants to evoke. Elder draws a conceptualized idea on paper or canvas before beginning to paint.
"I then put on some inspirational music," she says, noting that the genre changes depending on her mood and the subject. "If I have big blocks of time I can really paint fast when I get in my groove. Being a mom, my time tends to be chopped into little sections so then it gets hard to get a painting done."
Supporting South Shore Arts
Her time may be precious, but Elder still manages to be generous with it. She's completed several large murals—including one at South Shore's Sierra Recovery Center—and gotten involved with South Lake Tahoe's Tahoe Art League (TAL).
Her interest in TAL dates back to her youth. Her grandmother Mimi was a member and always spoke highly of the organization. "I knew when my life allowed time I would want to check out the Tahoe Art League and see if it was a good fit for me, too," Elder says.

Clear Awakening; 
watercolor  |  16 x 20 inches
In 2009, while living in Carson City and being occupied full time with her two boys, Elder decided to join TAL for a year.
"My heart felt like I needed something Tahoe art-ish to help my soul," she says.
Over the course of the year, she attended the TAL Art Expo and went to as many of the demonstrations as she could. While she learned a lot, and she knew it was a good match, her schedule just wouldn't allow it.
Then, in 2014, "my life opened up to allow for some of my passions and I quickly became a member once again."
Elder jumped back into the South Shore art world. One of her favorite things about the league is the art demonstrations, she says.
"I have learned some amazing techniques and seen mediums I didn't even know existed. I also appreciate being around the local Tahoe artists. There is a feeling of kindred spirit camaraderie with us."
Elder doesn't do anything just halfway. Just as when she started snowboarding, she quickly found herself on the world circuit, when she joined TAL, she quickly became its president, taking the leadership reins in the beginning of 2015.
"There are a lot of changes and growth going on in the Tahoe Art League," she says. "We have a growing amount of talented local artists who are interested in being a part of expanding Tahoe as a worldwide art destination. Being the president of this league is a lot of work, but well worth it."

Snowflake Forest; 
watercolor  |  12 x 18 inches  |  giclee prints available
The Tahoe Art League formed in 1964. It's moved locations over the years—including 20 years at the Promenade in the old Sahara-Tahoe Casino, where Elvis Presley was reported to have checked out the local talent—and has operated from its current space on Lake Tahoe Boulevard for 40 years. The TAL Art Center Gallery is staffed by local artists; visitors are welcome Wednesday through Sunday, from 11 a.m. to 5 p.m. The gallery hosts a variety of works from local artists and artisans, to include fine arts, jewelry, ceramics and more. TAL hosts workshops for both its members and the general public with South Shore artists that specialize in everything from silks to metals to paints, as well as plein air sessions in the spring and summer. TAL also runs the annual Artists' Studio Tour held over two weekends each summer.
"I was definitely surprised with how far the league reached into the community with art programs, art workshops, big events, sponsorships, scholarships and the list goes on and on," says Elder. "It is a huge organization with many dedicated, hard-working, passionate artists and sponsors. It is at the point of big growth and getting to be a part and realizing the inner-workings of it all has been fun and exciting."
---
Christie Marie Elder's work can be found on her website, as well as on Ebay, Etsy and at Kona Chiropractic in Carson City. To learn more about the Tahoe Art League, please click here.
---
Writer and editor Alison Bender has learned to draw Minnie Mouse heads for her two daughters, but that is the extent of her artistic abilities.