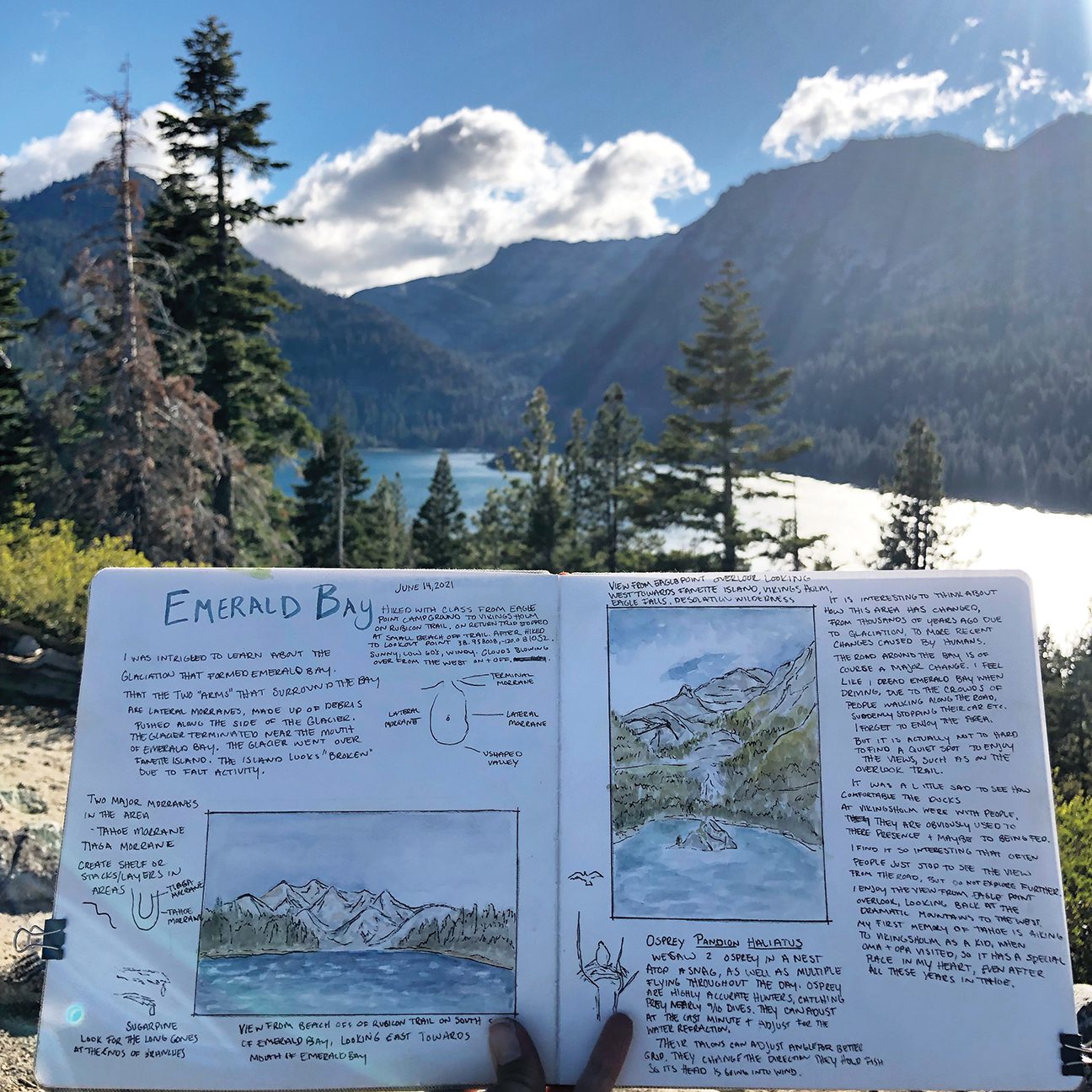 Claire Lawrenson displays a nature journal entry from Emerald Bay, courtesy photo
25 Sep

Embracing Nature's Canvas
Renowned for its beauty, the Lake Tahoe area offers talented artists and amateurs alike the opportunity to enjoy nature journaling at its best
When you venture into the wild with nothing but a few simple art supplies and observe what's around you, the world opens in illuminating ways. Make it a regular practice, and you might even become a budding naturalist.
Just ask some of the artists who are fortunate enough to call Lake Tahoe home, where the picturesque landscape that is their backyard provides an ever-present source of inspiration and allure.
"Nature journaling gives us a connection to the beauty around us, and when we have that, then we are more likely to appreciate it, preserve it and protect it," says Liz Paganelli, a longtime Incline Village resident and artist. "Nature journalizing is not learning to draw, it's drawing to learn."
Given that mindset, anyone with a love of the outdoors and some free time can enjoy the art of nature journaling, which is not only reserved for artists, but anyone willing to dive in and give it a try.
Challenge Accepted
For Claire Lawrenson, stumbling across a painting challenge on social media in 2019 provided just the nudge she needed to try her hand at nature journaling.
The Truckee-based artist was looking for a way to combine her love of hiking and the outdoors with her passion for watercolor painting, but was daunted by the thought of lugging around art supplies. Then she found the #100daysofartinspiredbynature challenge on Instagram, in which participants post a piece of art online for 100 consecutive days.
"It helped me hone in the process of painting in the outdoors," Lawrenson says. "I kept three things in mind when doing this daily challenge: It (the painting) didn't have to be good, it didn't have to take too much time and I could do it any time. That released the pressure for me."
To prepare for the challenge, Lawrenson formed a grab-n-go kit that contained a notebook, water pen and small palette of watercolors, keeping it in a small zipped bag that fits in her backpack with all her hiking supplies.
As the days passed, Lawrenson found that her notebook became more of a personal journal than just paintings. She took time to document who she was with, what the weather was like and what she heard and smelled.
"It became more of a personal reflection than a work of art," says Lawrenson, who was soon hooked on nature journaling.
Regardless of the season—she prefers winter because the cold weather forces her to work faster and care less about the outcome—Lawrenson says painting in nature makes her pay close attention to her surroundings, whether it's a grandiose mountain scene or a small flower fluttering in the wind.
"You start to notice interesting shapes of leaves … what insects are visiting the plant. It makes me slow down and take more notice of the world around us," she says. "And it makes the experience of being outside a little more impactful because you're not looking at your phone or thinking about what to make for dinner.
"It's relaxing and therapeutic. You're in the moment," adds Lawrenson, whose work can be found on her Instagram page, @wildandwistfulstudio, named after the small art company she launched in 2016, Wild + Wistful Studio.
The Healing Nature of Nature
Sara Mohagen didn't seek out nature journaling. Yet once she discovered the art form, it helped her through some of the darkest moments of her life.
Shortly after she and her husband moved to Truckee in 2014, Mohagen was diagnosed with Stage 4 melanoma, followed by months of treatment in a San Francisco hospital. Making matters worse, she couldn't go outside or even be near a window because of how the light reacted with her skin.
Looking for something to focus on during treatment, Mohagen started drawing what she saw around her and became hooked.
"One doctor gave me six months to a year (to live), so what do you do with your time? It's been a crazy journey, but it cultivated a lot of gratitude," she says.
After a months-long battle, the cancer went into remission and Mohagen returned to her job as a physical therapist. But by then all she wanted to do was draw, especially in the outdoors near her home on Donner Lake, where she can easily wander through the woods of Donner Memorial State Park or sit on the docks and observe—and draw.
In 2015 she launched Dark Fox Creative and now draws full time, with graphite being her primary medium.
"I'm happiest when I'm in nature," she says. "I love animals, and nature journaling is a way to bring the outside in. And you can do it from anywhere—from a café or on a walk. You can observe what's going on around you wherever you are."
In early August, Mohagen had just returned from a week-long camping trip with no cell service or Wi-Fi. The lack of distractions forced her, in a good way, to slow down and appreciate the natural world around her, which she documented with contentment in her nature journal.
"When you focus on what's around you, it's very grounding," she says. "It decreases stress and improves your mental well-being."
Beauty in the Details
Liz Paganelli first learned about nature journaling while in art school, where she "soaked it all in like a sponge." Having visited Italy on many occasions—including her time studying at the Santa Reparata Graphics Center in Florence—she keeps artistic mementos from her travels and enjoys reflecting on her journal to help remember exactly where she was, how she felt and what the scene was like.
"When you draw something, you don't forget it," Paganelli says. "It puts you in touch with the beauty of nature, gives you a chance to sit and be quiet. It makes you so aware of what's there." 
Originally from the Bay Area, Paganelli moved to Tahoe more than 30 years ago and has been honing her artistic craft since. Her Incline Village studio, Liz Paganelli Fine Art, features an array of prints, from botanical illustrations to mixed media creations to hand-colored etchings of Yosemite and more.
Browsing around the space, her incredible attention to detail is evident in every piece of artwork—a skill she attributes in part to nature journaling.
"When you draw a leaf or a flower, you can't believe what's in there … all the nooks and crannies in a pinecone, in a leaf or a seashell, it's amazing," she says. "There are so many incredible things out in nature, and when you go deeper and deeper into it is when it gets fun."
With years of experience comes the knowledge of which subjects in the natural world are best to draw. Paganelli suggests choosing something that doesn't move, like a plant or tree.
"I draw a lot of trees, and each one is so different," she says, adding that the Tahoe Basin is home to numerous pine species, each with its own unique characteristics. 
On the other hand, Paganelli enjoys drawing birds despite their near-constant movement. To pull it off, she often does a quick sketch of a bird she sees in nature, then searches online later to discover and replicate the animal's many details in her drawing.
Diving In
For those who are new to nature journaling, Lawrenson advises to not be hard on yourself; simply record what you see to the best of your ability.
"Focus on spending time outside and taking in the experience while not overthinking what to draw," she says. "Take a small kit, sit down and draw the first thing that catches your eye."
As for what to bring, Mohagen says if she's heading out on a short trip—on her kayak, for example—she'll pack a pencil, notebook, little watercolor kit and pen in a fanny pack or waterproof case. For longer jaunts, she'll bring water, a cushion, kneaded eraser, pens, a watercolor brush and watercolors.
But for beginners, Mohagen suggests taking whatever feels comfortable to start with and then adjusting from there.
Perhaps more importantly, says Paganelli, is to be ready to leave the house on a whim. 
"First of all, have a good bag to carry things. If you don't have a bag ready to go by the door, then you'll never go out and do it," says Paganelli, whose bag contains a 6-by-8-inch sketchbook, watercolor pens, micron pens, water brushes and a mechanical pencil (so she doesn't have to worry about sharpening), along with a small ruler, kneaded eraser, magnifying glass and camera.
"The beautiful thing," says Mohagen, "is that it's easy to learn and it's so good for your memory. Ask yourself questions: What do you see? Hear? Smell? Touch? You're learning to observe the world around you. It doesn't have to be that complicated. Just record a couple of your thoughts and go from there."
After all, says Lawrenson: "Nature journaling can be for everyone, not just artists."
---
Thanks to the artists Kayla Anderson interviewed for this story, she was inspired to get into nature journaling and has found all kinds of wonderful plants and animals in her own backyard. For more information about her work, visit kaylaanderson.org.