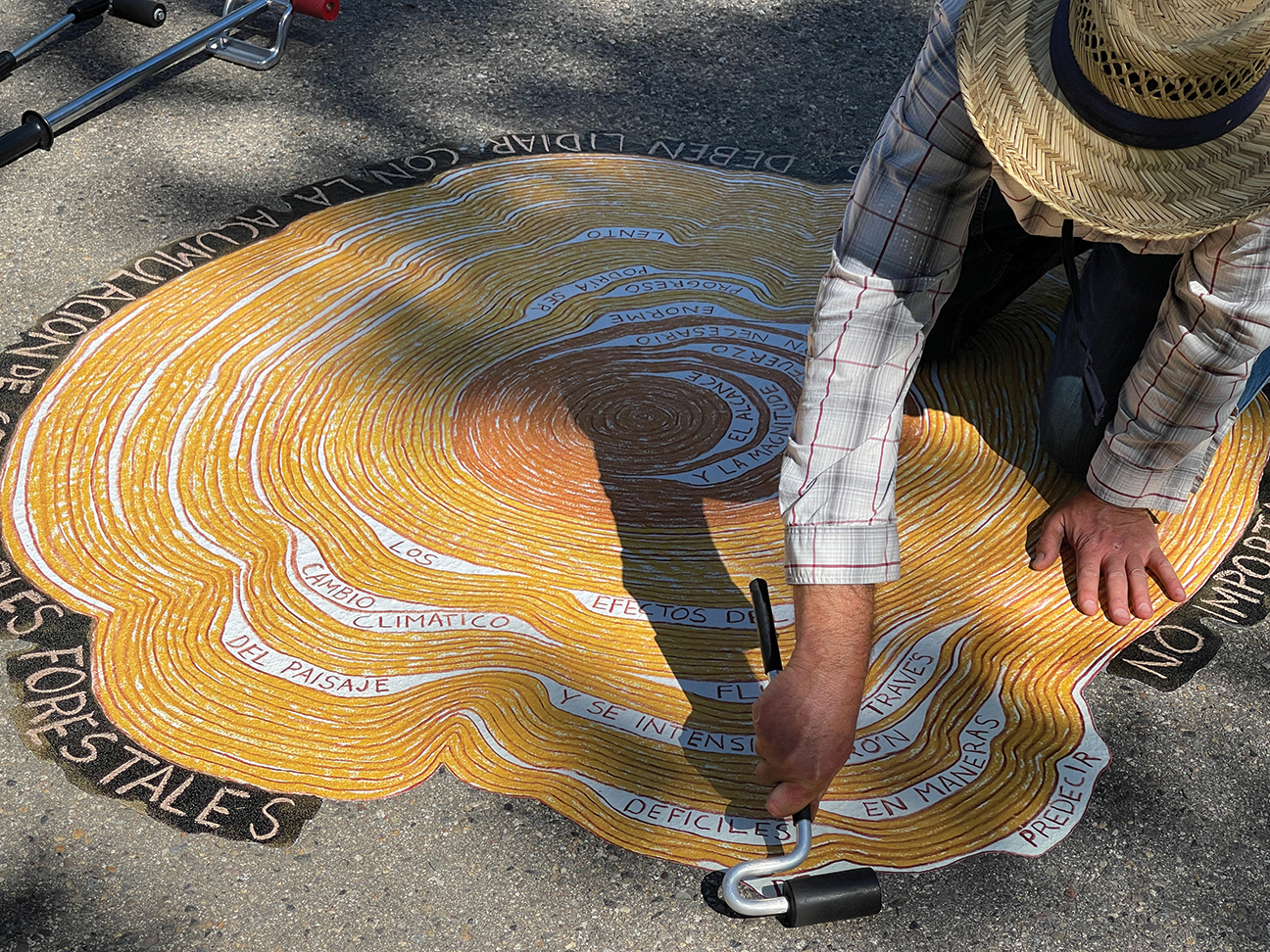 Reno artist Scott Oliver helps install the artwork at the Taylor Creek Visitor Center, photo courtesy California Tahoe Conservancy
25 Jun

Exploring a Forest, One Word at a Time
Temporary public artwork in South Lake Tahoe explores the nature and resiliency of Tahoe's trees
This summer, visitors to Taylor Creek on Tahoe's South Shore will look down at their feet and see the tree rings of a forest embedded with a spiraling pattern of words.
The unexpected discovery is courtesy of Todd Gilens, a visual artist from the Bay Area. The work is called Reading Forest, and it unfolds across the paths of the Taylor Creek Visitor Center in a series of 40 metal-and-vinyl laminates representing the cross-section of trees. Like trunks of evergreens rising from the forest floor, these artistic waypoints invite pedestrians to inquire, admire and explore the nature of forests.
Gilens used handmade pastels and wax-based earth pigment crayons to depict the tree rings, and then drew from anthropology texts, poetry, science and other sources to inscribe each tree with a message. The entire project is built around a theme of resilience. It is funded by a grant from the USDA Forest Service Pacific Southwest Region to the National Forest Foundation as a way to explore the idea of a healthy forest, and stretch people's concept of this familiar ecosystem in new and unexpected ways.
"One of the inspirations for the idea is these sections of trees where you can see the burn scars," says Gilens, whose artwork was installed in May and will be removed after the Fall Fish Festival in October. "Here are the thoughts of the tree as it grows—it is accumulating experience and here is a sentence, and then here is the burn scar, and then the tree heals back over."
Already, the newly installed project is making people slow down and interact with the dispersed art pieces in unique ways.
"The adults stand up and slowly move around. You have to stand up and move around and figure it out. It is a little puzzle," says Sarah Di Vittorio, Northern California program manager for the National Forest Foundation. "But the kids are down on the ground, engaging in a physical way, which is cool."
Gilens has a long history of compelling people to pause and think when confronted with his visual projects.
His Endangered Species bus wraps in San Francisco made public transit a vehicle for spectacular images of animals under imminent threat of extinction. His Confluence project looks at complex, landscape-level phenomena like river systems in a mixture of visual art and text. That project's processes are echoed in Reading Forest.
These natural systems that unfold at a scale and in a timeline that can seem like an abstraction are central to Gilens' art. But by challenging observers to look beyond the immediacy of the present and the space before their eyes, Gilens illuminates these complex ecosystems that proceed at their own pace and spread across vast landscapes.
"That timeframe is key. Linking an individual experience to a decades- or centuries-long process—that is one important parameter of the work. The companion to that is the spatial frame; you experience something in one place or time, but it is extrapolated out into the landscape infinitely," says Gilens.
In Reading Forest, the text is a powerful piece of the overall project. Lines like this from renowned poet Gary Snyder—"But we are called now to a more complex moral attitude, where we see fire as an ally in the forest, even while recognizing its power to do damage"—are seamlessly blended into the tree rings in a circular pattern that challenges pedestrians to carefully decode their meaning. But the text is not necessarily instructive or didactic. It is challenging and thought-provoking.
"Understanding can be overrated. We need to come to an understanding that we only know what we know," says Gilens. "The artwork actually addresses that point in presenting many different perspectives that are at times in conflict with each other."
Gilens was commissioned by the National Forest Foundation on behalf of the Lake Tahoe West Restoration Partnership— a 59,000-acre collaborative forest restoration effort that includes the U.S. Forest Service, California Tahoe Conservancy, Tahoe Regional Planning Agency, California State Parks and other local organizations—to create Reading Forest. But he says the partnership was elastic, and allowed him the flexibility to explore his artistic ideas without bureaucratic control that could have dulled the creative freedom of the venture.
But still, the themes of the Lake Tahoe West project are evident in the artwork. Forests are changing. They are challenged by climate change and catastrophic wildfire and decades of mismanagement.
The hope is that Reading Forests will convey these challenges in a way that makes visitors—from kindergarteners to retirees—think about the need to reintroduce resiliency into our local forests.
"I think the intent all along of making artwork part of Lake Tahoe West is to engage and inspire people on a different and more personal level, to engage people in a way that is not as focused on the science and the technical aspects of forest management," says Di Vittorio.
As people walk away from Taylor Creek, having paused to read through the circuitous messages swirling around the tree rings, Di Vittorio hopes they come away with one overarching concept.
"I hope it helps people see the forest as not a static thing, but as a growing and changing system that includes relationships with human beings as caretakers and managers," says Di Vittorio.
For Gilens' part, he hopes Reading Forest creates a state of mind as people stroll toward Taylor Creek:
"What I am hoping will happen is that it will put people in place of reflection."
---
David Bunker is a Truckee-based writer and editor.