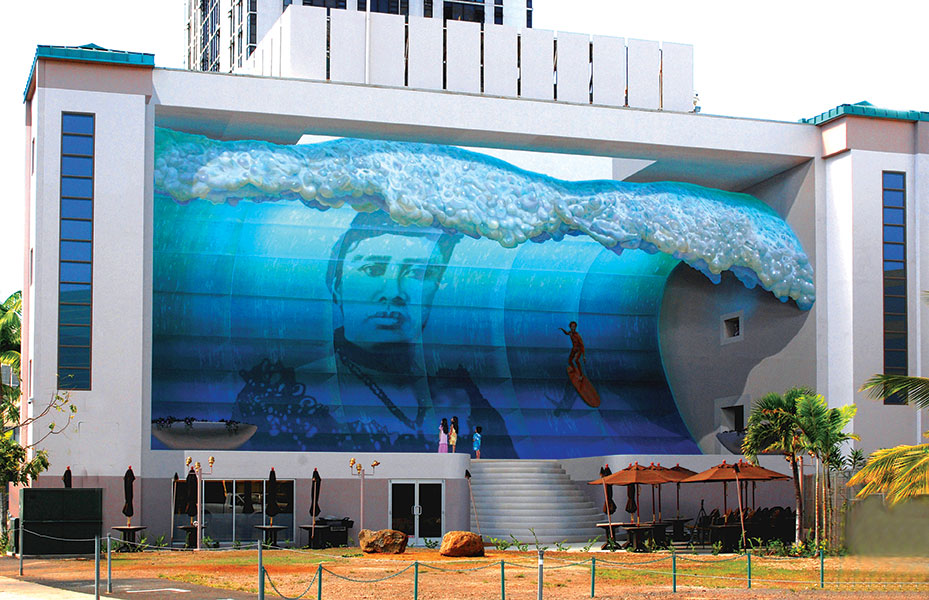 Hawaii's Queen Lili'oukalani looks out from a wave at the Mana Nalu Mural in Honolulu
04 Feb

Featured: Truckee Muralist John Pugh
Truckee muralist paints to trick the eye
Perched on scaffolding against the huge wall of Chico State's Taylor Hall, young artist John Pugh painted his future: a grand illusion of a wall crumbling away to reveal academe's Greek columns underneath.
Not only did the mural become an iconic campus fixture, its uncanny ability to trick the viewer into seeing a three-dimensional scene catapulted Pugh into a career as a trompe l'oeil mural artist (French for trick of the eye).
"It was the springboard," Pugh says. "I did this project and it started to get a lot of international attention. I was going to go for my master's degree, but this door opened for a career, so I walked through it."
He adds, "I haven't been without work since."

Taylor Hall mural at Chico State
More than 30 years and 250 murals later, Pugh, who now resides in Truckee, returns this year to his first major work. Taylor Hall is being replaced with a new building and campus officials asked Pugh to redo the mural that came to define the college.
"Because the mural he did has such a historical value to the students and the community, they didn't want it to go away," says Norma Young, of Chico State's facilities department.
Pugh recalls the inspiration for the mural came from a dream "where the wall broke open and it showed the columns. At that time, to my knowledge, no one had done a broken wall type of illusion."
Pugh gravitated to architectural illusion art for several reasons: a penchant for surreal landscapes in his fine art training; acute observational skills that can replicate a shadow's soft gradation; a natural aptitude for math, geometry and perspective; an affinity for architecture; and a love of painting outside.
On his website, www.artofjohnpugh.com, he says, "I have found that the 'language' of life-size illusions allows me to communicate with a very large audience. It seems almost universal that people delight in being visually tricked. Once captivated by the illusion, the viewers are lured to cross an artistic threshold and thus seduced into exploring the concept of the piece."
The trompe l'oeil works Pugh creates are usually large public art pieces, commissioned by municipalities, nonprofits or corporations to grace walls and buildings. Because many cities earmark a percentage of tax dollars for public art, Pugh's work has been in demand despite the recession and an average price of $50,000 to $100,000.
The starting point for a new piece is usually the existing architecture, he says.
"I'll see a wall and respond to it. I have this relationship with walls," Pugh says.
He evaluates whether to open up the wall, or intrude into it, and then researches the history of an area to bring in cultural elements.

"Mine Shift," Del Oro Theatre, Grass Valley
In Hermosa Beach, California, for example, it was natural to paint a trumpet blasting out of a wall as a tribute to the cradle of West Coast jazz.
In Hawaii, the cultural arts commission arranged for him to spend a week with a native spiritual elder before he painted a wall of an epic, translucent wave with a visage of Queen Lili'uokalani within it.
"That was incredible, rich cultural experience," he says. "That is a side benefit I didn't see when I was getting into murals. I'm getting to see parts of the world in its truest forms, heritage and cultures."
Ledgend has it, when the Mana Nalu Mural was nearly finished, an emergency crew jumped out to rescue the children standing in front of the wave, only to discover they were tricked by the painting.
"I think the most effective trompe l'oeil is the stuff that you can't see," he says, explaining that details such as the blur of a shadow indicates how far away the shadow is from the item casting the shadow.
It is these hidden details that trick the brain so it cannot distinguish between reality and illusion, he explains.
For the last 12 years, he has used a treated, dimensionally-stable sizing fabric. He projects his drawing onto the large canvas and uses acrylic paints and glazes while sitting on scaffolding in a large studio. Once it is finished, he rolls it up and takes it to the location to be pasted with an acrylic gel onto a wall. This method is more durable on a molecular level than painting directly on a wall.
He still keeps a studio in Santa Cruz, but has made his home in Truckee since 2008, building a "barn" on the edge of a Glenshire meadow so he can pursue his passion for the mountains while painting. The home has extra rooms for interns who come from art schools around the world to learn trompe l'oeil.
Pugh has two desires: To recruit local interns to help him as he teaches them his craft and to paint a trompe l'oeil mural in the Tahoe area.
While the Assumption of the Blessed Virgin Mary Catholic Church in Truckee commissioned him to paint an altar backdrop, it was inside and not trompe l'oeil. He would love to explore the mountain culture for a public illusion mural.
"I'm very excited about where the career is going," he says. "The concepts start coming out more and more in new ways for me. It's never boring."
---
To learn more about John Pugh, click here or contact him at (530) 587-7477.
---
Tanya Canino is a Carnelian Bay resident who teaches journalism at Sierra Nevada College.