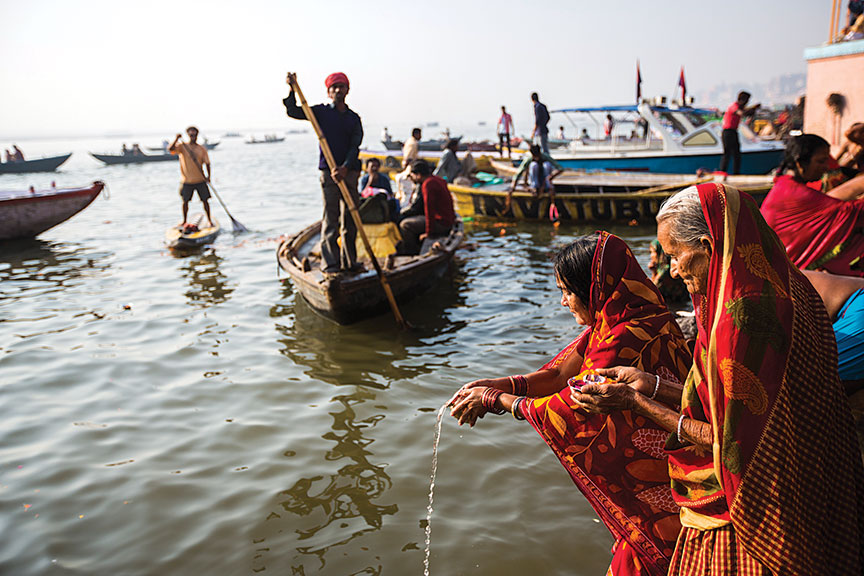 22 Jun

Good 'Kharma'

Kharma Bums' contrast is apparent at the outset.

Ryan Salm—a Tahoe Quarterly contributing photographer and editor—sits on a pier overlooking Lake Tahoe's pristine North Shore at the opening of his documentary film. The water is clear and uncluttered behind him as he discusses an upcoming voyage to India.

Shortly thereafter, he's shown slogging through a massive crowd at the Kumbh Mela—India's holiest Hindu festival celebrating the spiritual purity of the Ganges River, a decidedly impure body of water in the physical sense. It's the largest gathering of humanity in the world with an estimated 80 million people in attendance, and dust rises around the freshman filmmaker and the other members of his four-man documentary crew.

The contrasts reappear throughout the film, which began screening in March of this year. It catalogs a February 2013 adventure Salm, director/cinematographer Jeremiah Kent, former Tahoe City local Jay Sanavage and Martin Cavada of Kings Beach undertook to visit the Kumbh Mela before standup paddleboarding 140 miles down the Ganges to India's holy city of Varanasi. The film ponders the idea of purity and pollution in the spiritual and physical senses as well as providing a number of comedic moments as the four Americans navigate a foreign country without much grasp of the language and an appetite for fun.

"Honestly, it all started with an old picture I saw in a National Geographic from the '70s or '80s," Salm says of discovering a shot of worshippers at the Kumbh Mela amongst his father's stacks of magazines as a kid. "It was a classic photo and I've always wanted to go."

The Kharma Bums take a well-needed rest at a bridge on the outskirts of Varanasi to wait out a brief rain and
windstorm on their final day of the journey
After realizing he'd missed this particular Kumbh Mela—it only comes around once every 12 years—Salm set about making plans to attend late in the last decade. He pitched Kent, a Los Angeles–based director and friend he'd made while traveling in Africa, on his idea for the trip.
"I was like, 'yeah, that sounds cool and amazing,'" says Kent. "At the same time I thought it was insane."
Kent overcame his apprehension as Sanavage and Cavada got on board and Salm presented his idea again as a potential documentary.
"At first it didn't seem feasible to me to make the journey," Kent says. "Then Ryan said, 'what if we do a documentary as well?' I've been wanting to make a documentary for years and this seemed like the perfect opportunity."
In his fundraising efforts ahead of the journey, Salm courted various companies in the standup paddling world, landing SUP Magazine as a sponsor for the trip, which was made on inflatable Naish paddleboards.
The team spent two weeks in Allahabad, India, capturing the spirit of the festival: from the divine to the reality of living amongst 80 million people.
"At night, there was a coughing symphony all around our camp," says Salm. Members of the group variously came down with one ailment or another during the festival and originally did not plan on joining the worshippers in dunking themselves into the Ganges—a purifying practice considered the crowning act for many of the festival's attendees.
"I thought I would never do it," Kent says of bathing in the river. "We were there for two weeks before we got in. At breakfast that day there was just kind of an energy in the group and we said, 'I think we'll get in the river today.'"
"When I stepped out of the river and looked around at how everyone's eyes lit up, I actually felt like a dude who gets touched on the head by a minister and sees the light," Salm says. "My whole vibe and energy changed."
Kent's camera then follows the crew on their long paddle to Varanasi, where they encounter various opinions about the health of the river along the way.
"We found ourselves being a little judgmental [about the locals' attitudes toward polluting the Ganges], and it was good to recognize that," Salm says. "It's really easy to judge how people should treat their things, but it's technically their river. It's not for us to tell people how to treat it."
Once the group returned to the U.S., preparations for the film began in earnest. Some 80 hours of footage were whittled down to 69 minutes and scored by Texas alt-rocker Mike Dillon. The quartet began showing their film in March with a premiere at Tahoe City's Tahoe Art Haus & Cinema before taking it on the road to L.A. Salm and Kent are looking at entering the film in both domestic and international adventure film festivals in addition to trying to secure distribution for Kharma Bums on an online streaming service.

Millions of Hindu pilgrims gather on the banks of the Ganges River while they await
their opportunity to cleanse their souls in its pure waters
The inspiration for the title—a nod to Jack Kerouac's novel Dharma Bums—came from the group's experiences in making the film, Salm adds.
"After we got in the river, things went really well for us," Salm says. "Maybe that's what we needed to get our karma correct."
To find out more about the film and how you can see a trailer, screening or support it, click here.