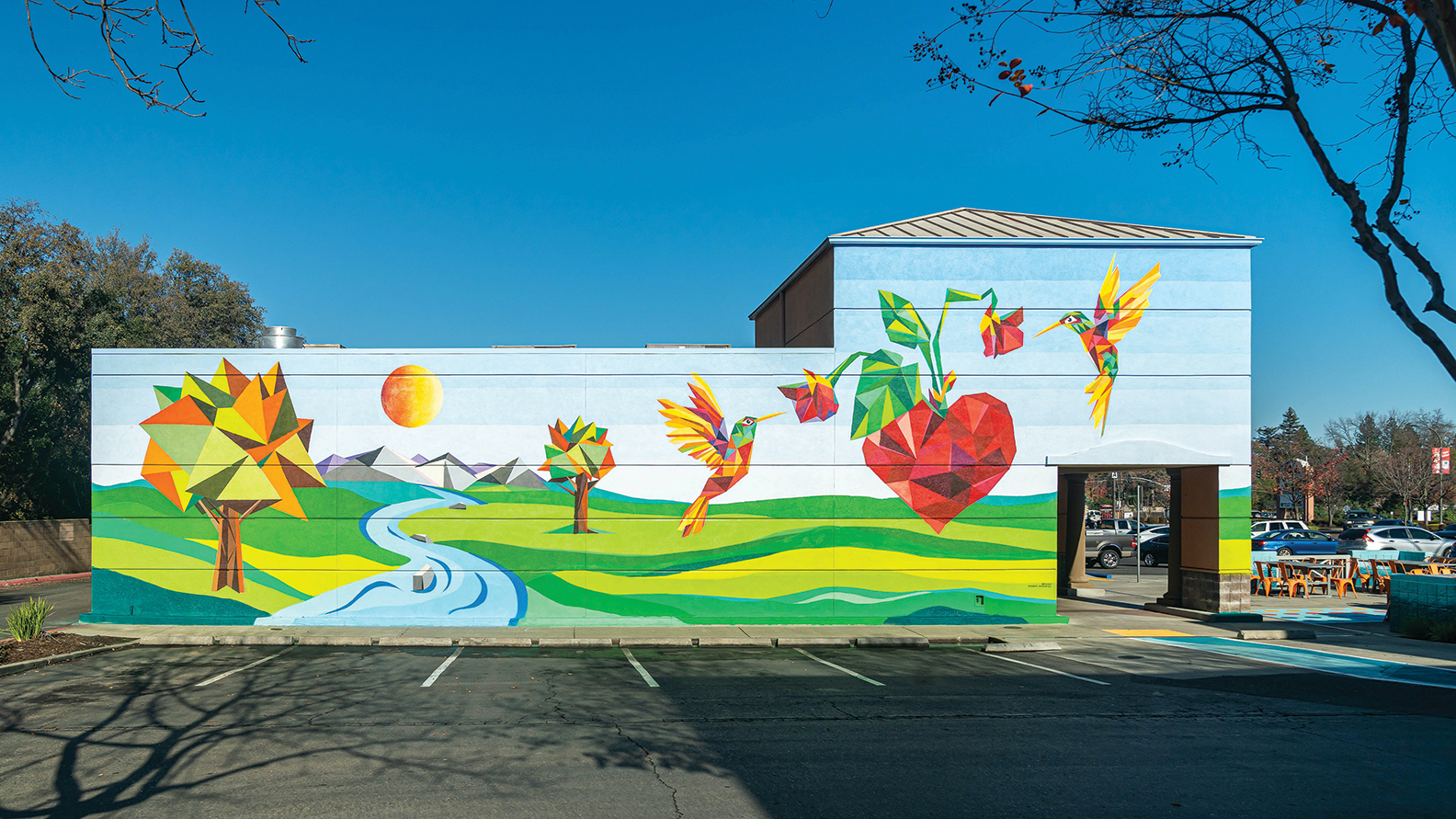 Jesse Melanson's Love Locus in Fair Oaks, California, photo by Eddie Rodriguez
22 Feb

Jesse Melanson: Big Art, Big Dreams
A Truckee-based muralist uses buildings as canvases
In July 2021, words appeared on the wall of the Nevada State Bank building in downtown Reno: "Love is everywhere," "Explore the world," "Joy," "Gratitude," "Imagination."
The words were soon covered with a mural spanning 31-by-78 feet, created as part of Reno's annual Artown festival. A colorful depiction of the ancient Sierra Nevada, the piece, Resilient Reno, utilizes myriad shapes in what's known as a low-polygon style.
The man behind the mural is Truckee resident Jesse Melanson. While his work is bold, Melanson is quiet and humble. The occasional smudge of brightly hued acrylic paint on his work pants is the only sign of the captivating images that spill from his mind and onto huge, sprawling walls throughout the region and the country.
A Lifetime Love of Art
A Maine native, Melanson grew up with a passion for art. He studied new media at the University of Maine, hoping to get into digital art during a time when the industry was growing.
Combining visual aspects of the real world with abstract and surreal-looking digital work fascinated him, as did the field of "new media," which extends into the tech realm with app development and computer programming. Though Melanson enjoyed traditional painting (and would often take the craft to his living spaces), he spent much of his college career learning the Adobe suite and creating animations.
This technical training carried him through the next few years, leading him to build a stunning website, maintain a host of freelance graphic design gigs and expand his digital portfolio.
Finding His Community
In 2010, just after graduating college, Melanson moved from Maine to San Diego. However, after just a month or two he decided to trade sun for snow and relocated to the Sierra Nevada for its skiing and biking opportunities. In Truckee, Melanson found a sense of community, but it didn't come with a built-in career in his field. For a time, Melanson set art aside and took a job as a manager at New Moon Natural Foods. There, he met his now-partner of 10 years, Megan Lacy, a musician and fellow creative.
"New Moon was really a tight-knit community of friends and artists," Lacy recalls. "Everyone had an 'alt' way of looking at the world and so we gravitated toward one another. We hung out a lot, but I didn't really know he was visually artistic. I didn't take it seriously until I started to see his work, because he doesn't talk about himself very much."
While at New Moon, Melanson painted occasionally and did some graphic design for the company and several other local startups, including Furbal Remedies (an herbal dog supplement company) and High Sierra Herbals. When a regular customer commissioned a painting—and then went on to ask for five or six more—it was Melanson's first realization that he could be paid to paint.
"It was like 5-feet-by-5-feet, and it was of Keith Richards," Melanson says. "I painted this pretty psychedelic, abstract portrait of Keith smoking a cigarette. I don't think I was all in for it yet [as a painter], but it was cool to see that someone believed in me enough to pay me to do it."
Art in Austin
In 2015, the couple moved to Austin, Texas, for the city's art and music scene. Living together for the first time, Lacy recalls her further discovery of her partner as a painter.
"He would paint this bright, colorful and visually striking work. I would demand that he frame it and put it up on the wall. It's colorful and playful; it doesn't take itself seriously even though it has a really gravitational effect," Lacy says.
In Austin, Melanson taught art to high schoolers through American YouthWorks. Though the job wasn't the right fit, living in a city loaded with art left him hungry to become a working artist.
"Walking around a city, you see massive murals and it's super dreamy. It makes you think about things that are related to your life, past memories, future dreams," Melanson says. "I was wondering, 'How the heck are people doing this? Who are these people and how do I become one?'"
Melanson challenged himself to become a mural artist and discovered there were many calls for public art on the Internet, through public or private funding or revolving grant cycles.
"In 2018, I applied for a mural in Austin and I photoshopped a bunch of my paintings on buildings," Melanson says. As a newcomer to the scene, he thought it was unlikely he would be chosen. However, he says, "It's one of those things where it chose me."
Titled Wild Imaginations, Melanson's winning piece was created from mixed media and watercolors, and was inspired by images from a youth summer photography workshop he conducted at the Austin Nature and Science Center.
The project was a lucky foray into mural artistry without the challenge of painting on a huge wall. Melanson created an image that was 55 inches wide and then scanned it; a larger version was printed on vinyl and applied to the wall. The project was part of a series of temporary murals hosted by the City of Austin called Tempo 2D, something Melanson says is great for introductory public artists.
"They give you resources and answer your questions," Melanson says. "So when I then was [later] commissioned to do a big wall with a paintbrush, I had a network of people I could ask questions and bounce ideas off of."
That first experience also showed Melanson how to work with a city's art council and the importance of community engagement. "The artwork is a lot less about me and my journey as a visual artist," he says, noting that it's truly about "the community and the people. And how to be a listener rather than just a storyteller."
Super Sizing
After his Austin project, Melanson was commissioned to physically paint his first mural in Malden, Massachusetts, in 2019. Melanson painted a four-story-high image of a giant hand exploding into a rainbow as part of the city's tribute to classic rocker Norman Greenbaum, a Malden native, and the 50th anniversary of his 1969 hit song Spirit in the Sky.
Lacy again watched her partner quietly and methodically rise to the challenge.
"At first, I was scared for him because I didn't know how he was going to scale it up," she says. "As we got into it, it became more and more evident that it was gonna happen, and it was gonna happen well." 
From high above the city streets, working on the mechanical lift as his assistant, Lacy watched the crowd respond as the rainbow first formed.
"People didn't really open up until they started to see what the image was, and then it was like every person that passed by was saying how much it affected them," she says. Lacy appreciates how Melanson engages with the community in his projects.
"Everyone seems to have a feeling of being recognized in his work, of feeling a part of it." 
Next came a commission in Midland, Texas, on the building that houses Basin PBS. Melanson crafted an image of dozens of eyes that connect to one another to represent the oneness of all people.
As his work evolved, Melanson branded himself as "JMel," an artist who is a little bit abstract, full of life and color, who loves texture and mixed media, and dedicates every wall to the greater good.
"I think creating a universal message that doesn't have a left or right side is important with what I'm trying to do with my artwork," he says. "Everybody can come to that. It's not asking you to choose a side, it's just like saying, 'Here you go, this is for you. Use it as you will.'"
New Challenges
Melanson returned to Truckee in 2021 and has since created two pieces locally: Resilient Reno and a piece in Fair Oaks, California, entitled Love Locus.
Resilient Reno took Melanson 12 days to complete. "I started using bucket paint and brush, but since I was painting in the middle of July, the sun ended up literally cooking my paint before I could get it from the bucket onto the wall," Melanson says. He switched to spray paint, using, he estimates, about 60 cans to create the image, in addition to the bucket paint for the larger areas.
In Love Locus, bright, polygon-styled hummingbirds feed from flowers emerging out of a heart. According to Melanson, it took about a week and was designed to evoke feelings of a utopian world; the birds symbolize freedom and joy as they drink from the nectar of the heart, which represents life-giving, compassion, community, understanding and trust.
He paints with both spray can and brush, and has picked up many tips and tricks, such as the "doodle grid" used in Resilient Reno. This technique allows muralists to scale up the mural design once it's on the wall by first painting words or doodles that later get covered up, but are easy points of reference while the work is in progress. Beyond murals, Melanson still does mixed-media art pieces, and challenges himself to create and share new art every day, which he documents on Instagram.
Melanson now has more than 10 murals under his belt and is always on the lookout for the next project. He says he would love to paint a mural in Truckee, where he hopes to see more public art emerge in the coming years. 
"There's so many of these [blank] walls all over the entire world that could hold so much more purpose, so much more meaning," he says. "When you bring a message of love and community, or a place for people to reflect, the growth goes way outside the place where the artwork is. I think so many cities and towns are really starting to take off with public art because they're seeing how it stimulates the people who live there because they have something creative that they can share and be proud of."
---
See more of Jesse Melanson's artwork at jmelart.com or follow him on Instagram, @jmelart, for his "Everyday" art series.
---
Le'a Gleason is a North Lake Tahoe–based writer. As former editor of Kanilehua Art Magazine in Hilo, Hawaii, she once facilitated an art show and live mural painting event.