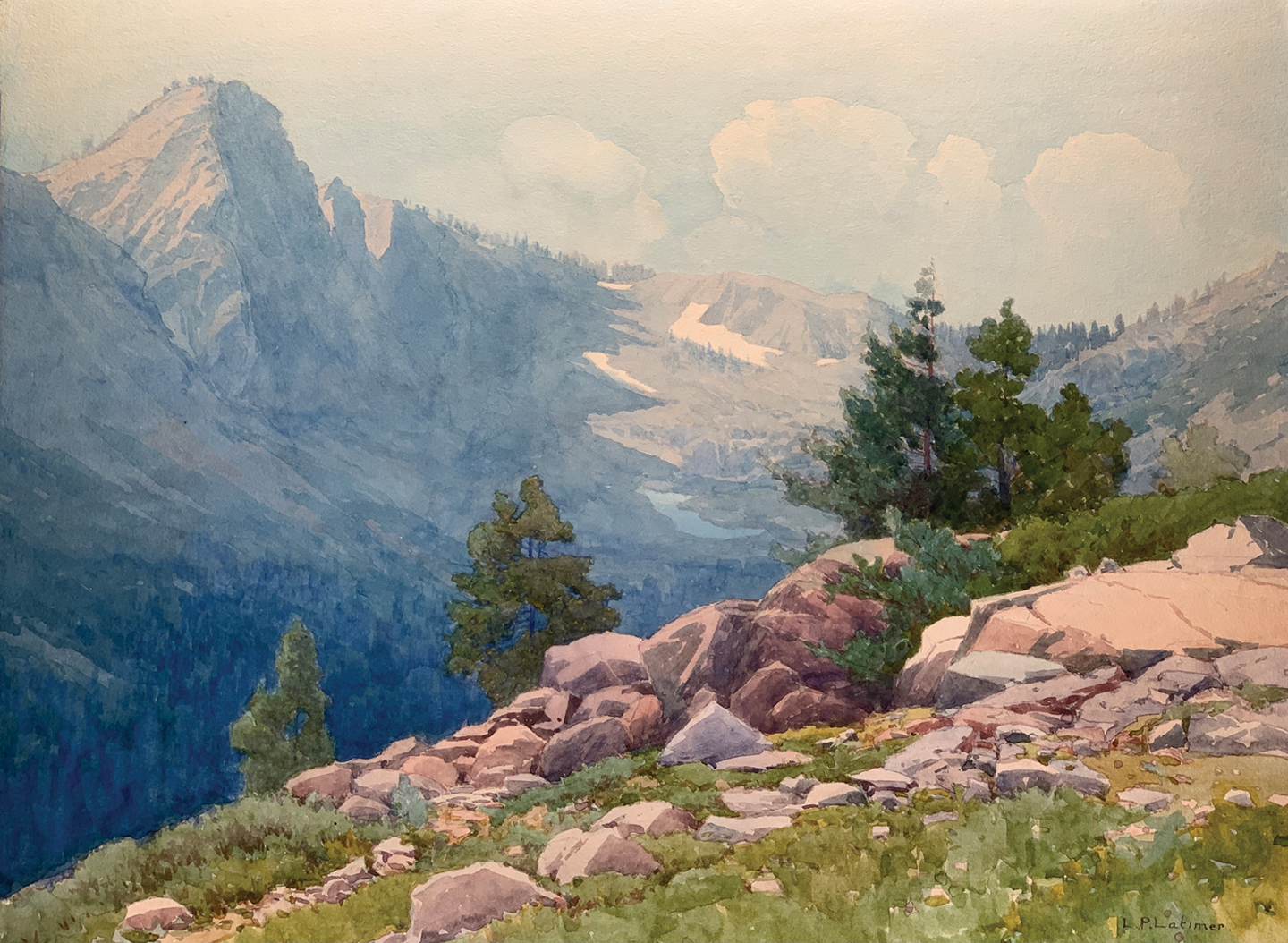 The Angora (Indian Rock), Fallen Leaf Lake, Lake Tahoe region, by Lorenzo Latimer, not dated, watercolor on paper, 16 ¼ by 10 ½ inches, private collection
27 Sep

Landscape Legacy
How a watercolorist influenced Reno's art scene and generations of painters
Salvador Dali once said, "A true artist is not one who is inspired, but one who inspires others." Perhaps that's why, eight decades after his death, the landscapes by turn-of-the-century watercolorist Lorenzo Latimer still loom so large.
Latimer's legacy manifests not only in his own works—detailed oil paintings of California's redwoods and intricate watercolors of the Tahoe Basin's Fallen Leaf Lake, many of which are currently on display at Reno's Nevada Museum of Art—but also in the hundreds or thousands of artists he's inspired over the past century.
The Artist
Born in 1857, Lorenzo Palmer Latimer grew up in the Sierra Nevada foothills. His mother died when Latimer was an infant, and his father's second wife also died when he was young. When Latimer was 8, his father married a woman named Sarah Rich, and brought Latimer to live with them in Sonoma County.
Rich likely had a strong influence on the young artist. She was a member of the Sonoma County Woman Suffrage Association as well as a firm believer in Swedenborgian theology, which emphasized a connection with nature; Ralph Waldo Emerson and William Blake were among its followers.
While Latimer himself did not appear to be particularly devout, it's evident from his artwork and plein air style that he undoubtedly felt a strong connection with nature, perhaps inspired by his stepmother.
Latimer attended San Francisco's California School of Design, and later joined the faculty. In 1894, he joined the recently established and elite Bohemian Club, which has since included members like Mark Twain, Jack London, Richard Nixon and Clint Eastwood. Through the Bohemian Club, Latimer exhibited his work and attended summer excursions to the Bohemian Grove, north of San Francisco. There, Latimer painted extensively in oils. He was influenced by the tonalism style—using a limited color palette—which can be seen in the moody hues he uses to capture the magnificence of the towering redwoods.
"I think," Latimer was quoted as saying, "the Creator never intended that anyone should represent on canvas these noble trees, as they really are, or He certainly would have made them simpler."
As an oil painter, Latimer gained renown, while also teaching painting to supplement his income. He kept a studio on San Francisco's Market Street, but it, with many of his early works, was destroyed in the 1906 earthquake.
In 1914, Latimer traveled to Fallen Leaf Lake near Lake Tahoe as a guest of Fallen Leaf Lodge proprietor William Price. By then, artists had already reproduced versions of both Yosemite and Lake Tahoe, and it seems that Latimer was pleased that Fallen Leaf Lake "has scarcely been touched upon by painters," according to the San Francisco Chronicle.
Latimer began returning to Fallen Leaf Lake every summer, where he would work en plein air with watercolors, which were easier to transport than oils. Works from his annual stays include portraits of Angora Peak and Fallen Leaf Lake. He continued hosting art workshops, eventually inspiring not only his students, but ultimately Reno's art world.
The Latimer Art Club
After attending Latimer's Fallen Leaf workshop in 1916, two Reno painters, Dora Groesbeck and Nevada Wilson, invited Latimer to Reno. Latimer obliged and thus began an annual routine of spending summers at Fallen Leaf Lake, followed by an autumn trip to Reno.
In 1921, after several years of mentorship, his group of all female Reno students officially established the Latimer Art Club (LAC).
In its early days, LAC members paid $1 in dues, or $1.50 for associate members. They organized group paint-outs, where they would venture to scenic locations and paint under the shade of parasols. Latimer is quoted as giving the advice, "Paint what you see; paint it as you see it … and remember always, whoever you are, that you have more to learn."
One hundred years later—and still going strong—the LAC has a membership of about 90 artists. Sparks resident Vicki Curwen is the club's current president. A member for about 15 years, she has served in various leadership roles over that time.
"Lorenzo Latimer's influence on today's club is the members' dedication to plein air painting, organized monthly from May to October," Curwen says. "We have intrepid members who go out weekly all summer, and even during the colder months."
While many in the group are watercolorists, including Curwen, members work in a variety of mediums. Nationally known artists include Mary Chadwell (1914–2012) and Lady Jill Mueller (1944–2020), as well as current member Luverne Lightfoot.
Curwen says that while she appreciates Latimer's soft style, she personally paints with more contrast and detail. "But I'm continuing to push myself by taking at least one workshop each year from visiting national artists," she says.
Today, the LAC holds three to four art shows a year and sponsors an annual fine arts scholarship that ranges up to $1,000. The club celebrates Latimer's birthday every October with cake and by exchanging hand-painted cards. "We also continue the tradition of improving our skills with speakers and programs on various aspects of the arts, not just painting," Curwen says. 
Establishing a Museum
The "Latimers" continued to be primarily women. During the group's first decade, members enjoyed their annual visit from Latimer, while also arranging speakers, exhibitions and painting outings. They also wanted a space of their own to promote the arts.
They weren't alone. Throughout the 1920s, civic leaders, including University of Nevada, Reno professor Dr. James Church, desired for Reno to be more than gambling and quick divorces. In 1931, working with the LAC and other arts supporters, Church drew up articles of incorporation for the Nevada Art Gallery, including dedicated studio and exhibition space for the club.
"Women barely had the right to vote, and yet became instrumental to the foundation of the museum," says Dana Sullivan Kilroy, director of Reno PR firm the Ferraro Group. "It gave women such prominence; that's the foundation of this institute."
The club was instrumental in the gallery's management and operations until the late 1960s. Over time, the gallery changed locations and names, to become today's Nevada Museum of Art (NMA). And while the LAC and NMA did eventually separate, the club was essential to its development and evolution. It's worth noting that, just as the LAC put a focus on the outdoors, the museum was founded as a center for viewing the beauty of nature and the art of man.
"Nature has been in the DNA of the Nevada Museum of Art since its founding in 1931," says Ann Wolfe, NMA's Andrea and John C. Deane Family senior curator and deputy director. "In so much of our exhibition and educational programming, we honor this commitment to exploring how people interact with various environments."
The Latimer School Exhibition
The Nevada Museum of Art is celebrating its 90th birthday—and the 100th anniversary of the LAC—with its exhibition The Latimer School: Lorenzo Latimer and the Latimer Art Club. 
"On this milestone anniversary, it seems fitting to showcase work by Lorenzo P. Latimer and many of the women from Reno and Northern Nevada who were members of the Latimer Art Club," Wolfe says. "Their passion for the organization ran deep, their work ethic never faltered and their commitment to exploring art, nature and the humanities through an interdisciplinary lens continues to be widely felt. These individuals laid the foundations for what is today known as the Nevada Museum of Art."
Wolfe co-curated the exhibition—which opened at the end of July and runs through March 27, 2022—with Nevada art specialist Jack Bacon. It took about two years to assemble the collection, which includes numerous paintings and memorabilia such as an LAC pin, letters (many signed with a sketch of the back of Latimer's balding head) and scrapbooks.
"This is a once-in-a-lifetime opportunity to see all of these works together," Wolfe says. "So many are from private collections that they are rarely on view for the public to see. The sheer number of redwood paintings in one place is likely something that has never been done before."
Latimer is known for the depth and layers of his landscapes, the way he captures the texture of the scenery. His work is nuanced and detailed, as evidenced in the intricate shading of the mountains or the bark and leaves of his trees. The collection begins with his California redwood trees. In the next room, the pieces expand into his work in Nevada and the Lake Tahoe area. Here, working in watercolors, his work becomes more colorful as he captures the fall colors in Truckee River, Mapes Ranch, in Autumn, and the yellows and greens of the sagebrush against the blues and grays of the mountains in Freel Peak and Jobs Sister.
Latimer's work is accompanied by pieces from the women he mentored. In one example, Latimer's painting The Latimer Tree is placed beside a watercolor of the same scene painted by his student Minerva Pierce (who became the LAC's first president). Both depict a path leading to a wooden fence, behind which are trees, bushes and, farther still, mountains. Latimer's influence on his student is clear, yet Pierce's rendition is a softer scene, the foliage less sharp and the colors brighter.
Other artists include Hildegard Herz, Echo Mapes Robinson (of Reno's Mapes Hotel family) and Nettie McDonald, an indigenous woman who was also one of the Latimer Art Club's founding members. In the various pieces, it's interesting to see how one artist may take Latimer's style and make it a little more abstract, while others play with thicker brushstrokes or a broader range of colors.
The exhibition is complemented by an extensively researched and visually stunning book, The Latimer School: Lorenzo Latimer and the Latimer Art Club, which was published by Bacon and is available at the NMA store or online. More information is available at nevadaart.org and latimerartclub.com.
---
TQ writer Alison Bender wishes to extend special thanks to the Ferraro Group and NMA's Ann Wolfe for their help and expertise.