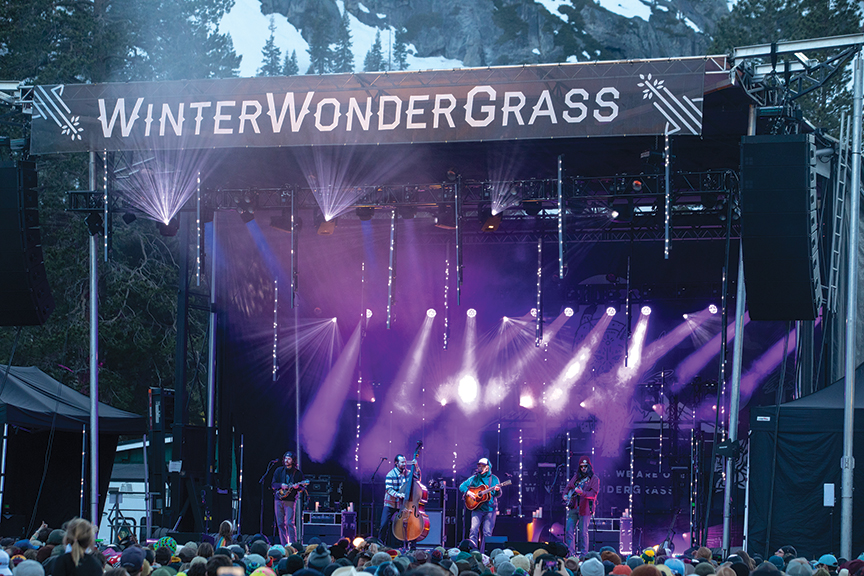 Billy Strings takes the stage to a packed house at the 2022 WinterWonderGrass festival in April 2022
25 Apr

Let the Music Play
In the Tahoe region and beyond, the dark days of the pandemic are giving way to a shining summer of music
Over the last two summers the music that normally fills the air, ears and hearts of festivalgoers went silent.
While the pandemic hit the live music industry hard over the last 24 months, nowhere else felt the silence more than communities throughout the Northern Sierra Nevada.
Now it's time to crank it back up to 11.
But before going live, rust will need to be shaken off amps and ears. With summer shows canceled or postponed in 2020 and 2021, musicians and fans alike faced uncertainty not only for their musical futures but the futures of iconic outdoor festivals as a whole.
"When 2020 and the pandemic began, we all thought it would be short-lived," says Rebecca Sparks, producer of High Sierra Music Festival. "As the weeks progressed the devastating reality sunk in that we wouldn't be able to have the festival. In 2021 we thought we'd be back in the saddle. Although we had to cancel again, we knew we had to keep our heads in it and keep pushing forward."
Bands like the East Coast funk outfit Lettuce, set to perform in 2020 at High Sierra, located an hour-and-a-half north of Truckee in Quincy, have only managed to play a few live shows since the onset of the shutdown.
"Luckily we had just started recording our new album during peak pandemic," says Ryan Zoidis of Lettuce.
With a large following on both coasts, the ability to virtually pass Lettuce recordings back and forth gave the band and fans something to hold onto during the darkest days of COVID-19. While Lettuce did squeeze in a couple of shows in between the Delta and Omicron variants, the band's normal gigging schedule was anything but normal.
"We put together a few streamed gigs, but instead of having a raging festival atmosphere we were forced to play to a podded crowd," says Zoidis. "We played to an audience socially distanced in a field with people separated in groups of 10."
That's a far cry from what many bands are used to seeing writhing in front of them in living color each summer—10,000-plus people dancing, sweating and celebrating to live music.
Luckily for music lovers, there are bass lines thumping on the horizon. With mask mandates lifted and most people ready to move forward from life spent separated, a full docket of live shows and even a few festivals are already underway with overwhelming success.
Emerging From the Silence
WinterWonderGrass, the three-day bluegrass festival held annually in early April at Palisades Tahoe, just pulled off a successful return to live action after a three-year hiatus.
With a large crowd and buzzing vibe—from festivalgoers and bands alike—it's clear that the community is ready to put the pandemic aside and let the music play. Live.
"It was amazing," says Scotty Stoughton, WinterWonderGrass producer. "The energy was through the roof and the people were so pumped up."
It's been a long road for Stoughton since having to call off WinterWonderGrass only weeks before the event's 2020 date. Being an independent festival producer, Stoughton says he was counting on 2020, the event's fifth year in the business, to be the game-changer. It was the year the endeavor might actually start making money.
"All the hard work was about to pay off," says Stoughton. "When we pulled the plug, we realized that the money that was spent wasn't coming back. On top of COVID and all the other problems facing the planet, we were about to take a six-figure loss." 
Stoughton says he did what he could to keep the music stoke alive through the tough times. He started side projects like RiverWonderGrass along the Yampa and Green Rivers in Dinosaur National Monument. The five-day expedition melded rafting and live bluegrass music under the stars in Colorado and Utah.
But those were small-scale place-holders available to limited amounts of people. Now Stoughton and other event producers are firing up events as the summer season approaches, something that lovers of music and the communities that host them both need desperately.
Fire on the Mountain
Along with the social and economic devastation wrought by the pandemic, which forced the postponement of the High Sierra Music Festival in both 2020 and 2021, the Dixie Fire last summer burned nearly a million acres of forest right to the northern edge of Quincy, home of High Sierra.
Dense smoke, stress and fear of fire upended everyday life for Quincy residents.
"The Quincy community is so ready to have (the festival) back over Independence Day weekend, especially with the devastating effects of the Dixie Fire," says Sparks. "It means so much to have the festival return for both the town of Quincy and our festival family."
Organizers of WinterWonderGrass and High Sierra Music Festival were able to maintain almost all the lineups from 2020. With a 90-percent return rate of bands on the 2022 High Sierra Music Festival marquee, and all but two acts missing from WonderGrass, event producers say the majority of ticket holders have held onto their passes purchased back in 2019 and 2020.
Suffice to say, the festival spirit is strong. And nowhere else burns as hot as Black Rock City.
Back to Black Rock and Beyond
Major regional events like Burning Man are also ready to reopen their gates. After being forced to shut down Black Rock City the last two years, organizers of the dusty deviation are ready to host the event in 2022 with a full population of 80,000 Burners.
Two years of down time allowed the Burning Man Project to reexamine its systems, reinvest in its people and develop the infrastructure to rebuild Black Rock City, according to Burning Man Project representatives.
Likewise, a full return of summer music is set for the Tahoe region. Concerts at the Lake Tahoe Outdoor Arena at Harveys and smaller shows such as the weekly music offerings at Palisades Tahoe—along with Truckee's Music in the Park, Tahoe City's Concerts at Commons Beach, Music on the Beach in Kings Beach and
Live at Lakeview in South Lake Tahoe—are all set to return.
"Normal" is all relative these days, and with the world being anything but normal of late, gathering with friends in beautiful locales listening to live music may be just enough to get things back on the right track—with dancing shoes on.
---
Ryan Salm is a North Lake Tahoe–based photographer and writer. Find more of his work at @ryansalmphotography.
---
Survival of the Arts
It takes a community to both create and keep performing arts events alive and thriving. From enormous undertakings like Burning Man to regional gatherings like High Sierra Music Festival and WinterWonderGrass, government grants and donations from supporters were key to providing aid during the tough times of the pandemic.
Grants like the Shuttered Venue Operations Grant, or "Save Our Stages," as it's known in the industry, were a lifeline for festivals and music venues.
For the Burning Man Project to bridge the pandemic, it took a federal Payroll Protection Program loan, the organization's $10 million operating reserve, budget reductions and donations from Burners around the world to survive the global dustup.
More than 20,000 people donated to keep Burning Man alive over the last 24 months, according to the Burning Man Project.
That support for Burning Man, and other similarly beloved events, is a testament to what live gatherings mean to people.
For the denizens of Black Rock City, that means organizers were able to fund artists around the world in 2021, as well as the Honoraria artists for 2022. The Honorarium art grants were put into place to support the true color and structure of the event, as art is what makes the Burning Man experience whole.
The 88 soon-to-be-selected projects will range from large to small, silly to serious, sculptural to architectural, outlandish to quietly contemplative, experienced artists to first-timers, monochromatic to colorful, and everything in between, according to a Burning Man Project rep, adding, "We're always keeping in mind interactivity, visual impact and sheer creativity."