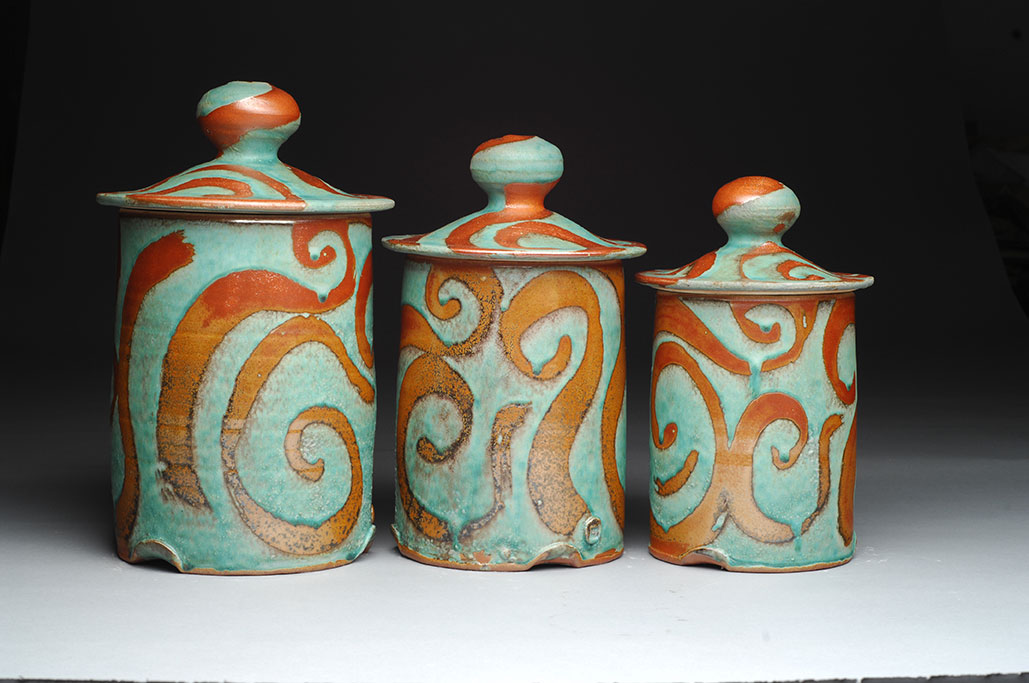 17 Feb

License to Kiln
The evolution of a Truckee-based potter
Enter Brad Henry's studio—a small space he built beside the A-frame he shares with his wife, Sonia, and their almost-two-year-old son, Hawk, in Truckee's Glenshire neighborhood—and you may be able to tell what he's working on based on the music he's playing. Heavy metal, for example, means he's likely throwing pots. If he's glazing, bet on house music, something to dance to. If he's slowing down, perhaps putting handles on mugs, it's more blues-y stuff, like Ben Harper. Today, as he's putting the "chop"—or a signature mark—on a collection of stemless wine glasses, he's listening to rap.

Brad Henry, left, son Hawk and wife Sonia, photo by Dacia Lamb
Path to Pottery
Henry has been a full-time potter for 15 years. Originally from Indiana, he moved to Missouri at age 14, attending college at Southeast Missouri State and spending summers living in a tent and kayaking. He majored in computer science early on.
"I'd write code and it took so long," he says. "I'd just sit there."
One year, as an elective, he took a pottery class.
As opposed to computer coding, "I'd sit there and things happened immediately," he says. "I liked it and I was good at it—it came so naturally."
After talking with his parents, Henry changed majors, eventually earning a degree in arts with a focus on ceramics; because of all his accumulated computer science credits, he earned a second degree in liberal arts.
Knowing he had much to learn in the art of pottery, Henry looked for an apprenticeship after graduation. He found one in Wisconsin, then worked awhile at a studio in Minneapolis. He remained unsure about how to make a living until he heard about production work, which involved mass producing pieces. He found a job with a production company for Renaissance faires, where he would churn out up to 200 beer steins a day.
He lived in a tent while he saved money for an apartment. In the meantime, he learned a lot from the potters he worked with at the production company, which included a Danish throwing champion.
Eventually, Henry decided to move on. He had friends in Bend, Oregon, and so made the decision to move west.
He had lived there for a couple of years when he visited friends in Tahoe and ended up at a dinner party with a woman named Sonia, a labor and delivery nurse at Tahoe Forest Hospital. Henry returned to Bend, though he and Sonia stayed in touch. After a few months, they started dating, eventually getting engaged and, four years ago, married. After years of long distance, Henry moved to Truckee.
"Bend was like an introduction to the outdoors," he says. "Living in Tahoe is like getting your doctorate."

Henry at work in his Truckee studio
The Process
Henry works out of his Glenshire studio. The pottery process begins when Henry puts the stoneware clay through a pug mill—a larger version of a Play-Doh fun factory—which pushes the clay through a screen, sucking out air and eliminating bubbles.
Henry takes the tube of clay that is extruded from the pug mill and drops it through his "harp," a handmade device strung with sharp metal wires that measures the clay into exact amounts. He can change the settings depending on what he's making—less for a coffee mug, more for a large vase—allowing him to speed up the production process and avoid weighing each lump of clay on a scale.
"Time should be spent in the creative process, not the time-consuming, laborious things," he says.
Once the clay is measured, Henry throws it on his electric potter's wheel, molding it to whatever it will become: a goblet, a pitcher, a platter, a teapot. He adds handles, if necessary, as well as little ergonomic details—for example, thumb indents on wine glasses.
"I enjoy pots that are interactive," he says.
The clay hardens over a couple of days. When completely dry, the piece goes into an electric kiln for the bisque fire, which reaches 1,800 degrees Fahrenheit. The kiln takes about 14 hours to fire up—and about that long to cool—so Henry fills it with as many pieces as possible before firing.
The bisque firing leaves the clay vitrified but porous, so it hardens but still absorbs glaze and paints.
"I like to paint," Henry says. "I like to decorate simple surfaces."
He is partial to Asian designs—cherry blossoms and branches inspired by a brief stint in Japan—as well as colorful, contemporary patterns.
Henry uses wax to define lighter spaces; the wax serves a dual purpose of giving a glossy surface to contrast with the matte clay, while adding texture. Next, he applies glaze, either by dipping the piece or with a paintbrush.
"The glazes are formulated to come alive in the type of kiln I have," he says.
When the pieces are glazed, they go into the second kiln, a large, downdraft kiln that uses natural gas and is powered by two back burners. The amount of smoke Henry allows into the kiln affects the final colors of the pieces.
"It makes the red red," he says. "I try not to oxidize too much."
The pottery process requires patience. The fastest he can finish a project is about two weeks, though it's usually closer to a month and not unheard of for something to take three to four months.

A whimsical teapot features bright, simple colors
Marketing Mud
While Henry runs a small gallery out of his studio and has his work in several shops, including Truckee's Bespoke, 90 percent of his business comes from juried art shows.
"It's really competitive," he says.
This year, he's shown his work in Albuquerque, Salt Lake City and Park City. In Utah's St. George, one of his large vases recently won a 'Best in Show' award.
Beyond attracting business, the other benefit to showing his work is that he often receives constructive criticism from customers.
"When I first started, I was inspired by everything," Henry says. However, after his first show, when he made $45 in two days, he learned that his works needed more than just his own enthusiasm. Now, he says, "people take the weight of creativity off of you. They tell you, 'this is too big,' 'this is too small.'" Thanks to customer input, "I now make the perfect coffee mug, the perfect cereal bowl."
One "perfect" offering is his ikebana flower bowls. Ikebana is the Japanese art of flower arranging and emphasizes balance. Henry's come in three sizes. Bowls rather than vases, they have a small opening on the top and a spiky pin frog inside on which flowers can be arranged. "It was a long evolution to it," says Henry, who originally made the bowls as centerpieces.
Evolution is an apt way to describe Henry's career path. On this warm fall day, he was preparing for Halloween. He'd found a black, two-inch-tall toy skull in a parking lot—interesting but not grotesque. "It's got the 'pretty uglies' that make it approachable," he says. "Successful art is approachable." He made a mold of the skull, then used the mold the churn out replicas. He decided that he'd use pieces of green glass for the eye sockets, illuminate it with a LED light hooked up to a watch battery, and poke holes through the top of the skull to turn it into a necklace. He had never tried lighting a piece before, but wanted to give it a shot.
"You never know what's going to inspire you," Henry says, looking at the skull. "You should try stuff, then if it fails, who knows what rabbit hole it'll open up."
---
To learn more about Brad Henry Pottery, call (530) 386-1200 or visit www.bradhenrypottery.com. Visitors are welcome to his home studio and gallery by appointment, or stop by the holiday party from 10 a.m. to 6 p.m. December 6 and 7; 10024 Suffolk Place, Truckee, CA 96161.
---
Writer and editor Alison Bender lives in Reno; find more of her work at www.alisonobender.com.