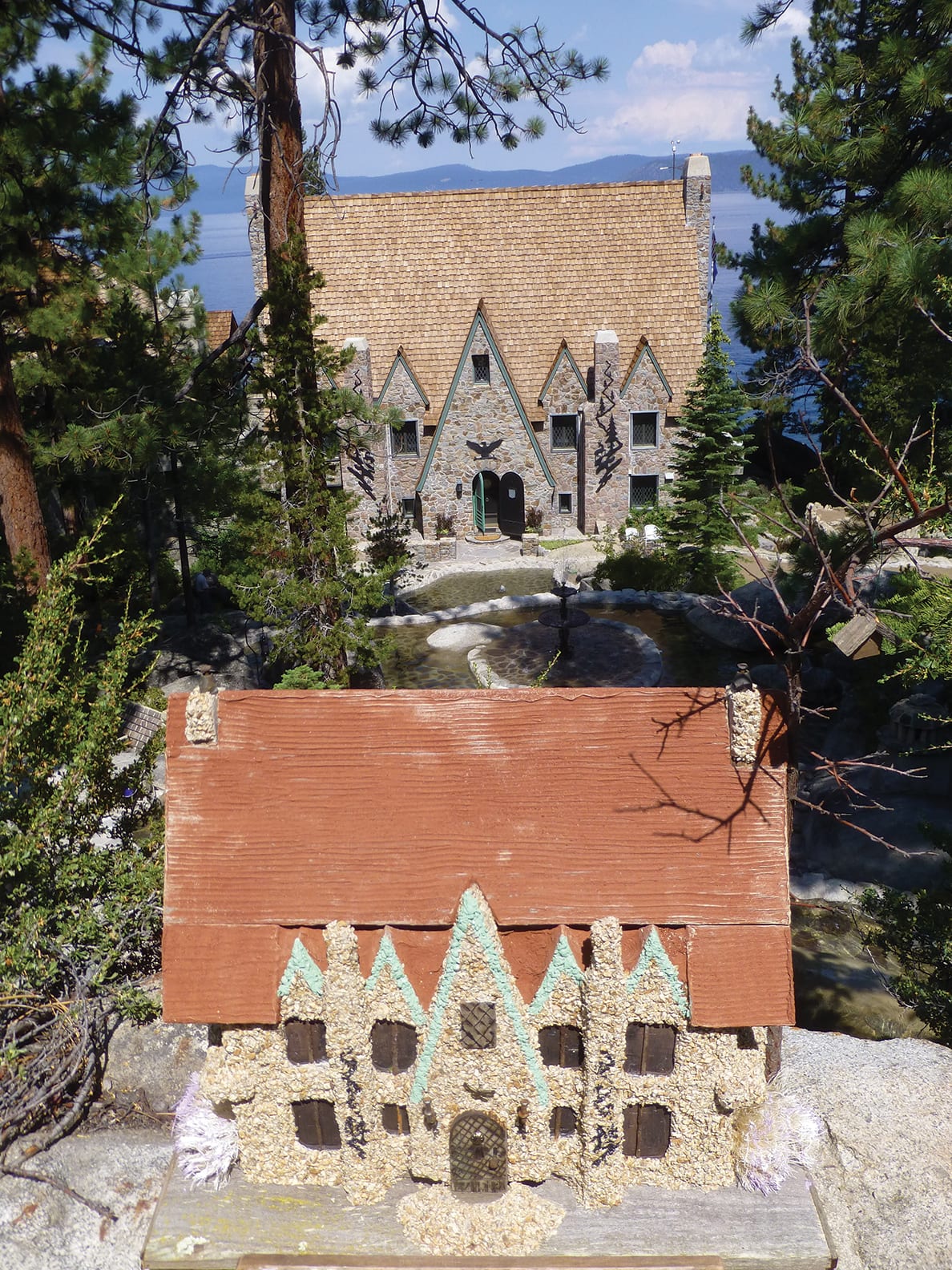 A birdhouse replica of Tahoe's famous Thunderbird Lodge
25 Jun

Nesting Places
Truckee-based woodworker creates birdhouse replicas of landmark buildings
Arguably Tahoe's most famous building, George Whittell Jr.'s Thunderbird Lodge was designed in the rustic Old Tahoe style, with a steep gabled roof and intricate stone and woodwork. An eclectic variety of guests—Whittell's poker buddies, celebrity friends and numerous mistresses—flocked to the home for meals and merriment.
Truckee resident Greg Zirbel's version of the lodge is likewise designed in the intricate Old Tahoe style, though it clocks in at just under 2 feet wide; the steep gabled roof lifts open for easy access. Guests still flock for meals and merriment, though the emphasis is less on the "thunder" and more on the "bird," and the lodge's informal nickname as Nevada's Castle in the Sky takes on a literal meaning.
This miniature replica of the Thunderbird Lodge is one of some 500 birdhouses Zirbel has created over the past two and a half decades. The owner and operator of Truckee's NeatTweets studio, Zirbel uses his business to combine multiple passions: history, photography and bird watching.
"I like to try to stick to registered historical landmark buildings to preserve a bit of history," Zirbel says. "Or I may just like the building—even if it's not a registered landmark—but has great style to it."
His birdhouses span from replicas of Sonoma wineries to Tahoe attractions to personal homes, giving his one-of-a-kind woodworking creations a unique flair that appeals beyond simply those with feathers.

Truckee-based artist Greg Zirbel, owner and operator of NeatTweets studio, shows off his Undine Barge Club birdhouse
Tahoe Raised
Born in Oakland, Zirbel moved to Truckee as an infant in 1962 with his parents and two older brothers so his father could manage the Safeway. Later, in the 1970s, his family operated Truckee's Zirbel's Gateway Bottle Shop. In middle school, Zirbel discovered he had a talent for photography, a hobby he's continued to pursue all his life; he learned woodworking a few years later in high school.
After graduating from Truckee High School, Zirbel moved to Phoenix briefly to work as an auto mechanic, then to San Diego for a year before relocating to Santa Rosa. It was there, in Sonoma County, that he began bird watching, camera in hand, on what he called "photo safaris." At the same time, began using his high school woodworking skills to create miniature versions of well-known buildings.
"I decided that my little replicas of historical buildings should be functional in some way and decided I could make them into birdhouses," Zirbel says. He'd read that catching birds was considered one of the oldest arts in the world—dating back to cavemen days—and he liked the idea of harking back to an early era.
Zirbel's artwork was aided by a fortuitous find: A pig farm, at one point the largest in Sonoma County, was being dismantled, and he salvaged the redwood. He began building birdhouses in 1992 and, shortly after creating his first few dozen, settled on a name for his works.
"I was just out walking one day thinking these birdhouses are really neat and they're for the tweety birds," Zirbel says. "Next thing you know, I said NeatTweets and liked it immediately."
Over the next two years, Zirbel built about 300 birdhouses from the pig farm lumber. But after turning out a birdhouse every couple of days for two years, Zirbel took a 16-year break, instead concentrating on his job in information technologies. In 2009, however, his company sold, and the new owners decided to outsource the IT department.
Zirbel continued bird watching, and over the next couple years, he volunteered as a docent at the Laguna de Santa Rosa Foundation, an environmental wetland and home to more than 200 bird species. Still, with no luck finding permanent employment, he decided to return to Tahoe in 2012. His father was in failing health (and died in 2017), and the timing made sense—and also allowed Zirbel to return to his craft. "I decided to get back into building birdhouses in my garage while being my father's full-time caregiver," Zirbel says.

Zirbel created a miniature birdhouse version of Truckee's Veteran's Hall, complete with the Rocking Stone
For the Birds
Zirbel's birdhouses have evolved significantly since the first pieces in the early 1990s. "My earliest buildings from 1992 were not functional and built in one day," Zirbel says. In contrast, he says one recent project, an extremely detailed replica of the Undine Barge Club, a Philadelphia-based rowing club that dates to 1856, took more than 200 hours over the course of several months to complete.
Zirbel keeps a list of historic buildings he wants to recreate. He mentally lays out each birdhouse, sometimes spending several days just imagining them. "I will then look through all my lumber pieces and old metal parts that I've collected through the years for pieces for the project," he says.
First, he decides where to locate the nesting box and, if possible, a feeder. "Once I get these dimensions figured out, I can then build and nail together the main structure," Zirbel says. "After I have it all framed out comes the many hours of detail building the roof, decks, windows and doors."
Zirbel keeps meticulous records, not just for each birdhouse—documenting the weight, dimensions and date created—but also for his materials, most of which boast a history of their own.
"Ever since the beginning, when I salvaged that old pig farm, I decided that I would try to only use lumber from historical sources," Zirbel says.


Old Truckee Jail birdhouse
Square nails came from Stone Farm, which was the oldest surviving farmhouse in Sonoma County and is now the headquarters of Laguna de Santa Rosa Foundation. In Truckee, he's recovered lumber from the balcony of Cabona's (the shop opened in 1918), the historic, and supposedly haunted, Richardson House in the Brickelltown district and the Truckee-Donner Historical Society cabin—plus the old Truckee High School baseball field backstop and the Jibboom Street Motor Court, which was built in the mid-1940s and demolished in 2015.
Zirbel's almost 3-foot-long replica of the Truckee diner Jax At The Tracks documents more than a dozen material sources, including wood from the Richardson House, Cabona's and old Truckee homes, and square nails from the farms of famed horticulturist Luther Burbank in Sebastopol, California, which date to the 1870s.
Beyond his attention to detail and history, Zirbel also, naturally, creates his birdhouses for the ease and comfort of the birds. He tries to use mainly redwood, "as it's a superior, long-lasting wood for the outdoors and birds prefer it," he says. Openings are designed with specific birds in mind. For example, Zirbel's replica of Truckee's Richardson House has a 1-inch opening meant for local wrens, while the Cal-Neva Lodge birdhouse has a larger opening, at 1.5 inches, for bluebirds. All roofs lift easily to clean or fill with seed.

Zirbel's Hellman-Ehrman Mansion birdhouse
Recreating History
Many of Zirbel's pieces are influenced from his time in Santa Rosa, such as the 1908 Sonoma City Hall or wine country favorites like Kendall-Jackson Winery and Gloria Ferrer Winery.
Since returning to Tahoe, his works include such landmark buildings as the Hellman-Ehrman Mansion and the historic buildings on the main strip of downtown Truckee. Zirbel also does commissions and can create personal homes by using Google Maps street view or getting photos.
Robin Miller says she met Zirbel about five years ago at a farmer's market in Rohnert Park, California. A realtor who advertises herself as "the nest finder," Miller says she was looking for something unique for her clients that would remind them of her. She'd thought of birdhouses (her name, after all, is Robin), and had bought some online to give as gifts. But after she met Zirbel and saw his replicas, "I thought, wow, maybe it would be better to have it look like the house," she says.
Zirbel has since created dozens of birdhouses, one for each house Miller sells. "He's really easy to work with," Miller says. "And he's got a lot of imagination."
Zirbel doesn't just recreate history; he lives it. He's a board member of the Truckee-Donner Historical Society and the Truckee Cemetery District, curator of Truckee's Old Jail Museum and a guide for the Donner Party Hike. He's active with the Truckee Donner Railroad Society and can often be found giving rides and entertaining families at Truckee River Regional Park's Truckee River Railroad.


Zirbel as Old Miner
"I also play the part of the 'Old Miner' that people see during Truckee Thursdays and other events around town," Zirbel adds.
Through his volunteer work and his birdhouse replicas, Zirbel is a proud steward of history, bringing the past to life in unique and colorful ways that are not simply for the birds.
---
Learn more about Greg Zirbel and his birdhouses at www.neattweets.biz or (707) 217-3690. His Truckee studio is open at 10127 South River Street, though he encourages visitors to call ahead to make sure he's available.
---
Reno-based writer Alison Bender has four birds of her own: Mischievous chickens named Ella, Bella, Stella and Disco Ball.