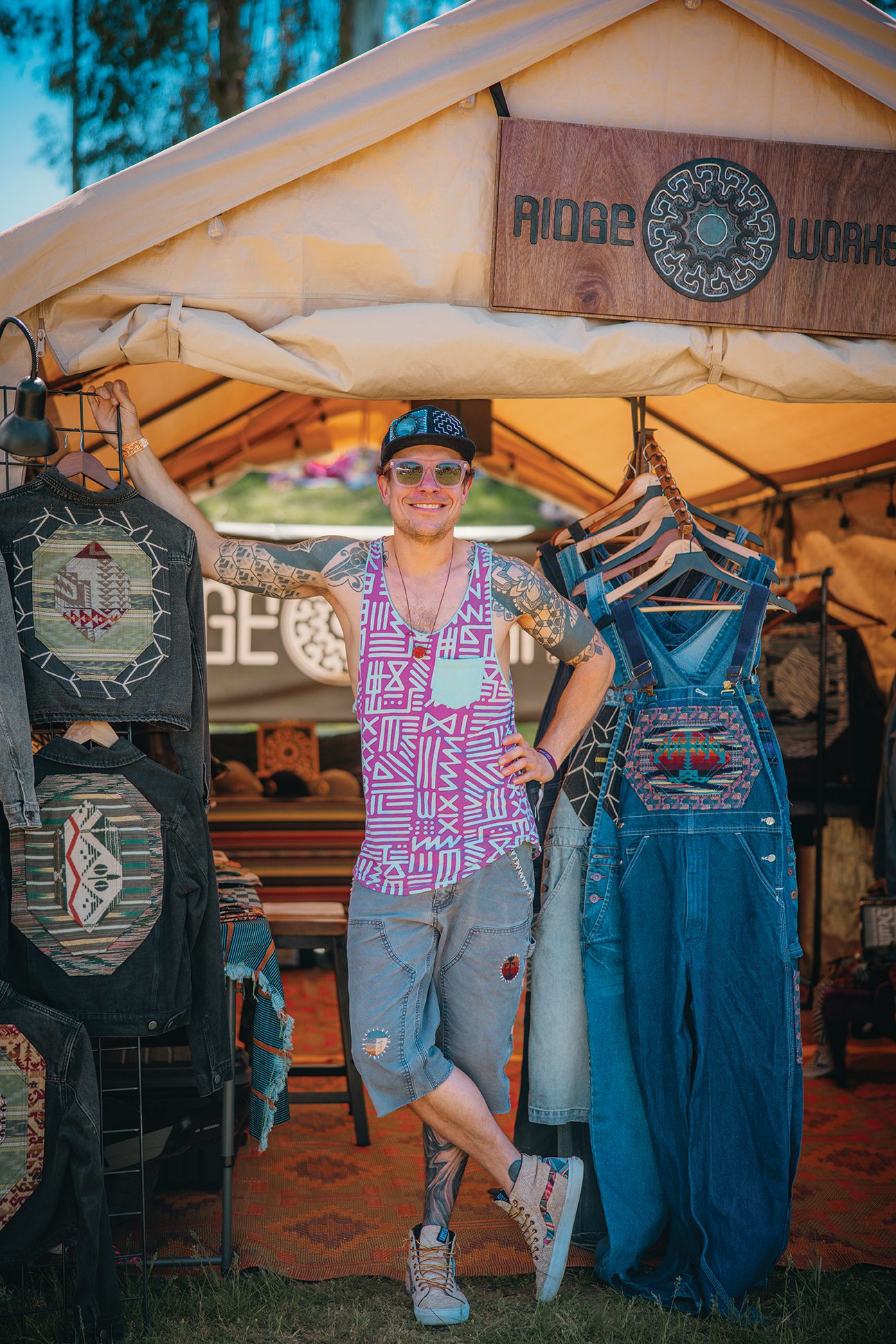 A welcoming Marcelo Granados presides over his booth at the Golden Road Gathering in Placerville in May, photo by Sammy Aucella
27 Jun

Patched With Love
A Reno-based artist combines oddly complementary patterns and materials from around the globe to create a unique brand of apparel
Hundreds of people spread out on blankets and beach chairs are swaying in the sun, smiling as they stare at the stage, fascinated with the band. A crowd of dancers moving to the beat forms up front, cheering and spinning in rhythm to the music. Behind it all, festivalgoers weave in and out of vendor tents selling an array of items, from tie-dye to hand-painted sunglasses.
Amid this eclectic corridor is a beige tent lined with denim clothing—mostly jackets and overalls—all adorned with unique patterned fabrics. And in the middle of the space stands Marcelo Granados, a 35-year-old Reno-based artist and creator of this colorful display, stoked to chat with those who wander into his booth and happy to showcase his work on the music scene.
Granados' signature style layers three different types of vibrantly patterned fabrics, each with a story of its own, as a patch on top of a denim garment such as an upcycled thrift store jacket. Picture: A pale blue corduroy shirt covered with a large patch on the back made of red wool Pendleton fabric and deep blue striped African fabric, topped with black handmade Indonesian fabric. And so on.
Every piece is different, and as people paw through the racks at the Golden Road Gathering in Placerville, Granados smiles easily and greets them with mellow appreciation.
Given his clear artistic vision and talent to execute it, you'd think Granados was a seasoned veteran at his craft. But the truth is, his business is still in its infancy, and Granados has just begun to tap his creative potential after rediscovering his love for art and fashion and diving headfirst into a new profession.
"I was creative as a kid and there was a long time in my life when I wasn't creative at all, because I was traveling a lot for river stuff," says Granados, a former river guide whose thirst for adventure is what originally lured him to the Sierra Nevada. "I was living in my truck for half the year in the United States and then I'd go to Costa Rica and Latin America."
Now, with five festivals under his belt and a full slate of events throughout the summer and beyond, Granados has gone all in on an artistic endeavor he traces back to his younger days, when he developed a passion for matching "funky patterned collared shirts" with hats, shorts and shoes of different designs.
"For some reason I've always been attracted to interesting patterns next to each other," he says. 
From Rivers to Ridgeworks
Although just getting started, the latest chapter in Granados' life story began with a trip out West to chase rivers. A Miami native, he felt called in 2011 to work as a river guide and spent summers on the American River in the Sierra foothills west of Tahoe. 
After five years of guiding, Granados moved to Nevada City to become a farmer. He was fascinated with graffiti art as a child, and even got in trouble a few times, but his creative roots had fallen by the wayside as he traveled the world for a decade. It wasn't until 2018 that he decided to bring creative outlets back into his life by making clothing for himself.
"I didn't have electricity, so I could only do certain things," he says, "but I rented an apartment and borrowed someone's sewing machine. I had this idea to customize my own clothes. It wasn't for anyone else. I just wanted to start making things myself for a hobby.
"When I find something new, I get really into it, but not everything sticks around. [But] with sewing … once you learn how to use the machine, you can do all kinds of stuff, and I got really into that." 
He developed an artistic style based on layering mismatched fabrics sewn onto clothing as patches, with textiles inspired by his world travels.
"I always had this idea that unique clothing was cool. I had this vision of pairing Guatemalan fabric with Pendleton and stuff like that," he says.
After moving to Reno in 2020, Granados' sewing skills took off when he found himself stuck at home with a broken ankle. He couldn't river guide but needed to work. He learned a few more sewing tricks from a friend and took a quilting class to hone his skills.
"I'd made a couple custom things for friends … then a friend of mine, Paige Lundquest, held the first annual Olympic Valley Stables Bazaar in Tahoe in 2021," says Granados, whose invitation to show his work marked his first big break. "At that point I didn't think anybody would want to buy my stuff, but I couldn't work my normal job, so I decided to give it a try because I could sew."
Granados made 25 items—all women's garments—and arrived without expectations. 
"I ended up selling it all. I couldn't believe it. I was driving away from the event, and I knew, 'I'm going to try my hardest to make this a thing,'" says Granados, who was encouraged enough to officially launch his own business that same year. He named it Ridgeworks as a nod to the ridge he lived on in Nevada City. 
One-of-a-Kind
Across the way at the Olympic Valley bazaar was Tahoe native Jessica Robinson, owner of upcycled and resale vintage clothing business Majestica's Closet, whose booth at the event offered brightly colored used clothing covered in unique patterns, along with handcrafted earrings, parasols and hats.
Robinson, who now owns three pieces she has selected from Ridgeworks' event booths and one custom piece (a forest green jumper with patched pockets), says she feels personally connected to Granados' style.
"I love how he uses textiles from all over the world and mixes them together to create something new and unique," she says. "I haven't really seen anything like his work. How he finds secondhand clothing and spruces it up is done in his own unique, cool way, and he's grown a lot in the few years he's been doing it, and I'm really inspired by him.
"I feel super fly when I'm wearing his pieces. … When people compliment me, I'm proud to say that a friend made it."
After his success at the bazaar, Granados took to full production mode, dedicating himself to becoming a more skilled sewer and investing in a better sewing machine he named "Godzilla." (He now also carries a traveling sewing machine he uses to customize people's garments on the spot.)
He began attending small events in Reno before applying to bigger craft fairs and festivals, where the work is juried based on artistic merit. Instead of being accepted as a craftsperson, he was increasingly recognized as an artist.
In the span of one year, the simple process of sewing 25 garments for an event evolved into a task involving hundreds of colorful patches in stacks ready to be sewn onto big piles of overalls and jackets, each perfectly ironed in preparation for its transformation.
First came Made in Tahoe in 2022, a local craft festival featuring handmade items from the region. Then there were the Santa Cruz Mountain Sol and Lucidity music festivals this spring, followed by the Golden Road Gathering in May and the 50th Annual Telluride Bluegrass Festival in June, his biggest event to date.
Growing His Brand
Today, Granados' tiny one-bedroom apartment holds an eclectic and colorful mix of collectibles from his travels around the country and world. It also houses his workshop space—a living room turned sewing room complete with a cutting table, industrial steam iron and three industrial-strength sewing machines. Looking at the space, one sees a creative and world traveler melded into one.
As he tells his story from his humble quarters, Granados admits to being a little overwhelmed by Ridgeworks' success. 
"I'm still really surprised that I'm able to do some of these music festivals and things," he says. "I never expected anything really to come of it. I'm just continuously like, 'Oh wow, this is awesome. It's going here now.'"
There are days when, trapped for 12 hours indoors hunched over a sewing machine, the process begins to pull at his mind. But he says it's improved his relationship with himself and his ability to be comfortable alone. The experience has also reignited his love of music.
"I used to go to a lot of festivals but have kind of dropped off [as an attendee], but I'm going back to this world that I once was a part of in a different way now," he says. "The fact that I can go and work and further my brand and also be at the events is great."
As a sign of Ridgeworks' increasing popularity, Granados is starting to see photos of his work popping up across the country.
"It's happening more and more where people will send me photos where someone has spotted one of my jackets," says Granados, who launched a website in the fall of 2022. "It's exciting because there are a lot of different Ridgeworks pieces floating around, and a lot of times it seems like people choose to wear them when they're going out to a concert or a festival."
Perhaps it's the funky appeal that music lovers and festivalgoers are attracted to, but one thing's for sure: Granados' mismatched vibrant color choices work so well in their randomness that there's something in his booth for everyone.
"The fabrics [are] very different and I really like that idea of having a lot of these jackets that appear different but work well together," Granados says. "Maybe if you would see all of those things separately you wouldn't think they would work together, and I love trying to make all these different things work together."
With his Ridgeworks creations, Granados is reminded of the bold style choices he made in his early 20s, when he first got into combining funky and unique patterns. 
"People would literally tell me, 'I don't know why that works, but it does.' I think back to that with what I'm doing now," he says. "I don't even know if it was an interest or just my style.
"I could have never known I was going to use that interest of mine into making things and selling them. Now such a big part of what I do is putting together these super different patterns and making it into something that people buy."
---
Ridgeworks apparel is available at the Reno Public Market or online at ridgeworkscreations.com. Follow Granados on Instagram, @ridge.works.
---
Le'a Gleason is a music lover who bought her first Ridgeworks piece at Made in Tahoe in 2022 and has been intent on covering the brand ever since.