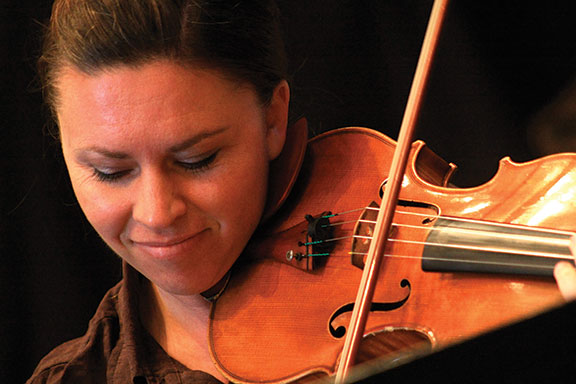 Ruth Lenz rehearses during the 2010 Nevada Chamber Music Festival, photo by Stuart Murtland, courtesy Reno Chamber Orchestra
09 Dec

Reno Violinist Ruth Lenz Hits a High Note

Musical talent may be inherited, but it's cultivated by a lot of hard work. Such is the case for Dr. Ruth Lenz.

Lenz, whose parents were early members of the Reno Philharmonic, grew up attending rehearsals and listening to her family members practice. Her own musical career began at the ripe age of two, when her mother began instruction on the violin and piano.

"I'm lucky my parents were willing to invest so much in my musical development early on," says Lenz. She played in the Washoe County School District honor orchestra and, when she was a sophomore in high school—the same age that other teenagers were trying out for their driver's licenses—she was auditioning for the Reno Philharmonic.

"The auditions are behind a screen and anonymous, so they didn't know I was so young," she says.

Lenz was accepted and joined her parents and other relatives on the orchestra of the Reno Philharmonic as she completed her bachelor and master degrees in Music Performance at the University of Nevada, Reno, then went to the University of Illinois at Urbana-Champaign for her doctorate. She also began playing with the Nevada Opera and the Reno Chamber Orchestra.

"The performing groups in Reno use mostly musicians from the same pool, so they are careful to schedule around each other," says Lenz.

While Lenz may be best known for chamber music—classical music composed for a small group of instruments or, more specifically, a group originally sized to fit in a palace chamber—she loves to play a variety of artists, from Led Zeppelin, Pink Floyd and Johnny Cash to Brahms, Mahler, Shostakovich and Mozart. "There is good music and art in all genres," she says, adding that she's been "most moved" playing operas by Puccini, Mahler's Symphony No. 10, Verdi's Requiem, Shostakovich's Symphony No. 10, Elgar's Piano Quintet and Brahm's Violin Sonatas.
Hitting a High Note
In 2010, Lenz succeeded her college teacher Phillip Ruder as the Reno Phil's concertmaster. The title of concertmaster is bestowed on the lead violinist, who acts as the conductor's assistant.
"The concertmaster's role is to originate the bowings for the string section, which means I decide ahead of time which direction our bows move and what part of our bow and stroke we use," says Lenz. She interprets conductor Laura Jackson's wishes and her beat patterns for the strings section and acts as a model for the strings section on phrasing melodies.
"The concertmaster is kind of the conductor's right-hand man and is there to help get the best performance out of the orchestra," says Lenz. "Also, I feel that it is my job to model a good attitude and be as prepared as possible. I feel our orchestras in Reno are very friendly and happy and I want to do what I can to help that continue."
"Ruth is a great violinist," says Scott Faulkner, principal bass of the Reno Phil, executive director of the Reno Chamber Orchestra and Lenz's uncle. "She has an absolutely gorgeous sound and an innate musicianship that very few others have." He recalls one of his favorite stories, which occurred during the second annual Nevada Chamber Music Festival, held in 2005. "The legendary Robert Vernon, principal violist of the Cleveland Orchestra, came out of his first rehearsal with Ruth and said something like, 'Who is this great violinist, Ruth Lenz, and what is she doing in Reno, Nevada?'"
Lenz does not limit her career to local stages—she's played at both national and international chamber music festivals, including the Telluride Chamber Music Festival in Colorado, Florida's La Musica Festival and Kammermusiktag in Germany. "All of these festivals [including Reno's Nevada Chamber Music Festival] bring in world-famous, legendary classical musicians—to work with them as a colleague and an 'equal' is terribly intimidating and inspirational at the same time," says Lenz. "I grow by leaps and bounds every time I get to play in a festival."
Reno itself draws plenty of musical notables as well. Lenz, who plays a 1957 Simone Fernando Sacconi violin, has shared the stage with performers such as Itzhak Perlman and Natalie Cole. "It's wonderful to work with people who I aspire to be like as both an artist and a person," says Lenz.
"Ruthie Lenz is an icon of our era now," says violinist Marilyn Sevilla. Now 82 years old, Sevilla has been with the orchestra since its second performance in 1969. "I remember seeing her in the audience as a child when I was onstage playing," she says.
Lenz now imparts her love of music on the next generation—her children, Sidonie and Benjamin (whom she says seem musically inclined), as well as the violin students she teaches at her home. Lenz is realistic about the energy it takes to become a professional musician. "It takes a ton of dedication," she says. "If you seriously want to go into a career in music, start your connections early on, realize the odds you are up against and get a very honest perception of your abilities and limitations."
However, she cautions against spending all one's time on music. "Don't spend eight hours a day practicing. Develop other interests, too; become a well-rounded person. Learn how to use your practice time efficiently so you also have time to play ball, get outside, have fun!" It's advice that she takes to heart. An avid equestrian, Lenz makes time for her many hobbies, including horses, hiking and drawing.
A Family Affair
Lenz hails from what has been called Reno's 'first family' of music. Her parents are both musicians, as were both her grandmothers. Her mother's mother played accordion and later in life, Lenz says, "rocked the drumset at the senior center." Her father's mother, Elizabeth Lenz—the first female president of the Washoe County School Board and a 2013 Nevada Women's Fund Hall of Fame inductee—played the piano and had seven children who played various instruments.
Today, Lenz and her family make up about a tenth of the Reno Phil's orchestra. Her father, John, plays principal horn and was one of the group's earliest members; her mother, Paula, a violinist, was one of the first to audition for a contract. "So they've been in it from very early on," says Lenz.
Other family members include her brother, Johnny, on cello, various aunts and uncles, cousins and her ex-husband—about a dozen in all.
"Most of them have been in the Reno orchestras much longer than I have, so they have been a part of my musical experience for my entire time here," says Faulkner. "They are all fantastic musicians, and fortunately, we all get along really well. We have a good time at intermission and on breaks."
"It's really fun," Lenz agrees. "I can be comfortable offering feedback or suggestions without being afraid of offending them. We really enjoy ourselves and there is a lot of laughter. But we also take a lot of pride in our musicianship. We take the performance and preparation very seriously."
With so much talent in one family, one may expect them to act as a Reno version of the Von Trapp family, spontaneously bursting into song whenever they are together.
"People are often surprised to hear that we almost never play music together at family functions, but we don't," says Faulkner. "Because we play music together so often in the orchestras, the bigger challenge is finding a single night that all 30 or 40 family members can attend a family party, usually having to schedule these around our various rehearsals and concerts. Since these are our nights off we tend to want to leave our instruments at home."

Left to Right: Ruth Lenz, Elizabeth Lenz and Andrea
Lenz, photo courtesy Reno Chamber Orchestra
Drawing Talent
Of course, Reno's impressive orchestras are more than just the Lenz family. The area has been a hotbed of talent for decades. From the 1960s to the 1980s, musicians were drawn to Northern Nevada's major casinos, which each boasted a house orchestra. "The showrooms brought a lot of good musicians to Tahoe and Reno," says Sevilla who, with her late husband, worked for years in Tahoe before playing at the orchestra at the Reno Harrah's until 1991.
This talent helped establish the classical music scene, as well. The Nevada Opera was founded in 1968. The Reno Philharmonic was established in 1969 by Russian native Gregory Stone, who had relocated to America after the 1917 Russian Revolution. Now conducted by Laura Jackson, the group employs more than 60 professional musicians and performs more than 25 concerts annually throughout Reno, the Carson Valley and the Lake Tahoe region. The Reno Chamber Orchestra was founded in 1974 (Sevilla was one of the founders), borne out of discord between Stone and the Reno Philharmonic's board and orchestra members. It is led by Maestro Theodore Kuchar and hosts the annual Nevada Chamber Music Festival each winter.
Today, Ruth Lenz is concertmaster for all three of Reno's biggest classical music groups. "I have been lucky to play chamber music with so many outstanding and distinguished colleagues," she says.
Says Sevilla, "Ruth sets a high standard for all musicians here."
---
To learn more about the Reno Philharmonic, click here; for more on the Reno Chamber Orchestra, click here; for the Nevada Opera, click here.
---
Though her grandmother was a nightclub singer, her sister plays the piano and her brother plays the harmonica, the musical gene skipped Reno writer Alison Bender completely.