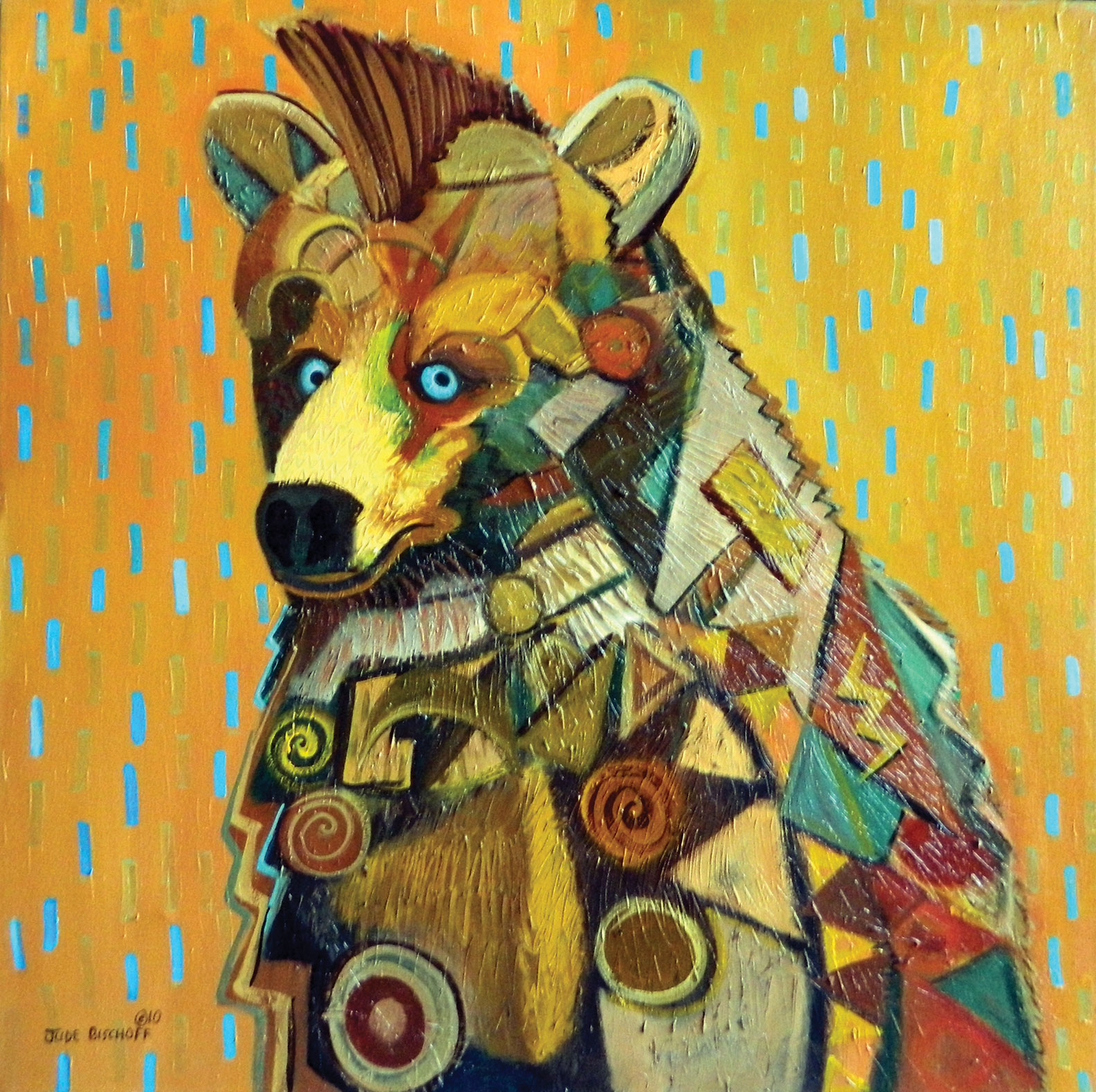 Mohawk Medicine Bear by Jude Bischoff
05 Aug

Rhythm and Funk
Jude Bischoff's wildlife paintings are far from the average bear
Abstract blocks and squiggles forming a buffalo, speeding horses made of spirals and pyramids, a boulder-dotted stream flowing within the shape of a bear—this is the art of painter Jude Bischoff, whose works are bright, bold and undeniably funky.
Artistic Upbringing
A native of Fremont, Ohio, Bischoff was adopted at birth; he grew up spending summers camping at Lake Erie and swimming in and exploring the woods, lakes and ponds around his home. He joined the Boy Scouts, eventually reaching the rank of Eagle Scout.
"I developed a very close relationship with nature," he says.
His interest in art began at age 3, when a babysitter had him cut figures from construction paper for a nativity scene. "I remember people being amazed at my drawing skills for that age," he says. "I knew from that moment on, I was an artist."
Bischoff's interest in art developed in high school, where he idolized his art teacher and spent study halls in the art room.
He attended Ohio's Bowling Green State University, where he majored in painting and hot glass. He married his college sweetheart, Molly, when they were still in school, and their daughter Bevin was born their junior year. After graduation, they packed up their VW bus and headed for California, settling in the Santa Cruz Mountains. Bischoff had a second daughter, got his real estate license and worked for the next 19 years selling real estate as well as buying, remodeling and selling properties.
With the real estate downturn of the early 1990s, Bischoff started painting again. Seven years ago, following the last big market crash, Bischoff decided to focus fulltime on his art. "It had always been my dream to make a living 100 percent from my art so I could focus entirely on the creative process," he says.
Around the same time, he moved to Cedar Ridge, California, a small town near Grass Valley in Nevada County, where he now lives with his partner, Laura, and their border collie. "Once I became a full-time artist, the quality of what I was painting improved immensely and I was able to develop my voice as an artist," says Bischoff.

Call of the Wild
Bold and Bright
Bischoff's style is vibrant—modern and humorous, whimsical and funky. He works on up to ten paintings at once, each of which takes three to four months to finish because of the many layers of oil paints. He creates abstracts in the winter and his outdoor pieces in the warmer months, when he can work en plein air.
While Bischoff's repertoire includes people and manmade structures, his forte is animals and nature.
In his abstract pieces, this is often accomplished through bold, heavily textured pieces with designs and shapes integrated into the animal. "I put down any shape that comes to mind," says Bischoff. "They remind me of the blocks I played with as a kid. Painting is fun play as an adult also."
In Great American Watermelon Buffalo, for example, Bischoff painted a watermelon among the circles, blocks, cylinders and other shapes comprising the animal's features. Mohawk Medicine Bear incorporates spirals and lightning bolts. He likens each shape to a sound in a song.
"When the painting is complete these rhythms send that energy out into the environment and spread the love that went into the painting into your home like your favorite song," says Bischoff.
"It's a different spin on the normal bear," says Debbie Costa, senior designer at Truckee's Spirit Interior Design, which carries select pieces from Bischoff, to include his animal prints. For Costa, it's not just the art but also the process that she finds interesting.
"He goes into nature to paint things; it's actual things he's seen in nature," she says. "We have this one of two baby bears playing. He saw that somewhere and recreated it. It's real-life stuff with a spin on it."
Bischoff does much of his painting outdoors, studying the shapes of animals he encounters and absorbing the rhythms and energies of nature.
"By painting the landscapes on site I can hear the sound of the birds, the wind billowing my canvas, the sound of the water, and I am able to capture the energy of the environment I am painting," he says.
In his Plein Air Bear series, he creates the outline of an animal, often a bear, then paints a landscape within the shape, further linking art, animals and nature. In Slippery Ford Bear, for example, a twilight sunset is the backdrop for a bear shape in which a flowing creek—bright ribbons of blues, white and shades of yellow-greens—winds through aspens, pines and rocks. "I watched the way the water moves, then let my brushstrokes move that way," says Bischoff. "I paint the rhythm and energy of a place."
In other pieces of the Plein Air Bear series, like Call of the Wild, the bear shape blends into the landscape, blurring the lines between the outline and backdrop until the two become almost indistinguishable.
Bischoff's latest piece, Wolf, is what he calls an "experimental" piece. For Wolf, he used an old technique of his of pouring paint onto a flat-laid canvas, then using a garden nozzle to spray acrylic paint onto the canvas, giving a dappled effect.
"When I paint with friends or do the very rare workshop, this is how we begin," Bischoff says. "Anyone can make a cool painting this way."
The canvas sat in his studio for two years until the Defenders of Wildlife, a national conservation group, asked him to create a painting of a wolf for a Grass Valley art reception in conjunction with the Wild & Scenic Film Festival. It's more realistic than many of his works, showing a bristling wolf and some red flowers on an abstract background dripping with blues, yellows and browns.
"I love wild North American animals that are untamable, like me," Bischoff says.

Coyote and Bear Discuss Modern Art
Shoosh
Bischoff calls his style "Shoosh." About nine years ago, Bischoff was painting outdoors when a 5-year-old wandered over to watch. According to Bischoff's website, the kid proclaimed, "Wow, your paintings have Shoosh!"
The word, to Bischoff, sums up his work: the mélange of shapes and blocks, the pictures within pictures, the bold, almost overwhelming colors.
The fun and playfulness—the so-named "Shoosh"—Bischoff brings to his work often endears him to a younger crowd. Bischoff shares the story of a 6-year-old who saved up her allowance for months to buy one of his Plein Air Bear prints. He says that on at least three other occasions, parents bought one of his prints, then the children became so excited that they started making art themselves. "So many times the kids bring their parents in to see my work because they love the animals and bold colors," says Bischoff.
But it's certainly not just children who enjoy the whimsical prints.
"His painting talks to me," says Los Gatos, California–based Colleen Maurer, who attended one of Bischoff's art shows in Nevada City with her adult daughter. "I did something that I've never done before. I stood there and I screamed 'I love it,' out loud at one of his pictures."
The painting was The Journey, and Maurer bought a small print at the event. "We journey through life and to me it kind of hit different parts of the journey I've been on," she says.
She later bought a giclée, and began following Bischoff on Facebook. As he displayed Mohawk Medicine Bear, "I said, 'I have to have it,'" Maurer says. "I just find joy and memories in his paintings."
Along with joy, there's a lightedheartedness, an almost comedic aspect to Bischoff's work.
"Humor drives a lot of my paintings," Bischoff says. The cover of his new book, for example, is his painting Coyote and Bear Discuss Modern Art. While working on a painting of a mountain goat, he had a "humorous vision" to give the goat a pig sidekick. "Some days I just crack myself up," he says.
And when others find joy in his art, Bischoff feels like he's succeeded.
"My favorite compliment that I hear over and over again at my shows, from people viewing my work for the first time is, 'Your paintings make me happy,'" Bischoff says.

Wolf
Life and Rhythms
When asked where he finds the inspiration for his vivid, vivacious paintings, Bischoff answers plainly. "I listen to the muse," he says. The "muse" inspires him to create the various subjects, colors or shapes. "On one occasion I was painting a bear but the muse said boat," Bischoff recalls. "Out loud, I responded, 'Boat?'"
But a few weeks after completing the painting, titled Long Vacation, he connected for the first time with his birth mother after a years-long search, and discovered he had eight siblings living in Florida, where they'd grown up fishing, diving and swimming from boats. "It was pretty wild," he says. "It was like we'd known each other forever."
In getting to know his birth parents, he realized they would likely have never let him become an artist. "My path was chosen because of that," he says.
These rhythms and patterns—visible in his work—are also important in Bischoff's life. He gives an example of a recent day when, while bike riding home, he came across two 300- to 400-pound cinnamon-colored bears, one trailing the other. That same day, he sold a big painting. "The magic just happened that day," he says.
Art and nature are intrinsically linked to the artist, and Bischoff translates the thrill of the outdoors and wildlife—of its liveliness and sense of renewal—in vivid brushstrokes.
Bischoff spends a lot of time outside. He and Laura camp at least four months a year, often at Strawberry's Lover's Leap near South Lake Tahoe. "It is a painter's paradise where Pyramid Creek meets the American River," he says. "My paints are at the ready and I continually study the color, shapes and beauty found in the wild."
He also frequents the North Shore, attending Truckee Thursdays or hiking, biking or rock climbing. "When riding the Flume Trail one day, I stopped and checked out the view," says Bischoff. "Tears rolled down my face as I thought how fortunate I was to live in California and experience this immense, beautiful landscape."
Bischoff is in Tahoe at least weekly in the summer. "I love meeting people at Truckee Thursdays and working with folks to place art in their homes," he says. "Art inspires people and brings joy into their homes."
---
Beyond Truckee Thursdays, Jude Bischoff's work can be found at Spirit Interior Design and Bluestone Jewelry, both in Truckee, or the Trunk Show in Tahoe City, as well as on his website, www.judebischoff.com. His work will also be on display behind California 89 during the Truckee Open Art Studio Tour July 15–17 and 22–24, www.creativetruckee.org.
---
Alison Bender is a Reno-based writer and editor, www.alisonobender.com.