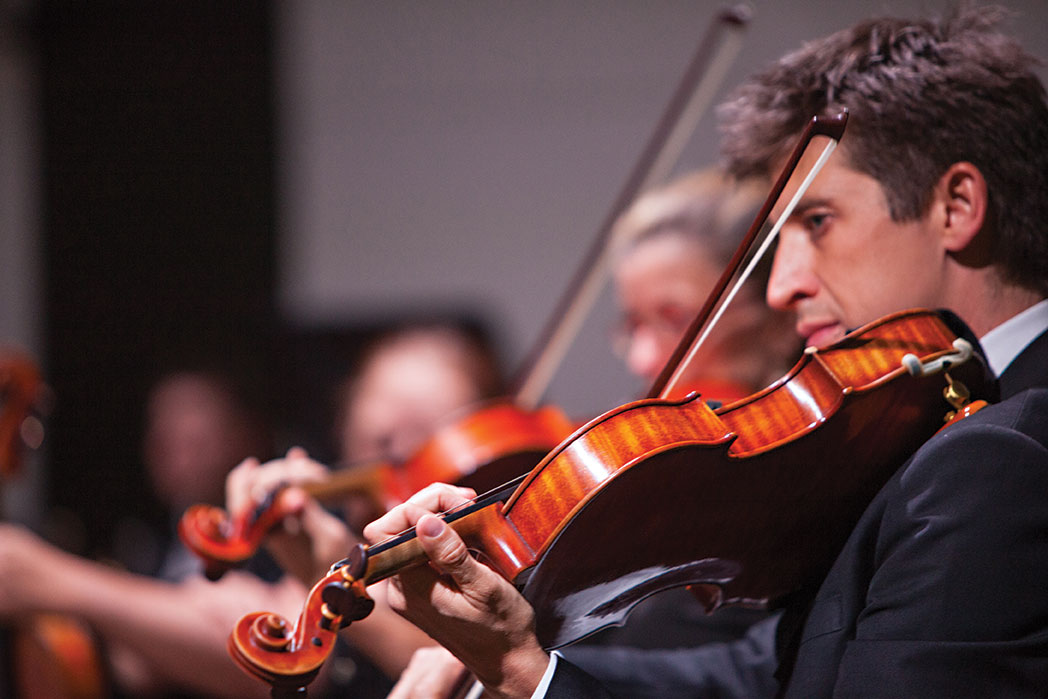 06 Jul

SummerFest on the Grow in Fourth Season

In 2011, surrounded by the majesty of the Sierra Nevada, Incline Village resident Madylon Meiling envisioned a festival matching the area's physical beauty with extraordinary classical music and visual and performing arts for people of all ages. The next year, Meiling made that dream into a reality, founding Lake Tahoe SummerFest Orchestra, now in its fourth season. SummerFest hosts a returning 40-piece orchestra under a white canvas tent that seats 500 intimately on the campus of Sierra Nevada College (SNC). This season, under the artistic direction of maestro Joel Revzen and held over three weekends (July 31 to August 16), the music of Bach, Mozart, Tchaikovsky and Beethoven will vibrate through the trees sending melodious sounds across The Lake, summoning anyone who answers the call.

Maestro Joel Revzen, photo by Chris Talbot
"This festival, and the orchestra I'm gifted to work with, is probably the greatest musical joy of my 45-year career making music," says Revzen. An award-winning and world-renowned conductor who leads numerous national and international symphony and opera performances, from the Russian National Orchestra to the NY Metropolitan Opera, Revzen tends to think "deep, not broad" when expressing his passion for this ensemble of hand-picked musicians and soloists. "Ninety-nine percent of our orchestra is returning instrumentalists, which speaks volumes. They represent philharmonics from Los Angeles, New York, Dallas and even as far away as Germany. They've created a sort of 'classical camp,' bringing their families to a unique American destination," he says.
SummerFest's theme this season, a Passport to a World of Music, addresses not just the global span of composers, but reaches out to both adults and eager-to-learn youth who may be entertaining their first introduction to classical music.
An hour before each concert, a reception tent will invite curious music lovers of all ages to watch a 20-minute visual podcast. "For anyone who doesn't understand classical music, now they can experience (for themselves) the sounds and feel of the genre and hopefully engage," says Revzen. Ticketholders will also receive a link (via email) to view the podcast before attending a live concert.
The festival has never wanted to limit itself to just music, but instead include an ambiance encouraging visitors to come early and stay late.
Marna Broida, SummerFest co-chair, is taking that concept to new heights. By listening to feedback from past attendees, she's adding surprises like a gourmet food truck with revolving menus each weekend.
"We want our attendees to feel pampered, adding a lushness to the festival, providing exquisite food, drink and creating some magic along the way. With new reserved seating, drinks allowed in the tent and accessible musicians after each concert, we feel we can retain the intimacy of the festival," says Broida. Local vendors this season include Tahoe Blue Vodka and Alibi Ale Works of Incline.
Like any burgeoning festival, success spawns growth and events branch out from original concepts. A free family concert entitled Finding Beethoven will be held from 10 a.m. to 1 p.m. Saturday, August 1, to include a mini-concert with Revzen, and an "instrument petting zoo" with the artists. For children entering grades K–4, SNC will offer a music and art summer camp over a two-week period in August. Campers will create music, art, attend selected SummerFest rehearsals and interact with the musicians.

Photo by Joy Strotz
As part of SNC's mission is "moving lives and learning forward," the college takes pride in lending its campus in partnership with the festival. Shannon Beets, SNC interim president and provost, speaks beyond the mission when she says, "This relationship [with SummerFest] reflects our shared belief in the importance of creating world-class artistic, intellectual and cultural offerings for our community and surrounding region."
Returning corporate sponsors include Dolan Lexus and continuing partnerships with RGJ Media, Nevada Arts Council and Parasol Tahoe Community Foundation, to name a few. One week before the official festival date, a selection of free invitational Chamber Music Concerts will be held to help build awareness around The Lake and Reno.
Revzen's confidence is palpable when he outlines his vision for SummerFest.
"My dream is to eventually become a six-week destination summer festival, in the likes of Grand Teton Festival in Jackson Hole. To grow into a 50-piece orchestra, have a teaching component and continue to draw the best of the best," says Revzen.
Perhaps the question is how long can SummerFest remain the Sierra's best-kept secret?
For more information on concerts and tickets, click here.