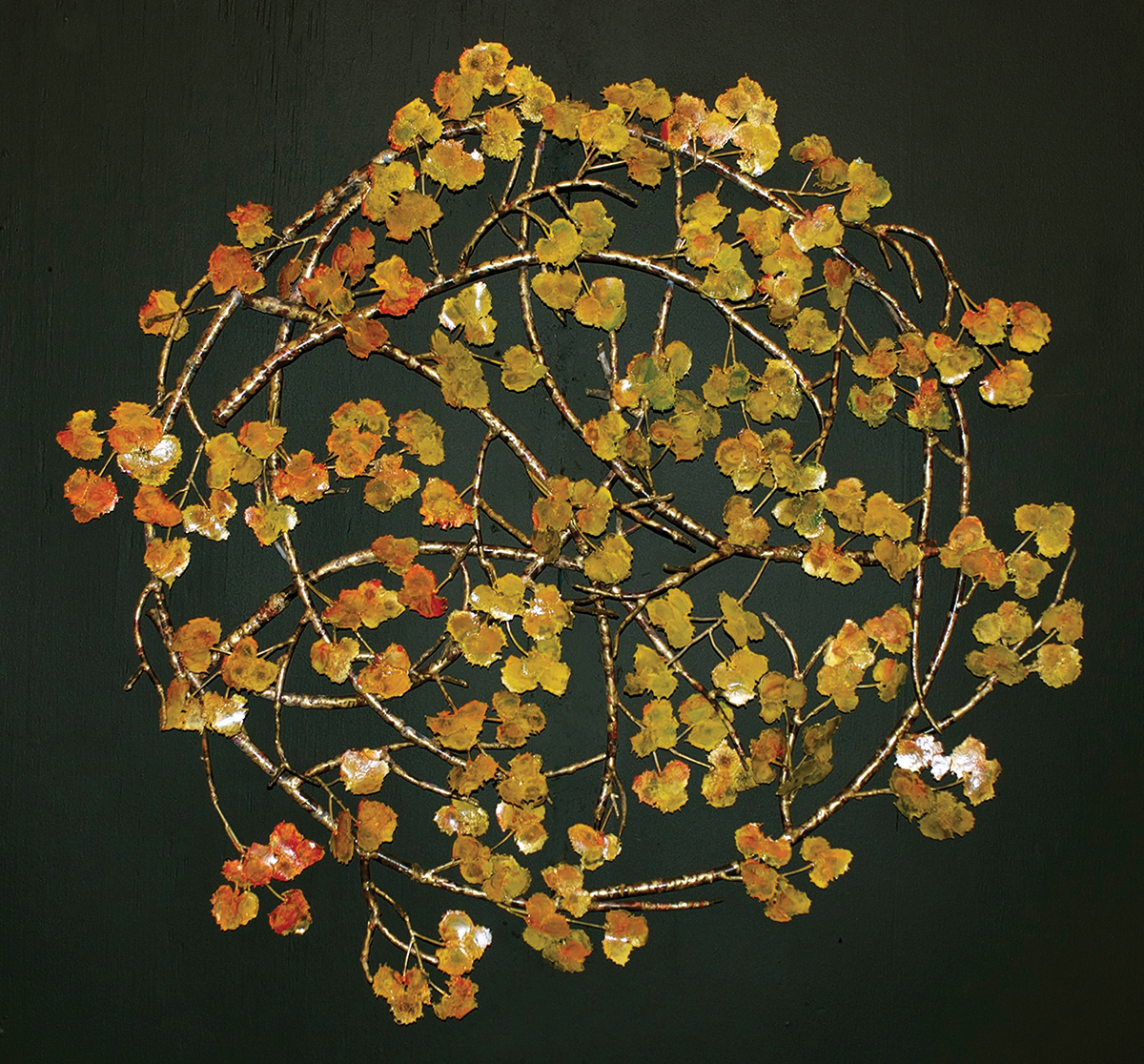 04 Mar

Taking Up the Torch
South Lake Tahoe welder's unique tree sculptures have family roots
Art, it seems, is in Kelly Smith Cassidy's genes.
"My family is like a poster family for the arts," says Cassidy, whose parents, Richard Bell Smith and Blanca Borja Smith, began creating welded metal sculptures in the 1970s. "All of us kids were always involved in music and art."
Born in Scottsdale, Arizona, Cassidy started playing violin and piano at age three. She took her first foray into welding at age six or seven, when her father helped her hold a torch as they made "fool's gold"—melting bronze, then dripping the molten drops in water where they would coalesce into nuggets that looked like gold, which Cassidy would put in hand-sewn pouches and sell next to her parents' booth at shows or at their galleries.
"They have been my best teachers," says Cassidy. "Not only as role models, but as my business mentors, having owned several galleries through the years and participating in hundreds of art festivals."
Her parents also instilled a love of travel—and of Tahoe. The Smith family would escape the Arizona heat in summer, often renting a home on one of Lake Tahoe's various shores where they would set up temporary studios, or traveling to Colorado, her father's ancestral homeland of Scotland or her mother's homeland of Ecuador.

Pinnow Aspens
Taking Root
When Cassidy was 16, she asked her parents to help her learn to weld so she could attempt her own wall art. "My parents had made wall oak trees in the early 1980s and were making tabletop sculptures when I had asked them to teach me to weld," says Cassidy. "I was encouraged to only make tabletop sculptures but I was determined to make wall sculptures in my own way. I started by making wall tree branches. It took several tries over many months to get the technique down. But I had the best teachers."
She sold her first piece—a 12-inch long wall branch resembling eucalyptus—for $100 at one of her parents' shows as a teenager in the mid-1990s. "After that sale, I was hooked," she says. "I loved the whole process of creating with my own hands, taking it to a show, meeting people and selling. For me, it is one of the most gratifying things to have this entire process done with my own hands and mind."
After that first piece, Cassidy's tree sculptures grew bigger and more elaborate. Tree mythology found in Norse and Celtic cultures inspired her. In her early trees—almost solely oaks—she focused on the roots, emulating those found in ancient Celtic drawings. But, over time, her work evolved. "I was constantly inventing new forms," she says.
Cassidy moved from oak trees to aspens and birches, and began to leave out the tree roots. She also began experimenting with color, using watercolors to create a light wash, then sealing with a clear acrylic spray.
While vacationing on a Scottish island in 1997, she saw a sign advertising a Ceileigh, or celebration. She liked the word, its meaning and similarity to her own name, and decided it was perfect for her own art business: Copper Keiligh Creations.

Smith-Cassidy with Reno Vines 
Raking Leaves
Cassidy retains studios at her parents' house in Phoenix (which now takes up the entire backyard, she says) and worked out of a pop-up tent—which she would cover with tarps in winter—in South Lake Tahoe until last year, when her husband, South Shore dentist Dr. Kevin Cassidy, had a studio built for her.
All of her pieces are original and about 80 percent is custom—during her busiest times, she may work on ten commissions at once. These works are extremely detailed: A five-tree aspen grove sculpture, which measures about six feet by six feet, contains approximately 1,200 leaves, each individually crafted.
"Nothing is cast, molded, or cut or stamped out," says Cassidy. "Everything is done by the torch."
Cassidy will spend days meticulously working on leaves. "The leaf making process is very intense," she says. "After each leaf is originally made, I further shape each one to resemble more of an aspen leaf shape, so each leaf is original. I may have a pile of 3,000-plus shaped leaves all ready to have a stem welded on. I call these days 'raking the leaves.'"
Once the leaves are done, they are placed on branches, which are fashioned with copper tubing and bronze rods. "I form them into the kind of tree that I would like them to be, then I cover them with molten bronze to either create 'knots' or 'bark,'" she says. "Then the branches are put onto the trunks or the frame of the tree. Finally, I paint the pieces with acrylic according to the theme that I am trying to achieve or that the customer has requested."
Cassidy finds inspiration in Tahoe forests, often on hikes she takes with her husband and their dog, a three-year-old English cream golden retriever named Kodi. "I notice certain 'personalities' in different trees," she says. "Sometimes the snow load will create interesting bends in the tree trunks." Her favorite area to explore is Hope Valley and her most popular trees, she says, are the Hawley Grade trees, named for the South Lake Tahoe trail and featuring thick, twisted trunks.
For her pine trees, she incorporates natural rocks. "I have to find stones that will take the heat of the torch and molten metal," she says. "There are stones that I find near Emerald Bay that are perfect for this purpose. I usually only take one or two stones at a time during our hikes that I find interesting, making these pieces very original and rare. Back in the studio, I have to wear extra protective gear to work on these stones because they may flake off and fly in every direction. I will name these pine pieces after the location where the stone was found."

Smith-Cassidy at work in her South Tahoe studio
Branching Out
Cassidy's interests extend beyond art. She practices yoga and astrology, has dabbled in acting (most recently for a looped commercial for in-room viewing for MontBleu Resort Casino a few years ago) and loves to travel. She is a history buff and a member of the Lake Tahoe Historic Society, and she and her husband own a historic boathouse that serves as a concert venue in the summer. She is a board member of the Tahoe Art League, a fixture on the annual Artist Studio Tour (this year held July 24 to 26 and July 31 to August 2), and retains a gallery presence at South Shore's Marcus Ashley Gallery and Tahoe City's James Harold Gallery in the Boatworks Mall.
She also frequently returns to Arizona, to see her family and to share her artistic achievements. "I'm always discovering new designs thanks to the legacy and encouragement of my family," Cassidy says.
---
Learn more about Kelly Smith Cassidy and Copper Keiligh Creations online here
---
Writer Alison Bender loves aspen trees, especially while hiking Mt. Rose Wilderness in the fall.