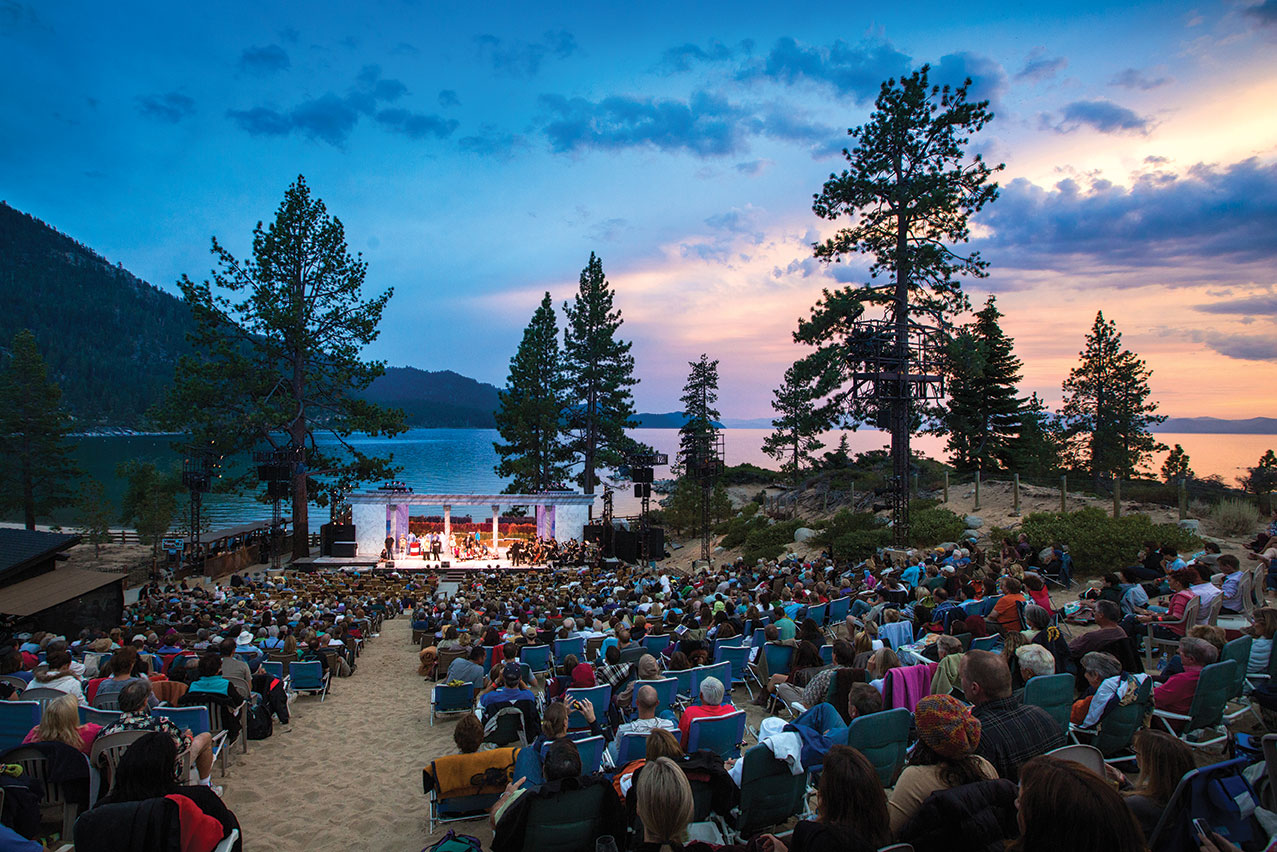 07 May

The Best from the Bard (and Beyond)

Tragedy will strike Lake Tahoe's Sand Harbor this summer—but, so will comedy.

For the first time in six years, and for the first time in producing artistic director Charles Fee's tenure, the annual Lake Tahoe Shakespeare Festival (LTSF) will present two mainstage productions—William Shakespeare's Romeo and Juliet as well as the musical comedy The Fantasticks.

Fee, who is also producing artistic director of Cleveland's Great Lakes Theater and Boise's Idaho Shakespeare Festival, took the LTSF reins in 2010, when the recession weighed heavily on the nonprofit theatre company.

"That was the hardest season," he says. "The economy was at its absolute low point. It was clear that my first job was to restructure the company and bring the company back to financial health. That's why we reduced from two plays to one for five years."

LTSF Producing Artistic Director Charles Fee and
Executive Director Bob Taylor, photo by Joy Strotz
The festival exudes magic on the Sand Harbor stage. The show begins at 7:30 p.m., so the audience is treated to one of The Lake's dazzling sunsets as they settle into their chairs or the sand of the upper galleries, often with a bottle of wine and picnic dinner or a gourmet meal from the onsite Shakespeare's Kitchen. As the sunset fades to the deeper blues and blacks of night and the stars wink on, the sounds of Shakespeare's words, centuries old but still powerful, resonate through the lakeside theatre.

Shakespeare's Kitchen provides food at all LTSF
performances, photo by Joy Strotz
LTSF was established in 1972 with the mission of bringing cultural entertainment to the Lake Tahoe region. In its first few years, the West Shore's Sugar Pine Point State Park hosted shows. Scheduling conflicts caused the festival to move to Tahoe City's Skylandia Park, a venue it quickly outgrew, and in 1976 the organization moved to its current open-air home at the East Shore's Sand Harbor in Nevada's Lake Tahoe State Park, where a simple stage was originally built for $1,000. In 2000, the Warren Edward Trepp Stage, the festival's current facility, was built at a cost of $2 million. However, as with most cultural nonprofits around the country, LTSF struggled during the recession. Cost-cutting measures included reducing from two annual plays to one.
In the years since, careful management and increasing demand led to this year's decision to return to a two-play format. "We've had tremendous growth every season since 2010," says Fee. "That's been really heartening."
"There were over 30,000 people at the festival last year and we are expecting more this year," adds LTSF community engagement manager Rae Matthews. "People are very excited."
Romeo and Juliet
Romeo and Juliet is Shakespeare's immortal tale of star-crossed lovers caught between the warring households of the Montagues and the Capulets. The play embodies the best of Shakespeare—unforgettable dialogue, mislaid messages, romance, rivalry and revenge.
"I think the audience will find Romeo and Juliet is just an extraordinary experience," says Fee.
Though he sets the story in the 1920s, Fee notes that he changes the text very little "except to cut it," he says. "There's all the swordplay, all the passion, all the power of that play."
The cast of 20 will overlap with that of The Fantasticks, although the latter employs a smaller cast of 8. About four actors are local to the Reno–Tahoe area, including LTSF director of education Joe Atack, a six-year mainstage veteran.
"This is going to be a great season," says Atack, who will most likely perform the part of Gregory, a Capulet servant. "I'm very excited—not just to be part of this fantastic company, but also for our audiences. I really think they're in for a great summer season of theatre on The Lake this year."
While the audience generally only sees the polished production, some occupational hazards include visits from Tahoe's bears or dive bombing June bugs, Atack says. "I've always felt that it adds to the excitement of working in live theatre," he says. "Overall, I love performing on the stage at Sand Harbor. There is something just ever so slightly magical about these plays when they're staged at outdoor theatres. Perhaps it's a personal thing, but I think Shakespeare's plays were meant to be heard that way."

The Warren Edward Trepp Stage at Sand Harbor
hosts Lake Tahoe Shakespeare Festival performances
in addition to its summer-long Monday night showcases,
which features a ballet, classical and contemporary music
and speaker Nando Parrado, Photo by Jen Schmidt
The Fantasticks
The original off-Broadway production of The Fantasticks ran for 42 years, making it the world's longest-running musical. Based on a play called The Romancers by Edmond Rostand, the production is the lighthearted story of two neighboring fathers who pretend to feud to trick their children, Luisa and Matt, into falling in love. Its themes echo those of Romeo and Juliet, though with a twist on the "two households, both alike in dignity" and a significantly happier ending than that of Shakespeare's doomed romance.
Victoria Bussert, whom Fee has collaborated previously with his companies in Boise and Cleveland, will direct the play.
"She's a spectacular director of musicals," says Fee. "We'd been talking for several seasons that we'd like to get to a two-play season in Tahoe, and we have always wanted to produce The Fantasticks together."
"It's an honor to present the first musical under Charlie Fee's tenure," Bussert says. "I'm excited about bringing musical theatre to the stage in Tahoe."
Bussert promises that her production will stay mostly true to the original story, however, "it will stretch its reach visually to appeal to contemporary young audience members, too," she says. LTSF is offering package deals to both shows for better value.
Bussert's production of The Fantasticks will debut with the Lake Tahoe performance, then move to Boise for the month of September, and will perform in Cleveland the following May.
"I am beyond thrilled to be making my LTSF directing debut," says Bussert. "I've heard nothing but the most glowing reports about your incredible theatre."

Photo by Joy Strotz
Additional Events
LTSF's Monday Night Showcase program features some of the best performing arts organizations around the Reno-Tahoe region. "Monday nights will be really exciting," says Fee.
Featured events include the Sierra Nevada Ballet with its version of Romeo and Juliet on July 27, Grammy-nominated musician Mindi Abair on August 3, the August 10 event with Miracle in the Andes author and speaker Nando Parrado, who survived the Uruguayan rugby team plane crash, and the Reno Philharmonic Orchestra presenting Beatles on the Beach on August 17.
The Monday Night Showcase is enormously popular. For the July 20th performance of Reno Philharmonic Orchestra's Broadway on the Beach, which features soloists Christiane Noll and Hugh Panaro, reserved seating sold out within hours of the tickets being released.
LTSF also offers outreach programs to introduce the arts to area youth, such as the in-school residency program InterACT, led by Atack, and this summer's D.G. Menchetti Young Shakespeare Program, which will offer abbreviated versions of Romeo and Juliet. "We're very happy about that," says Matthews. "It's free to families, not just here at Sand Harbor, but we move around the Tahoe area."
While the regular LTSF season runs July 10 through August 23, there will be encore performances by dance troupe Inner Rhythms scheduled August 28 to 29, a performance by the Reno Jazz Orchestra on September 5 and the Trails & Vistas: World Concert on September 12. "We instituted a whole expanded showcase," says Matthews. "There's a lot of great stuff happening post-season."
Whether you come for one show or all, bring a bottle of wine, settle into the sand and relax for an evening of entertainment in one of the most beautiful venues in the world. After all, parting is such sweet sorrow, so why not linger a little longer?
For more information and tickets, visit www.laketahoeshakespeare.com or call 1-800-74-SHOWS.
---
Alison Bender is a Reno-based writer who plans to bring a bottle of wine (or two) to this year's LTSF shows.