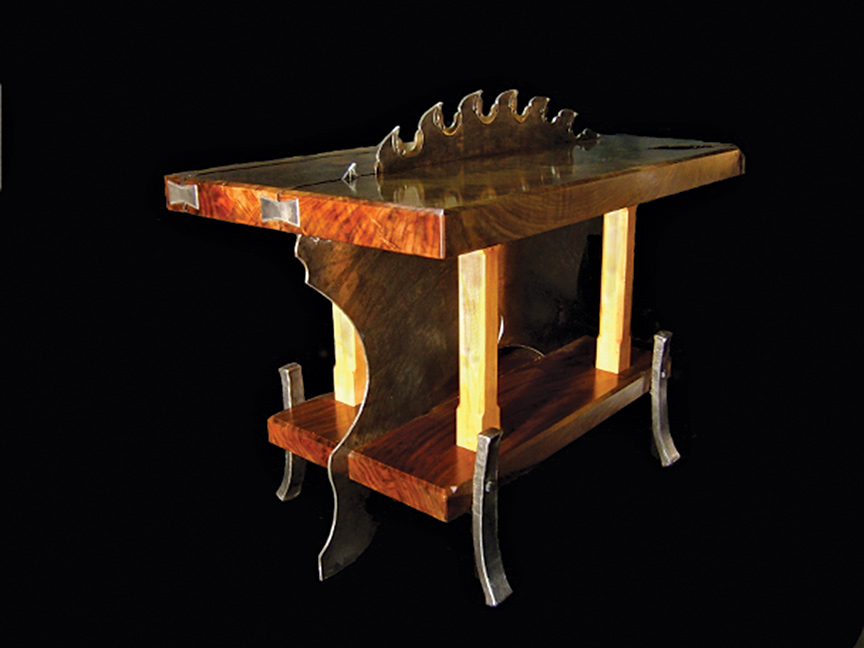 25 Feb

Timeless Techniques

Barclay Moore has two passions in life: woodworking and skiing.

An East Coast transplant, born and raised in central New York, Moore began tinkering with wood tools at ten, earned a degree in engineering from Cornell in 1976 and spent the next two winters as a ski coach in Hunter, New York, while working odd jobs during the summer. Then he heard of a woodworker ("a very talented gentleman," says Moore) looking for an apprentice.

Moore spent the next two years "learning, building and trying." However, the apprenticeship didn't pay, so he left after running out of money and returned to the ski industry fulltime.
In Search of Snow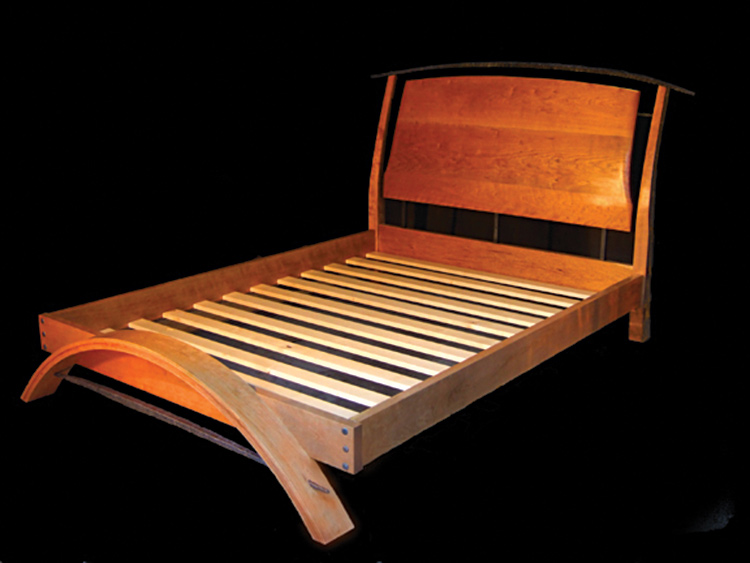 A few years later, a cross-country trip one summer introduced Moore to the Tahoe area. He noted the ski resorts and the big, rich houses and thought of starting a business in the area. Plus, he says, "There was no other place in the country that was nicer."
In 1986, he moved to Homewood to start his woodworking career, thinking even if the business went bust, at least he'd enjoy good snow in the meantime. He found a cheap apartment with rental space underneath to use as a woodshop. Twenty-seven years later, he's still in the same apartment, his woodcarving tools and forges in the same under-apartment spot.
"My shop is so small that I should be making violins," he says. "Somehow, 12-foot dining tables are more the norm."
While Moore's shop turns out relatively few pieces—somewhere between 10 and 12 annually—he produces incredibly in-depth and creative work.  "Some take two months, some take two weeks," he says.
Moore explains his process this way: "Say you want an end table," he says. He visits the house and sees where the piece will go. "I look at furnishings, what you like, what you don't like. I check out the location and talk about the function." With these thoughts in mind, Moore sketches up two or three versions of the end table and emails them to the client. "You say you like B, or maybe you like this part of A, this part of C, so we tweak it." He draws up a new sketch. "Then I just wing it."
A piece began in that way a few years ago. "I got a phone call, this woman named Susan called me and asked if I could come over," says Moore. Though leaning on crutches and recovering from surgery, he found the address and hobbled up to the door, his portfolio under his arm. He knocked on the door, which opened into a small foyer and a second entry door. He could see the shape of a person open one door, then, noticing the crutches, step behind the main door so Moore would have room to get in.
"I got one step in the door and this hand came out and I heard a very distinctive voice say, 'Hello. I'm Leonard Nimoy.'"
Moore ultimately ended up making four or five pieces for the Nimoys, though he stood his ground on that first project. "He wanted a built-in cabinet, maybe eight feet," says Moore. "I said, 'Mr. Nimoy, if I build this, how long do you expect to live in this house?'" Moore explained that a built-in meant furniture for the house, not for the client. He couldn't hand the piece down to grandchildren. Nimoy thought about it for a moment and said, "Oh. Can you do it freestanding?"
Learning Curve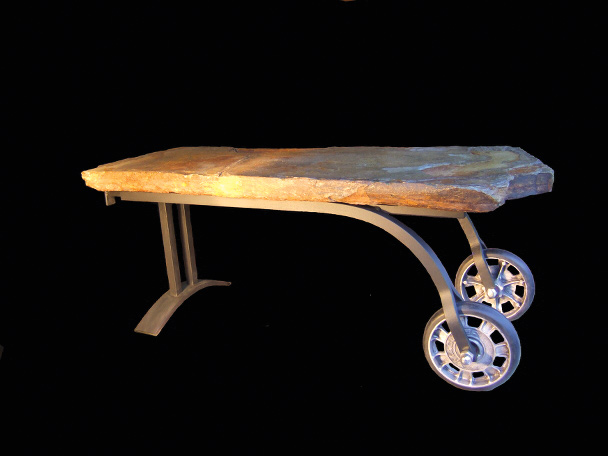 Though Moore has professional training in woodworking, he learned everything else on his own. He began blacksmithing when he wanted to add custom steel door handles for a client's cabinet. He figured out how to stain glass and wire lighting at a young age. "If you like to take things apart, you learn how they work and how to put them together," he explains. "That's how you learn: by trial and error."
With this attitude, over the years, Moore added new materials and techniques to his work. "Natural materials, forged iron and fitted wood go well together, I think," he says. "Adding copper or forged hardware gives it some quality feeling."
Moore adds other mediums to his custom pieces to his well. While working on pieces for the Beck home in Martis Camp (see Home Awards, page 98) he took the family's love of motorcycles and added Harley part details to the bar stools. Black walnut end tables were adorned with lumber saw blades. He's created a coat and pant valet that uses Lake Tahoe rocks for its feet. He inlays many of his works with stone, copper or hand-forged details. His light fixtures—from hanging pool table lights to floor lamps—utilize a mixture of glass and metals. "I try to learn something on each project," he says.
Moore employs millennia-old techniques to create custom works: mortise and tenon joints, dovetails, pegged and wedged joints. These methods, which date back to the time of Stonehenge, take considerable time and effort, but result in strong, functional and timeless pieces.
The care and time Moore puts into his work have earned him an impressive reputation. In the nearly three decades since going out on his own, the artisan has never gone without work. "There is always a backlog," he says of the waitlist, currently about six to eight months.
"A week before Thanksgiving, my neighbor wanted me to build him a coffee table," says Moore. "He asked if it could be done before Christmas. I said 'Undoubtedly. Christmas 2014.'"
On the rare occasion Moore is not at work on a piece, you'll probably find him on the slopes instructing, as he's done for the past 40 years. "That is about the only thing that gets me out of the shop," he says. "I teach weekends at Squaw/Alpine and make sawdust every other minute."
You won't find Moore's works in a gallery. While he used to enter his work in juried art shows and exhibitions, he quickly learned the negligible financial return involved. "I charge what I think is appropriate," says Moore. "The gallery charges double, which makes the piece expensive. That's fine when it's an oil painting by Rembrandt, but when you make functional art, there's no extra premium because it's a Barclay Moore."
Now, Moore exclusively takes on commission work. "It's not as much fun as spec work where I can do anything with no outside influence, but art is hard to sell," he says. His favorite words? When a client says, 'Do what you want.' "Then I go a bit wild," he says. "But talking with the family, seeing their house, their likes, gives me a springboard to the design process.
"Functional art—furniture—is made for the person," he continues. "It's designed for the client, so it fits perfectly. This is furniture that is for your grandchildren, that will last at least 100 years. That seems to be my career goal: making nice things for nice people."
---
To learn more about Barclay Moore, visit www.barclaymoore.com or call (530) 525-7608.
---
Reno resident Alison Bender learned that, even if you write a nice article about him, you still can't get bumped to the top of Barclay Moore's wait list.