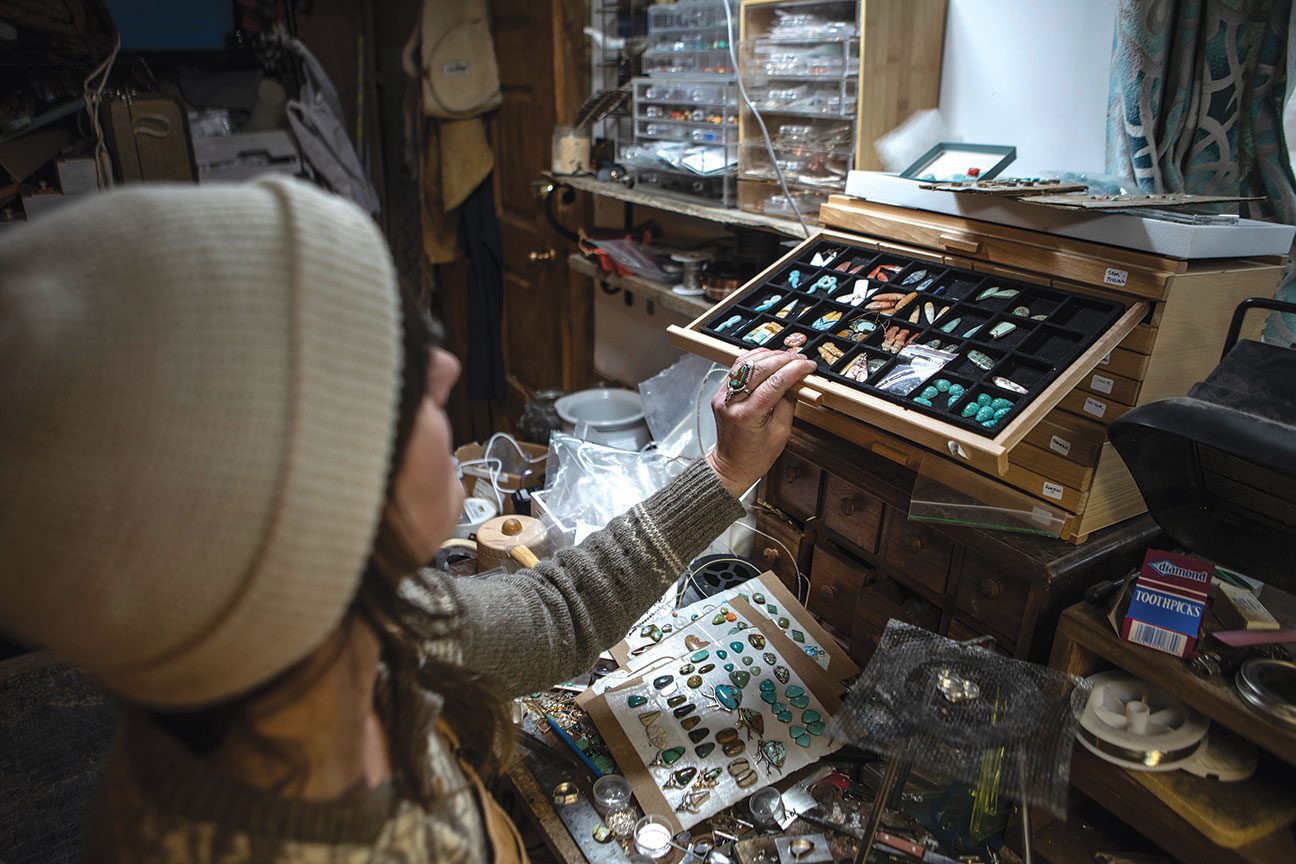 Deep inside the Lala Jewelry studio, Bobowski hunts for that perfect piece of turquoise
26 Apr

Treasure Hunting with Lauren Bobowski
A Tahoe-based artist uses Nevada gemstones to create one-of-a-kind jewelry
Lauren Bobowski went to the Arizona high desert looking for treasures.
February in Tucson is perfect, when the dry, warm climate lures winter-weary travelers to the land of cacti and color-streaked sunsets. For jewelry makers and seasoned travelers like Bobowski—whose Carnelian Bay home on Tahoe's North Shore was so buried in February it was entirely hidden from the road—Tucson was exactly where she needed to be. Not only for the reprieve from the cold. The Tucson Gem and Mineral Show is the largest and oldest such show in the world. The show is a hub for some 250 precious and semi-precious stone dealers from across the globe, who set up booths across town, transforming Tucson into a destination for treasure-seekers.
Bobowski had landed in the desert to fill up on gemstones for her work. She browsed the many booths full of geodes and crystals, emeralds and sapphires, amber, jade and opal. At one point she found a tyrannosaurus rex skull. She saw crystals so rare they could be displayed in museums, and other crystals the size of cars. She bought antler tips inside a tent full of fossils, bones and animal hides.
To help her focus, Bobowski keeps a lot of lists in her purse. Not just for groceries. Lists of dreams, and ideas, and also furniture she's hoping to find in thrift stores. Quick thoughts sketched out on the backs of receipts. She writes things down to remember as a sort of practice in manifestation. In Tucson at the gem show, she had a list of gemstones she wanted to find. She kept her list close and her eye on the quest that brought her to Arizona—turquoise.
Turquoise is Bobowski's preferred medium. Veined and detailed, brightest blues with specks of sand and copper-hued browns. At the show, she met people who collected these fine stones from around the world. She could feel the stones' weight in her hands. Touching these ancient beauties and seeing them with her own eyes, she admits, made her swoon.
"That's where I go a little crazy," she says. 
Even with the world's stones at her fingertips, Bobowski gravitated toward American-mined turquoise, especially stones sourced from the basins and ranges of Nevada.
"Nevada turquoise is one of my favorites," she says. "It just comes in so many beautiful colors."
All of Bobowski's jewelry, made under the label Lala Jewelry, is rooted in a sense of place and connection to the earth. An art-school dropout, Bobowski developed as an artist here in Tahoe, drawing from the endless source of creativity she found in the mountains and forests. She learned from both established jewelers in Tahoe and the community of musicians, skiers, artists and other misfits seeking a different beat to life who wind up here and discover Tahoe's pull is strong like gravity. 
It's not easy staying in Tahoe—the beloved A-frame she'd lived in for a decade went on the market a few years back and sold, forcing her and her family to find a new place to live in the middle of a housing crisis. At the same time, Tahoe opened a path that would have been hard to pursue anywhere else. And today, more than two decades after moving to Tahoe, she's reaching new places in her art, making some of the best jewelry she's ever made, feeling inspired by the environment that surrounds her. She's attracting quite the following, too, with most of her work selling out within mere minutes of a release on her website.
After several days in Tucson, Bobowski returned to her studio tucked beneath towering pines. She got to work right away, sorting the stones, discovering new color palettes, building a vision for various collections of jewelry to come and then crafting each piece by hand, one by one.
"I can't wait to show you my treasures," she texts.
Gemstones in the Pines
A couple of weeks after Bobowski's trip to Tucson, I'm invited to visit her studio. Tahoe is in the middle of an epic winter, but a few weeks of almost-spring weather in February has let the snowpack settle. Still, Bobowski gives detailed directions, noting that her driveway is hard to spot between 10-foot-tall snowbanks. 
I find the address marked on a bear box, which is completely encased in snow, and pull into a shoveled driveway that tunnels into the woods. Snowdrifts hide most of the house, save for the top halves of the windows. Huge icicles hang from the eves on the slanted roof, nearly touching the snowbank below, like bars on an ice cage.
Bobowski waves me inside, and I push the front door open to a warm and cozy home, where she lives with her husband Ryan Salm (whose photos often grace the pages of this magazine), and their 4-year-old daughter, Lilah. Even with all the snow, I can see the deep blue of Lake Tahoe from their living room. Sharp winds are cutting up waves across the North Shore. Bobowski says they were lucky to find this place. After living in the same spot on Dollar Point for 10 years, their landlord sold the house, forcing them to move. They landed in a too-dark house before finding their current place in Carnelian Bay, with lots of light, affordable rent and studio space.
Bobowski grabs a tray of gemstones she's been sorting and leads me outside to a path of packed-down, slick snow around the house and into a small basement-level room. It used to be a laundry room. Now it's her art studio.
The ceilings are low, the laundry machine and dryer still sit on the back wall, but every other inch of space is claimed with drawers full of beads and stones, pliers and shears and hammers, files and saws. A torch is mounted on a worktable squished in next to the jewelry bench that she painted, of course, turquoise blue. Behind her stands a chest of drawers full of her life's work as an artist and many more tools—including the rolling mill, a piece of heavy machinery with a large handle that she uses to flatten pieces of silver. The mill, like several of the tools and furniture here, was a gift inherited from a mentor.
Then my eyes settle on all her treasures. So many treasures. It's hard to even make sense of it all.
Silver chains and rings and scraps of precious metal. Plastic boxes full of beads, framed photos, feathers and a sculpture of the Hindu deity Shiva array the shelves above the workbench. Turquoise pendants and moons and half-finished pieces of jewelry are scattered on the desk. Some small, some quite large and heavy. Some pieces of turquoise are seemingly blue forever. Some are spotted with clouds of sandy brown and dusty green. More stones—agate, labradorite, moonstone—are hidden in the drawers, some labeled with titles like "Royston" or "White Buffalo."
Bobowski settles into a white office chair with a plush fur blanket on its seat and spins around to face the worktable. When selling her jewelry at art shows and farmers markets, Bobowski can often be seen with a long braid and flat-brimmed hat. But today her hair is pulled back in a low bun, revealing the three gemstone studs in each ear, and she keeps warm in a big sweater and thick socks. She's friendly and easy to talk to, and by way of introducing me to her work, she waves her arms in a large, wide gesture across her workstation. 
"This is the damage I did at the Tucson gem show," she says, as if revealing a new set of toys. "I have an abundance." She compares a piece of turquoise with a lesser-known stone called variscite, which has a slightly different mineral composition than turquoise. And then she holds up a stone that's the color of sand, clouded and ethereal, with a ribbon of turquoise snaking down the middle, edged in copper. 
"This is Royston Ribbon," Bobowski explains, and it's mined near Tonopah, Nevada. She's met the miners on her travels up and down the Silver State. Sometimes she'll message them on Instagram that she's driving through, asking to meet up and buy turquoise, straight from the desert. "We were driving up from Vegas and there were all these dirt roads, and I was like, 'There's turquoise in those hills,'" she says, eyes wide.
For today's work, Bobowski settles on a large, beautiful gem called Iron Maiden turquoise that looks like an aerial photo of islands in the Caribbean Sea. "It's so pretty," she says, as mesmerized by its depth as I am. "It's got a beautiful gradation of blues into browns and a little bit of green. A nice rusty matrix vein running through it. I might just do a simple ring because the stone is so gorgeous."
She gets to work. A coil of silver bezel strip—a flattened wire that wraps around the stone—appears in her hands. Then a cold breeze pushes the door slightly ajar. She slides a pair of reading glasses (again, turquoise) up her nose and bends over the stone, inspecting it up close. 
A 'Pause' From Art School
Bobowski is riding the wave of a newly found peak of inspiration in her art. She's been a collector of specimens and beautiful things since she gathered rocks and feathers from the beaches along the Atlantic as a child, and she started making jewelry as a high school student in Hartford, Connecticut. But she entered this elevated place of her craft just a few years ago. While pregnant with her daughter, Bobowski says she had "this crazy creative surge."
"It was wild. I was creating a human in my body, but the work I was producing was the coolest shit I've ever made in my life," she says. She pulls out a piece of silver shaped like a woman's body, all curves, with a large turquoise stone placed at the naval. This piece was part of a series that launched her into a new stage of her career as an artist. "And it's definitely continued. It's almost like I went from playing it safe to just really being an artist and just going for it."
Bobowski moved to Tahoe—a feminist, through and through, with dreadlocks and all—thinking she'd be a ski bum for a winter. Two years of art school in Massachusetts and she'd learned enough to know that she didn't want to follow the well-worn track that led to the fancy art galleries in Boston or New York. She studied classical art, graphic design, color theory, sculpture, painting and drawing, and she took that formal arts education with her to Tahoe. A familiar story to many who wind up in Tahoe: 20 years later, she's still here.
What she didn't know then is how Tahoe would open a path for her to realize her dream of making jewelry and give her an inspired life. She decided to stay when she became an apprentice for a master jeweler in Incline Village, Ali Athari, who is now retired. She worked for Athari for five years. That's when she learned to melt scrap silver and hammer out sheets of metal by hand. How to set small stones and polish silver until the reflection was mirror-like.
"When I worked with the master jeweler, he made me make everything from scratch, because he did it old school," Bobowski says. "It's super labor intensive, but that is how, in the past, how all jewelry was made."
Later, Bobowski synced up with the yoga community in Tahoe, selling her jewelry—a lot of lotuses and chakra-inspired pieces, she says—at Wanderlust festivals. She says she drank the yoga Kool-aid, but the insularity of that world burned her out. It wasn't until she picked up her torch again, after some space from yoga, that she started pushing her art in new, creative ways.
'A Southwest Vibe' With a Twist of Nature
In the deep of winter, Bobowski's mind is set on the sun, the inspiration for her next collection, scheduled to release in the spring.
"I love the ocean colors, the warmth of turquoise," she says.
She's also particularly fond of cacti. She makes three-dimensional mood boards, displaying a color scheme with various gemstones taped onto a small rectangle of cardboard. Every morning, with her daughter at school, she'll come to her studio with a big cup of coffee and go through her drawers to find the materials she wants to work with. Her style comes from "just being in nature, and a little bit of a Southwest vibe."
On this day, Bobowski quietly goes through the motions of measuring out a strip of bezel to wrap around the Iron Maiden and clipping it to length with pliers. Then she snips off a minuscule piece of metal, called solder, that she uses to fuse the silver bezel wrap together. She opens the valves to a propane tank and an oxygen tank, which are hooked up to her torch. Glasses on, she flicks a lighter and adjusts the flame to an intense needle-point blue. When she applies heat, the metals join at the seam of the bezel. She turns off the fuel, the flame disappears and she quenches the bezel in a cup of water. Then she pushes the Iron Maiden into its new home, inside the bezel strip.
Now she's on to another piece, this one inspired by an agave plant. All those art school classes have eventually tied back into her work as a jewelry maker. You can see the color theory in the way she pulls in different shades and types of gems to a single piece. Or the detailed illustrations etched onto silver of mountains and trees and owls that give her work a dimensional element. For the agave plant, the centerpiece is a semi-circle of speckled turquoise, which she puts on a horseshoe-shaped sheet of silver. She takes tweezers to place small, intricately cut sheets of silver—the leaves of the plant—along with a swirly stem and tiny sunstone beads for flowers. The art on her canvas begins to take shape.
The upcoming weekend, Bobowski will release a bunch of finished pieces on her website. By the time I make it to Lala Jewelry's website, though, everything is sold out. That's common. Her friends joke that getting a piece of Lala Jewelry is as difficult as scoring Phish tickets. But as the snow melts, Bobowski's work will be easier to find. She plans to have booths at the Made in Tahoe Festivals at Palisades Tahoe, scheduled for May 27–28 and October 7–8, and she'll be at the Tahoe City Farmers Market on Thursdays throughout the summer at Commons Beach. Her work is also sold at the North Tahoe Arts Gallery in Tahoe City, as well as on her website, LalaJewelry.com.
At the end of our visit, Bobowski rolls back her chair and prepares to climb back up the stomped-out path of snow around the house. As she opens the door, we are hit with a blast of icy air. Springtime couldn't come soon enough. In the meantime, Bobowski has the warmth of her turquoise suns.
---
Julie Brown is a freelance journalist and novice treasure hunter based in Reno and Lake Tahoe.