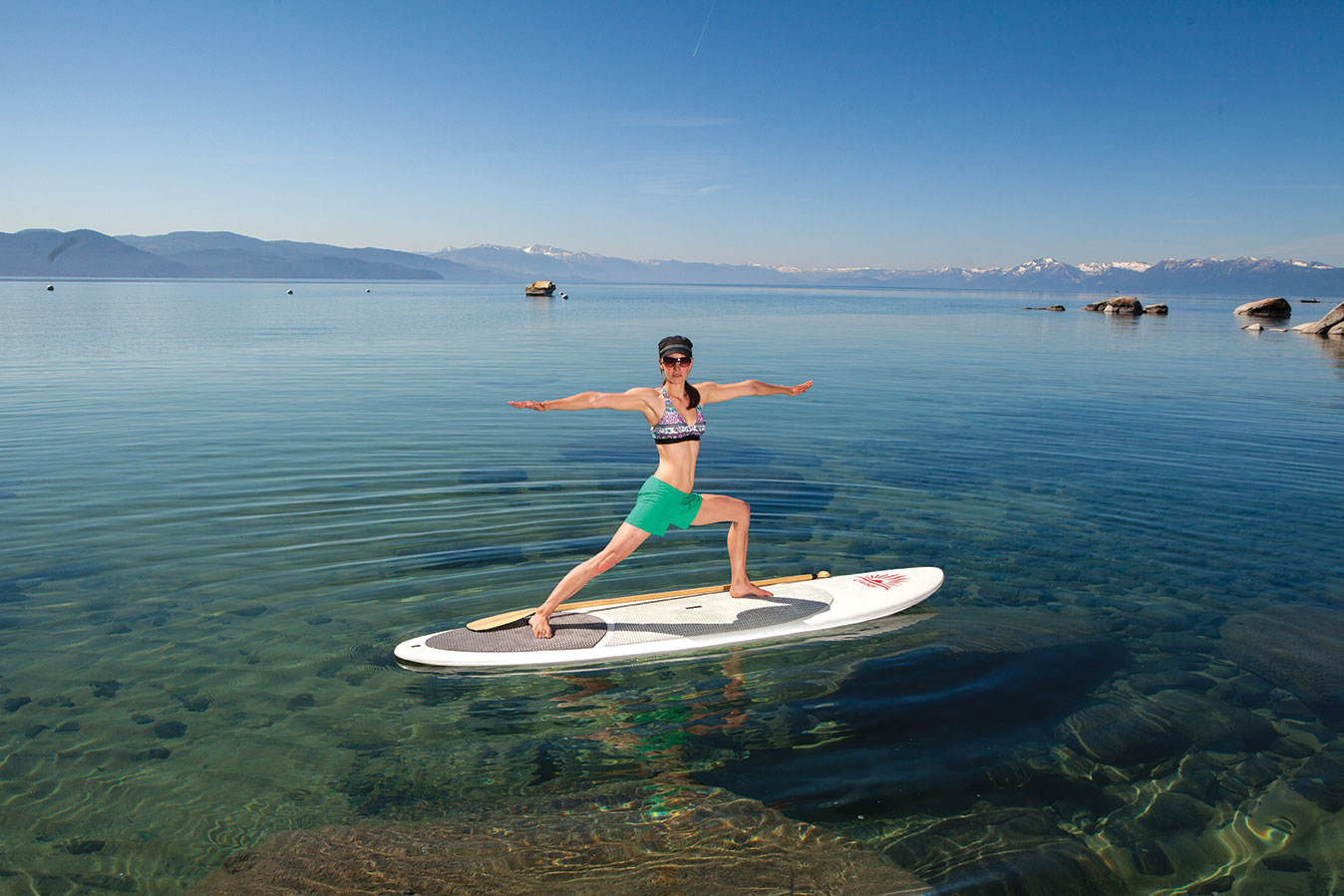 Photo courtesy Tahoe Mountain Sports and Danielle Hankinson
03 Feb

Yoga finds a natural home in Tahoe

Reaching for blue sky framed by mountain peaks and grounding into pine-covered green earth, yogis are discovering Tahoe Truckee as an up-and-coming space to practice their discipline.

"My initial response to practicing yoga in Tahoe is what a gift", says Mia Togo, a teacher at Squaw Valley's Wanderlust yoga festival this year.

The Los Angeles-based yoga instructor has joined thousands recognizing that Tahoe and yoga seem made for each other.

"Tahoe is so full of natural beauty and has an energy that is very powerful and healing," Togo says.

A few years ago, you could count the number of yoga studios in Tahoe Truckee on one hand, but now every community has a studio, with additional classes offered by gyms and pilates studios.

"When I first came here, there was barely any yoga," says Shaelah Morris, owner of Yoga Studio Tahoe.

In the past 13 years, Morris owned four area studios. Yet she only saw a spike in demand when she opened her current studio in Truckee two-and-a-half-years ago. Now she has 85 to 95 people daily taking yoga classes.

The South Shore also has a growing yoga community. Just five years ago, Jenay Aiksnoras moved to South Lake Tahoe and found only one yoga studio.

"I was shocked at the lack of teachers and studios," Aiksnoras says.

She opened Svadhyaya Yoga Studio in 2008; recently expanded, it now offers 25 classes weekly, yoga for destination wedding parties and a school to train instructors.

Yoga participation in the U.S. grew 29 percent from 15.8 million practitioners in 2008 to 20.4 million in 2012, according to Yoga Journal's 2012 Yoga in America market study. Practitioners spend $10.3 billion annually on yoga classes and products,  according to data collected by Sports Marketing Surveys USA.

Yoga "absolutely in the past four or five years has become incredibly, exponentially much more visible. Yes, it's been around for thousands of years; however, it's got into modern culture," says Morris.

Tahoe Truckee is uniquely poised to benefit from this rising national popularity, due to its location and populace. Locals, who thrive on being healthy, active and athletic, are realizing yoga keeps them in peak form.

Sean Hoess, co-founder of Wanderlust, says he chose Squaw Valley as the location for the first Wanderlust in 2009 because of its natural beauty.

"The simple answer is that Squaw Valley, and North Lake Tahoe in general, is one of the most beautiful spots on earth, offering soaring mountain views and a perfect climate—warm but not hot, and no rain!," Hoess says.

The first Wanderlust attracted 1,000 people on its peak day; five years later, festival attendance reached 6,000, he says.
Many local instructors point to Wanderlust as kick-starting yoga in Tahoe.

"More studios are open, more people are practicing on a daily basis, and Wanderlust is a big part of that," Morris says.

The festival brings tourists who never visited Lake Tahoe before, says Shannon Duclos, owner of Mountain Lotus Studio in Tahoe City.

"Wanderlust is amazing for our community," Duclos says.

The festival—July 18-21 this year—offers a variety of activities, including yoga, lectures, music, hikes, concerts, meditation, culinary events and more.

"It definitely put Tahoe on the map as a hub for exquisite natural beauty that enhances and inspires the yoga/meditation lifestyle, as well as a center of talented leaders in the wellness community," says Ashley Turner, a nationally recognized yoga expert from Southern California.

Hoess, whose team is organizing six different festivals this year worldwide, says "Wanderlust (and Tahoe) really is just a particularly beautiful platform."

The interest in taking yoga out of the studio has led to new ways  of practicing yoga in Tahoe, such as paddleboard yoga, hiking yoga and yoga retreats.

With Mountain Lotus Studio perched on Lake Tahoe's shoreline, Duclos adds several paddleboard yoga classes to her summer schedule. After a 30-minute lesson inside, she takes her class to the water to try the moves on a paddleboard for an hour.

"The age and range of people doing paddleboard yoga is all over the place," she says, with about one in seven taking a plunge. "I can tell from the half-hour practice in class who will fall in."

If aligned properly on the board, a student can perform the venyasa moves, such as a downward facing dog step through to a crescent lunge, she says.

"It's so great to bring the yoga outside," Morris says. "Hiking yoga is pretty new too."

Having led yoga retreats to Costa Rica and Mexico, Morris sees Tahoe's potential as a retreat location.

"Most of these retreats are happening in Bali, Costa Rica, India, but we have paradise right here, and it's more accessible for people from the city," Morris says.

Being close to the "yoga hub" of San Francisco also helps, because so many master teachers enjoy coming to Tahoe to lead workshops, she says.

Aside from attracting yoga tourists, Tahoe Truckee's emphasis on sports and fitness also brings its athletic population to the discipline.

Morris turned to yoga at 21 after injury ended her extreme skiing career.  "I was able to find yoga to help heal and completely recovered," she says.

About 25 percent of her students take the classes to heal from an injury. Other athletes, such as U.S. Ski Team member Marco Sullivan and extreme skier Kent Kreitler, practice yoga in her studio to enhance performance and prevent injuries, Morris says.

Vanessa Guajardo of Carnelian Bay practices yoga to help with balance and flexibility as she snowboards. Having lived in San Francisco where every street corner has a yoga studio, she noticed Tahoe yogis "are definitely in it for the physical side.

Tahoe is definitely physically based."

Although Duclos says body awareness brings people in, yoga's quietness sustains them.

Incline Village resident Patti Wood turned to yoga after breast cancer. "Yoga has brought to me an inner peace and calm, and the actual poses have helped with the limitations on my body caused by cancer, fear and age," Woods says.

Each person should find an instructor and studio that meets their individual needs, Aiksnoras says. From Bikram to Bhakti, from chanting to a simple "om," from aerial yoga to paddleboard yoga, from classes for children to restorative classes, yoga's opportunities are endless.

"I just think it's important that everyone understands that anyone can do yoga regardless of your age, ability or gender," Aiksnoras says.
---
Tanya Canino is a Carnelian Bay-based writer who teaches journalism at Sierra Nevada College.