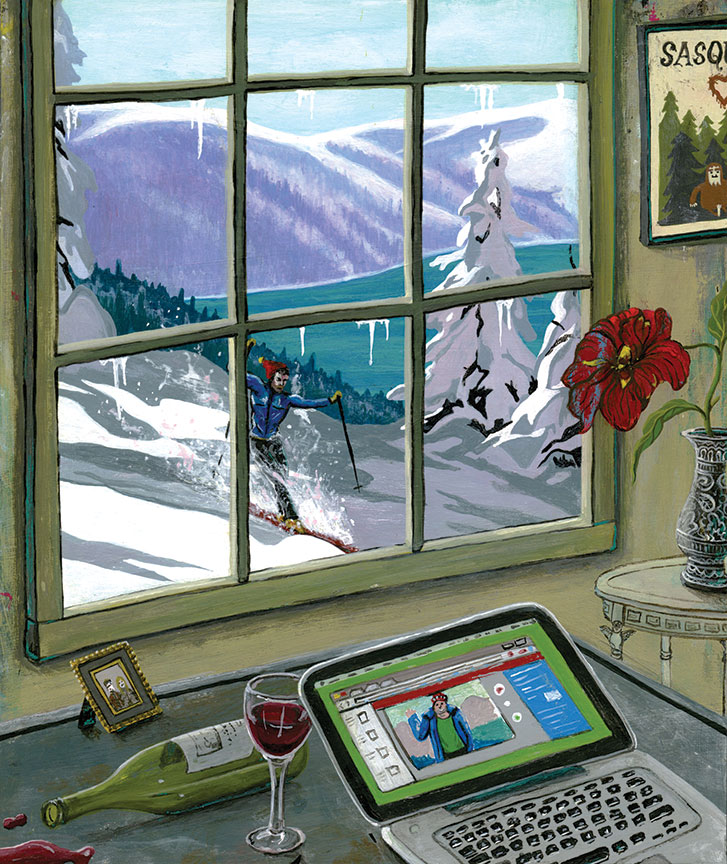 Illustration by Jesse Greenwood
06 May

Single at 7,000 Feet

Tahoe is one of Earth's most romantic places. An area attracting interesting, adventurous, healthy individuals should be a goldmine for solid relationships, right? For many reasons, not so much. For those who are married or happily single, Tahoe is a magnificent place to live. For those who are looking to nestle into a serious relationship, this area presents several challenges.

Let me start this discussion by saying, Hi. My name is Julia, and I am single. As a single person living in the Reno-Tahoe area, I face limitations that are specific to this location (and similar tourist destinations): transience, low permanent population and low drive among the free-spirited single population to cue up the wedding nuptials. To complicate matters, I'm self-employed and passionate about my work, so the act of meeting anyone datable happens about as frequently as a Sasquatch sighting.

I've lived most of my life in this area and have experienced the full spectrum of dating, from the archetypical Tahoe ski bum to the weekend visitor to online matchmaking. Like many people who have lived here long-term, I have watched my fair share of love interests come and go. In my early twenties, I was in a serious long-distance relationship with a snowboard instructor. I dated a man I met on a chairlift. I'd be lying if I said I didn't date one of my friend's exes and let's face it: Everyone here has had a fling with a seasonal neighbor.

Finding long-term compatibility with someone is difficult in any part of the world, but those who date in Tahoe face extra challenges due to the fact that this is, well, Tahoe. Screening our dates for how likely they are to stay here permanently is an additional step we must take when we decide to settle down, thereby narrowing the number of eligible datables quite a bit. Making rational choices seems counterintuitive when it comes to love, but the "let's see where it goes" approach has a low success rate in an area where so many people are simply passing through.
Dating Difficulties
In addition to the transient nature of Lake Tahoe, low disposable income due to high cost of living and few high-paying jobs are often challenges. Let's call a spade a spade: some of us are broke and trading career for lifestyle. Low disposable income causes folks to put the brakes on marrying and starting a family. Those interested in settling down tend to leave the area in hot pursuit of professional jobs and a more manageable financial setup.
Related to the income issue, having roommates to offset the high price of rent is almost a guarantee. While bringing your date back to your house of five-plus roommates makes for good beer pong, your overcrowded communal living situation is more conducive to a casual relationship than a serious one. Unfortunately, it's more difficult to buy a house and have the space and privacy to start a family in Tahoe than it is in other parts of the nation. And, since we're on the topic of communal living, let's address the issue of communal dating. Chances are your date has dated your friend, roommate and/or co-worker. It's a numbers game, and cross-pollination is imminent.
Solutions to the Love Thing
While difficult in this area, nurturing a serious relationship is not impossible. For those who are single and looking, there are plenty of options for meeting others. Take a class (be it academic or athletic) to put yourself in an environment with like-minded individuals. Spread the word: tell your friends and co-workers you're looking and chances are they know someone who may be a good match for you.
If you're self-employed, join professional groups such as Tahoe Regional Young Professionals. Consider joining volunteer organizations and becoming more involved in the local community. Hop onto Meetup.com, type in your zip code, and join groups you're interested in. Each group organizes regular get togethers and you can pick and choose which events are of interest to you. Last but not least, go online.
Although couples have been meeting each other online for more than a decade, the dynamic of using sites like eHarmony, Match.com, OKCupid and even Tinder is more commonplace and no longer carries an awkward stigma. According to USA Today, 35 percent of married couples met online.
Prior to writing this article, I had no experience with dating sites. For the sake of good research and experiencing it firsthand, I did what so many before me have done: I drank a bottle of wine and went online. I went out with a total of two gentlemen, and while no sparks flew, I appreciate the benefits of online dating: It is a fast and efficient way of meeting people with whom you have much in common. I would definitely recommend it for those who are looking to expedite the dating process, or have busy lifestyles.
For What it's Worth
Understanding the logistics behind meeting a good fit is just one piece of the puzzle. The cliché that attitude is everything rings very true in Tahoe, where there seems to be a slight air of jadedness among the single population. Remaining positive and real in spite of hurtful past experiences is always your best bet for lassoing in a genuine and loving relationship. We can improve the Tahoe dating dynamic provided we maintain good intentions. And, when all else fails, we'll move. Kidding.
---
Julia Mueller is a successful single based in Reno who grew up in Incline Village. Follow her food writing at www.theroastedroot.net. Fellas, you might find her email there, as well.
---
Jesse Greenwood is an accomplished graphic designer and illustrator in addition to his duties as circulation manager at Tahoe Quarterly. He currently lives in Bozeman, Montana.