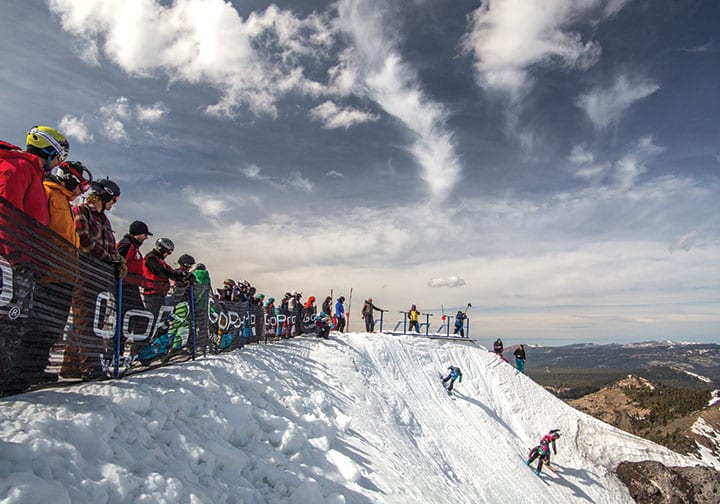 Silver Belt Banzai 2015, photo by Eric Rasmussen
06 May

Tahoe's Best Ski Race

The all-mountain spectacle that is the Banzai, with teeth-chattering speed, hairpin turns and dizzying terrain features, would provide challenge aplenty even with a healthy snowpack. Tahoe's sub-average snow over the past four years has forced racers to be hyper-aware of course conditions, while organizers had to work harder to attract competitors, maintain safety and keep positivity high.

"I take pride knowing that we could pull things off," says Daron Rahlves, the event founder, Truckee local and most decorated American male Downhill and Super G skier in International Skiing Federation World Cup history. "I look at all the events that have been cancelled in Tahoe these last seasons because of the snow, and we haven't lost a single one. Nothing is going to stop Banzai."

The stops for 2015 included Alpine Meadows, Kirkwood and the final race down Sugar Bowl's Silver Belt Gully. Rahlves, a Sugar Bowl ambassador, conceived the tour in 2008 as a modern twist on the resort's original Silver Belt race that started in the 1940s and attracted the best racers of the time.

All competitors ski or board one timed solo run, after which a cut is made, depending on the size of the field for each group, which includes male and female categories in both skiing and snowboarding. From there, four-person heats are raced with the top two competitors from each advancing until the field is whittled to a final heat of four, which determine that stop's winners. Contact between racers is allowed though unsportsmanlike conduct is forbidden.

For the grand finale, and to entice racers who likely grew up watching Rahlves destroy competition worldwide, Rahlves himself competes against the winners of the other three stops of the men's ski competition in a four-man superfinal at Sugar Bowl. He remains undefeated.

Courses are set by Rahlves and his team, with the exact route depending on conditions and available snow. New sections were devised that drew on creativity and patience, and the course required constant maintenance. "Safety is first priority and creating a challenge is second," says Rahlves. While the race tends to have a reputation of drawing in competitors with a penchant for danger, Rahlves proudly states there were no injuries in 2015.

"I work with the natural terrain of the course to have the speed right so people don't have to chuck it sideways to lose speed. I try to let the natural terrain slow people down," says Rahlves.

Despite the obvious downsides of a low snow winter, which saw Sugar Bowl with around 150 inches of total snow for the season at the time of the final stop in mid-March (the average is 500 inches), competitors embraced the challenge.

"I think I do the best in the worst conditions. I try not to slow down when it's icy or whatever out. Obviously, some racers prefer more forgiving conditions, but I try to keep the same pace," says Ben Paciotti, who took fourth place at the Alpine Meadows stop, where a cold spell and strong east winds reduced the course to a sheet of ice with large moguls under grey skies.

With a lower snowpack, the mountains offered a higher level of technicality as well as steeper and more exciting options.

"It's way better with low snow," says Jayson Hale, the overall men's snowboard winner. "I love low snow conditions. Sugar Bowl was the sickest track of all time."

Finding positives in the intricacies of the snowpack and the resulting course kept everyone moving forward.

"At Silver Belt especially, there were a lot of little bumps. It was actually kind of cool how you could hit little doubles and get a flow going. Snowboarder Dillon Candelaria was surfing through the bumps where most others were hammering through it," says Rahlves, who incorporated Candelaria's technique into his winning final run.

In 2015, more competitors came from out of town than locals, Rahlves says. Nevertheless, Tahoe locals placed strongly.

"Honestly, the low snow year has not impacted my desire to compete," says Shelly Robertson of Tahoe City, the overall women's ski winner for 2015. "Once the competitors knew it was game on we were fired up to compete."

Some racers have competed in the Olympics or other high-level events, while others are first-timers to competition. The way they handled race day varied greatly.

"When I'm on the course, I imagine that I'm ripping KT-22 with my friends. If they are ahead of me, I'm going to do everything I can to catch them; if I'm ahead of them, I'm going to try and keep it that way," says Robertson. "I think the best racers shut off their minds when they are on the course and just ski."

"Once the final heats get going, it's a balls-to-the-wall race mentality. In the gate waiting, it's all butterflies and nerves—that is the hardest part. Once the race starts, it can feel like slow-motion and the nerves go away," says Paciotti, who lives in Tahoe City.

Rahlves' confidence has grown over the years, both in assuredness the races can be pulled off as well as in the abilities of the athletes to handle the courses, and he looks forward to a bright future. However, with four low snow years in a row, and the subsequent drop in visitation and spending, he knows that keeping sponsors on board is a challenge.

"Everyone has good things to say about the Banzai, but it comes down to numbers. My goal is to bring people to our area, boost our economy and get people to ski the mountains that I love to ride," says Rahlves.