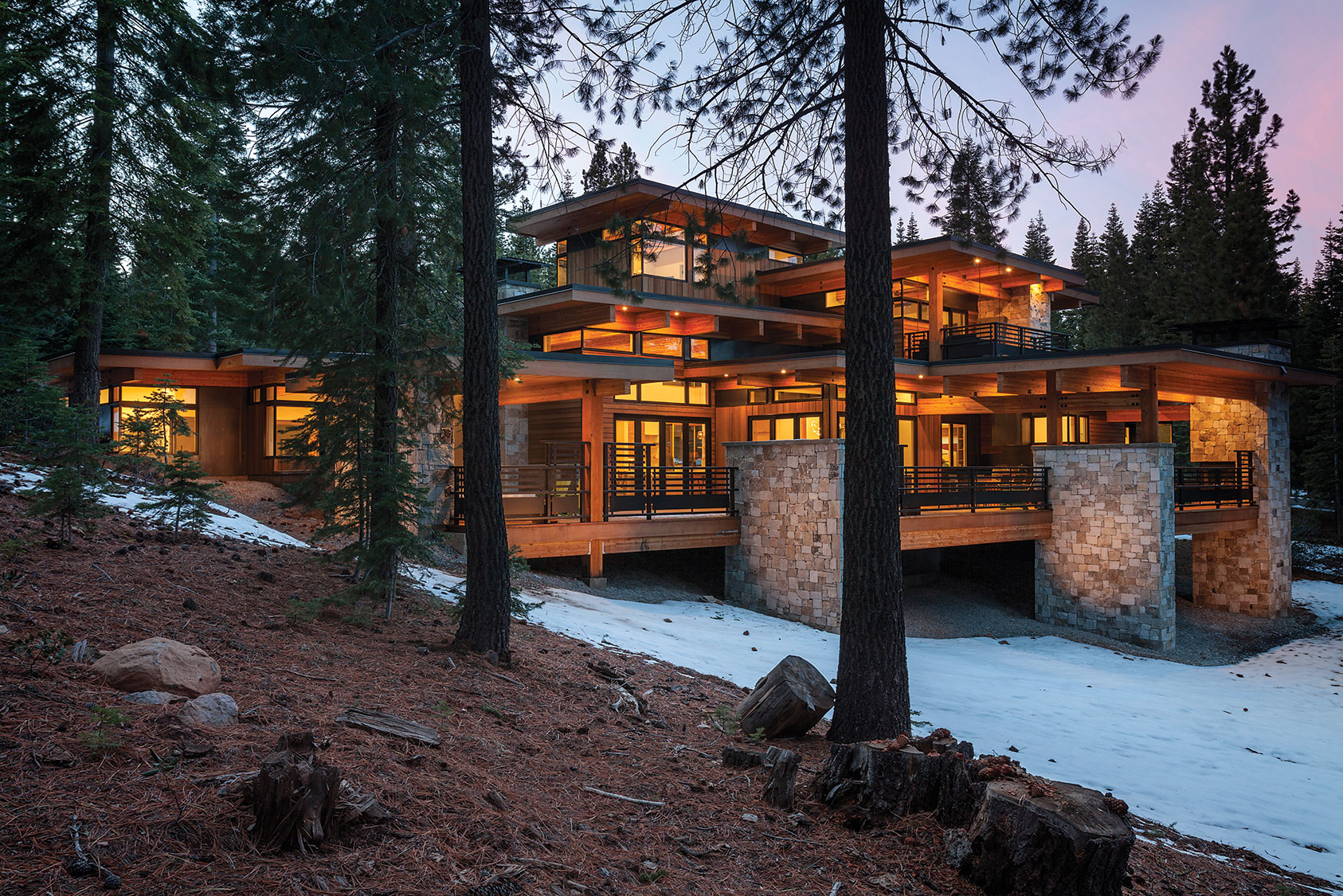 03 May

Contemporary Tree House

When actress Nancy Travis began searching for a vacation property with her husband, Rob Fried, and the couple's two sons, ages 14 and 18, she wanted something that reminded her of her native East Coast but was closer to the family's home base in Los Angeles.

"I just really fell in love with the Sierra," says Travis, who starred in the blockbuster films Three Men and a Baby and So I Married an Axe Murderer, among others. "The lot that we have in Martis Camp is right on the edge of the whole property. It gives us the opportunity to be in a community."

The lot sloped sharply upward to the northwest and remained mostly shrouded by tall white firs.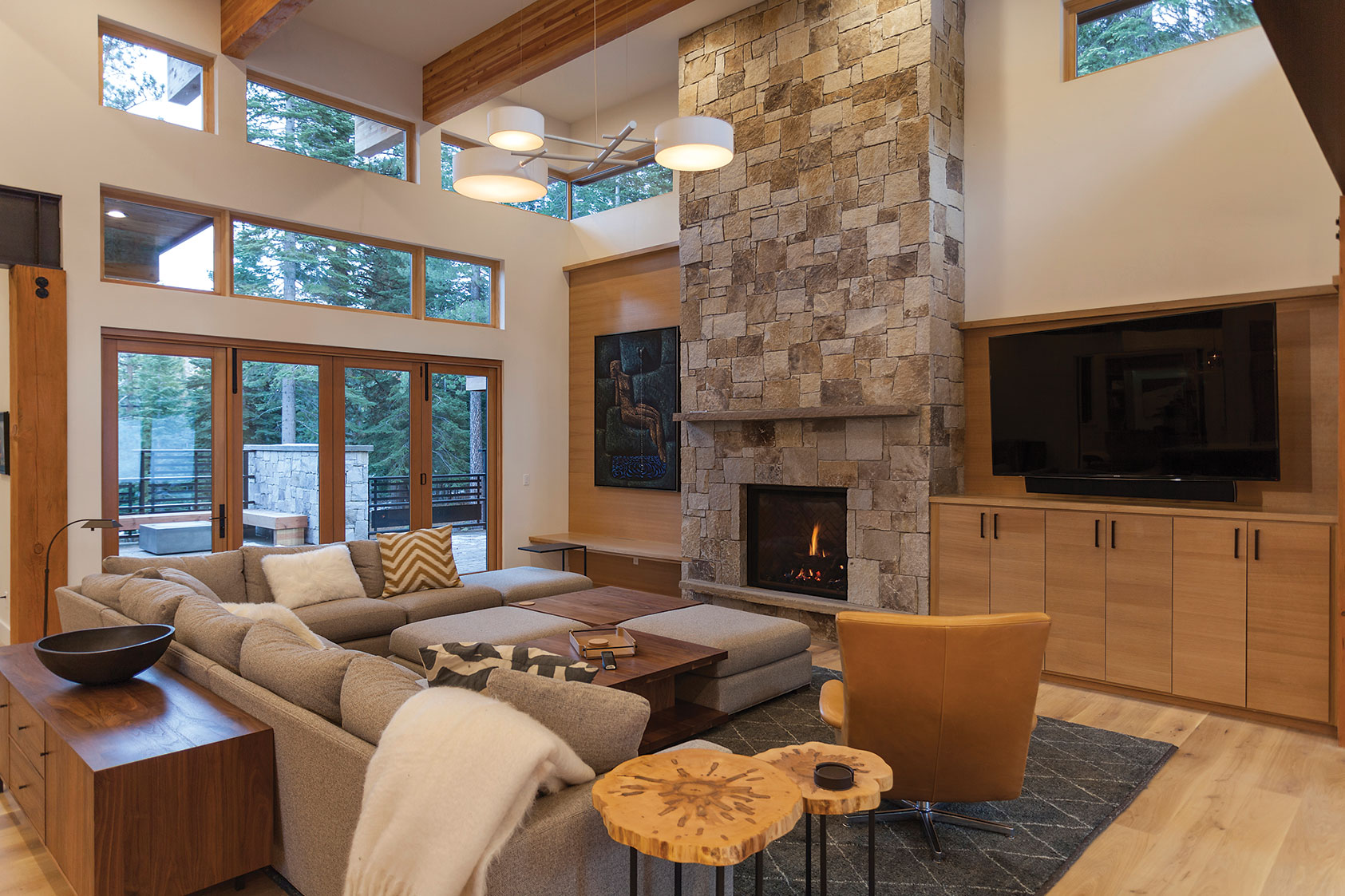 "You just really feel like you're pushed up into the trees," says Seamus Gallagher, founder of Gallagher Construction LLC, which has built approximately 30 projects in Martis Camp.
The 2.5-acre patch of land presented a few challenges to Gallagher and home designer David Spear of Truckee's Mountain Concepts, who worked together on the layout and construction of the home. The steep angle of the terrain and the presence of a creek draining across the property were obstacles Spear eventually turned into unique features through an incorporative design.
"It does sort of fall away from the hillside in the back," says Gallagher. "One of the things I really respect about Dave and his team is how they were able to really fit that home into the site."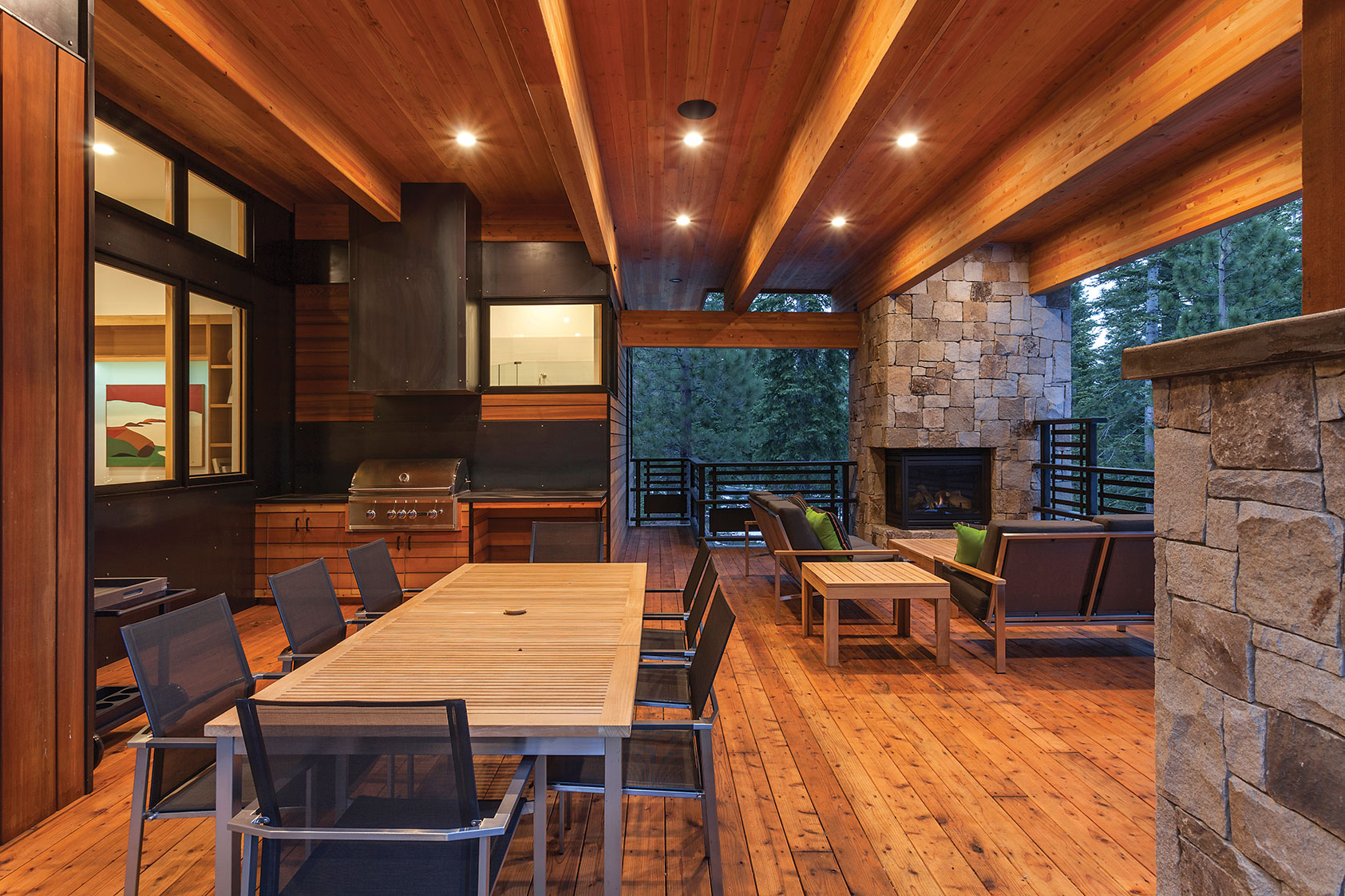 With a degree in environmental design–architecture from the University of Colorado, Spear has a talent for creating homes that fit into and support their natural environments.
"I wanted to open it up to the forest and the sun," says Spear.
The 3,860 square foot home is clean and contemporary, with an open kitchen/great room design, as well as an office that utilizes pocket doors to open or shut it to the main floor. Each room in the five-bedroom house is open to the surrounding forest with a unique corner window feature, and an abundance of windows allows for passive solar energy—just one of the sustainable measures Spear fit into the home's design—while also creating an open feel that invites the forest in. Extensive deck space provides an outdoor dining room, living room, barbecue and hot tub, as well as plenty of seating to enjoy the serenity of the treed property.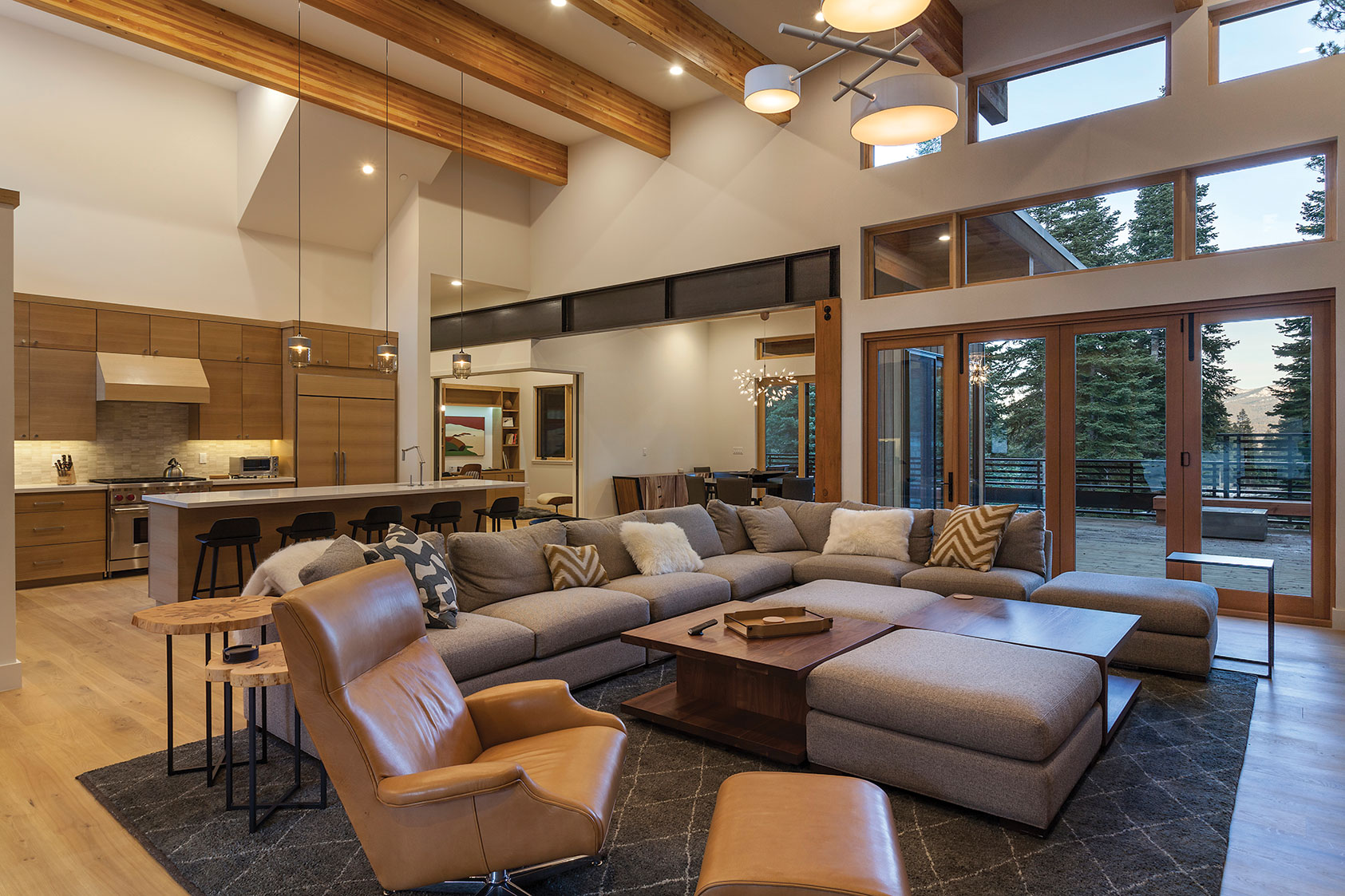 Travis and Fried make it a priority to visit The Lake with their sons on long weekends and school vacations. For Travis, it was important the home be able to accommodate a family. "I wanted a home that was nice and seemingly elegant but very comfortable," she says.
Reno-based interior designer Sarah Jones expertly crafted an interior that was elegant without being stuffy. A neutral-toned wraparound sectional accommodates guests and family members in the great room, while a second-floor alcove provides a den-like feel, where pops of color in leaf-print pillows and a red statement chair provide a more secluded option for relaxation.
"She totally understood what I wanted in terms of comfort," says Travis. "A living room where lots of people can watch football games and feel like they can put their feet up."
At the top of the home, tucked away on its own half-level, a guest bedroom with panoramic windows and a tree-house feel provides a nearly 360-degree view of the surrounding forest and the Sierra Nevada mountains through the trees. This "tree-house bedroom" is Travis' favorite spot in the house.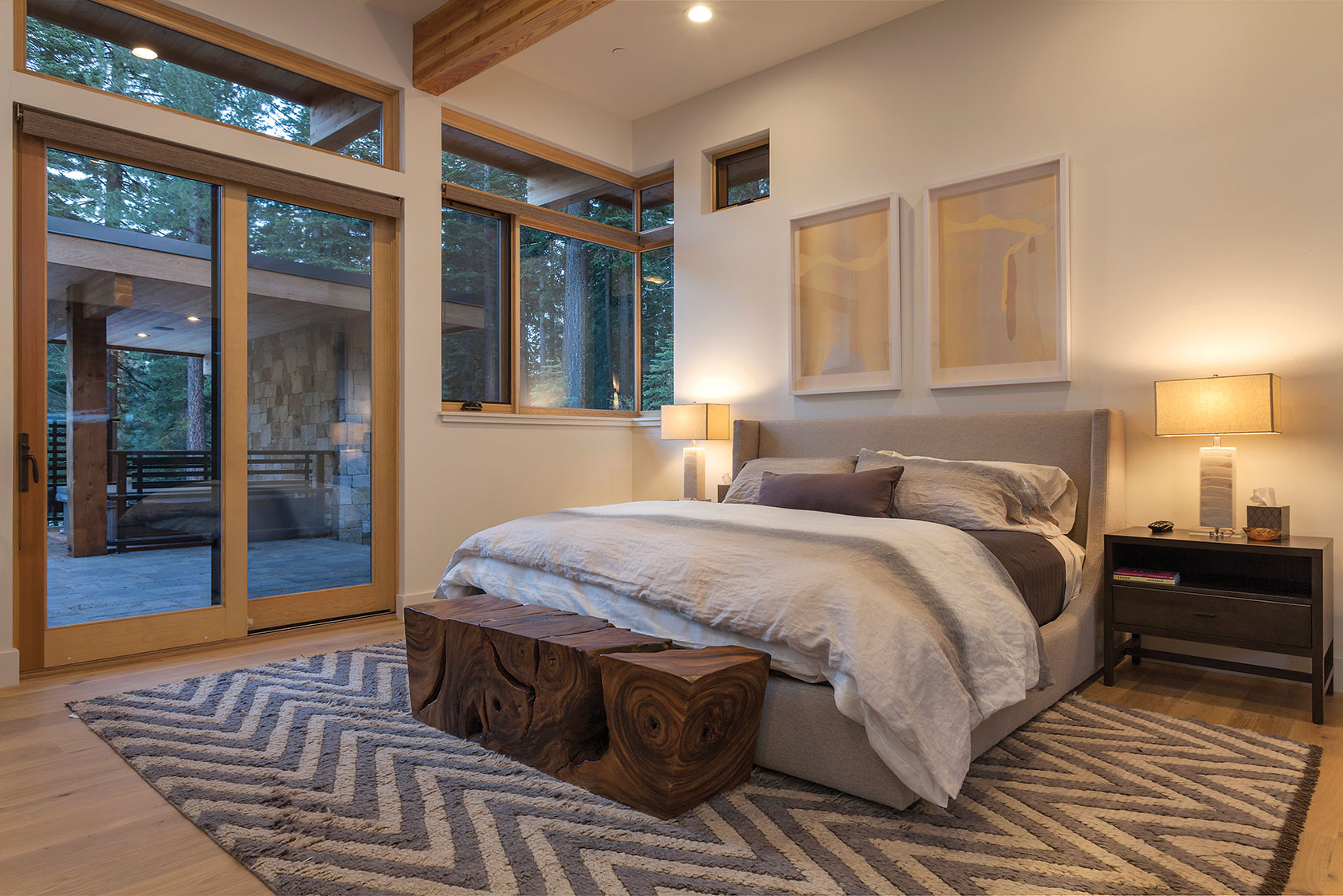 Construction on the house took just over a year and finished in October 2014. After enjoying their second snow season at the home, the family has been delighted by Tahoe's record snowpack this past winter.
"After the Christmas last year where the only snow was the manmade snow, we didn't have tremendously high hopes," said Travis. "I love walking in the snow, walking in the woods. There's so much there, and it's really beautiful."
---
Meghan Herbst is an Incline Village–based writer and editor.