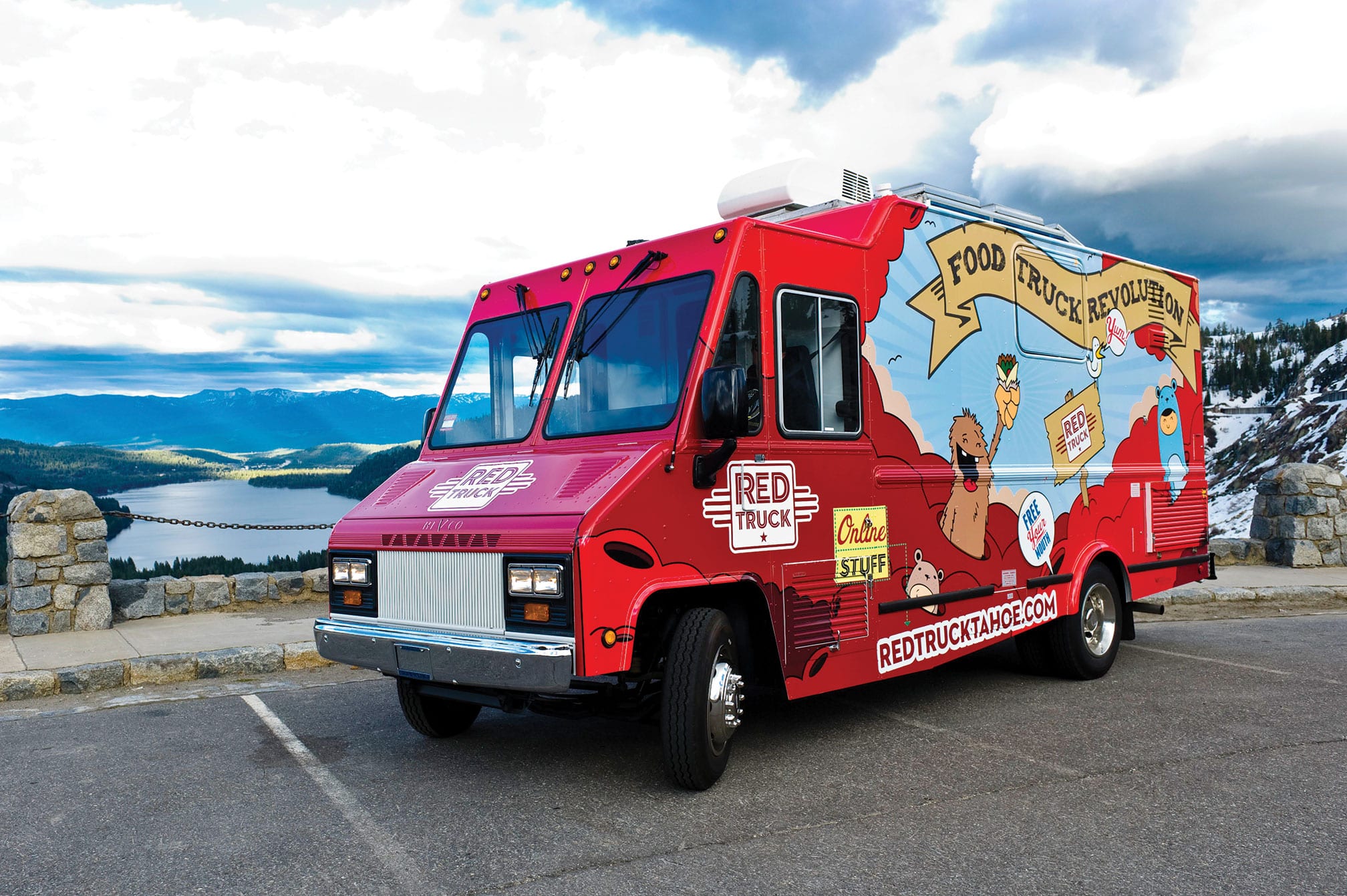 Red Truck, courtesy photo
26 Apr

Four Wheels for Foodies
The Reno–Tahoe area's fleet of food trucks is ever expanding
It wasn't long ago that a few food trucks rolled onto local roads, dishing out delightful treats from gooey grilled cheeses to spicy samosas from their mobile custom-built kitchens. Several years and many food trucks later, it's safe to say that these roving four-wheeled eateries are no flash in the pan, but rather, a way we now crave, seek and consume many a meal.
A few food trucks have evolved into brick-and-mortar establishments to accommodate and feed their faithful, and a handful of traditional restaurants have launched trucks to further their reach. Here we highlight a heaping handful of area favorites, focusing on those that started out or remain mostly in motion.

Tacos from MTN Roots food truck, photo courtesy Squaw Valley Alpine Meadows
NORTH LAKE TAHOE AND TRUCKEE
Red Truck
www.redtrucktahoe.com
Tahoe's pioneering food truckers were so successful selling their savory Indian-meets-the-Mideast "naanwiches"—layered with hummus, labneh, fattoush and tahini with falafel, chicken tikka masala, coconut curry lamb and adana pork—that they set up shop at the Truckee Tahoe Airport.
Starkey's
www.starkeys-tahoe.com
A sturdy ceramic-tiled mobile wood-burning pizza oven turns out piping hot pies like the Great White topped with olive oil, salami, onion, serrano peppers and honey. Owner Dave Starkey, a Dragonfly alum, also does sushi such as ahi poke or crispy crab rolls made with real crab.
Hot & Healthy Creperie
www.hothealthyfoods.com
Find here sweet and savory and mostly organic crepes like the classic Florentine, rolled with spinach, mushrooms, eggs and Swiss cheese, or Le Crêpe Dog's chicken sausage, cheese, arugula, sauerkraut and mustard; for dessert there's the Nutella and bacon-filled Chocolate Pig.
Sol Food
www.solfoodtahoe.weebly.com
Aficionados order smoked chicken tacos with habanero corn salsa and carved turkey sliders grilled on a pretzel bun with sauerkraut, Havarti, blackberry Dijon mustard and a drizzle of Alibi Ale Works porter reduction (the truck is often parked outside of the Incline Village brewery).
MTN Roots
www.squawalpine.com
These Squaw Valley and Alpine Meadows trucks turn out breakfast burritos and tacos plus a bowl piled with veggies, quinoa, arugula, wild boar, cojita cheese and chimichurri; the pop-up MTN Roots Cafe, in the former Mamasake space, serves a more extensive menu.
Souper Wagon
www.thesouperwagon.com
Soup is the star here, from chicken with matzo balls to vegan Thai peanut butternut squash, though sandwiches like the pulled pork grilled cheese with homemade chipotle barbecue sauce on Truckee Sourdough ciabatta are perfect for dipping.

Dave Starkey,
owner/chef of Starkey's Food Truck
SOUTH LAKE TAHOE
Pretty Odd Wieners
www.prettyoddwieners.com
At this weekends-only cart outside the 76 gas station at the corner of U.S. Highway 50 and Apache Avenue in Meyers, there are hot dogs from Chicago-style to jalapeño cheddar smoked elk sausage with cream cheese and caramelized onions; tofurkey Italian sausages are made to order.


CARSON CITY
Tahoe Tenderloins
www.tahoetenderloins.com
"Eat or we both go hungry!" is the motto for these truckers turning out Midwest meaty items like breaded pork loin, ham, Swiss and Dijon on a brioche bun or half-pound slow-roasted Chicago-style beef, provolone and grilled red peppers on a sweet French roll.
The Lazy Hog
www.facebook.com/thelazyhog
Drippy sandos star here, from the Lazy Hog piled with slow-roasted pulled pork, jack cheese, cabbage slaw, chili oil and cracklings to the Flying Hog, a panko-breaded fried chicken breast atop a brioche roll. Try either the tacos al pastor or Baja fish, also.



RENO
Smee's Alaskan Fish Bar
www.facebook.com/
SmeesAlaskanFishBar
Owner Jon Smee's Alaska-based boats supply the fish for his cod and chips and grilled salmon and halibut dishes. Shrimp and ahi are on the menu, as are cheeseburgers for non-pescatarians. Smee recently opened a store in the Meadowood Mall food court.
Electric Blue Elephant
www.electricblueelephant.com
Organic, vegan options like Garam Masala Me Crazy—made with tamari mushrooms, whipped coconut sweet potatoes, steamed spinach, cabbage, carrots, green onions, cashew sour cream and garam masala sauce—are served atop brown rice, corn tortillas or chips.
Nom Eats
www.renonomeats.com
No animals are harmed in the making of these vegan burritos, from the breakfast tofu scramble with potato hash, soyrizo, cheesy sauce, avocado, coconut bacon and jalapeño cream to the Takeout rolled with General Tso's "chicken," fried rice, broccoli and Sriracha coleslaw.
Crepist
www.facebook.com/pg/crepist
Crepes get a nouveau treatment here with savories like the Hot Chick—roasted chicken, cheddar, garlic aioli, scallions and Sriracha—and sweet selections such as those filled with lemon butter and sugar or baked brie with brown sugar and cinnamon.
Codfather
www.codfatherreno.com
Cod is key in the fish and chips, fish tacos and sandwiches; there are also breaded clams, oysters and scallops fresh from the fryer. The tequila-marinated grilled shrimp tacos atop cojita-coated corn tortillas get a dose of the signature Happy Sauce.
Battle Born Food Truck
www.battleborntruck.com
Family recipes featuring red wine, roasted garlic and pickled jalapeño went into the making of the signature tri-tip roast beef sandwich served on a hoagie bun. Order up a side of Abel's Fries, which are hand-peeled and sliced potatoes fried Basque-style with garlic and special seasoning.
All Wrapped Up
www.facebook.com/wrappedupfresh
Wraps with grilled chicken and pesto are on the menu here, but so is the aptly named Shock Therapy, a half-pound burger that boasts bacon, potato pancakes, cheese, tomato, caramelized onions, red, yellow, green and jalapeño peppers, and jalapeño ranch. And lots of napkins.
The Fix Falafel & Things
www.facebook.com/pg/thefixreno
In addition to the standard Mideast falafel setup, find "Falacos" made with corn tortillas, pickled onions, cilantro and habanero aioli, as well as the Hornet fixed with pepperoncinis, olives, mushrooms and vinaigrette. Add garlic or seaweed fries.
Traveling Pizza Maestro
www.facebook.com/
TravelingPizzaMaestro
In addition to pies, there are wraps like the turkey pesto and an Italian option stuffed with salami, pepperoni, ham, mozzarella, parmesan-diced zucchini and olives. Soups include pasta fagioli, zuppa toscana, tomato basil and chicken, and corn chowder.
Still Rollin
www.stillrollinfoodtruck.com
Sandwiches like the Monte Cristo, Reuben, and roast beef and cheddar are instead wrapped like an egg roll and deep fried; same for sweet treats like Snickers, cheesecake and ice cream. There are loaded truffle fries to go with, as well as fresh veggie-filled rice paper rolls for the oil averse.
Organic Taste of Chicago
www.organictasteofchicago.com
Hot dogs lead off here, but Reno's only solar-powered food truck also cranks out other Windy City–inspired items like hot pastrami and Swiss on rye, drippy roast beef sandwiches and gyros, plus daily specials. Look for the Organic Taste of Chicago restaurant opening two blocks from Greater Nevada Field.
Kenji's
www.kenjisfoodtruck.com
One of Reno's longest-running mobile operations specializes in Hawaiian barbecued chicken and beef, along with smoked kalua pork and grilled tofu with sweet chili sauce, served in tacos or on a plate with rice and macaroni salad. Enjoy fried udon noodles, too.
BoDawgs
Usually parked around the University of Nevada, Reno, campus, char-broiled quarter-pound beef and Polish hot dogs here are tucked into custom-baked rolls from Reno's Fifth Street Bakehouse. The secret's in the sauce, though—the Bodacious brings a sweet, mild Hawaiian flavor while the Heat offers a honey chipotle mustard kick.
Lazy Sundae
www.facebook.com/LazySundaeTruck
If it's something sweet you seek, follow the polka dots for gourmet ice cream sandwiches made to order on freshly baked cookies, sundaes, banana splits, root beer floats and shaved ice, along with pies and fudge.
IceCycle Creamery
www.icecyclecreamery.com
Earl Grey, maple bacon, mango-chile-lime and blue cheese balsamic swirl are but a few flavors scooped by the folks pedaling this human-powered ice cream cart. If you can't catch the bike, they are also now dishing out their cool treats at a Lakeside Drive store location.
Find the Trucks
You can track most trucks' whereabouts online. Many of these mobile eateries regularly park around downtown Reno, especially along the Truckee River. Come warmer weather, among other gatherings, find the wagons circling in Truckee's Old Town for Truckee Thursdays and in Reno at McKinley Arts & Culture Center Wednesday nights and at Idlewild Park for Food Truck Fridays.