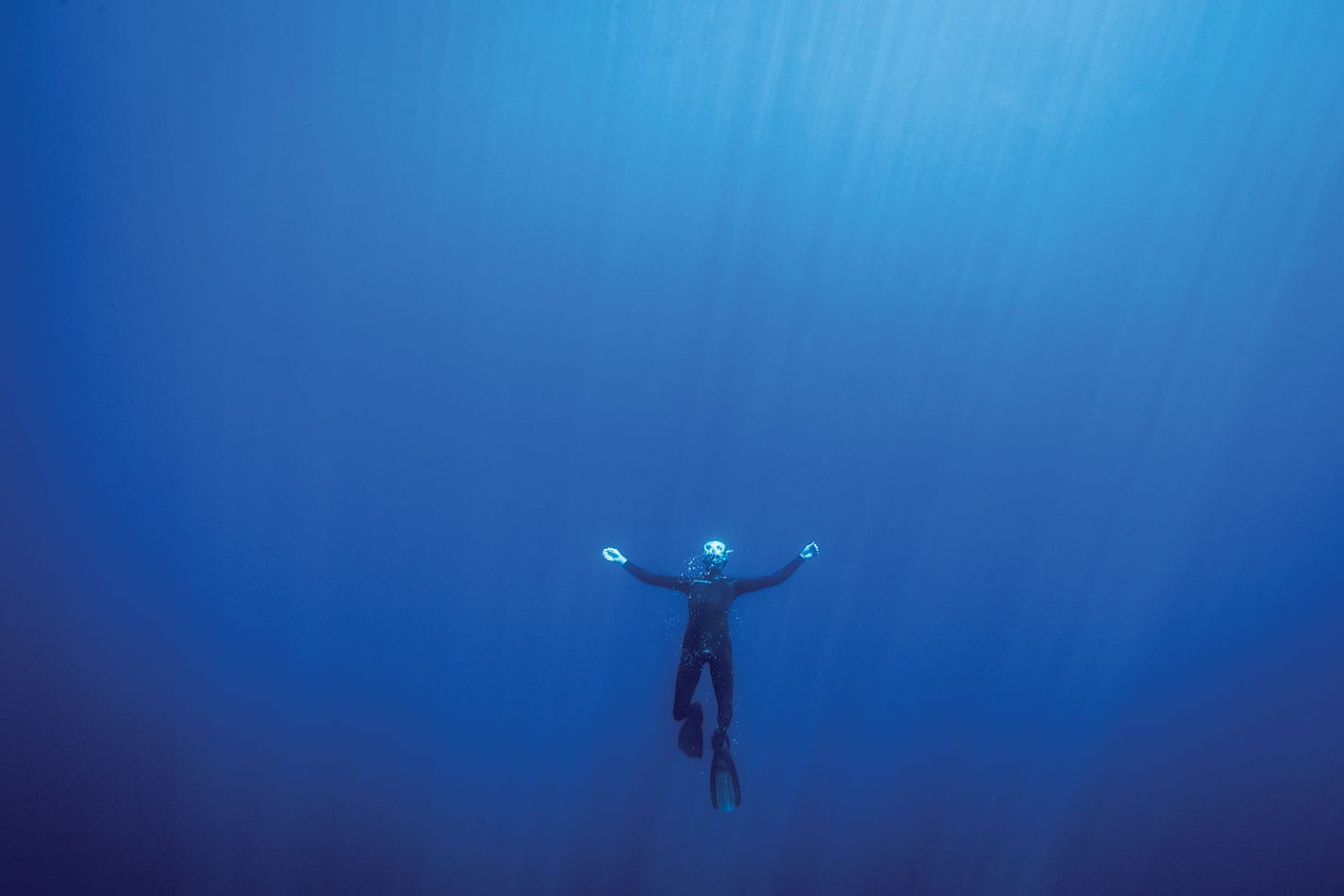 Exploring the blue depths off Rubicon Point near D.L. Bliss State Park, photo by Dylan Silver
28 Apr

Exploring Big Blue from Below
A guide to snorkeling in Lake Tahoe
With more than 70 miles of shoreline and spectacularly clear water, Lake Tahoe is excellent for underwater exploring. Though The Lake isn't rich with life, there's still a lot to see. Of course, the vast majority of people will never have the opportunity, or technology, to eye the 1,600-foot depths of our nation's second deepest lake. But that shouldn't stop curious swimmers from donning a mask and snorkel and seeing what they can find.
"There's so much cool stuff to explore and it gives you an amazing perspective," says Kyle Schwartz, who founded the Lake Tahoe Snorkel Club in 2016. "There are granite arches and caves to swim through. It's just a great way to relax, too."
In addition to the classic Tahoe granite formations that dot many of the sandy coves, there are other unique underwater features. Tahoe is home to sunken forests, the skeletons of old ships and some interesting, if shy, species of fish. There's also the debris of 200 years of civilization preserved under the surface.

Snorkeler Pat Lohse checks out a sunken log near Lake Tahoe's South Shore, photo by Dylan Silver
But it's not quite as easy as tossing on a snorkel and dipping below the surface. First, you've got to decide where to go. Then, there's the water temperature. Tahoe peaks at around 70 degrees in the summer, hardly a tropical affair.
"It's a little colder, too cold for a lot of people unless you're wearing a wetsuit," says Amy Hagen, co-owner of Reno's Adventure Scuba, where snorkelers often shop for gear. "You really need a wetsuit."
The following are a few suggestions for exploring around Tahoe's shallows.
When to go
Diehard snorkelers swim in The Lake year-round. But for the nine months that aren't summer, it's an equipment-intensive endeavor. A thick 7-9mm dive wetsuit, booties, gloves and hood—or a full drysuit—are required. June through September are the prime snorkeling months. In June, snorkelers will still feel the chill of the winter's snowmelt. By July, warm air temperatures can counter 65-degree water, but not for long. If you're diving in without a wetsuit, expect to do a lot of lizarding on the shoreline rocks. Swimming to get the blood flowing will also help keep the body warm. August and September are when The Lake's surface water temperatures peak, usually around 70 degrees. Generally, clarity also starts to increase after spring's low points.

Abandoned crawdad traps are a frequent find for Tahoe's snorkelers, photo by Dylan Silver
What To Bring
To go snorkeling, obviously you'll need a mask and snorkel. Fins are recommended, especially to dive into the deeper or longer caves. A wetsuit is an asset. For summer, a 4/3mm surf suit should be plenty. As the water warms, a spring suit or short-arm wetsuit will likely work. Snorkeling Tahoe without a wetsuit is feasible, but expect shorter sessions.
An underwater flashlight is a fun accessory. The dark holes of the rocky shoreline are many and filled with all kinds of strange treasures—sunglasses, cans, crawdads and more. Lastly, if you're wearing a wetsuit, experienced snorkelers might consider a weight belt. Weights can balance the buoyancy of the neoprene and allow dives with less effort.

An underwater flashlight can illuminate some of the shoreline's many cracks and crevices, photo by Dylan Silver
Where To Dive In
Sand Harbor
The popular East Shore beach is a favorite among tube-breathers and scuba divers. The Diver's Cove area just south of the boat launch is especially interesting. Scuba outfits use the cove for lessons and can often be seen bubbling away on the bottom. They rarely venture into the rocky mazes on either side.
"You've got rocks on both sides, so it's kind of fun," says Hagen.
The deep channels and huge boulders can make it feel like snorkeling in a slot canyon. There are numerous caves and holes to explore. The remains of a small barge lie in about 20 feet of water some 100 yards outside the cove. For a while, an underwater measuring system where snorkelers and divers could record the clarity they saw was arranged on the bottom. Also, the fact that boats are forbidden in the area is a huge plus.
Emerald Bay State Park
The water in Emerald Bay is an entirely different color than the deep cobalt of the main body of Lake Tahoe. The greenish hues hide a lot of secrets, though. Much of the area has been designated as an underwater state park, one of 15 in California. The designation protects some of the historical artifacts submerged along the shoreline.
Perhaps most intriguing to snorkelers are the sunken barges on the south side of the bay. The huge hulking skeletons lie diagonal to the shore in 10 to 15 feet of water. The wrecks attract fish and crawdads. For a daring experience, swim down into the ribs of the barge and take a look beneath the crumbling deck. Watch out for boats when snorkeling in this area.
Another Emerald Bay attraction is the sunken forest in the southwest corner. The result of a decades-old landslide, the trunks of enormous pine trees stand upright. Swimming among them is decidedly creepy, though schools of Kokanee salmon and large trout don't seem to mind.

Emerald Bay is home to a sunken forest where submerged pine trees stand on end, photo by Dylan Silver
D.L. Bliss State Park
To truly experience the depths of Lake Tahoe, head to the West Shore. The underwater drop-offs of D.L. Bliss plunge into a blue abyss. All rhyming aside, swimming over the edge of the watery cliffs is enough to induce vertigo. The steep shore creates a very cool vertical wall to explore.
Schools of Lahontan redside minnows traverse the rocks, and big mackinaw, brown and rainbow trout often come up from the deep to feed on their numbers. If you're looking for treasure, a quick sweep under the popular jumping spot Rooster Rock might yield a score or two.
For beginner snorkelers, the shallows just north of Rubicon Point don't offer a ton to see, but the area is protected and a few small caves are hidden among the rocks. It also features some of The Lake's most spectacular teal colors—a fantastic reason to submerge and take in Tahoe's underwater beauty.
---
Dylan Silver is a South Lake Tahoe–based writer and photographer. Find more of his work at www.dylansilver.com.