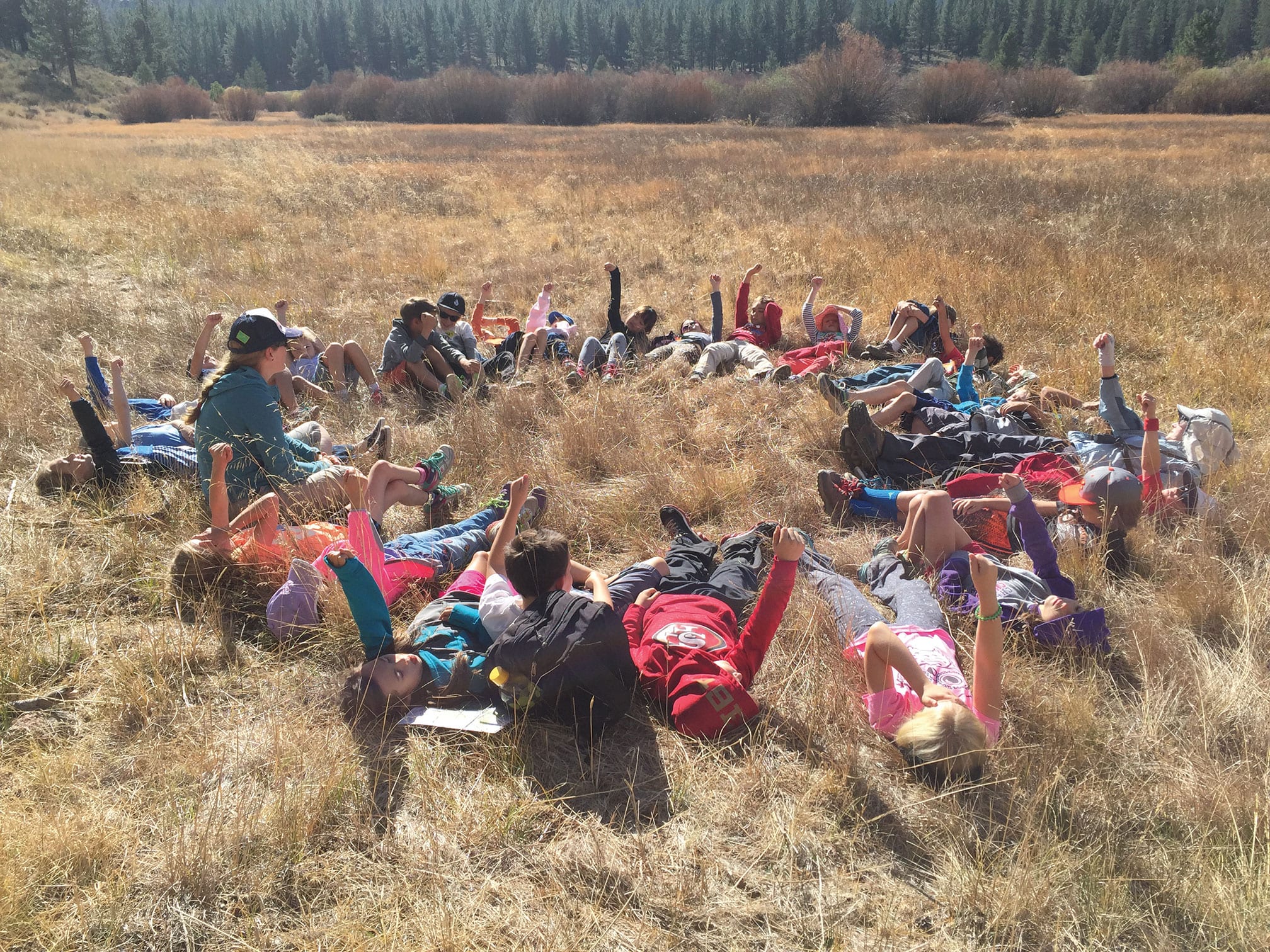 LTS elementary science students enjoy a moment of collective reflection in the meadows near Spooner Lake on one of their many adventure learning trips
Fostering a Close-Knit Community 
When students walk into Lake Tahoe School, they are greeted with a firm handshake by Head of School Ruth Glass—unless, of course, it's Thumbs Up Thursday or High Fives Friday. A private institution nestled in a forested section of Incline Village, Lake Tahoe School (LTS) believes that students learn best by doing and emphasizes adventure learning and an innovative curriculum.
Today, the school teaches children from pre-kindergarten to eighth grade, though when it began in 1997 as Incline Academy, it hosted only pre-kindergarten through first-grade students at Incline's Foursquare Church. The vision was to create an academically driven program that also nurtured and developed children's creativity. Fourth-grade teacher Amory Bundy remembers the unique drive and focus of those early years.
"I started here fresh out of college," says Bundy. "We had no program at that time. We were just putting pieces together, and it was so exciting to work with people who wanted to help children and didn't let their own egos get involved."
Driven by successful fundraising and recruitment efforts by founders Laurie Krueger and Jean McFadden, the school—which was rechristened as Lake Tahoe School in 2002—added grade levels yearly and in 2003 moved to a new three-story, 24-classroom building nearby.
Enrollment—currently around 150, with an average ratio of six students to one teacher —is expected to rise gradually as LTS plans for a campus renovation and new events center.
"Independent schools at their very best are communities, because we are small, intentionally small," says Peyton Jobe, the school's director of admissions.
The educational background and expertise of teachers is incredibly valuable, but the school seeks out teachers with the ability to interact and encourage students' individuality.
"Above all else, particularly at this delicate age when students are going through a lot of insecurities and developing their identities, we're really looking for teachers who are able to connect with students and who are passionate about reaching each individual student," Jobe says. "That's what our parent population expects of us and what we expect of ourselves, to instill that lifelong love of learning that comes from that strong bond between teacher and student."

Celebrating its third year this spring, the annual LTS Great Go Kart Race has become one of the most highly anticipated Lake Tahoe School community events
Dani Dayton heads the LTS Parent Association (PA), which is the driving force behind speaker series, assemblies, and school and community-wide events like Incline's annual Halloween tradition—the Trail of Treats. Parents take a front seat in their children's education, and are required to help in classrooms, assist the PA or volunteer time on campus or at school events.
Dayton moved to Incline Village three years ago from Las Vegas, where her children attended a school that offered a wide array of educational opportunities and programs.
"It was a very close-knit community, a safe community. I said I would not move up here until I could find a school like that," Dayton says.
Dayton and her family visited LTS for a tour and were immediately impressed. School administrators shook her children's hands and "treated them like little adults," she says. The visit convinced Dayton to make the move to Tahoe.
"I can't say enough," Dayton says. "It really is a safe learning environment for the kids. They like to learn. They literally love to go to school."
LTS values a project-based curriculum, incorporating collaboration, communication and critical thinking in students' daily interactions as they solve problems. Jobe says this creative learning process is part of what sets LTS apart from other schools around The Lake.
"There's just a lot of negotiation that happens between the kids that really helps them be productive workers and critical thinkers in a twenty-first-century world," says Jobe.
As one example of critical thinking skills, LTS students from fourth to seventh grade are expected to create a science project for the annual science fair. Many students have gone on to win awards at the Western Nevada Regional Science and Engineering Fair. 
"We've had great success year in and year out because of our strong elementary science and middle school science and placing our students among the award winners," Jobe says.
The school also boasts a makerspace, a collaborative workspace that is similar to a community center with tools. Students can let loose their creativity and invent under the supervision of instructor Russ Bradford.
Bradford jokingly tells students to respect "his" inventions, particularly gravity and the square. 
"I also pointed out that when students were working with heavy pieces of wood such as the 4-by-4s they used as axels for their go-karts, they'd have to exercise care, lest my other inventions kick in and cause the heavy wood to drop several feet and crush their toes," says Bradford. "Such lessons tend to stick and make learning more fun."
The makerspace can also be thought of as a throwback to the more traditional "shop" classes of earlier decades; with public school districts, broad federal funding cuts and an emphasis on English and math literacy have placed most technical classes on the back burner.


Lake Tahoe School students enjoy hands-on learning opportunities in the school's makerspace. Here, students make "radioactive cupcakes," where they imagine that the ingredients are radioactive and they needed improvised tools to maintain a safe working distance.
Former student Hannah Laurie graduated from LTS in 2012 and is currently attending Pepperdine University. Laurie remembers her time at the school fondly.
"It never feels like you're coming to school," she says. "I was always really excited to go to school, and I think that's probably one of the best things."
Some of Laurie's favorite memories came from school camping trips, where she learned what to do in tricky situations.
"If you were out in the woods and something goes wrong, I felt like I had a good background for knowing at least what to do if that happened," Laurie says.
This emphasis on adventure learning is vital to the LTS curriculum. Students learn hands-on outdoor leadership skills, from shelter building to avalanche awareness. They also get to participate in excursions farther afield, such as the three-day camping trip to Coloma, California, that allows fourth-grade students to enjoy a nineteenth-century Gold Rush experience while teaching them about some of the challenges that arise when living away from home.
"They actually really love to go back in history, and for many of our students they remember it forever," says Bundy, who leads students on the Coloma trip every year.
Bundy enjoys having the freedom to bring real-life experiences like this into the classroom environment.
"I love that what I get to do is new every year; I'm not bound by a set curriculum, and I think that's what's really different from other schools… that's what makes it so incredible."
---
Meghan Herbst is an Incline Village–based writer and editor.