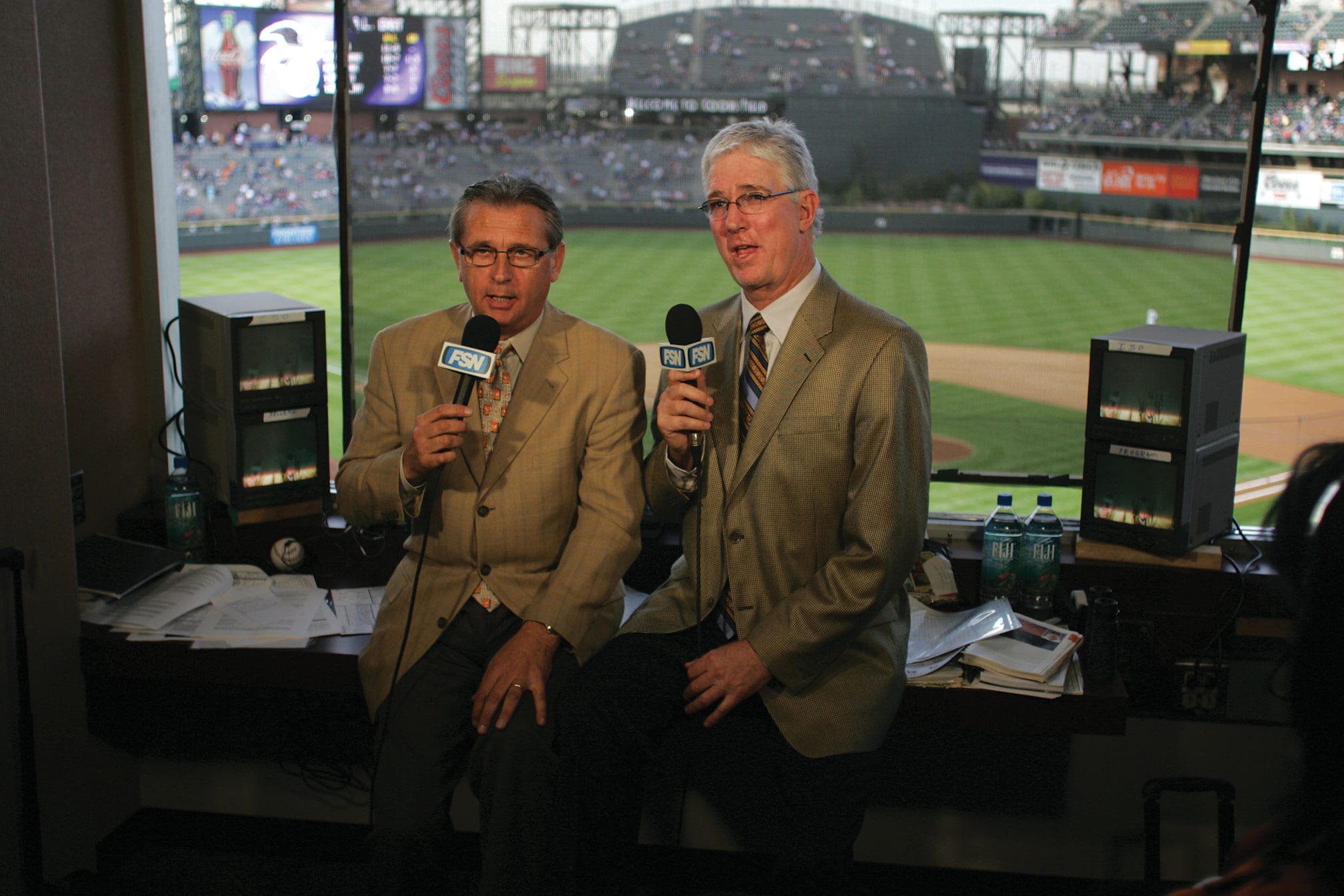 San Francisco Giants broadcasters Mike Krukow, right, and Duane Kuiper—known by fans as Kruk and Kuip—are former teammates with the Giants and best friends, photo courtesy S.F. Giants, photo by Andy Kuno
28 Apr

Living in the Moment
Beloved San Francisco Giants broadcaster relishing life in spite of debilitating disease
"We love it here," says Mike Krukow, his unmistakable broadcaster's voice forming clouds of fog over his frozen backyard.
Krukow pauses as his golden retriever, Bella, beckons for a game of fetch.
The longtime San Francisco Giants broadcaster flashes a tennis ball in his right hand, methodically lacing his long fingers around the fuzzy "Penn" embroidery as only a former pitcher would. Bella readies into a spry crouch.
Cocking his wrist back a hair, Krukow flings the yellow-green sphere—his off-speed stuff—as Bella gives chase, crunching through the ice-crusted snow.
It's a Thursday in late February and the 65-year-old, sporting a winter beard, is savoring another quiet afternoon in the Biggest Little City, where he and his wife of 42 years, Jennifer, have lived for nearly three years.
"There's only one thing bad about Reno," says Krukow, holding his gaze on the snow-clad mountains. "We didn't come here five years ago."
It was the summer of 2014 when the Krukows uprooted from San Luis Obispo, California, their home of 26 years, and planted in Northern Nevada—trading the ocean for mountains.
"We didn't think we'd ever leave San Luis Obispo," Krukow says. "We were dug in there. We knew everybody. We really liked our home."
But that couldn't compete with their reason for moving to Reno: "Grandchildren," Krukow says with a smile, referring to his 6-year-old grandson, Coen, and 4-year-old granddaughter, Reagan. "We weren't seeing them enough. So when the grandchildren were here it was an easy decision to pull the stakes and head out… we're a big part of their lives now."
Truth is, Krukow, more than ever, is focused on living in the moment—spending time with his family, playing his array of instruments and, of course, embracing his role as the beloved color commentator for the San Francisco Giants.
After all, Krukow is in the midst of a fight that reminds him daily of how precious time is.
'I Couldn't Explain It'
About 12 years ago, Krukow noticed that his drive was lacking its usual punch off the tee. Sure, not every day on the links is one for the books, Krukow knew, but if there was one thing he could count on, it was his big drive.
"I always hit the ball long, but then it was a struggle to hit the ball 250 yards," he says. "And then it started going down from there."
Eventually, Krukow started seeing his lack of strength show up in his everyday life—persistent atrophy in his arms and legs, no matter what he did that day.
"I couldn't explain it," he says.
Then again, Krukow pitched 14 seasons in the major leagues, and ballplayers have injuries that resurface, nag and linger, he thought. So he ignored it—for years.
But when his strength receded to the point that he was unable to spend his downtime on his feet, Krukow finally conceded that he needed to see a doctor, fearing he might have amyotrophic lateral sclerosis (ALS), also known as Lou Gehrig's disease.

A former pitcher, Mike Krukow can often be seen with a baseball in hand as he announces Giants games, photo courtesy S.F. Giants, photo by Andy Kuno




The Diagnosis
It was 2011 when Krukow went in to see neuromuscular specialist Dr. Jonathan Katz at the ALS Center in San Francisco.
As he sat and surveyed the waiting room, he couldn't help but picture himself in the same grim position as those around him—patients, some terminal, with varying stages of ALS and multiple sclerosis (MS).
"There were 10 guys there. Half of them had ALS and half of them had MS, and they were banged up," Krukow says. "And I'm looking at these guys thinking… 'That's going to be me.'"
Minutes later, however, Krukow's worst fears were put to rest. "Dr. Katz sat there and he looked at me and said, 'It's not life-threatening.'"
The former all-star and 20-game winner was diagnosed with a rare inflammatory muscle disease called inclusion-body myositis (IBM). Specifically, IBM causes progressive weakness of the muscles of the front thighs, wrists and fingers.
"You go to get diagnosed and you live in fear of ALS or MS. And then you find out about a new disease you've never heard of," Krukow says.
In fact, studies show that fewer than 200,000 Americans have IBM. The majority of those affected are over the age of 50. There is no cure.
And yet, despite being told he has a rare muscle disease that can't be treated, Krukow sauntered out of Dr. Katz's office with a proverbial hop in his step.
"I walk out of there and I was thinking I was the luckiest guy in the world because my disease was not as severe as what it could have been—what I thought it was going to be," Krukow says.

Giants broadcasters Mike Krukow, left, and Duane Kuiper on the field before a game, photo courtesy S.F. Giants, photos by Andy Kuno
Standing Tall
Feeling like he was handed a new lease on life, Krukow was determined to not let his diagnosis drag him down—to "live in the moment; get after it," he says.
The thought of stepping away from the broadcast booth at AT&T Park and ballparks across the country never crossed his mind. His strikeout-punctuating catchphrase—"grab some pine, meat"—would continue to delight Giants fans.
Indeed, post-diagnosis, Krukow hasn't missed a beat in the booth. And his colleagues are awe-inspired by their charismatic friend.
"The funny thing is when you see him at the ballpark and doing the job, you would not know from his demeanor that there's anything wrong at all," says Jon Miller, a Hall of Fame broadcaster for the Giants. "He's totally upbeat. There's no feeling sorry for himself; that's the amazing thing. He's an inspiration to me and all of us around him because of how upbeat he is even with the incredible challenge that he's been presented with that most of us don't have to face.
"All the things that he has to be unhappy about, he's just not going to have any of it. He continues to express this joyful aspect of relishing every day and living life to the fullest."
It's in Krukow's nature to view life through a prism of positivity. Even as he sits still, the Giants legend emits an enthusiastic energy, his voice filling every room in which he holds court, seemingly always on the verge of cracking wise or unspooling a gut-busting story.
However, Krukow still leans on family and close friends for support. He points to a particular conversation that strengthened his optimistic stance.
It was an impromptu pep talk from former Los Angeles Dodgers manager Tommy Lasorda, who visited Krukow shortly after he was diagnosed with IBM.
"So Tommy comes in in his gruff way and he goes, 'Don't you feel sorry for yourself. Don't you feel sorry for yourself! Just remember: Seventy-five percent of the people don't give a shit, and the other 25 percent are glad it's happening to you!'" Krukow says. "So I looked him and I said, 'Well, uh, what group are you in there, Tom?' And he started laughing.
"But, it was a great advice."
 
Mike Krukow addresses the crowd at the Giants' 2012 World Series parade, photo courtesy S.F. Giants, photos by Andy Kuno



Making Life Concessions
Nevertheless, the reality that a disease is sapping Krukow of his strength and there is nothing he can do to stop it is a bitter pill to swallow.
"I think that it's frustrating for an athlete to lose their body," says Krukow, punctuating his thought, as he often does, with a thump of his cane to the floor. "Because you take for granted as you go through life the things that you can do easily. After my career as a baseball player, I just transitioned right into golf, which I played a lot, then snowboarding, which I had never done—we got up on the hill, and it was just the coolest thing."
That has all ground to a halt. Gone are​ the long days on the links and ​the mornings carving slopes at North Tahoe resorts, as well as the slew of outdoor activities that Krukow—who is always up for something new—never got a chance to tackle.
"I can't walk in the sand with my wife," Krukow says. "She takes a beach walk, she's on her own… We had other aspirations to do these long treks and bike rides, things that were physical.
"And then when I had to deal with this," he adds with a cane thump, "then all of a sudden you start scratching them—the aspirations—off the list. So, there are life concessions that you make all the time. But, it's what you deal with when you deal with disease, and there's a lot of people that deal with it."
Now, Krukow says, the "nuts and bolts of the daily grind" are everyday hurdles to clear. Getting up off the couch, putting on shoes, getting out of the car, things once done subconsciously, now take extra energy and focus to perform.
"You live in fear of falling with this disease I have," says Krukow, adding that his biggest fear is falling down in the middle of Dodger Stadium's parking lot, "where there's nothing."
"So you're always looking for your escape route," he continues. "If I go down here, what can I get up with? You can't just stand up; you've got to have something you can use to pull yourself up off the ground. You kind of have to calculate each step and each movement. It slows you down.
"You're going to be on a cane, then you're going to be on a walker, then you're going to be in a [wheelchair]. That's kind of what happens with this thing."

Krukow is a talented musician. Here, he plays a Recording King resonator guitar in his Reno home, photo by Kaleb M. Roedel



Getting Lost in Music
Krukow steps out of his home elevator and points to the artwork hanging inside of it—a colorful painting with reds, blues and greens swirled on construction paper. The collaborative creation by his grandchildren may be the most treasured piece of art in his expansive house.
"My granddaughter said, 'Oh, Grandpa, I like it there.' And my grandson said, 'It's upside down, Grandpa!'" Krukow laughs at the memory.
Krukow's basement is filled with an array of memorabilia—an orange seat from the Giants' old stadium, Candlestick Park, sitting across a wall lined with pictures of him as a player, broadcaster and everything in-between; a Giants-themed dartboard made by an adoring fan; a bar sign with the words "Grab Some Pine Meat!" gifted to him by his daughter-in-law.
And then there's Krukow's expansive collection of instruments: acoustic guitars, electric guitars, banjos, mandolins, ukeleles, a ruan (a Chinese string instrument), an assortment of hand drums, a grand piano.
"We've always got an instrument going, always," says Krukow, a skilled musician with a penchant for the blues. "Music is a big part of us. We sing a lot. My wife is a music major; she plays the piano, guitar, mandolin—she plays it all."
On many nights, the couple invites friends and family over for jam sessions and sing-a-longs, echoing deep cuts of Krukow's beloved Rolling Stones, among others, in their living-turned-music room.
When he's on the road with the Giants, Krukow is sure to have a mandolin or ukulele in tow, keeping his plucking and strumming sharp as he crisscrosses the country with his best friend and former teammate, Duane Kuiper, who has play-called ballgames with Krukow for 27 years. Together, they're known simply as Kruk and Kuip.


Krukow talks with Giants pitcher Matt Cain, photo courtesy S.F. Giants, photo by Andy Kuno



Settling into Reno–Tahoe
While music is undoubtedly Krukow's primary passion outside of baseball, he's grown to take on new hobbies with Jennifer since they dropped anchor in the Reno–Tahoe area.
Krukow's developed a fondness for cooking, frequenting the Butcher Boy Meat Market and Morgan's Lobster Shack & Fish Market in Reno. He's also dipped his toes into painting—while drinking wine—at local spots like Picasso & Wine and Pinot's Palette.
Critiquing his paintings, Krukow quips: "I've worked myself all the way up from horseshit to horrible, so I'm on an upward trend here."
Some days, he and Jennifer simply get in the car and take a drive, roving over the striking scenery Northern Nevada and California offer.
"We'll go up to Graeagle or we'll head down to Galena or Carson City," Krukow says. "It's so pretty; we love it. And we'll usually go into one of the local bars to just kind of feel the flavor."
 
Krukow plays a guitar at his Reno home, photo by Kaleb M. Roedel



Change of Pace
From the time he was drafted by the Chicago Cubs in 1973 to when he ended his career with San Francisco in 1987 to when he started broadcasting for the Giants in 1990, baseball has always been synonymous with summer for Krukow. This summer, however, will be a slight change of pace for the Giants broadcaster.
Krukow is trimming his TV schedule from 162 games to 120 for the 2017 season. It will be the first time Krukow hasn't called a complete season since he took over as a full-time color commentator in 1994. Simply put, he can't argue with what his body's telling him.
"At the end of last season, I was tired," says Krukow. "So I just have to be honest with the situation."
With his reduced schedule, Krukow will get to experience a fresh breath of downtime in Reno–Tahoe with his family this summer.
He and Jennifer have five adult children—Weston, Chase, Baker, Jarek and Tessa. The latter three graduated from the University of Nevada, Reno, and Baker was an all-conference catcher for the Wolf Pack baseball team.
"I'm really excited about the summertime," Krukow says. "My wife knows all about Tahoe in the summer; she fishes, hikes, my kids raft… all the stuff you do up at Tahoe. But I've never done any of that. Can't wait."
Krukow says he's especially eager to kick back and cast a line in Pyramid Lake.
"I want to fish," he says, cane-thumping an exclamation point. "It's too damn cold to fish here in the wintertime. I just want to go fish for trout, and see more of Tahoe in the summertime."
Perhaps most of all, though, Krukow will cherish the extra time spent with his grandkids. He can hardly wait for the next babysitting session with his granddaughter.
"She shows up at 7:30 a.m. and it's 'let the games begin.' She's awesome," Krukow beams. "So tomorrow's a big day."
---
Kaleb M. Roedel is a Reno-based writer and baseball fan.