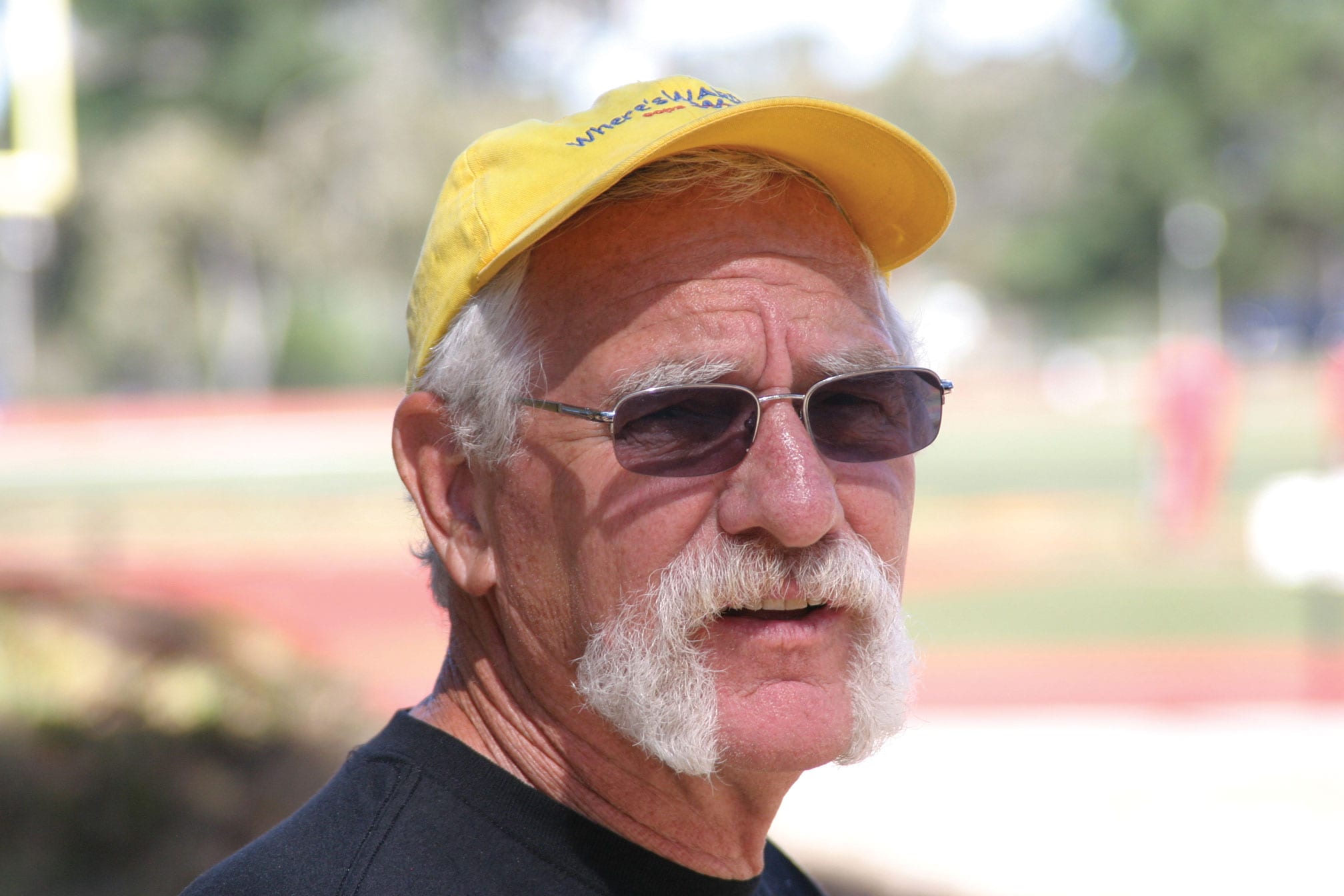 Coach Mills sporting a handlebar mustache, which he allows his cross-country teams to shave off if they win a state championship, photo courtesy NTCC
28 Apr

Mentor of Success
Longtime North Tahoe cross-country coach fosters champions on the trail and in life
Sometimes a coach can teach an athlete not only how to be victorious in sport, but also how to succeed in life. For hundreds of North Tahoe High School students over the last 44 years, Warren Mills has done just that as head coach of the cross-country running team.
"I saw people transform from timid or rowdy freshmen to confident but steady seniors because of Coach Mills," says 2016 North Tahoe grad and current Boston University student Kaya Williams.
Years ago, before his now-adult son was born, Tahoe author and historian David Antonucci observed the same positive coaching influence while volunteering for North Tahoe's long-running annual cross-country meet.
"He is able to reach kids in ways we as parents cannot," says Antonucci, whose son Dominic ran all four years of high school for Mills. "Running is the metaphor and vehicle for the life skills he teaches them. I call it the 'Warren Mills Experience,' because it is a comprehensive approach to athletics, academics and life.
"I have seen him save kids with stressful family situations from sinking into a life of mediocrity and motivate them to reach for the stars. I tell parents of incoming freshmen to do everything they can to get their kid into his program."
Coach Mills talks to his team after a meet, photo by Patrick Flora
Legend in the Making
Mills began his long tenure at North Tahoe when the school first opened in 1974. Then a member of the California Interscholastic Federation (CIF)—before North Tahoe joined the Nevada Interscholastic Activities Association (NIAA) in 1981—Mills led the inaugural cross-country team to the school's first-ever league title.
"That kind of got the ball rolling," says Mills, who recruited students from his architecture class to assemble North Tahoe's first cross-country team.
It was just his fourth year as a teacher and cross-country coach, after two years at Bellarmine-Jefferson High in Burbank, California—just north of where Mills ran cross-country in high school—and one at Truckee High. When he arrived at North Tahoe, at age 25, Mills was overjoyed that the campus was surrounded by what he calls "the greatest cross-country running terrain in the world." North Tahoe's backyard is the winter home of Tahoe Cross Country Ski Area, and a summer paradise with miles of trails winding in and out of forests and meadows.
When Mills retired from teaching in 2010 (he taught a variety of subjects over the years, from industrial arts to drafting to history), he was the last remaining teacher from the school's opening day. But he hasn't given up his reins as coach of the North Tahoe Lakers cross-country team.
After coaching an average of 25 kids a year for over four decades, and leading his running teams to an astounding 30 combined state titles, Mills says being a coach is who he is.
"It is my love and passion. It is not work for me," says Mills, who credits his wife Teresa for supporting his intense devotion to cross-country, which earned him the nickname "Madman Mills."
"Everything I do she supports. She knew nothing about cross-country or track, but obviously she married into it," he says. "And now she runs all the time."
Work Ethic for Life
Mills, who also was the Lakers' head track and field coach from 1974 to 2009, likes to talk about the kids more than himself. He remembers all of them, especially the underdogs, whom he focused on developing into the best they could be based on their personalities and skill sets.
He recalls Jose "Pepe" Ramirez. "School was hard for him," Mills says. "English was his second language. He was a thick guy who didn't look like a runner, but he came out for cross-country and he would go out front and die out front before losing."
For Mills, Ramirez exemplified what he sees is key to making a winning cross-country runner. It is not who is the fastest, but who is the toughest. Ramirez was as tough they come, Mills says, and he left North Tahoe with two individual state titles to show for his efforts.
"The guy who wins is the last guy who quits," says Mills. "Our motto is we are going to work harder on the toughest part of the course. Develop the mental toughness to get up that hill. We are working hard, because the ones who work harder are the ones who succeed."
The same characteristics Mills instills in his runners to achieve athletic success also work well in life. Especially in a sport like cross-country, which is a grind for the best of them, Mills teaches student-athletes that the results of their hard work pay off—and success is earned.
"If it's easy, it's probably not worth doing. The life lessons are unintentional, but they come from what we do every day," says Mills, who also passed that work ethic on to his five grown children, each of whom ran on state champion North Tahoe teams.
And for Mills, while in many ways cross-country is a solitary sport, it has always been about running together and supporting the team. In fact, at age 68, he still runs with his team at practice.
"Well, I try the best I can. It's more like I run behind them," he concedes. "The rule is, there are two things that have to happen at the end of practice: The varsity is supposed to turn around and retrace their path to find my body, and they had better have my dog, Azul. If Azul is not there, I'm unhappy."


A large water tower behind the North Tahoe campus is emblazoned with all the years the Lakers won titles, photo courtesy NTCC
Upholding a Tradition
One advantage on Mills' side is his program's longstanding tradition of winning. His boys cross-country teams have won an NIAA-record 20 state titles, including eight straight from 1991–98 and five straight from 2012–16. His girls teams have won 10 championships, which is tied for the state record.
After decades of claiming state championships, North Tahoe runners aspire to follow in the footsteps of the Laker legends before them. Those who ski along the Green Trail at Tahoe Cross Country glide past a large black water tank not far from the North Tahoe campus. The tank is emblazoned with all the years the Lakers won state titles in cross-country—along with a white-mustached visage of the man behind them all. The list serves as an unspoken motivator for each new wave of runners. 
"Oh yeah, they want their number up there on the water tower," says Mills, who has always rewarded each of his state champion teams with the coveted opportunity to shave off his handlebar mustache.
While many North Tahoe student-athletes have benefitted from Mills' tutelage, there is one runner in particular who has excelled in competition well beyond her teenage years. Rory Bosio, a 2002 North Tahoe grad, says she was "good, but wasn't great" while running cross-country and track in high school. Now, at age 32, she's an international running star after winning the prestigious 103-mile Ultra-Trail du Mont-Blanc in Chamonix, France, two consecutive years—crushing the women's record in her 2013 victory. Bosio also recorded top-five finishes three years in a row in the 100-mile Western States Endurance Run from Squaw Valley to Auburn, among many other impressive ultrarunning feats.
"I see what Rory is doing now, and my jaw just drops," Mills says.
Bosio says Mills, whom she describes as a "fantastic coach," helped her develop a lifelong love for the sport.
"He was beyond enthusiastic about running, and I credit him for introducing me to it as a way of life," says Bosio, who is sponsored by The North Face and works as an ICU nurse when not competing in ultramarathons.
"Although he of course wanted his kids to race well I never felt pressured to perform or reach a certain result. He wanted his runners to try hard while still enjoying the sport. Instead of fostering burnout, this approach led me to see running as a great outlet in life."

Maximizing Potential
Mills doesn't play favorites. Year after year, he views every new team as the best he's ever had. It is that confidence, in part, that drives young North Tahoe runners to achieve their potential.
"They don't want to let me down, and I don't want to let them down," Mills says. "It's a relationship that I can't explain to people."
Mills remains in contact with many of his former athletes and students, who still adhere to his lessons years after their high school glory days. He talks fondly about the adults they've become. One of them is now an FBI agent (Mills was in his wedding), another is a cross-country coach at Nevada Union High School. Ramirez works construction in Carson City, while Williams entered Boston University this past fall after graduating summa cum laude.
"He [Mills] is a mentor of students, always demonstrating the right thing to do," Williams says. "He taught us to always be respectful of our peers, and to lead a life focused on excellence… but we still had a lot of fun." 
Asked if he plans to retire from coaching any time soon, Mills says no, "as long as I'm having fun." And he is. 
"They don't call me 'Madman Mills' for nothing. I'm totally nuts about cross-country," he says. "I just think it's the greatest sport in the world and it makes the toughest kids. Nothing is easy in it."
---
Tahoe City resident Tim Hauserman is a cross-country ski instructor and freelance writer who wrote a guidebook to the Tahoe Rim Trail and Monsters in the Woods: Backpacking with Children. He is a North Tahoe High School grad and former student of Warren Mills.
---
North Tahoe State

Championships
Boys: 1982, 1984, 1985, 1986, 1987, 1989, 1991, 1992, 1993, 1994, 1995, 1996, 1997, 1998, 2010, 2012, 2013, 2014, 2015, 2016
Girls: 1982, 1987, 1988, 1989, 1990, 1998, 2006, 2014, 2015, 2016
North Tahoe Individual State Champions
Ron Prouty (Northern Section CIF): 1974
Kerry Moretti (Northern Section CIF): 1980
Adam Wilson: 1981, 1982
Joe Tamblyn: 1983, 1984
Michelle Buss: 1985
Jeremy Mills: 1985
Tom Wood: 1986
Mike Anderson: 1987
Bianca Sonnenberg: 1988
Carrie Newman: 1990
Mike Cromwell: 1991
Tyler Spurgeon: 1996
GO Parsons: 1997, 1998
Heather Sandeman: 1998, 1999
Jose "Pepe" Ramirez: 2001, 2002
Noah McDermott: 2011, 2012
Tara Gallant: 2012
Quinn Lehmkuhl: 2013, 2014, 2016