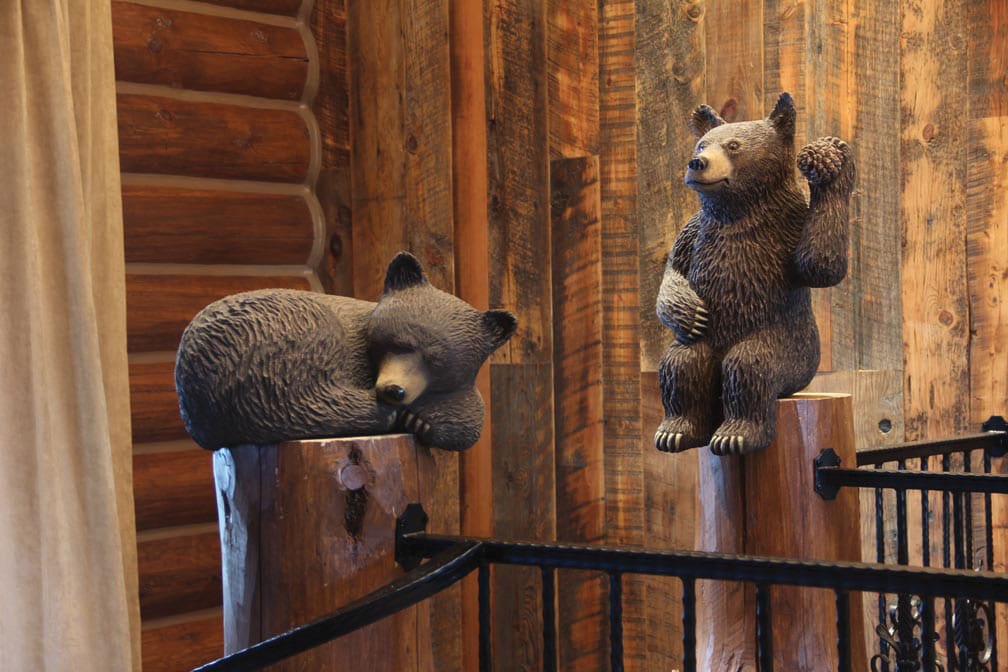 28 Apr

The Right to Bear Arts
A look at the creators of Lake Tahoe's ubiquitous carved bears
Lake Tahoe's black bears, which roam the Sierra Nevada forests (and occasionally wander through its towns), often find themselves the subject of local artwork. Artists capture these majestic animals through the broad strokes of a paintbrush, the perfectly timed click of a camera or the wax models ready to be poured with molten bronze. But perhaps the most dramatically created renderings of the bruins uses a slightly different artistic tool—a chainsaw.
While real bears prowl the woods, wooden chainsaw bears dot Tahoe's more urban landscapes. Some hold welcome signs. Others climb roofs. Still more stand guard outside houses, restaurants and businesses.
"It's a popular thing," says Stacey Fite, who works at Truckee's Mountain Comfort Furnishings & Designs. About once a month over the summer and during holidays, the parking lot at Mountain Comfort plays host to a chainsaw carver from Lake Almanor, California, and his creations.
"It definitely draws people to the store," Fite says. "People will say, 'Can you make me this?' And he'll carve it right there with his chainsaw."
Chainsaw carving isn't just a show, however. It's a carefully honed art form. And while carvers make a plethora of different types of sculptures, wooden bears remain the local bestseller, outnumbering real bears—which the West Shore–based BEAR League estimates at about 300 in the immediate Lake Tahoe–Truckee vicinity—by hundreds or even thousands.
"[Customers] are looking for a little piece of Tahoe," Fite says.
Wooden bears, from both local and out-of-the-area artists, can be found around The Lake at stores like Mountain Comfort. Here's a look at some of the carvers behind the chainsaws:
Neighborhood Bears
South Lake Tahoe–based carver John Hill runs the Bear's Den, a bear-themed gift shop that morphs into a ski and snowboard shop in winter.
Originally from Fortuna, California, Hill hails from a logging family; his grandfather was a logger and rancher, his father owned logging trucks, and, early in his own career, Hill had a timber-falling contract. He opened a store in northwest California, and discovered the most popular item was chainsaw carvings. However, when his carver didn't show up for five days in a row, Hill grabbed the man's chainsaw and decided to try it himself. He found he had a knack for carving bears and decided to move to Tahoe, where he knew there was a market for his work. In June of 1995, he began carving in Tahoe City. He then opened a store on the South Shore in 1999, and in 2008 moved to his present location on Emerald Bay Road.
While Hill carves a variety of wildlife—moose, raccoons, turtles, frogs—he says, "bears are what we sell the most of by far."


Carvings by John Hill
He typically uses either redwood or incense cedar, though he's also started using local sugar pine after being commissioned to carve a 16-foot-4-inch Viking for South Tahoe High School. "I didn't know how good of wood sugar pine is, but it's actually very good wood," Hill says, noting he gets both the sugar pine and cedar locally from South Shore's Ed Cook Tree Service.
Each carving begins with the wood itself. "You look at the piece of wood and see what will fit in that piece," he says. From there, he takes his power tools to the log. He begins with the chainsaw, but uses a variety of tools to include die grinders, side grinders and drills. Once the piece is carved, it needs to dry for at least a month, though larger pieces have taken up to a year.
"Then you do the finish work—the burning and the sanding," he says. Hill uses a torch to blacken the wood, then finishes by putting in marbles for eyes and eight coats of finish to seal the piece.
Working with power tools doesn't leave much room for error. "If you make a little mistake, you just adjust to it," Hill says. "But I've been doing this for 20 years. For the most part, you just don't make mistakes."
Hill, who also employs carvers Clifton Williams and Jennifer Young in his shop, says that at the peak of his business, in the late 1990s and early 2000s, he'd sell more than 5,000 carvings each year. In the earlier part of his career, he says about a third of his works stayed in Lake Tahoe ("It blows me away how many people buy a second home and run out and buy a bear," he says), while a third were purchased by visitors from California and the remaining third were bought by tourists around the nation and globe. He recalls a British woman who visited his Tahoe City store in 1996 and spent $295 on a bear and another $325 to have it shipped to England. Now, he says, more and more seem to be going out of Lake Tahoe.
Still, Hill says he can't drive down a road in Tahoe without seeing one of his bears. Once, he says, he was delivering a bear to a customer's home when he noticed another of his bears just across the street at a neighbor's house. He pointed it out to the customer, who, Hill says, responded with, "Yeah, that's why we had to buy one—and buy a bigger one."
Sculpting Wood
Gerald Toste is a woodcarver based in Pollock Pines, California, at the eastern edge of El Dorado National Forest. A South Lake Tahoe native, he graduated from the local high school and went to work at the South Shore casinos. Through the casinos, he began doing ice carvings; he then learned culinary arts at Sahara Tahoe and started working as a chef. While in the restaurant business, he'd sometimes create carvings out of tallow—a mixture of paraffin, beeswax and lard—to complement food, such as a sculpture of a mouse to sit with a wheel of cheese.
"It started out as a hobby," Toste says. "I'd do whatever I felt like—a minotaur, a Buddha."
Still, the carving skills were there. One day, he was sitting around with some old friends as they all contemplated a piece of wood. The friends, who worked as loggers, joked that he couldn't carve. In response, Toste picked up a chainsaw and turned the wood into a six-foot-tall rabbit.
In the 1980s, Toste decided to start his own carving business. "I had a lot of support from the Tahoe community," he says.
He balanced his career as a woodcarver with his winter employment as a South Shore ski patroller, which he did for 30 years. He appreciates that the mountains allowed him to focus on different careers during the different seasons. "Tahoe's a unique place," he says. "In the winter, I carve to ski snow; in the summer, I carve wood."


Carving by Gerald Toste, photo by Clayton Humphries
Known as the "Sculptor of Tahoe," Toste's specialty is in creating totems out of dead wood. Customers contact him once a tree is topped, and Toste will see what is possible to create with the remaining stump. "I'll walk around it, see how it's going to enhance your property, how it's going to draw people in," he says.
Toste prefers not to sketch out totems ahead of time, in part because once he sets up the scaffolding and gets the bark scraped from the tree, the drawing and the wood may not match up and he doesn't want to force an exact design. "If you hire me, you have to trust me," he says.
However, he does go into each project knowing what the homeowner envisions. "It's a joint effort between the homeowner and myself," he says. He enjoys adding a personal touch to each totem—for example, if a homeowner has three kids, incorporating three bear cubs into the totem. "We represent their family," he says. "That's what a totem is."
A totem can take a week or two or, if it's more complex, up to 10 weeks. If Toste isn't inspired, he doesn't work. "If I start my chainsaw and I don't see a bear, I don't carve," he says. "I have a one-time shot at this."
Though he does a variety of sculptures, Toste says bears are the easiest. "I really don't do designs for bears," he says. "I just take away what's not a bear."
For bears, he says, 95 percent of the work is done with his chainsaw. "The rest is a little bit of sanding and some smaller tools." He'll use three different sizes of chainsaws; the smallest, a 12-inch chainsaw, he uses to do the detail work, such as carve out the eyes, ears and the spaces between the claws.
A lot of his clients enjoy watching him work, seeing trees they may have watched grow become a sculpture. "That's a once-in-a-lifetime opportunity," he says.
Because Toste's totems are outdoors and exposed to the elements, they aren't meant to last forever. Toste says most sculptures will last between 20 and 60 years. "It's like a log home," he says. "The same things are going to happen. You need to treat it in the same way." He seals the wood, but still emphasizes the need to take care of it. "Most are designed where they can be cut down in sections and still be viable sculptures," he says.
Though Toste prefers doing totems, he also sells carvings through Joe Benigno's Tree Service in Gardnerville, Nevada. Toste says he couldn't begin to estimate how many carvings he's done over the span of his career, but estimates he's done at least 330 on-site carvings on Tahoe's South Shore alone. His works include seven carvings, to include mountain lions and a bobcat, at the base of Heavenly Mountain Resort's gondola, four Native American statues outside the Safeway in Kings Beach, as well as several carvings, to include wolves, an eagle and raccoons, at Barton Memorial Hospital. At one point in his career, he created a life-size bocce ball player for a winery in Napa.
When reflecting back on his 30-plus-year career, Toste says the best compliment he ever received was from a man he shared a chairlift ride with at Heavenly. "The guy on the chairlift said, 'I want to thank you,'" Toste says. The man's mother had been in terminal care at Barton Memorial while Toste was working on a sculpture, and he told Toste that she held on for an extra week because she wanted to watch him complete it.
"To me, it showed that the sculptures took people's minds off things that were going on," Toste says.
Achieving Realism
For woodcarver Ron Ramsey, a chainsaw is just one of the many tools he uses to create realistic bear sculptures.
A third-generation woodcarver, Ramsey was born in Auburn, California, and has been experimenting with carving since his grandfather gifted him with his first set of tools at age 11. After a two-year apprenticeship in Roseville, Ramsey moved to Lake Tahoe in 1973—drawn by the skiing—and founded a woodcarving studio. In 1984, he left the area to work in Switzerland and Italy for a year, followed by a stint in Vermont, where he met his wife, Karen Olsen Ramsey (who he says became a "proficient and talented carver" before launching her own jewelry studio).
Ramsey had maintained his Tahoe woodcarving connections and wanted to reestablish his studio. In 1986, the couple moved to Northern California and eventually settled in Grass Valley, which was an easy commute to the North Tahoe area.


Carving by Ron Ramsey
Ramsey's pieces are commission only. Once a client initiates contact, Ramsey begins with conceptual design sketches. He'll often create three or four options, allowing a client to either choose a favorite or pick design elements from each, before drawing a more refined sketch of the final design. On more complex projects, Ramsey may also create a model.
For exterior sculptures, such as bears, Ramsey prefers to use incense cedar for its durability. He says that a project can take anywhere from three months to a year, but that "five to eight months is normal."
He begins a sculpture by roughing out the log with both gas and electric chainsaws. "We then detail the sculpture using both rotary power carving tools in various sizes and hand woodcarving tools," Ramsey says.
His wildlife carvings are incredibly detailed, the dimensions, anatomy and expressions all carefully executed to achieve the highest possible level of realism. "We pour over as many photographs as we can find and we often create plasticine models of the project to work out scale and gestural issues," he says. 
Over the course of his career, Ramsey estimates he's completed about 100 larger sculptures, such as bears, humans, eagles and other wildlife, about 90 percent of which was done around the Lake Tahoe area. His portfolio also includes a vast array of intricate mantles, award-winning doors and miscellaneous carvings, as well as about 5,000 carved wooden signs. "Back in the 1970s and '80s, my signs were on dozens of businesses throughout the Tahoe area," he says. He says some signs—such as those for Truckee's Squeeze In and Tahoe City's Hacienda Del Lago—still exist.
Ramsey recently retired from woodcarving, but he's passed along his business to his protégé, Gavin Clark. "Gavin has been training with me for three-and-a-half years and has reached a level of proficiency that rivals where I am after 45 years," Ramsey says. "I believe he will far surpass me as time goes on. He is worthy and capable of designing and carving any project that comes his way."
As for Ramsey, he's grateful that he'll now have time to work on his own personal projects. "It has been a great career," he says.
In the meantime, Ramsey's bears, like those of Hill, Toste and the other chainsaw carvers who have left their mark on the Tahoe area and beyond, serve not only to represent their local ursine counterparts, but also as a symbol of the Lake Tahoe area itself, and its wondrous wildlife and whimsical beauty.
---
Alison Bender is a Reno-based writer and editor who prefers encountering Tahoe's chainsaw bears more than the real ones.