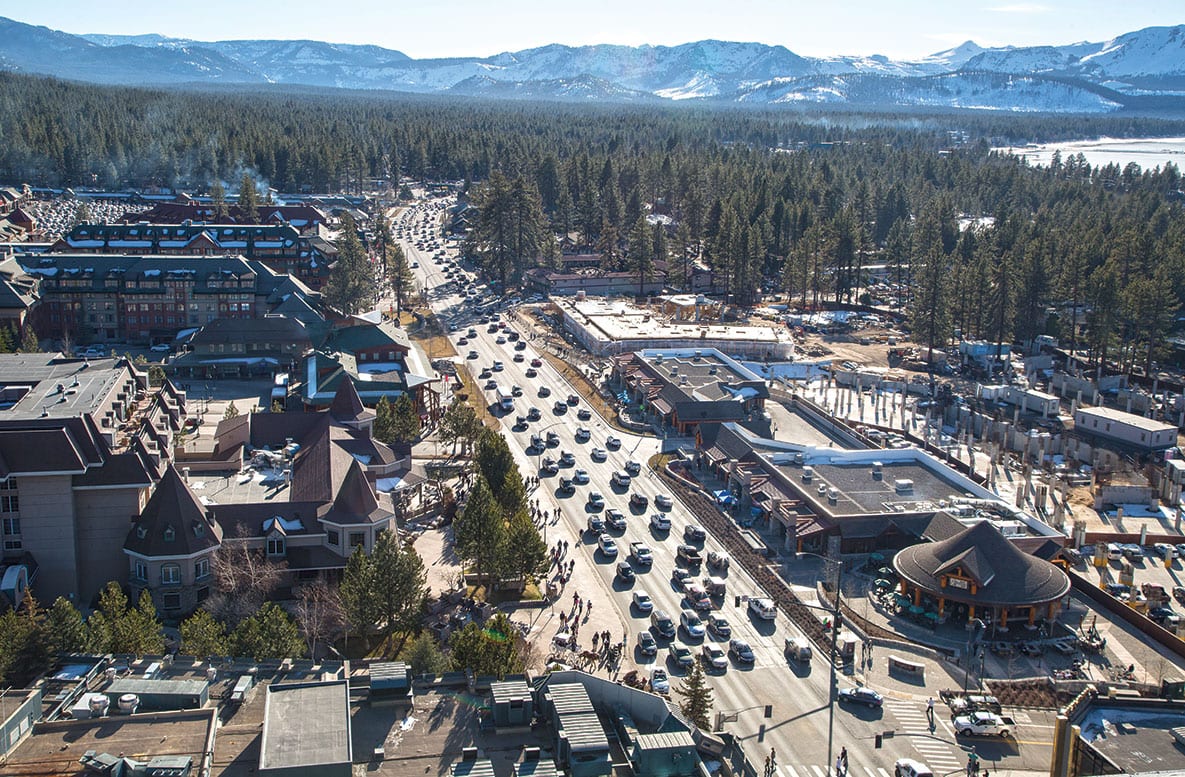 South Lake Tahoe congestion, photo by David Braun
26 Apr

Seeking Traffic Solutions at Tahoe

When a snowstorm pummeled the Tahoe Basin in early March, the promise of fresh powder enticed hordes of visitors. That Sunday, March 5, the weekend warriors headed home almost simultaneously, their vehicles packed with children and ski equipment.

But Interstate 80, the main artery from North Lake Tahoe to the metropolises, closed due to heavy storm conditions. Vehicles were rerouted to U.S. Highway 50 in South Lake Tahoe, which had been reduced to one lane over Echo Pass. The dangerous driving conditions and influx of vehicles from the North Shore triggered a massive traffic jam. Cars idled at a dead stop. Travel time from the "Y" in South Lake Tahoe to Meyers (a distance of less than 7 miles) took four hours. Residents were effectively prisoners in their own cars or homes, unable to negotiate the snarled roads.

"Tahoe's limited roadways become congested when thousands of people who live in nearby metropolitan areas get in their cars and drive up to our small mountain communities," Joanne Marchetta, executive director of the Tahoe Regional Planning Agency (TRPA), wrote in a March column. "Suddenly, a road system designed for 55,000 residents must handle four to five times that many cars."

Lake Tahoe is a world-renowned destination, drawing visitors by the millions. As a result, on busy weekends, holidays and perfect storm events, traffic bottlenecks in key places around The Lake. As another tourist-filled summer nears, questions loom about how to address Tahoe's traffic issues.

"Tahoe traffic is more than just an inconvenience," says Tom Mooers, executive director of Sierra Watch. "It's a safety issue when fire trucks and ambulances are stuck in traffic. It's a threat to our local economy when disillusioned visitors vow never to return. It's a menace to Lake Tahoe when pollutants from vehicles cloud The Lake and rob it of its famous clarity. And it's a hazard to the classic Tahoe experience when we replace the legacy of the great outdoors with hours stuck behind the wheel."

In a place of such natural beauty, no one is suggesting Tahoe's highways be expanded to accommodate the annual surge of tourists. Expanding roads would alter the landscape and add more pollutants to The Lake. Plus, midweek and during the slow season, residents have no need for larger roadways.

"Tahoe people understand, we can't pave our way out of our traffic mess. Adding more highway capacity would be like putting out fire with gasoline," Mooers says.

But road construction is necessary this summer whether highways are expanded or not. This past winter brought record-breaking snow to the area, resulting in significant road damage.

"We have road damage quite literally everywhere," says Kevin Taber, engineering manager of the Placer County Department of Public Works and Facilities. "There are 130 miles of roadway in the Tahoe portion of Placer County and the nature of this winter, with the initial deluge of rain and flooding followed by snow and the effects of freeze thawing, damaged all of our Tahoe Basin roads."

Road construction annually begins May 1 and continues through October 15. Pothole patching doesn't require prolonged road closures and Taber predicts that road maintenance will have little effect on traffic. Still, Tahoe residents know that the glory of summer coincides with the dreaded construction season.

A study conducted by TRPA found the areas most impacted by traffic around Tahoe are recreation zones. Generally, these scenic locations are outside of towns, along narrower roadways, like on Highway 89 by Emerald Bay and State Route 28 on the North and East shores. When hundreds of vehicles depart to the trails and beaches on a sunny day, traffic gridlocks.

TRPA recently released its 2017 Tahoe Regional Transportation Plan for public comment. The plan addresses Tahoe's traffic problems and outlines a solution—specifically, a system of shared-use pathways and public transit that uses modern technology to get people off the congested roadways and onto trails, buses and bikes.

"The plan speaks directly to the potential solutions that would be pursued," says Tom Lotshaw, TRPA's public information officer. "Namely, transit, trails and technology improvements that can work together to provide greater non-automotive travel options to residents, visitors and commuters."

Sand Harbor traffic, photo by Martin Gollery
Through the regional transportation plan, Lotshaw says TRPA illustrated that there is "reasonably available" funding for the transit providers at Tahoe—the Tahoe Transportation District (TTD) on the South Shore and Tahoe Truckee Area Regional Transit (TART) on the North Shore—to install a user-free public transit system. The plan proposes to increase public transit frequency from 60-minute to 30-minute intervals and seamlessly connect the North and South shores. The transit system would also link to areas like Meyers and Truckee and provide transportation to heavily visited recreation areas like Zephyr Cove, Emerald Bay and Echo Summit.
A mobile phone app meant to encourage public transit would also provide visitors with information on when buses arrive, where traffic is backing up and which roadways are clear.
"The idea is to provide options for people on when, where and how they travel," says Morgan Beryl, TRPA's senior associate transportation planner. "So when people come to Tahoe they can leave their cars at their hotel and use public transportation to get to recreation sites."
In 2012, the Tahoe Regional Transportation Plan focused on building walkable and bike-friendly pathways within city centers, an immensely successful project that's provided an alternative transportation option for residents and visitors alike. Now the focus is on connecting these town pathways with popular Tahoe recreation areas. The 2017 Tahoe Regional Transportation Plan highlights building a shared-use trail system that circumnavigates The Lake.
"We aren't going to expand our roadways, but we want to reimagine how our roadways are used," Beryl says. "The goal is to have a transit-trail system that extends throughout the Basin."
Over the next four years, 20 miles of additional shared-use paths are planned around The Lake. A paved pathway from Incline Village to Sand Harbor State Park is the second installment of the Nevada Stateline-to-Stateline Bikeway, or Tahoe Trail. Following the initial phases on the South Shore from Laura Drive to Roundhill Pines, construction began on the 3-mile Incline-to-Sand Harbor path last summer. The Nevada Department of Transportation anticipates it will take two more construction seasons to complete. The Sand Harbor pathway includes trailhead parking adjacent to the Old Ponderosa Ranch site and a pedestrian undercrossing at Tunnel Creek.
"This is a public safety access project to alleviate the on-highway parking and pedestrian traffic that happens along that stretch of shoreline and park," says Carl Hasty, TTD district manager.
Other shared-use paths expected to begin construction this season are the Dollar Hill section on the North Shore and the Sugar Pine Point to Meeks Bay section on the West Shore.
The West Shore may have the worst traffic in the Basin, as vehicles back up in Tahoe City for miles in all three directions. A revitalization project to replace the 87-year-old Fanny Bridge and reduce traffic in the area will resume this summer with construction lasting two seasons.
"The idea is to address the long queuing that often happens on the West Shore," Hasty says. "A large portion of that traffic is going toward Truckee and a realignment will help with the flow that gets caught up at the current intersection. The old alignment will become a local street and be more pedestrian-, bike- and transit-oriented."
Although these projects won't solve Tahoe's traffic woes overnight, they are expected to alleviate congestion and encourage visitors to use non-motorized transportation options. However, the Martis Valley West project and Village at Squaw Valley redevelopment plan recently approved by the Placer County Board of Supervisors are anticipated to increase the number of vehicles on the Basin's already limited roadways.
"Public transportation and alternative ways of getting around can certainly help. But it requires a major commitment. If we allow development like what's proposed at Squaw and Martis to happen, no amount of biking trails can save us," says Mooers, whose Sierra Watch organization filed lawsuits against both projects.
The 760-unit residential Martis Valley West project and the 850-unit Squaw Valley project lie just outside the Lake Tahoe Basin boundary, excluding them from TRPA's authority. But an agreement to pay TRPA an Air Quality Mitigation Fee of approximately $388,000 for Martis Valley West and $445,000 for the Village at Squaw Valley has been reached between the parties. The funds will go to a program that reduces the congestion impact of cars and will likely be used for projects like street sweeping, bike and pedestrian paths, and transit services.