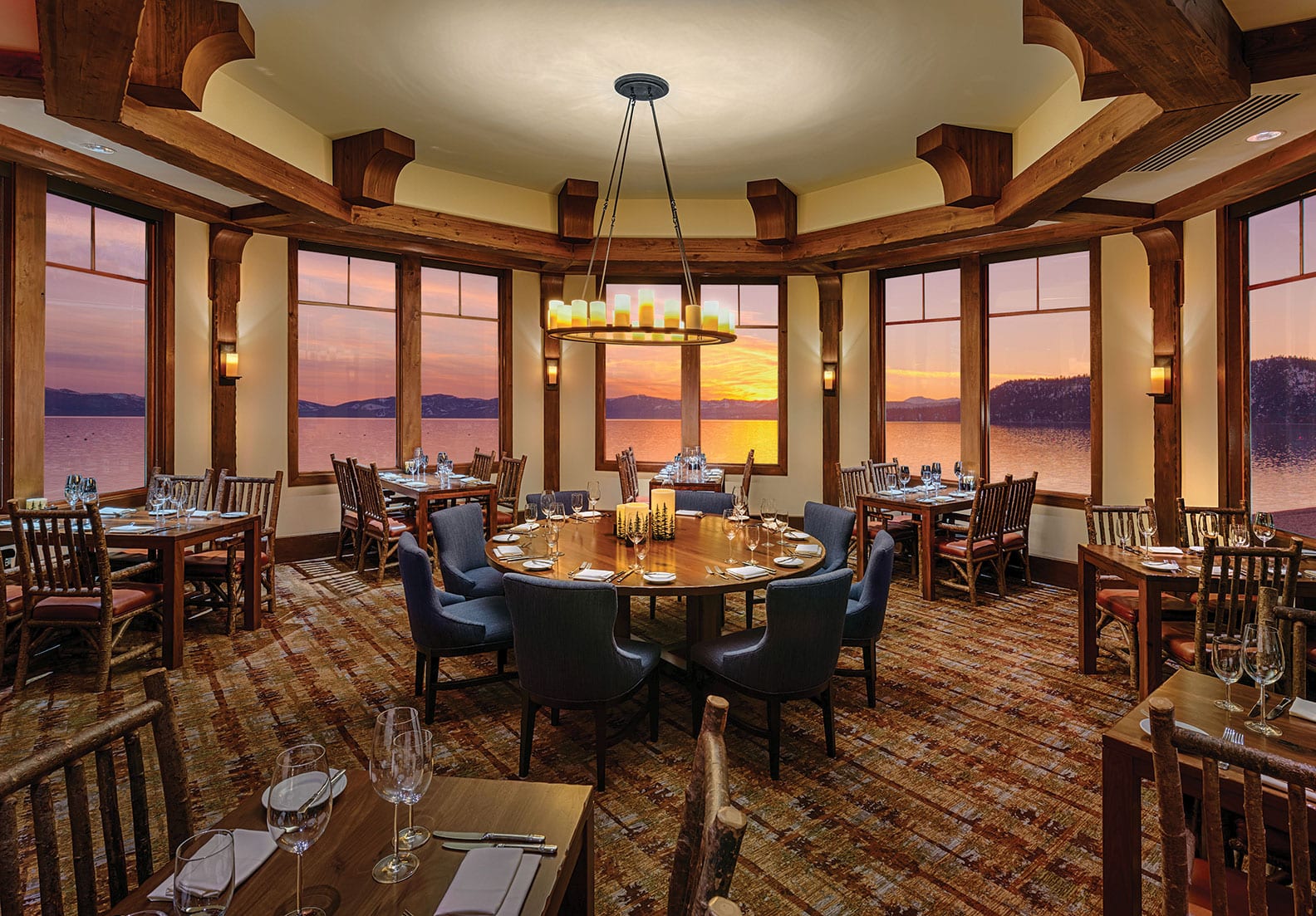 Lone Eagle Grille, photo by Vance Fox
26 Apr

Tahoe's Best Hotel Restaurants
No need to check in to check out these dining spots
Tahoe has its share of handsome, earth-toned, oft-awarded hotels, many of which happen to house some of the region's top restaurants. Run by talented chefs who take pride in cultivating personal relationships with area purveyors (often via the Tahoe Food Hub) and curating seasonally changing menus, these signature eateries are worth seeking out not only for their culinary offerings and winning wine lists, but equally for their stunning settings and soothing decor, seasonal outdoor dining and special events.

NORTH LAKE TAHOE
Lone Eagle Grille
Hyatt Regency Resort Spa and Casino, Incline Village
www.loneeaglegrille.com
An Old Tahoe–styled spot with soaring ceilings, panoramic lake views, a private beach and popular fire pit are on the menu here, as are game offerings like bison tenderloin with bone marrow butter. Chef Shane Hammett, a California Culinary Academy grad, did stints at Blackhawk Grille in Danville, Étoile at Domaine Chandon in Napa and Zinnia in San Francisco. Master sommelier Kristi Snyder oversees the Wine Spectator–recognized list as well as Wine on The Water, an annual summertime sellout. Singer-guitarist Luke Stevenson is a longtime lounge favorite. 
Manzanita
Ritz-Carlton, Lake Tahoe, Truckee
www.ritzcarlton.com/en/hotels/
california/lake-tahoe
Launched by San Francisco celebu-chef Traci des Jardins, this mountain modern dining room occupies a prime position at the Ritz-Carlton, Lake Tahoe, sitting slopeside at Northstar California Resort. Floor-to-ceiling windows frame forested views, though culinarians can keep an eye on the open kitchen from the tasting counter or chef's table. Goodies from purveyors like Grass Valley Grains and Larson Apple Barn find their way onto the menu, which includes a year-round Sunday brunch. Look for the Summer Winemaker Dinner Series, which sets up spectacularly on the restaurant's back terrace.
Stella
Cedar Sport House Hotel, Truckee
www.cedarsporthousehotel.com
If the culinary planets align, grab a seat here for one of Jacob Burton's pop-up dinners with themes such as Bombay Spice, An Evening in Spain and Ode to Seafood. Guests are encouraged to meander around the open kitchen, equipped with a wood-fired oven, and chat with Burton, who now devotes a large portion of his time to Stella Culinary, his cooking website. The prixe-fixe multi-course meals, which start with an aperitif and canapes, are served at communal tables in Stella's clean-lined wood, steel and concrete space, which extends onto the patio in warmer weather. Reservations are required. 
Moody's Bistro Bar & Beats
Truckee Hotel, Truckee
www.moodysbistro.com
Named after the builder of the eight-room, 1870s-era Old Town Truckee inn where it is housed, this softly lit speakeasy-styled space complete with plush banquettes tastefully pairs bistro-style food, artisan cocktails and jazz-inspired music. Chef William Burns serves up eats like Dungeness crab toast, Neopolitan-style pizzas and homemade pastas, and managing partner J.J. Morgan books the regular lineup of musical acts that take the stage in the lounge; Sir Paul McCartney famously dropped in to play a set several years ago. A patio is open in season.
Six Peaks Grille
Resort at Squaw Creek, Olympic Valley
www.squawcreek.com
The Resort at Squaw Creek's recent $7 million renovation added an organic garden that Six Peaks chef Tim Hmay harvests for his farm-to-table-focused food and garden-to-glass cocktails. The Nebraska native, who previously oversaw dining operations for several pro sports teams, manages a menu that also features flavors like coffee-crusted duck with Oregon huckleberry, cocoa nibs and Dr. Pepper reduction, and sea scallops with hedgehog mushrooms, sweet pea emulsion and fennel pollen. All are served with mountain views that can also be enjoyed from the outdoor deck and fire pit in summer.
PlumpJack Café & Bar
PlumpJack Squaw Valley Inn
Olympic Valley
www.plumpjacksquawvalleyinn.com
Part of the San Francisco–based upmarket PlumpJack Hospitality Group founded by Gavin Newsom, this intimate white tablecloth eatery and its more casual cafe bar at the Village at Squaw Valley pulls in regulars for its tiny tasty seafood poke cones. But CIA Hyde Park grad and chef Jack Connell, who worked at Tru and Blackbird in Chicago, Bistro 22 in the Village at Squaw and at the Ritz-Carlton, Lake Tahoe, also turns out a range of dishes from serrano-spiced "Angry Bird" poutine to seared diver scallops with California sturgeon caviar. Poolside patio dining is available in summer.
Sunnyside Restaurant & Lodge
Tahoe City
www.sunnysideresort.com
Celebrating its 30th anniversary on May 26, this iconic, large and loggy West Shore location might be best known for its lakefront deck that can pack up to 250 fun-loving fans (many of them boaters) hankering for fried zucchini, fish tacos, Wagyu burgers, Sunnyside margaritas and hula pie, the latter inspired by its sister restaurants in Hawaii and Southern California. Chef Rob Wyss, who oversees both the casual Mountain Grill and more formal Lakeside Dining Room, can also turn up the taste with entrees like sesame-crusted salmon with black bean hummus, scallion kimchi and ponzu sauce.
West Shore Café
West Shore Café and Inn, Homewood
www.westshorecafe.com
Owned by JMA Ventures, which also operates Homewood Mountain Resort across the street, this heavily timbered Old Tahoe–style waterfront restaurant might be most sought after during the summer season when boaters and diners head to the dock for signature dishes like pan-seared ahi tuna with wasabi cream or IPA-braised short ribs plus bacon and blue cheese whipped potatoes. A pair of Level 2 sommeliers manage the wine list; barrel-aged cocktails, as well as an annual bartender competition, warm things up in winter.

Six Peaks Grille at Resort at Squaw Creek, photo courtesy Resort at Squaw Creek
SOUTH LAKE TAHOE
Ten Crows Restaurant
Hotel Becket, South Lake Tahoe
www.jdvhotels.com
With the opening of this 167-room boutique hotel (a combination of the former Park Tahoe Inn and 968 Park Tahoe) across from Heavenly Village comes a Southern barbecue spot inspired by Chef Trent Bissell's upbringing around Alabama fire pit cooking and its signature mayonnaise-based white sauce. Low Country, Carolina, Creole and Cajun flavors find their way into his recipes for standards like pulled pork, St. Louis–style ribs, barbecued wings, deviled eggs, cornbread and banana pudding. An indoor-outdoor bar connects the restaurant to an outdoor terrace outfitted with games and fire pits.
Jimmy's
The Landing Resort & Spa, South Lake Tahoe
www.thelandingtahoe.com
British celebrity chef Maria Elia opened this California-Greek themed spot a plate's throw from The Lake with a menu featuring Hellenic goodies like kataifi-wrapped feta with raisin oregano dressing and Greek honey and rack of lamb with cucumber mint relish and tzatziki. The whitewashed dining room features private alcoves and fireplaces and there's patio seating with fire pits outside. Both are good spots for a Jimmy's Greek mojito, mixed with ouzo, rum, mint, lemon and ginger, or an option from the innovative wine list that includes a wide range of labels from vineyards around the Med.
Friday's Station Steak & Seafood Grill
Harrah's Lake Tahoe, Stateline
www.caesars.com/harrahs-tahoe
Casinos and steak houses often make a winning though windowless affair. However, this special-occasion spot is a game changer, boasting big lake and mountain views from its 18th story perch high atop Harrah's hotel tower, with tables in especially high demand at sunset. Choose from specialties like seared Cajun-spiced tiger prawns with pineapple rum butter sauce or the double cut lamb chops marinated in mango chutney with garlic and honey, as well as seasonal desserts like pumpkin panna cotta. A dramatic 1,000-bottle display cellar means many wine pairing options from first course to last.
The Sage Room
Harveys Lake Tahoe Hotel & Casino Stateline
www.caesars.com/harveys-tahoe
One of Tahoe's longest-running restaurants, this Western-themed steak house dating back to 1947 is finished with dark wood paneling, hand-hewn beams from the log cabin that housed the original Harveys and lamps from the Washoe Tribe. Classic meaty fare gets a little culinary punch from entrees like peppercorn-dusted seared antelope tenderloin with roasted jalapeño blackberry demi-glace, served by old-school tuxedo-clad waiters who still specialize in table-side preparations of Caesar salad, steak Diane and bananas foster.
Ciera Steak + Chophouse
MontBleu Casino, Resort & Spa
Stateline  |  www.montbleuresort.com
This quietly sophisticated four-diamond eatery raises the stakes with creative dishes like bison carpaccio with Dijon creme, a pistachio-encrusted pomegranate-balsamic-finished New Zealand rack of lamb and specially aged 24-ounce porterhouse cut. Seafood lovers might like the lobster tempura with spicy Thai curry dressing, pan-seared fresh abalone topped with king crab and lemon-chive beurre blanc or the Gorgonzola and pinenut–crusted sea bass with crab, lavender cream and basil infusion. Do save room for the chocolate lava cake.

Carolina and Creole flavors combine at Ten Crows Restaurant at the Hotel Becket in South Lake Tahoe, courtesy photo
Park Prime
Hard Rock Hotel & Casino, Stateline
www.hardrockcasinolaketahoe.com
Named for the Park family that owns the Hard Rock Hotel & Casino (formerly the Horizon), this modern, ranch-themed steak house features grass-fed, free-range beef from the Parks' Carson Valley spread. The straightforward menu of classic steak cuts gets a little love from sauces such as chimichurri, green peppercorn or Bearnaise. Those looking for something lighter will like the charred spicy ahi tuna tartare with warm lemon caper vinaigrette and the bourbon-infused Gunbarrel shrimp cocktail, a nod to the famed Heavenly ski run of the same name.
Edgewood Restaurant
The Lodge at Edgewood Tahoe
Stateline
www.edgewoodtahoe.com
This long-running lakefront location lets diners feast on Chef Frank Stagnaro's innovative New American menu along with expansive Tahoe views framed by vaulted ceilings and skyward-reaching windows. Some of the selections here include options like lamb ragu with gnocchi, maitake mushrooms and tomatoes, as well as duck breast with spiced pineapple, caramelized witloof (chickory), gingerbread and Madeira sauce. Watch for the urban all-day Bistro Edgewood, which will open with the new 154-room luxury Lodge at Edgewood in June.
Latin Soul
Lakeside Inn and Casino, Stateline
www.lakesideinn.com
Chef Alvaro Ochoa turns out authentic dishes from Mexico, the Caribbean, and Central and South America at this modest Latin fusion cantina off the casino floor. Look for specialties like lomo saltado des res—a rib-eye stir-fry with onion, tomato, cilantro, cumin, garlic and soy sauce. Or shrimp stuffed with cheddar cheese and roasted jalapeño, wrapped in bacon and served with avocado-mango pico de gallo. Both pair well with a prickly pear margarita, pineapple mango mojito or açaí berry mojito, mixed with freshly squeezed fruit juices.